We've all seen kids zipping around on scooters, having the time of their lives. But who says they should have all the fun? At FamilyHype, we believe that adventure doesn't come with an age limit, we have the best ride for adults. As adults, we too can relish the thrill and freedom a scooter brings! When it comes to finding the best one, there are numerous scooter models, brands, and features to consider for adults.
In this article, we'll explore different types of scooters, the best key features to consider for making your purchase as well as reviews of best models available today. Additionally, we'll share some handy maintenance tips and tricks to keep your scooter running smoothly for years.
We understand that adults are looking for more than just a mode of transportation but more for the best – it's about embracing joyous living at any age! So let's dive in together and find the perfect ride for adults that serves your adventurous spirit!
Whether you are looking for a lightweight option, a foldable choice, an electric version, an electric kick ride, or a classic kick option, we'll help you find the key features to look for in each, so you can make the most informed purchase.
We encourage you to share your experiences and opinions with us, and we look forward to hearing from you!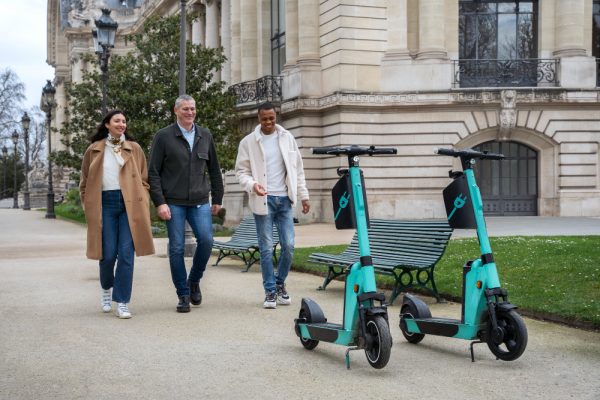 Key Takeaways For Finding The Best Scooter For Adults
At FamilyHype, we highly value the family unit and want to ensure that families can find the ideal products for their needs. We've explored the thrilling world of scooters for adults together, haven't we? From understanding the various types of scooters such as kick scooters, electric options, foldable models, and stunt varieties, to evaluating top models like the Micro Maxi Deluxe, the Razor E300 Electric, and the Fuzion X-3 Pro, as well as sharing maintenance tips, we hope you're now equipped to find your perfect ride. Remember, the best scooter for you combines comfort, durability, style, and safety, while also offering impressive speed and range.
Choosing the right electric scooter option is an important decision, especially when considering factors like top speed, and we're here to help.
At FamilyHype, we want to ensure that families have the information they need to make an informed decision when selecting the ideal electric scooter for their needs, including options like the Segway Ninebot. Whether you're looking for a lightweight kick model or a powerful electric choice, we've reviewed the features, specs, and safety ratings of the top models on the market. We've also included helpful maintenance tips so you can get the most out of your ride.
We appreciate you taking the time to read our article and would love to hear from you. If you have any feedback or experiences for grown-up rides, please share them in the comments section below! Happy riding!
Understanding The Different Types Of Scooter For Adults
There's an array of options to explore, each with its unique features and benefits, so let's delve into understanding the different types of scooters for adults.
We'll touch on customization and consider their environmental impact too because we're all about making responsible choices.
From compact commuter models to off-road adventurers, there's a perfect ride for everyone.
Now that we've got the basics down, let's move onward to discuss key features you should consider when choosing your scooter.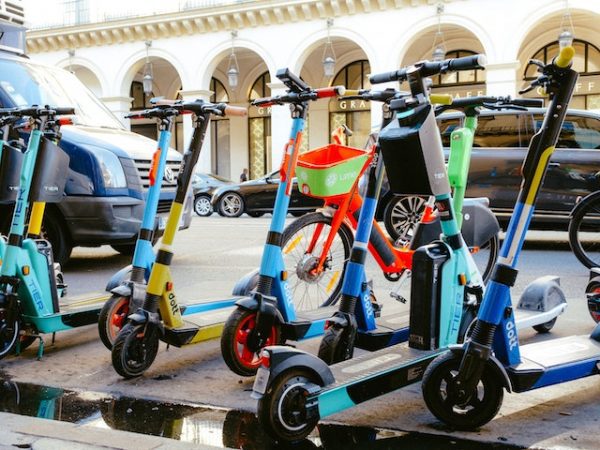 Key Features To Consider When Choosing Scooter For Adults
Before we dive into the thrill of riding, let's talk about what to look for when choosing your perfect scooter.
Size and portability are crucial factors; you need something that fits you well but is also easy to transport and has a long battery life. Customization options can ensure they fit your needs perfectly, especially when it comes to selecting among the best electric scooters and pneumatic tires.
However, don't forget about max speed (miles per hour) and range – these determine how fast this electric mode of transportation can go and how far on a single charge – and safety features like reliable mechanical disc brakes or lights for visibility, as they're just as important in ensuring a fun, safe ride.
Best Scooter For Adults For Size and Portability
Considering the size and portability of this mode of transportation is crucial, as you'll want something easy to carry around and store when not in use. Customization options can ensure it fits your needs perfectly.
Folding mechanisms are a godsend, making it compact for public transport or car trunks.
Now that we've tackled size and portability, let's shift gears to another equally important aspect – speed and range.
Speed And Range
Ready to feel the wind in your hair as you zip through city streets or country bike lanes? Let's delve into the exciting world of speed and range, as well as the quality of your electric scooter tires. For customization, finding the right balance between energy-conserving eco-friendly options and thrilling speed becomes an exciting journey. However, remember that a longer range often means a slower pace.
Now that we've covered this, it's essential to delve into something equally critical for our adventurous rides – safety features.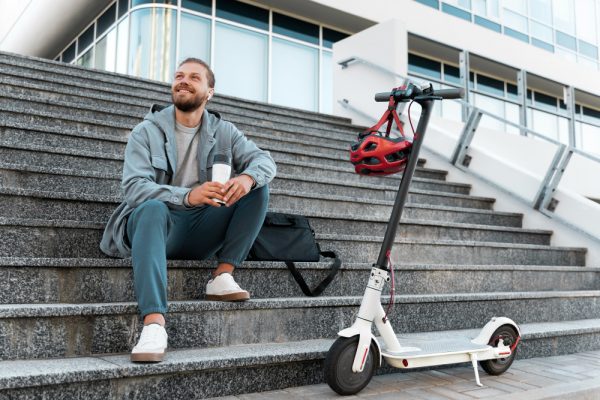 Best Electric Scooter For Adults
Best Safety Features
Let's not forget, that your safety should never be compromised, especially when choosing the best budget electric scooter for adults. Let's delve into the critical features that keep you secure during your exhilarating scooter rides. Budget scooters are good, but you have to make sure that the features they have can help you experience a safe ride.
Braking systems are paramount, reacting quickly to keep control in any situation. Nighttime visibility is equally important; reflective materials and lights can make all the difference. The front and rear brake light is important to maintain. Other components like the rear disc brake and rear suspension are also essential to check up every now and then.
Some notable brands and models include the Unagi Model One Voyager, Apollo City Pro, and the Niu KQi3 Max. The Apollo City Pro is a lightweight scooter that has a folding mechanism, which is beautifully designed. It also has tail lights for turn indicators. This is a great scooter that is easy to maintain, perfect for a stable ride in the city. Disclaimer: it leans on the expensive side.
Maintenance Tips And Tricks – Scooter For Adults
Keeping your ride in pristine condition isn't as tricky as it sounds, and we've got a toolbox full of tips to help you navigate e-scooter maintenance like a pro.
Scooter Cleaning: Regular cleaning not only makes your scooter shine but also prevents rusting.
Check Air-filled Tires: Ensure they're properly inflated for smooth rides.
Replacement Parts: Keep them handy for quick fixes.
Routine Checks: Regular inspections can catch issues early on.
Remember, serving others starts with taking care of what's yours!
Conclusion – Best Electric Scooter For Adults
We've explored the thrilling world of scooters together, haven't we?
We've explored the thrilling world of scooters together, haven't we? From understanding the different types of scooters such as kick scooters, and best electric scooters like the Unagi Model, foldable scooters, and stunt scooters, to reviewing top models like the Micro Maxi Deluxe, the Razor E300 Electric, and the Fuzion X-3 Pro, and sharing maintenance tips, we hope you're now equipped to find your perfect ride.
Remember, the ideal ride for adults combines comfort, durability, and style. Test electric scooters that let you experience a smooth ride. Never sacrifice ride quality and good components for anything else! As we've talked about in the article, always keep in mind the key features as you buy the all around scooter for you.
After all, we all want a fast electric scooter for a comfortable ride.
Happy scooting!
Frequently Asked Questions About The Best Scooter For Adults:
What Is the Best Electric Scooter For Adults To Buy In The US?
The best electric scooter overall: the Segway Ninebot Max. Striking a better balance between power, range, battery life, and compact size than any other test electric scooter, the Segway Ninebot Max was our favorite electric scooter overall. It has 10-inch pneumatic tires with a regenerative braking feature.
Unlike other electric scooters, this electric vehicle uses electricity and recycled energy from riding. Other scooter struggles with hilly terrain, but this model has a 20% hill grade and the scooter's range is 40.4 miles! It has a rider weight limit of 220 lbs (100 kg).
Are Scooters Allowed In The USA?
In most states, an electric scooter is allowed on roads with a speed limit of 25 mph or less, and they are often permitted to ride in bike lanes. However, the specific rules can vary from state to state, so it is important to familiarize yourself for local regulations before riding.
What Is The Best Brand Of Scooter For Adults?
The popularity of electric scooter brands based on the total number of review responses conducted by Rider Guide is as follows. Xiaomi, Minimotors, and Segway are the most popular brands.
What Is The Most Durable Scooter?
The Xiaomi M365 Pro is one of the most reliable electric scooters around. Why? Because no scooter has been tested as many times as this one.
Are Scooters Popular In America?
According to a report released by the National Association of City Transportation Officials (NACTO), Americans took 86 million trips on e-scooters in 2019—almost two-thirds of the 136 million micromobility trips overall and a staggering 123% growth in rides year-over-year.
How Much Is A Scooter In The USA?
Electric scooters cost between $150 and $6,500.
We've also outlined maintenance costs and shared the key factors that affect an electric scooter's price tag. From the budget scooter to performance, see how much different models cost.
What Is A Scooter Called In America?
Electric scooters for the rider standing are known as e-scooters.
Does The Scooter Need A License In The USA?
The answer, on the whole, is no, you will not need a license to ride a scooter in the U.S. Many states classify electric scooters for electric bicycles, which do not require a driver's license to operate.
Can I Drive A Scooter In California?
Under California law, for most electric scooters, or E-scooters, riders must hold a valid driver's license. The class of license does not matter. The major E-scooter rental companies, Bird and Lime, require riders to submit a scanned photo of their license into the app before riding an E-scooter.
What Brand Of Scooter Is The Best?
According to Forbes here is a list of the best electric scooters in different categories.
Best Electric Scooter Overall: Apollo City
Best Value Electric Scooter: Yvolution YES
Best Lightweight Electric Scooter: Unagi Model One E500
Best Budget Electric Scooter: GoTrax G3 Plus
Best Long-Range Electric Scooter: Kaabo Mantis King GT
Best Electric Scooter for Commuting: Segway Ninebot Kickscooter F40E
Most Versatile Electric Scooter: Xiaomi Mi 4 Pro
Best Electric Scooter For Hill Climbing: Nanrobot D5+
Last Updated on November 2, 2023 by Lisette Lao
DISCLAIMER
(IMPORTANT)
: This information (including all text, images, audio, or other formats on FamilyHype.com) is not intended to be a substitute for informed professional advice, diagnosis, endorsement or treatment. You should not take any action or avoid taking action without consulting a qualified professional. Always seek the advice of your physician or other qualified health provider with any questions about medical conditions. Do not disregard professional medical advice or delay seeking advice or treatment because of something you have read here a FamilyHype.com.