Unicorn, tiger, Pikachu – these are just some characters that most baby's onesies are designed as. They are primarilly clothes for infants and babies since the garment is comfortable to put on and makes children look adorable. Over time, manufacturers have started creating the same product for adults who not only use them for sleeping purposes but also for fashion. Many grown-ups find them stylish and comfortable to put on! These are just some benefits of buying a onesie.
So how come baby onesies have also gone viral among adults? It's not just kids that are having all the fun. Yes, the onesie has gone trending, and there are several reasons for that.
Despite the popularity that they have in the grown-up community, there are still parents and grown men and women who cannot envision themselves buying them and agree that these types of clothes are only fit for babies. Some assume that they are merely for cosplayers and that putting them on doesn't have any benefits. Others worry about looking too childish to get respected by colleagues. Some just think they have no room in their closets! How about you? Are you a parent who's curious about the benefits of buying onesies? Can they really add color and whimsy to your life?
Although it is not invalid to think such things, you should know that putting on adult onesies comes with more benefits than you can fathom. Just imagine how adorable it would be to match your baby!
You'll Be Able To Save Time
Have you always consumed more than an hour mixing and matching your clothes, even at night? That is an infinite source of stress, especially if you are tired and ready to just pass out in bed. The extra time that should be spent in la-la land becomes wasted on picking two pieces of apparel to create a look and trying them on in the mirror. This is actually one of the major benefits of buying onesies since they come in different styles.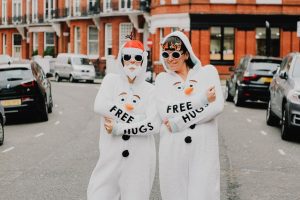 To save yourself the trouble of styling outfits and finding clothes to match, you should invest in an adult onesie. It's technically a one-piece suit, so there isn't much to consider when it comes to styling a single piece of garment. You can throw it on, be covered, and go to bed in seconds. That's a great deal!
You Don't Have To Be Body-Conscious
It is a better choice compared to a romper, in the sense that there's no need for you to get conscious about your body shape, particularly concerning your belly and your legs. Rompers are typically form-fitting, after all. If you have love handles you prefer not to show, it is impossible to hide them in rompers.
Meanwhile, a onesie is supposed to be three to four times larger than your actual size, which is why they're comfortable for babies even if they have diapers on. Using it may be no different from draping a blanket over your body since they don't feel snug. Even the sleeves fit nicely around the arms. If you've got one hanging in your closet, just pull it on and you're all set. Hence, you may only think of how comfortable you feel and how cute you are in this garment – almost as cute as your baby!
They Are Perfect For The Winter Or Cold Nights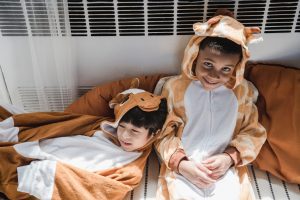 Onesies offer the ultimate comfort. They also don't look the same since they use various colors to manufacture them, but every essential part stays intact. You have the shoes-slash-socks, which are suitable for the character you bought. You also get a hoodie to keep your head and face warm and cozy. Not to mention, the item covers the rest of your body except for the hands. That's what makes it suitable for the winter and rainy seasons. That said, they are extremely comfy in any weather since some are thin enough to feel cool in warmer months.
Onesies Are Low Maintenance
Onesies for adults are effortless to maintain as well. Most chenille and fleece-made items can go to the washing machine with your other colored clothes. In case the fabric happens to be cotton, you may wash it manually so that you can save on electricity.
The only provision you may want to remember is that you should not wring cotton pajamas tightly. This action might ruin the soft material. It will still dry thoroughly even if you merely hang it on the clothesline.
They Come In Different Characters
The product is better known as Kigurumi in Japan, the home of cosplaying. This nation has produced more famous animated and cartoon characters than you can count, so it's no surprise that the garments they make aren't limited to just a few designs either. You can purchase one that represents your spirit animal, shows your mood, or signifies your favorite childhood anime.
Whether you want a hippopotamus or wolf onesie, you should not let another year pass without you trying this trend. It's rare to find a fashion-forward garment like this that practically fits everyone. Choose your character now and rock the one-piece clothing at home or even on the streets.
Cheers!
FAQs About The Benefits Of Getting Adult Onesies
Other Resources:
https://www.wellpajamas.com/news/The-5-Benefits-of-Onesie-Pajamas/
http://www.brighteryoureyes.com/the-benefits-of-using-onesie-for-adults.html
https://justlovefashion.com/blog/adult-onesies-are-the-new-style/
Last Updated on April 11, 2023 by Jeanne Meets
DISCLAIMER
(IMPORTANT)
: This information (including all text, images, audio, or other formats on FamilyHype.com) is not intended to be a substitute for informed professional advice, diagnosis, endorsement or treatment. You should not take any action or avoid taking action without consulting a qualified professional. Always seek the advice of your physician or other qualified health provider with any questions about medical conditions. Do not disregard professional medical advice or delay seeking advice or treatment because of something you have read here a FamilyHype.com.