For any first-time parents, you will surely include a baby monitor in the list of things to buy or "Must Haves" for your little one. It is considered an essential tool to help monitor the newborn whenever the parents or guardians aren't anywhere near the baby room.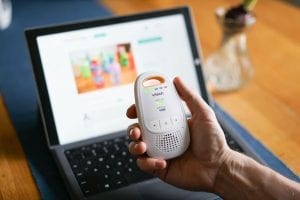 Some people simply call this a radio alarm, since it uses a radio system which can easily transmit the sounds made by an infant to the monitoring device of the parent. If the baby cries, they can easily walk into the room and attend to the baby's needs. Those having both monitor video camera and receiver are called a baby cam.
There are many different kinds of baby cam available in the market. With parents wanting only the best for their babies, of course, they'd want to settle for the best baby monitors to help them become responsible parents.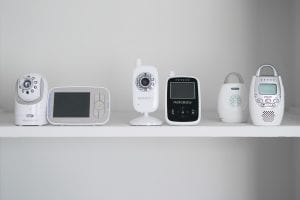 Some people only know one type of baby monitor, which is either the video monitors or the audio only mode. Audio only monitor doesn't have a video option. As the name implies, this type of monitor allows you to listen only to the baby. In reality, there is a broad spectrum to choose from, each having its own "special feature." Some are wifi monitors while others are not. With the technological advancements today, it's no surprise that even the most basic baby monitors can wow you with their different upgrades.
The different types of baby monitors include baby sound monitors, which are the most commonly used monitors by parents, that help picks up sounds coming from the baby room and transmit them to the receiver. There are also baby video monitors. A video monitor gives extra comfort, seeing what the baby is doing. Then there are the baby motion monitors – probably the most advanced type – which use a sensor placed directly under the baby's crib to detect the baby's every movement.
Are Expensive Baby Monitors The Best?
Quality comes with the price. However, you'll usually find a product that serves the purpose splendidly, without being hard on the pocket. Don't rush into buying the most expensive device. Parents need to be meticulous to find the best infant monitor review first. Here's what they should consider before purchasing the best baby monitors:
It's an essential factor for every parent to be there the moment the baby needs them. Still, expensive baby monitor devices may have some unnecessary features. Think about the features you need, and don't forget to analyze which you don't need.
The best baby video monitors should have a clear sound quality – without any interference – especially if you placed it in a large home.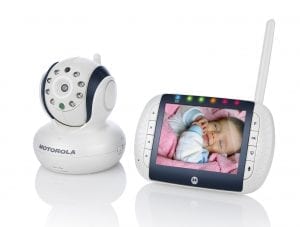 Would you need an additional feature of movement sensor pads, so the alarm will set off if there's no observable movement for 20 seconds? Or do you find that wholly alarming and opt to have a video monitor instead? Do best baby monitors need temperature sensors and night lights? Are feeding timers a waste? Look at different options before making the purchase.
Many parents complain about shorter battery life wherein batteries die sooner than expected. Excellent battery life is one of the important factors to consider. It is helpful to find the best baby monitors, which let you know when the batteries are running low, or when you need to change them. Look for baby monitors with a blinking light or an icon on an LCD.
Expandability/Connectivity
You probably think you'd only need the baby monitor inside the child's room. That's where you're mistaken. If you're the type of parent who gets anxious (this applies to first-time parents), you'd probably consider covering more areas in the house such as the playroom, nursery, and even dining. Check if you need to add more cameras in the house, then look for a baby monitor with this expandability feature. Many parents want to connect the baby monitor to TV or mobile devices. In this case, make sure you cover that part.
The Need Varies
To equip yourself with the baby monitors isn't exactly mentioned in the Baby Rule Book. Some parents don't get peace of mind without a baby monitor, while some think it's just a hassle.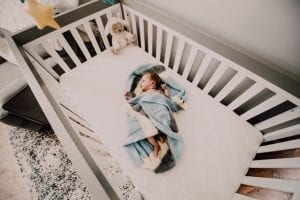 Parents have different styles of parenting. Everyone's house is also different from each other. If you're living in a compact place, maybe it's good to consider just sleeping beside the baby, or having a baby corner instead. On the other hand, those living in a large house definitely needs the most useful baby monitor there is.
Parent Unit and Baby Unit
A baby monitor is comprised of a parent unit and a transmitter baby unit. The baby unit, which is positioned close to your child, includes a camera and a microphone. What exactly is the parent unit? Well, in the case of a wifi monitor, the parent unit refers to a smartphone or tablet. However, a non-wifi monitor, such as a non-wifi baby monitor, it utilizes a dedicated parent unit with a screen and speaker. This type of monitor is particularly useful for parents with more than one child, as it allows them to monitor multiple children simultaneously. Additionally, when considering baby monitor picks, it's worth noting that a non-wifi monitor, like a non-wifi baby monitor, can provide a reliable solution, especially for those who prefer not to rely on wifi connectivity.
Best Baby
Mo
nitor
Baby monitors can be audio only. Others are video monitors that can monitor your baby's movement. Some are wifi monitors while other are not. Below are some of the top baby monitors available on the market.
Nanit Pro Smart Baby Monitor
If you are in search of the best wifi monitors, consider this in your list. This is a premium baby monitor well-known for all the features it offers. This high-quality audio and video monitor comes with bells and whistles, and other accessories too. This audio and video baby monitor has a baby sleep tracking feature. It also tracks motion, vitals, and growth. The sleep tracking of the Nanit Pro gives a sleep report of your baby. The Nanit Pro Smart baby monitor also comes with a wall mount. Besides a wall mount, it can also be in a floor stand or table stand. This video baby monitor is the only smart baby monitor among the many smart baby monitors with a split screen feature.
The power source of the camera
The electrical outlet and the parent unit is the phone. One good thing is, even if the app is closed in your parent unit, you can still hear your little one. The parent unit and the child unit are both portable. The camera can be easily removed and the parent unit is the phone that is always with you anyway. The multi-stand is portable too. This is one of the wifi baby monitors with no limit in range if connected to wifi. This comes with a price, but all the features it offers are a perfect scenario for a parent wanting to know the information about their sleeping baby.
Best Baby Monitor:
Wi-fi HD video camera

Sleep coach

Breathing motion tracker

Sound and motion alerts

Night light

Night vision

Breathing Band
Miko Pro Smart Baby Monitor With Wall Mount Kit
This is an all-in-one baby monitor. The Miko Pro Smart is contact-free breathing and sleep tracking baby monitor. It is completely contact-free and all sleep tracking is done directly through the baby monitor. It has enhanced night vision, 1080P Camera Digital Zoom, two-way talk, live breathing feature, works for any age, and many more. The video feed of this video baby monitor is excellent. This is one of the wi fi monitors that has wall mount, floor or table stand. The power source for the camera is the electrical outlet and the parent unit is the phone.
Lollipop Baby Monitor with smart wi fi baby camera
This technology will make you aware of all the happenings inside your baby's room wherever you may be. Lollipop baby monitor is a high video quality baby monitor with "true crying detection," crossing detection, sleep tracking, white noise, and more. This is a good budget Wi-Fi video monitor with many useful features to offer, including excellent picture quality and image quality. The camera feed of this Wi-Fi monitor is excellent, providing clear visuals of your baby's room. In addition, most Wi-Fi monitors allow you to choose a private connection for enhanced security. The parent unit for this baby monitor is the app on your phone or tablet, offering convenient access to music, settings, volume, humidity, and other options. This baby monitor also provides sleep analytics, allowing you to track and analyze your baby's sleep patterns. Understanding your baby's sleep patterns can be beneficial for both the baby and the parents. Moreover, the Lollipop baby monitor is equipped with the best night vision feature among video monitors. Lastly, this monitor is made from high-quality and non-toxic materials, ensuring the safety of your baby.
Infant Optics DXR 8 Pro Video Baby Monitor
Infant Optics DXR 8 Pro is famous for its interchangeable lenses that let the parent see the baby for a closer and wider view. The Infant Optics DXR 8 Pro, a great baby monitor, also comes with noise filtering technology that allows the parent to filter the background noise so you can only monitor and hear the baby's sound. Background noises filtered involve a humidifier, fans, air conditioners, etc. This video monitor is also known for its ability to expand up to four cameras, making it a pro baby monitor with multiple cameras. Hence, if you plan to expand your family, the Infant Optics DXR 8 video monitor is one of the ideal choices. Like many video monitors, Infant Optics comes with a two-way radio and a temperature sensor. Unlike other video monitors, it emphasizes core video and audio monitoring with video recording and dedicated monitor features.
The range of Infant Optics is 1000 feet, ensuring a wide coverage area. The power source of the camera uses an electrical outlet, and the parent unit uses an electrical outlet or rechargeable battery, providing flexibility in usage. The parent unit of the Infant Optics video monitor also comes with an LED sound indicator that alerts you when noise is detected, even if the volume of the parent unit is not on. With the screen on, the battery life of the Infant Optics video baby monitor is 7 hours and 9 minutes, ensuring long-lasting monitoring. The battery life of the parent unit is enough for evening usage. In comparison with other video monitors, the Infant Optics video monitor has one of the simplest mounting solutions. Its wide-angle lens and ability to capture video clips further enhance its functionality, making it a top choice for parents seeking a reliable and versatile baby monitor.
Vava Video Baby Monitor
If you are particular about audio quality, two-way communication, and audio-only monitors the Vava baby monitor might be the one for you, especially if you need it for the same room. This monitor provides excellent battery life and durability, making it a reliable choice. The rechargeable battery has a stellar capacity, ensuring a 24-hour battery life in audio-only monitor mode and 10 hours in live-screen mode, with sound alerts to keep you informed.
The Vava brand doesn't fall under the category of Wi-Fi monitors, which makes it ideal for areas with slow Wi-Fi connections. The camera of this baby monitor is connected to the parent unit through a wireless connection (2.4 GHz FHSS). In addition to the good battery life, the monitor features a large display that offers a clear view of your little one. Although there is no split-screen viewing section, you have the option to connect up to four cameras with this baby monitor, enabling comprehensive monitoring capabilities with two-way audio functionality.
Final Thoughts
The best baby monitors offer great help in hearing your baby's every cry. Is the baby hungry, tired, and uncomfortable? You'll find out in a matter of seconds. Just remember, it pays to do extensive research and canvassing so you can get the best baby monitor 2018.
Frequently Asked Questions
Best Monitor for Baby
Last Updated on April 12, 2023 by Bry Roquero
DISCLAIMER
(IMPORTANT)
: This information (including all text, images, audio, or other formats on FamilyHype.com) is not intended to be a substitute for informed professional advice, diagnosis, endorsement or treatment. You should not take any action or avoid taking action without consulting a qualified professional. Always seek the advice of your physician or other qualified health provider with any questions about medical conditions. Do not disregard professional medical advice or delay seeking advice or treatment because of something you have read here a FamilyHype.com.