Toys for children in a crib are great because it will help keep them entertained, and lots of times, it can even help them sleep, or if they wake up in the middle of the night. Here are the top crib toys children will love, and why they are the top crib toys for children. Sometimes, mobiles work, but here, we'll discuss the full gamut of toys that babies will love, and what the top-rated ones currently are.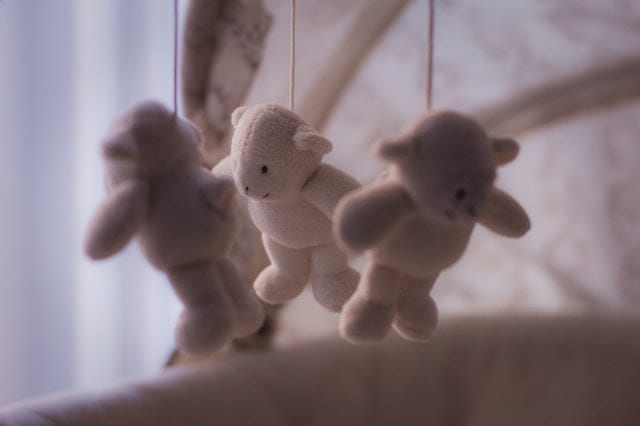 Tiny Love Take Along
This one is a beautiful and cute little set that has cute animal characters children will love. It is an entertaining toy for children, and it plays 30 minutes of soothing and relaxing music. It can be attached to more than just cribs as well, including baby seats, bassinets, and even some strollers, so it's a good toy that you can use. It also features some cool geometric shapes that help children understand the significance of them. It has about 20 hours of battery life to help with soothing the baby, and after 20 minutes, it will shut off to save the battery. It's also a unisex toy, with just animal shapes on it, so it's one of the top crib toys if you want something beautiful and generic for the crib.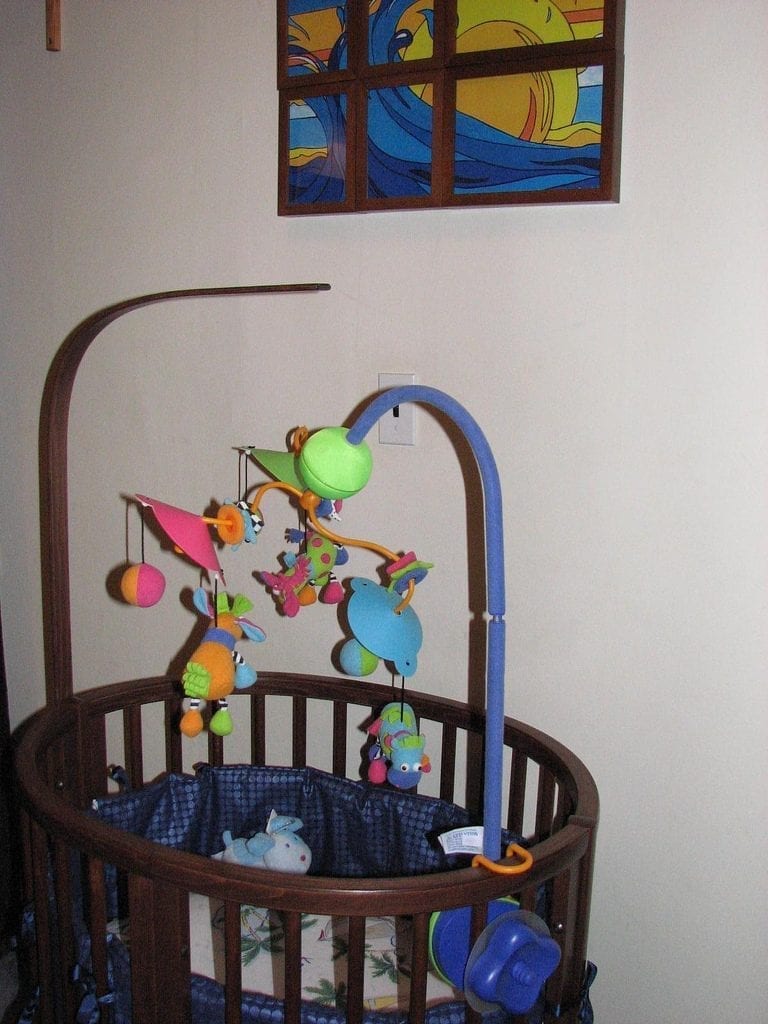 Nubey Ice Gel Teether Toys
It is great for children that start to show signs of teething. This one is a fun and colorful toy that comes with a set of three keys on a giant key ring. Its materials that are both soft and hard, and also feature new textures that help with new teeth that erupt, and to soothe the gums of a baby when they have pain. It does come with a means to help take care of irritation that does come with teething, and your baby will enjoy this whenever they need something extra to chew.
This toy is excellent that will attract the attention of the baby, and it will also stimulate the sense of sight. Plus, it will help with developing the sense of touch, since they will feel the remarkable textures when they play and chew on it. It also has an icy pack on there as well for soothing the gums, and it helps to stay much colder when compared to other teethers that are water-filled. It is one of the top crib toys as it is more than just a teether because it also feeds the sense of sight. 
Baby Einstein Sea Dreams Soother
This toy is a great way to put babies to sleep and is kind of a cool toy that babies will love. It comes with a digital interpretation of an aquarium that has marine creatures in there that the child will love to look at, including a clownfish, a sea turtle, octopus, and so much more. It also has some cool light effects, and ten different ocean songs, along with classical tunes and melodies. This one can guarantee to make your child fall asleep quickly, and it does have sounds that will fade away over time so that the child isn't affected by it, and they won't wake up startled. It is a great toy and even comes with a universal crib attachment that works for any baby that wants to look at something.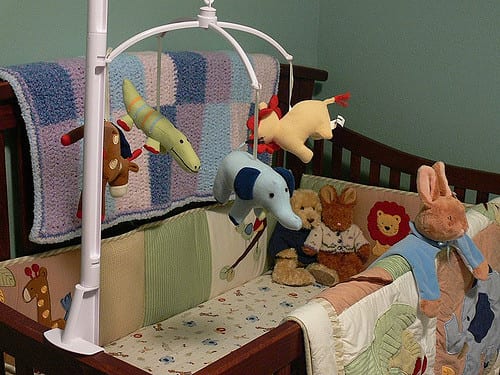 Fischer Price Smart Stages kick and Play Piano
if your infant is learning how to coordinate their legs, you can get this for them to play and get their energy out. It's got cute characters on it, and it can be a toy for a child in the crib, and while the child is lying down, they can move over to it and play with it, and it even comes with a sit and play mode. It features sensitive keys that respond to the touch of a baby, and it's fun to see the cause and effect results that the child will have when they kick it, and it's a way to entertain the child. It's a good toy that is worth the money, and it's multi-use along with being long-lasting. The best part is the baby can use this from birth until they're a toddler. It has soft fabric material, with thin strings that tie it to the curb. You don't need to assemble it other than put some batteries on there. Children can have fun with the songs, learn about different animals, and even understand shapes, colors, and numbers, and it also comes with 20 minutes' worth of melodies. It's a toy that's good for visual and auditory stimulation!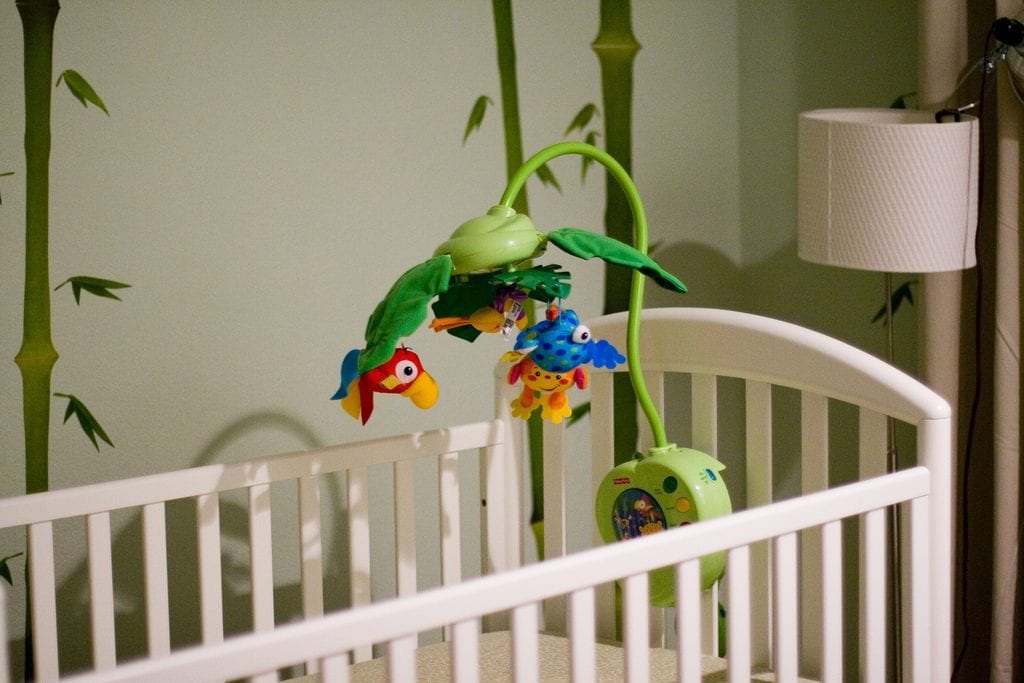 Shiloh Baby Developmental Toy
This one is among the best crib toys on there, and it's indeed excellent that even before the child does interact with it, it does bring you some great features that they will love. It's an environmentally friendly and non-toxic toy that allows for your baby to have the utmost in safety, and even if they do bite it, there is nothing toxic on it. There are plush toys of all kinds, including a squeaker, a jingle bell, and a music player that creates terrific sounds. They're great for cribs, playpens, and it is suitable for very young children. It also has a rotating mobile on it that plays up to 60 different melodies to it, and you can also use the auto-sleep feature that turns it off after 30 minutes of not being used, so you'll be able to turn it on if the child needs more songs.
It is a great toy that allows for developmental learning to happen even while in the crib, and cleaning isn't that much of an issue. Plus, it is super exciting for children, and it can be a fun toy that they will enjoy no matter what.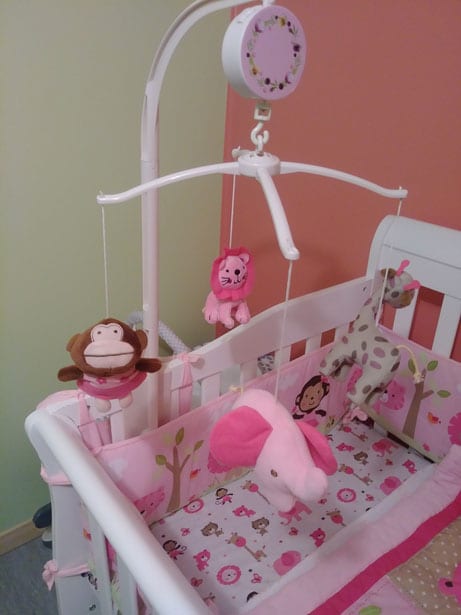 Finding good crib toys can be hard, but these are the best on the market, and they're ones that will not only help with keeping your child entertained but also suitable for lulling them to sleep after a long and hard day of playing with them, that's definitely for sure. We hope ith this that we helped in giving the idea on which of the top crib toys you want to buy.
Top Crib Toys FAQs
Until your baby is at least 12 months old, don't let them sleep with any soft objects around. According to the American Academy of Pediatrics (AAP), delicate objects such as pillows, pillow-like toys, and blankets increase the risk of strangulation or suffocation and sudden infant death syndrome (SIDS). 
Can my 18-month-old sleep with a stuffed animal?
Yes. The likelihood of suffocation decreases when your baby reaches 12 months because, at this age, they can now roll over and sit up on their own, and they are also now capable of moving objects away from their face. 
At around 4 to 5 months of your baby, when they start crawling and standing and reaching up onto their hands and knees, it's the time when you should stop using a crib mobile. It can cause dangerous situations, especially if they're left alone to themselves.
For what age is the crib mobile?
Crib mobiles are designed for newborn babies for focus and reaching out for objects. When babies begin to crawl, it is the signal to stop using them.
Are baby mobiles a good idea?
A baby mobile enhances babies' visual stimulation and promotes brain development. Moreover, mobiles are said to help with eye muscle strengthening, head control, hand-eye coordination, and spatial awareness. 
What are the benefits of a baby mobile?
Last Updated on January 26, 2023 by Rejie Salazar
DISCLAIMER
(IMPORTANT)
: This information (including all text, images, audio, or other formats on FamilyHype.com) is not intended to be a substitute for informed professional advice, diagnosis, endorsement or treatment. You should not take any action or avoid taking action without consulting a qualified professional. Always seek the advice of your physician or other qualified health provider with any questions about medical conditions. Do not disregard professional medical advice or delay seeking advice or treatment because of something you have read here a FamilyHype.com.