Dirt bikes can be dangerous to you and more so for your child. The very definition of dirt bikes tells you that it can come with many risks. If you look up trail bikes, you will find that it is defined as "a motorcycle designed for use on rough terrains, such as unsurfaced roads or tracks and used especially in scrambling."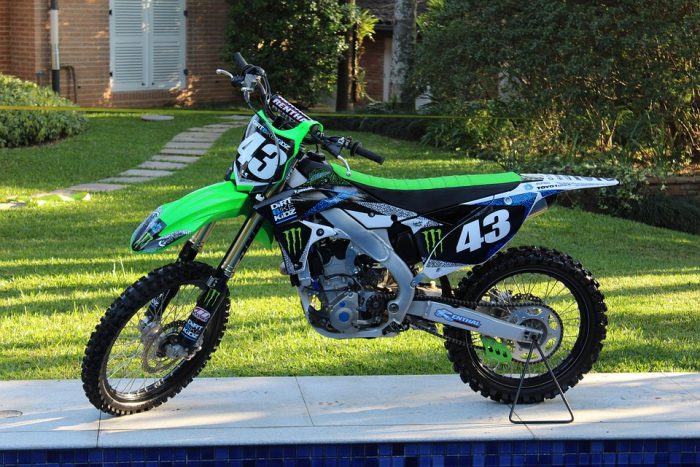 On the other hand, you can choose wisely and supervise closely. If you do that, you can make a supposedly dangerous sport a little less risky. A dangerous game can be safe and fun under your supervision. You merely need to choose one well.
Best Bikes for Youth
When you are choosing best youth trail bike rider for your child. There are a lot of options out there, and choosing the best one may be tough. This is what makes your job more crucial.
Make sure that you choose the right trail bike for your child's age. For example, if your child is between 3 years old to six years old, you will need a trail bike that can only go up to 10 miles per hour. When you look at bikes online, make sure you consider this.
For example, the Razor MX350 Dirt Rocket Electric Motorcross Bike can go up to 14 miles per hour. This bike is recommended if your child is 13 years old and older. It can also carry a weight of up to 140 pounds. If your child is younger than 13 years old, you may want to reconsider getting this bike for him or her. It may be too fast for your child's age.
Dirt Bike for Kids: Features
There are a number of safety features that you can look into which go along with the age range for each bike. One feature that is great for toddlers or young children who are just learning to ride a trail bike is a pair of training wheels. These are perfect for helping small teens learn how to keep their balance while staying safe.
Another good safety feature is the governor that should be on a youth motorcycle. The governor can be adjusted to keep the speed under the level you want. As your child's skills increase, you can adjust the governor so your youth mini dtrail bike can go faster and faster until it reaches its top speed. You'll find a traditional governor on a trail bike gas powered. There are often some type of governing device on youth electric trail bikes, too.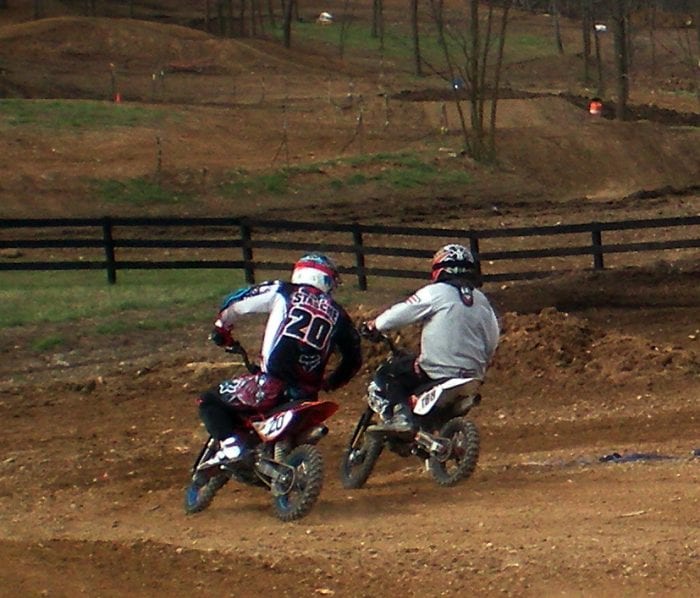 With Great Power Comes Great Responsibility
Yes, while this quote is accurate for superheroes, the same idea goes for trail bikes. Dirt bikes for youth are usually battery or electric. Rarely are they gas-powered, which is what standard dirt bikes for kids would be, however, there are some youth motorcycle options that have gas tanks. When you choose the trail bike for your child, make sure that you match the power with the age of your child. Giving your child a trail bike with too much gas power can turn into a very pricey mistake.
The younger your child is, the lower the "cc" should be. If your child is between 10 to 11 years old, the recommended "cc" is around 50 to 70 cc. If your child is older, they can start riding trail bikes with as much as 250cc. This is also when the trail bike needs to have more stability, power, endurance, and torque. At this age, too, your child can start joining competitions.
With very young children, there are youth electric bikes, too. You can put on your child as young as 3 years old on some 50cc gas powered bikes, but the majority of new riders will ride an electric motocross bike. You'll also find what's called a pit bike. Pit bikes are usually only 50cc and are meant for riding in a pit because they're lightweight and low power.
Coleman Powersports CT200 U is an excellent bike to consider. It has a quick pull-start operation. It can also go up to 196cc. This bike was also made to be sturdy, so your child can enjoy years on this bike. The recommended age for trail bikes like this is age 13 and up.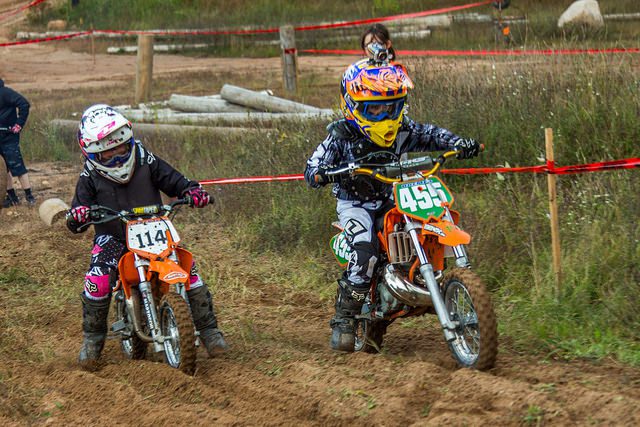 Gas Or Electric On Teens?
Most bikes are electric. However, there are also those that are powered by gas for your child who is ready for more power. The electric bikes are battery-powered. Gas bikes can go faster and have more power. When your child is starting to ride a dirt bike, start with the electric bikes and allow your child to get used to the power of the bike. As he or she gets older and fun turns to more passion, you can get more power with dirt bikes powered by gas.
Regardless of what type you choose for your child, though, you'll want to make sure they understand how to use a twist grip throttle. It's best if you let them try it out by taking their dirt bikes dirt bike riding in a large open space so there's nothing they can crash into while they're learning their throttle.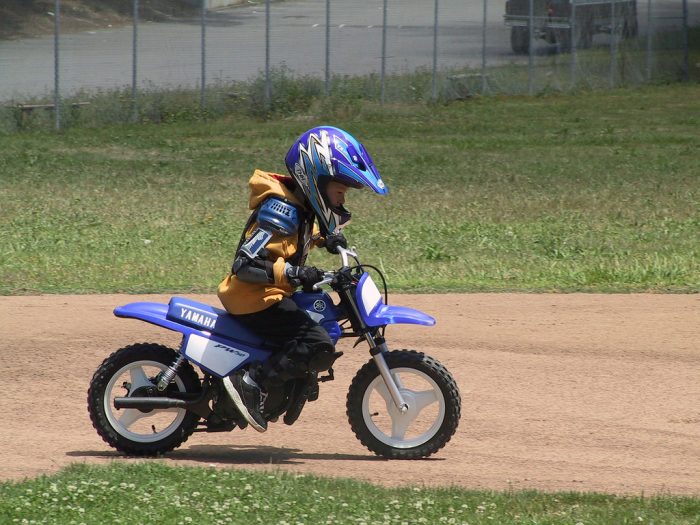 Kids Dirt Bikes
Dirt bikes are a lot of fun. Encourage your child to make the most out of riding as much as you can. It can start with just having fun on the bike. However, joy can turn into a passion as your child will learn to love having the wind on his or her face. Make sure that you properly supervise riding, so that your child early on will learn that riding a trail bike has to be done responsibly. Motocross and off road riding is only fun when children don't get hurt.
Dirt Bike For Kids: FAQs
What age is a minibike that are 50cc suited?
Children can safely ride a gas-powered 50cc dirt bike But the recommended age for trail bikes is four provided there are training wheels.
What are the best dirt bikes for a 10-year-old?
The best trail bike for a 10-year-old is either the Yamaha TT-R110E, the Honda CRF110F, or the Kawasaki KLX110. These three models are a good fit for a 10-year-old child and are priced reasonably.
What is a good beginner trailbike?
The Yamaha WR250 is the best beginner trail bike you can have. It has better brakes, better suspension, electric kicks start, and it features a great look. Another one that's great for beginners is the SYX Moto Kids Mini Dirt Bike Gas Power 2-Stroke 50cc. This SYX MOTO bike can be used by children as young as 6 years old. Check more trail bikes here for children 6 years of age.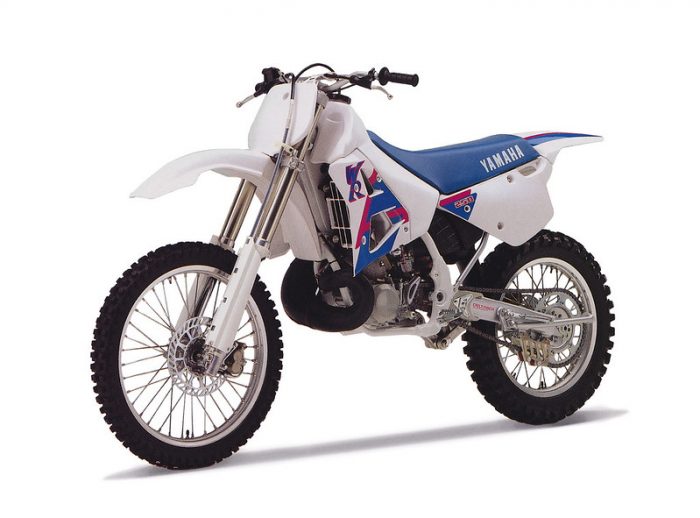 How fast is a 70cc dirt bike?
A 70cc dirt bike can go at 30 or 40 miles per hour.
How fast does a 125cc dirt bike go?
The average top speed of 125cc dirt bikes is 45mph. Manufacturers advertise it to be around 45 miles per hour. However, some consumers find they can push the limits to over 60mph.
What age is a dirt bike for?
Children as young as 3-years-old can begin riding on a small electric trail bike with training wheels. Trails bikes and other ride on toys just need to be purchased with age in mind. You can put a 3 year old on a children motorcycle, but something like a Honda CRF450R isn't going to be appropriate for children.
Are dirt bikes dangerous?
Riding dirt bikes for kids, in most instances, is a safe recreational activity for all. It just takes vigilance by the parents and the right safety equipment to protect children as they learn to ride. Orthopedic injuries do constitute a significant element of the injuries affecting children driving trail bikes.
How old does a child have to be to ride a dirt bike?
Children can start driving and riding trail bikes as young as 3 or 4 years old. However, there should be a proper setup and guidance. By the time they turn 5 or 6 years old, they can ride without training wheels.
What's the difference in a dirt bike and a street bike?
A trail bike will certainly have different tires than a road motorcycle. The tires have to be designed to ride over rough terrain instead of just a smooth road. You'll also find better suspension systems in a trail bike. A road motorcycle doesn't need as good of a suspension because it won't be used in jumps or for going over lots of bumps.
What's a good dirt bike for a 13 year old?
A good bike that isn't outrageously priced is the Razor MX350 Dirt Rocket Electric Motocross Off-Road Bike.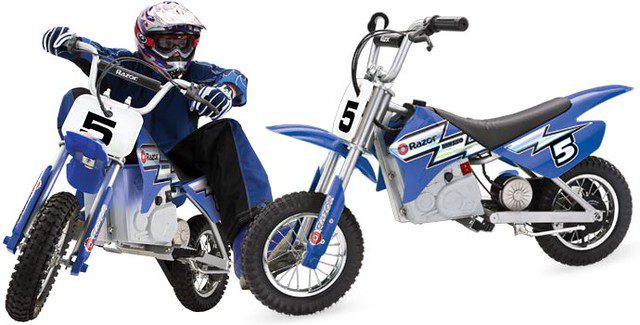 Is an ATV or UTV a better option for young riders?
For the most part, no. The problem with an ATV or UTV is that they're much heavier than a trail bike. That means, if your child loses control of the ATV or UTV, it's harder to get it back under control. Also, if the ATV or UTV gets rolled and ends up on top of your child, the injuries could be much worse because of the weight of ATV parts and the frames. An electric scooter or trail bike is typically a better option for younger riders.
Last Updated on January 19, 2023 by Rejie Salazar
DISCLAIMER
(IMPORTANT)
: This information (including all text, images, audio, or other formats on FamilyHype.com) is not intended to be a substitute for informed professional advice, diagnosis, endorsement or treatment. You should not take any action or avoid taking action without consulting a qualified professional. Always seek the advice of your physician or other qualified health provider with any questions about medical conditions. Do not disregard professional medical advice or delay seeking advice or treatment because of something you have read here a FamilyHype.com.