Welcome, all you thrill-seekers and fun-lovers! We're here to guide you through an exhilarating world of scooters.
Yes, that's right! Scooters aren't just for the pavement anymore; they've taken to the skies (well, as far as your jump can take you!). You may be a novice or a seasoned pro; either way, we've got something for everyone in this ultimate trampoline scooter guide.
This article will start by helping you choose the right scooter stunt that best suits your needs and skill level. We'll explore options from trusted brands like Razor, Airwalk, and Evolution, and discuss the differences in frame, handlebar, and wheel size.
Then we'll move on to mastering those essential basics – because everyone has to start somewhere, right?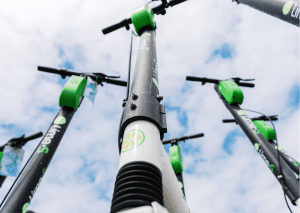 Once you're confident with that, we'll catapult into some advanced tricks and flips that will truly impress. And don't worry, we haven't forgotten about maintenance – looking after your gear is crucial for a safe and exciting indoors and outdoors ride every time!
Let's bounce and ride together in this thrilling adventure!
Key Takeaways
This article will cover an amazing journey through picking the perfect scooter, mastering basic moves, and pulling off advanced tricks and flips. You are going to learn how to keep our e-rides in top shape. With all that hard work and practice, you will now be ready to take on the scooter park!
So, get out there and show off all your new skills and let us know how it went! Happy bouncing and riding!
Choosing The Right Scooter
Selecting the perfect scooter isn't just about aesthetics; it's a decision that requires careful consideration of factors such as weight, balance, and durability.
Weight: Consider the weight of the ride in relation to the rider's strength and intended use. A lighter one is more manageable for kids and those who need to carry it frequently. However, for stability and durability, a slightly heavier ones might be more suitable, especially for adults or when riding on uneven surfaces.
Balance: Opt for the one that provides a good balance between stability and maneuverability. A well-balanced one will offer smoother rides and better control, reducing the risk of accidents. Check for features like wide decks, sturdy wheels, and appropriate wheelbase for enhanced balance.
Durability: Prioritize the ones made from durable materials that can withstand regular use and various terrains. Look for features like reinforced frames, high-quality bearings, and strong grips. Investing in a durable ones ensures that it will last longer, providing a reliable mode of transportation or recreation.
We also want to emphasize the importance of safety gear in customization.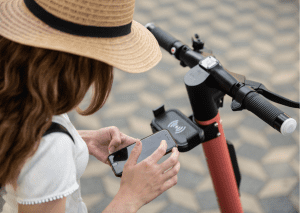 Now that you're equipped with this knowledge, let's transition smoothly into mastering the basics where you'll learn how to bounce and ride like a pro!
Mastering The Basics
Before you start showing off your high-flying tricks, it's crucial to nail down the basics first. Let's make sure we understand safety precautions and equipment selection: two key elements in mastering scootering.
Precautions: Safety should be a top priority when mastering a trick in scootering. Always ensure that the trampoline and scooter are in good condition before use. Wear appropriate safety gear such as a helmet, knee and elbow pads, and closed-toe shoes to protect yourself from potential falls and impacts.
Equipment: Having the right equipment is essential for a successful and safe experience. Choose the one that is suitable for trampoline use, ensuring it's in proper working condition. Use a trampoline that is designed to accommodate the ride, with a secure enclosure and a surface that provides enough grip. Make sure the wheels won't damage the mat.
By following these precautions and using the right equipment, you can enjoy riding while minimizing the risk of accidents and injuries.
Advanced Tricks And Flips
Diving into the thrilling world of advanced tricks and flips, we're committed to helping you unlock new levels of mastery on your tramp scooter.
From learning complex moves that'll impress your peers to sharing insider tips for perfecting your skills, we understand the challenges and exhilaration you'll face along the way.
Rest assured, as seasoned experts in this field, we've got your back every bouncing step of the way!
Learning Complex Moves
Mastering complex moves on your e-ride isn't just about skill; it's an adrenaline-fueled dance of precision and balance that'll leave your heart pounding.
Safety precautions are key to injury prevention, ensuring you can keep serving others with your impressive tricks. We're here to guide you in learning these intricate moves safely and effectively.
Now, let's transition into some helpful advice on fine-tuning those skills for maximum impact and performance.
Tips For Perfecting Your Skills
When you're up there, gravity-defying and adrenaline-soaring, it's all about honing those skills to near perfection for a breathtaking performance. Here are some tips:
Always follow safety precautions.
Practice consistently.
Seek professional advice.
Consider equipment upgrades.
Stay patient and positive.
Remember, mastery takes time.
Now that we've got the tricks down pat, let's dive into ensuring our trusty trick scooters remain in top-notch condition.
Maintaining Your Scooter
Keeping your trick scooter in top-notch condition isn't just a suggestion, it's an absolute must if you're serious about your stunt scooter game!
Regular cleaning not only keeps it looking fresh but also helps in identifying potential damage early. Avoid using harsh substances and chemicals that could damage the materials. Clean the wheels and bearings using a soft brush to prevent buildup that might affect the performance.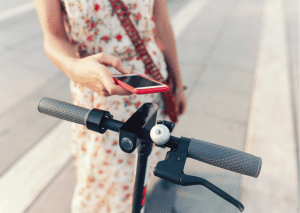 We understand that damage repair can be daunting, but trust us, timely fixes will ensure smooth rides and longevity. Tighten loose bolts and screws to ensure stability. If you notice any issues like wobbly wheels or squeaky scooters accessories or parts, address them promptly to prevent further damage.
Remember, the best service you can offer is maintaining your gear!
Conclusion
We've taken an amazing journey through picking the perfect scooter, mastering basic moves, and pulling off advanced tricks and flips.
We've also learned how to keep our pro scooters in top shape. With all that hard work and practice, you're now ready to take on the pro scooter park!
Remember with the right pro scooters knowledge, practice, and confidence, you can own the park on your next visit. So, get out there and show off all your new skills. Happy bouncing and riding!
Frequently Asked Questions: (FAQs):
What Is a Trampoline Scooter?
A trampoline scooter is a unique type of Indo designed specifically for practicing new tricks without hitting the ground.
How Do You Make Trampoline Scooters Out of a Scooter?
To make one out of a regular scooter, you'd remove the wheels and ensure the deck is smooth, enabling riders to use it on an Indo trampoline without damage.
How Do You Set Up The Item?
Setting up a trampoline scooter involves choosing a sturdy one with a good deck, removing the wheels, and ensuring the scooter's stock parts won't damage the surface.
What Are the Easiest Scooter Tricks?
The easiest scooter tricks for beginners are usually simple jumps and bunny hops, which help to build confidence in riders before they progress to more challenging maneuvers.
Can Electric Ride Do Tricks?
Electric scooters are primarily designed for commuting, and while some riders might pull off basic maneuvers, they aren't specifically built for performing new tricks like a trick scooter.
How to Do a 360 Spin?
To do a 360 spin on a scooter, start with building momentum, then twist your body and pull the deck around with your feet, ensuring a close and tight rotation.
How to Do a 180 Flip?
A 180 scooter flip involves half a spin, where riders will start by jumping, then using their arms and legs to flip the deck 180 degrees before landing.
What Is Trick Scootering Called?
Trick scootering, loved by many boys and girls alike, is often referred to as "stunt scootering" or "freestyle scootering".
How to Do Stunts on a Scooter?
To do stunts on a scooter, it's essential to buy a quality trick scooter, practice every day, and gradually join advanced moves as your skills progress.
Is Scootering Good Exercise?
Yes, scootering is great exercise! Riding, especially when incorporating tricks, offers a cardio workout that not only builds confidence but also improves balance and strength. It's worth noting that many youngsters, like my son, find it more engaging than traditional exercises. Plus, with every purchase of scooter-related products, it's wise to checkout the cart thoroughly, considering taxes and other costs before hitting esc to close the transaction.
Last Updated on October 10, 2023 by Allen Laconsay
DISCLAIMER
(IMPORTANT)
: This information (including all text, images, audio, or other formats on FamilyHype.com) is not intended to be a substitute for informed professional advice, diagnosis, endorsement or treatment. You should not take any action or avoid taking action without consulting a qualified professional. Always seek the advice of your physician or other qualified health provider with any questions about medical conditions. Do not disregard professional medical advice or delay seeking advice or treatment because of something you have read here a FamilyHype.com.