We've all seen them, those sleek, zippy little vehicles that are part skateboard, part bicycle, and entirely fun – yes, we're talking about kick scooters! At FamilyHype, we understand the desire to provide the best experience for those you serve – be it your own children or your community at large. That's why we're here to guide you in finding the perfect model – one that looks stylish, is durable, easy to use, and safe.
In this article, we'll delve into the rise of kick scooters, dissect their anatomy, discuss what features to look out for, reveal our top pick for the best kick scooter on the market today, and encourage you to share your feedback.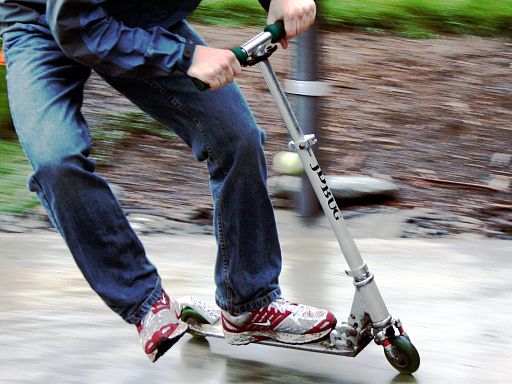 Transportation vehicles like kick scooters include topics such as safety, ease of use, and durability. Aside from that, we also tackle topics like its parts and components – wheels, handlebars, pedals, and more.
Kick scooters are an iconic mode of transportation, bringing a classic and cool sense of style to our streets. With the right knowledge and research, you can find the best and perfect kick scooter for your family or community – one that is stylish, durable, easy to use, and safe.
Key Takeaways
The goal of this article is to illustrate the anatomy of a scooter and for you to have a better understanding of what to look for when purchasing one. The perfect choice is all about finding the right fit for your needs. When it comes to electric scooters, you need to take into account their size, weight, and materials used. Size and weight will determine how it handles and how easy it is to control, while handlebar height and front wheel design are additional features to consider. The materials used will determine the durability and overall safety of the adult scooter.
We believe FamilyHype has provided you with enough information to make an informed decision when it comes to buying a kick scooter. Each of these has its own unique characteristics, such as size, weight, materials, and design. With the right research and guidance, you'll be able to pick the perfect model for you and ride around in style in no time.
The Rise Of Kick Scooters
You've probably noticed that these aren't just for kids anymore. They're taking over city streets and parks in a big way. Both young and old have fun using this mode of transportation – as it can be used for commute and enjoyment. 
These have always been a source of enjoyment for children of all ages. But in recent years, more companies have released a lot of kick scooter options with varying features. It's up to your preference as to which would be the best choice for your child (or you)! Let's dive into this exhilarating trend.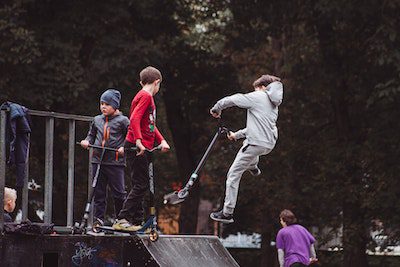 As urban mobility evolves, laws and legislation are catching up to ensure safety and accessibility. We understand your need to serve others effectively, so stick around as we glide into our next section discussing the intricate details of a kick scooter's anatomy.
The Anatomy Of A Kick Scooter
Let's dive into the nitty-gritty of what makes these two-wheeled wonders tick, shall we? A scooter's anatomy centers around durability and safety features. Before manufacturing, a company must ensure that the model they will create is sturdy and safe to use for all ages. They consider a lot of components and features of a scooter that range from weight capacity, material quality, and adjustable and foldable features.
Its sturdy frame supports weight while resisting wear, ensuring longevity. The handbrake system and non-slip deck enhance safety, giving users confidence in their rides. Other than that, there are many models that incorporate different unique features. Some have adjustable handlebars and reliable stands and are made up of high-quality materials for a sturdy ride.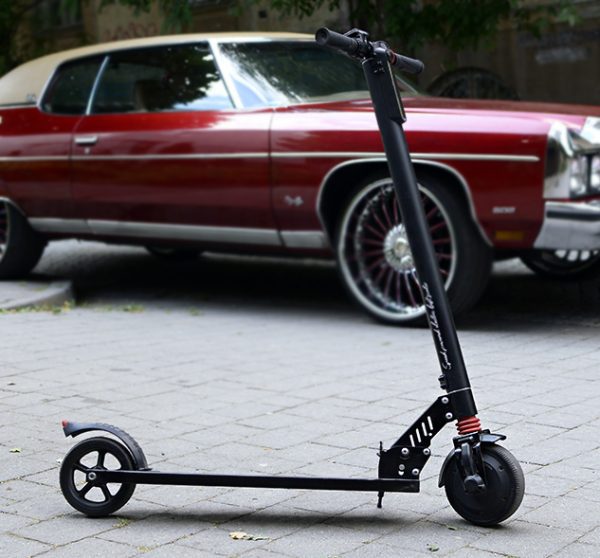 With this knowledge at hand, you're better equipped to discern quality when choosing your next scooter. Now let's glide into understanding what to look for in a kick scooter.
What To Look For In A Kick Scooter
Navigating the world of two-wheeled wonders isn't always a breezy ride, but understanding what to look for can steer you into a smooth ride. Consider these four essential aspects:
Scooter Safety: Ensure it has reliable brakes and sturdy construction.
Comfort: Look for adjustable handlebars and cushioned grips.
Scooter Maintenance: Opt for scooters with replaceable parts.
Performance: Choose one with smooth-rolling, durable wheels.
Armed with this knowledge, let's glide into discussing our pick.
The Best Picks For Kick Scooters 
So, we're stoked to share our top pick with you. After extensive brand comparisons, the nod goes to the Razor A5 Lux for its stellar blend of durability and performance. It's a classic model that truly embodies coolness!
This model has a weight capacity of 220 lbs. It's suitable for children ages 8 and above. Other unique features include a rear fender brake, adjustable-height folding handlebars that have foam grips, and a retractable stand. Most of all, it's foldable!
Lastly, maintenance is a breeze thanks to its high-quality build. We believe it's an excellent choice for anyone committed to serving others through fun and active transportation.
There are many best kick scooters from different brands, but the A5 Lux is perfect for your little kid. There are also the best adult kick scooters from the Razor brand, like the Power Core E100. Other brands that sell kick scooters that are high-quality are GoTrax and Segway.
Both of these companies sell kick scooter models at an affordable price. For kids, you can buy the GoTrax GKS or GKS Pro. You can also opt for the G2 Plus. Meanwhile, Segway Ninebot's line of scooters can all be compared to Razor's models – they perform as well and some even better.
Conclusion For Best Kick Scooters
So, there you have it! We've dissected the anatomy of a kick scooter and highlighted what to watch out for when buying one. We've even revealed our top pick. Choosing the perfect scooter is all about finding the right fit for your needs. When it comes to scooters, it's important to consider their size, weight, and materials used.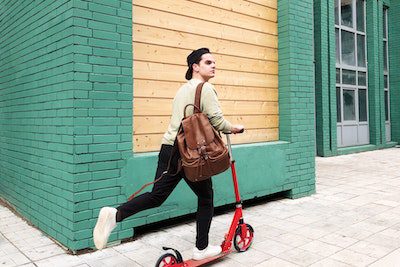 Size and weight will affect how it handles and how easy it is to control. The materials used will determine the durability and overall safety of the scooter. Trust us – with a bit of research and guidance from FamilyHype, you'll be scooting around in style in no time at all.
We would love to hear your feedback about this article, your experience, or your opinions. Happy riding!
Frequently Asked Questions (FAQs)
Which Is The Best Brand For Kick Scooters?
Some of the best brands for both children and adult kick scooters are Razor, Mongoose, Schwinn, Hurtle, and Swagtron. Top kick scooters and electric scooters from Razor include models such as the A5 Air, Phase Two Pro Scooter Radtke, Power Core E100, and A Scooter. The E100 is a good adult scooter that can ride up to sixty minutes at a maximum speed of 11 mph, perfect for short commutes. The A5 Air has a folding mechanism for convenience if you want to stash it away. These models also have good battery life and reasonable weight capacity for a comfortable ride. If you are interested in a more advanced option, you might consider the Segway Ninebot for a smooth ride.
Is A Kick Scooter Worth Buying?
Yes! In general, a good kick scooter is safer than an electric kick scooter because you move slower in it. That leads to fewer bumps, and falls will hurt less. Among all the scooters for adults, the kick scooters are the cheapest option. Since they don't operate on electricity and don't need to be highly durable for tricks, they cost less. This makes them a great choice for those considering their first wheel-based mode of transport.
How Do I Choose The Best Scooter For Me?
When it comes to choosing kick scooters or electric kick scooters, there are many features you should consider. From the weight limit, front wheel or rear wheel drive, wheel size, folding mechanism, adjustable handlebar height, bearing quality, deck height, braking system, and other attachments. Choosing small or larger wheels depends on your purpose for riding a scooter. For little kids, there are many kick scooters that have light-up wheels. For adult scooters, there are many models of lightweight scooters if you prefer it. Be sure to check if the scooter has pneumatic tires for a smoother ride.
What Are Their Disadvantages?
Since you just do kick scooting, it is slower than an electric scooter. The top speed it can do is lower since it depends on you – if you get tired immediately, then you'd have a longer travel time. It offers a limited range, and rider weight can affect the speed and ease of movement. It can also be difficult to use at first. You can choose to buy a lightweight scooter so that you have an easier time riding it.
Are Kick Scooters Bad For Knees?
No, since it does not require a lot of knee-join movement. In reality, it is gentle on the knees. If you do have knee problems, though, the best scooter would be a lightweight scooter or an electric scooter one where you don't have to strain your legs.
Is Kick Scooter Good For Health?
Yes! It brings many benefits to your health. By using a child or adult kick scooter continuously, you build your muscles and strengthen your back, hips, and thighs. It's also good for your cardiovascular health. Overall, it's a great scooter option for improving your fitness.
Is Riding Better Than Walking?
Compared to walking, scooting will give you an increased heart rate. It also lets you improve more of your overall strength and endurance. Riding on a scooter, whether manual or electric, provides good cardio fitness exercise.
Can Kick Scooter Go Uphill?
It can be very hard for a kick scooter to go uphill. Since you have to manually push yourself to move, then it can be very dangerous for you to try going through steep inclines. Even your rear brake won't be enough to lessen the impact if you suddenly stop while riding uphill.
Do Adults Use Kick Scooter?
Yes! Both young and old enjoy using kick scooters. They bring many benefits to an individual and it is a great way to bond as a family. If you're seeking alone time, cruising around the streets will definitely freshen you up.
What Muscles Are Affected When Riding?
As we've mentioned, they strengthen the muscles in our back, hips, and thighs. To be specific, our quads, glutes, and core become engaged when one is using a kick scooter. It gives a big range of motion for the glutes, hamstrings, and lower legs.
Last Updated on October 15, 2023 by Bernadine Racoma
DISCLAIMER
(IMPORTANT)
: This information (including all text, images, audio, or other formats on FamilyHype.com) is not intended to be a substitute for informed professional advice, diagnosis, endorsement or treatment. You should not take any action or avoid taking action without consulting a qualified professional. Always seek the advice of your physician or other qualified health provider with any questions about medical conditions. Do not disregard professional medical advice or delay seeking advice or treatment because of something you have read here a FamilyHype.com.