We've all heard the saying, 'Safety first!' But who says you can't combine safety with style when it comes to scooter helmets? At FamilyHype, we're here to debunk that myth.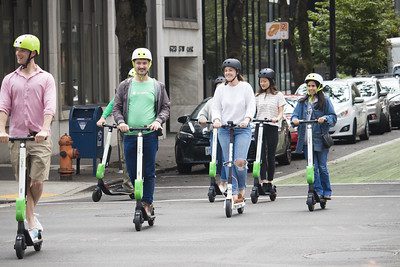 In this guide, we'll explore the ins and outs of scooter helmet safety standards and delve into different types of helmets available on the market, such as full-face helmets, half-shell helmets, multi-sport helmets, and novelty helmets.
We'll also highlight key features to look for when making a purchase, such as adjustable straps, impact-resistant materials, and air vents. Plus, we'll introduce you to some top-rated brands that don't skimp on either safety or design, such as Pro-Tec, Bern, and Triple Eight.
Whether you're an experienced scooter rider or new to the scene, this guide serves as your go-to resource for the best combination of protection and flair in scooter helmets. So stick around! You might just find your perfect blend of safe and stylish helmets right here.
Key Takeaways
We've covered a lot in this guide about scooter helmets, haven't we? From safety standards to different types of helmets, and key features to look for – it's all essential knowledge. It is important to make informed decisions about safety. This guide was created for the best scooter helmets.
When searching for the perfect helmet, remember it isn't just about style, it's about safety too! Make sure to look for features such as adjustable straps, hard shell materials, and a secure fit for optimal safety.
At FamilyHype, we believe in the importance of protecting riders from potential injury. Choosing a helmet that meets the highest safety standards, such as DOT and Snell, is essential for maximizing safety on a scooter. Additionally, look for the best helmet features like adjustable straps, a hard shell material, and a secure fit for optimal protection.
Ride safe out there! We'd love to hear your feedback about this guide. Share your experience and opinions with us on our website.
Understanding Helmet Safety Standards
It's crucial to comprehend the safety standards set for scooter helmets, as they're not just about style but also about safeguarding your noggin.
Impact absorption and helmet lifespan are key factors in these standards. It's like having an insurance policy for your brain. Knowledge of these requirements helps us pick a helmet that truly serves our safety needs.
Now, let's delve into understanding different types of scooter helmets next.
Different Types Of Scooter Helmets
Now that we've delved into the importance of helmet safety standards, let's explore the different types of scooter helmets you might come across.
From full-face helmets that offer comprehensive protection, open-face helmets that balance security with a wider field of view, to half helmets for those who prefer a more minimal design – each has its unique features and benefits.
We're here to guide you through these options so you can make an informed decision about what suits your needs best.
Full-Face Helmets
Full-face helmets, without a doubt, offer the most protection for scooter riders. They encompass several significant features, such as a robust design that ensures maximum safety. Additionally, they offer numerous styling options to suit personal tastes. Moreover, these helmets are easy to maintain due to their detachable parts.
These helmets are ideal for those who prioritize safety and style in equal measure. This type also includes a chin bar which offers protection for the lower part of your face. Unlike regular bicycle helmets that don't give you that extra safety.
A full-face helmet is good when riding high speeds above 20mph. Electric scooter riders who ride at a lower speed do not need full-face ones. A prime example of this type is the motorcycle helmet. Motorcycle helmets are produced by various brands, like Razor. This full face helmet is good for scooter riders who like extreme rides, as the outer shell of this face helmet can give them full protection.
Now, let's transition smoothly into discussing another popular choice among riders – open-face helmets.
Open-Face Helmets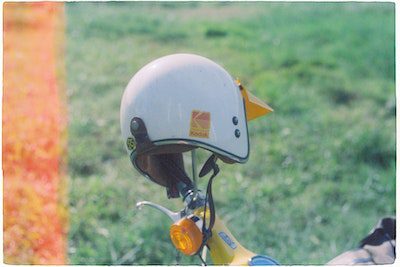 Peeking into the world of open-face helmets, you'll find they offer a liberating sense of freedom and a clear, unobstructed view of your surroundings as you cruise down the road.
Helmet designs are plentiful and color varieties endless, allowing us to serve our individual style needs while prioritizing safety. These types are best for kids who are beginning to learn how to use scooters.
As we shift gears from discussing these free-spirited options, let's delve into another category that merges style with protection: half helmets.
Half Helmets
Embracing the thrill of the open road, half helmets pack a punch when it comes to marrying minimalist design with top-notch protection. They're perfect for those who crave helmet customization and vintage aesthetics without compromising safety.
While they may not offer as much coverage as other options, they certainly deliver on style and freedom.
Next up, we'll delve into what key features you should consider ensuring your scooter helmet is a perfect match for your needs.
Scooter Helmet Features
When choosing a scooter helmet, there are several key features we'll need to consider for both safety and comfort.
Ventilation is crucial for keeping cool during rides, while the quality of the visor can significantly affect visibility and protection from the elements.
The best electric scooter helmets can offer both comfort and fit play into long-term wearability, ensuring our helmets provide maximum security without sacrificing ease of use.
Ventilation
You'll be amazed at how much a well-ventilated helmet can keep you cool and comfortable, even during those sweltering summer rides! Here are some key points to remember:
Helmet Breathability: Crucial for reducing sweat and discomfort.
Look for helmets with multiple vents.
Ventilation Adjustability: Allows customization of airflow.
Seek out designs that let you open or close vents as needed.
Next, we'll delve into the importance of visor quality.
Visor Quality
Moving on from ventilation, let's dive into the importance of visor quality. A great helmet includes a sturdy visor that's resistant to fogging and scratches. Look for helmets with anti-fog solutions and consider having visor replacements handy.
Your sight should never be compromised while on the move! Now that we've touched upon visibility, we'll shift our focus toward ensuring your chosen helmet offers an unbeatable blend of comfort and fit.
Comfort And Fit
Ensuring your headgear snugly fits like a glove and is comfortable for long rides isn't just an added bonus, it's a must-have feature. Padding materials play a significant role in this, while strap adjustability ensures a perfect fit. A helmet that doesn't fit right or causes discomfort could distract you from focusing on the road.
Now that we've covered comfort and fit, let's delve into some of the top-rated scooter helmet brands available on the market.
Top-Rated Scooter Helmet Brands
Let's dive into some of the top-rated scooter helmet brands that combine safety with sleek design.
Bell Helmets – Known for their high-quality helmets and reputation for safety.
Shoei Helmets – Offers unrivaled comfort and a wide range of customization options.
HJC Helmets – Affordable, stylish, and popular for their brand reputation.
Each offers unique opportunities for helmet customization, ensuring your ride in both style and safety.
Conclusion
We've covered a lot in this guide, haven't we? From safety standards to different types of helmets and critical features to look for – it's all essential knowledge.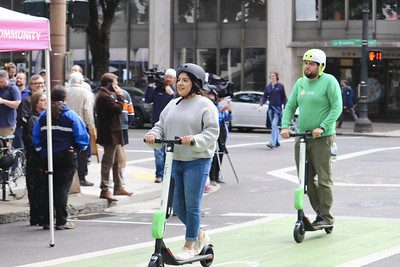 We hope you've found our guide helpful and feel more confident in picking the scooter helmet that is best for your needs. We've included information on the different types of scooter helmets, their safety standards, and the key features to look for.
As you search for the perfect helmet, remember that it isn't just about style, it's about safety too! Be sure to look for features like adjustable straps, hard shell materials, and a secure fit. When it comes to scooters, safety should be your top priority.
Ride safe out there!
Frequently Asked Questions (FAQs)
Which Is The No. 1 Helmet?
At the top of the list, we have Closca's Loop Helmet. This one has a very compact design with an ergonomic elastic band. Other best electric scooter helmets you can try are the Shoei RF-SR, the Bell Custom 500, the Vega Warrior, or the Shoei VFX EVO Allegient. The RF-SR has an outer shell that comes in four different sizes – most only offer two or three shell sizes.
What Kind Of Helmet Is Best For Electric Scooter?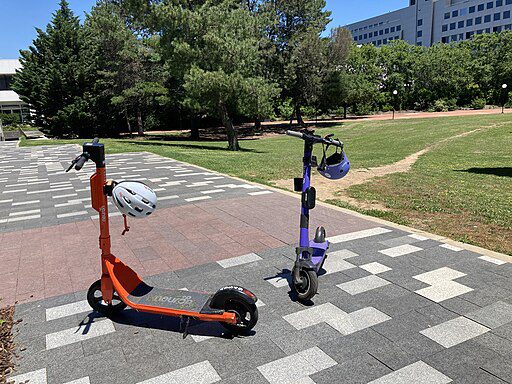 If you ride your e-scooter at low speeds, then standard bike helmets are sufficient. If you plan on going at higher speeds or traveling in bad road conditions, then you can try the downhill helmet. For full protection, motorcycle helmets are recommended.
What Is The Most Quality Helmet?
The Bell Qualifier takes the top spot for the most quality helmet. It provides the greatest protection for those riding an electric scooter at top speeds. This model is DOT-approved and has an ECE 22.05 certification. This will give you more than just decent protection and prevent you from sustaining any head injuries.
Is A Bike Helmet OK For Scooter?
Yes, you can use these or even a mountain bike helmet. Downhill helmets are also good to use for your scooter. These are under the full-face type. Take note that there are specific bicycle helmets for electric scooters that have been tested for scooter riding – those are the models you should purchase.
How To Choose Helmet For Scooty?
Each type of helmet has its own purpose. For low speeds, a standard bike helmet is sufficient. But a better choice would be a downhill one. For those who hit 30-40mph when they go, motorcycle ones are recommended. If you already have a regular bike helmet at home, you can use that if you only plan on going on safe roads and at low speeds.
How Do I Choose A Scooter Helmet?
As we've mentioned, the first step is to pick the correct type based on your speed. Next, consider the features of it – this includes safety certifications, weight, size, and ventilation. This is something you will be wearing every time, so don't rush your choice. Another thing you should consider in an electric scooter helmet is the material it is made in – for example, a polycarbonate shell is a good one. An effective type to choose from would be the full-face type or a lightweight helmet.
Which Helmet Is Best For Daily Use?
A standard one is good for daily use. Popular brands include Segway, Basecamp, Bell, and Closca. There are many brands that offer great features, so be sure to do a thorough research.
What Size Scooter Helmet Do I Need?
Research the helmet sizing guide that is available online and measure the circumference of the widest part of your head using a tape measure.
Are Cheaper Helmets Less Safe?
When you buy cheaper versions, you also compromise your safety. Because cheaper ones use lower-grade components, then your protection is reduced. Comfort is also decreased. There are many budget versions you can purchase.
Do You Need A Special Helmet For Electric Scooter?
No, not really. There are many types of helmets that you can purchase and use as you ride electric scooters. You just have to pick the right helmet that fits you. There are some that have a built in sun visor and help keep your head cool as you cruise through the streets.
Last Updated on October 1, 2023 by Lisette Lao
DISCLAIMER
(IMPORTANT)
: This information (including all text, images, audio, or other formats on FamilyHype.com) is not intended to be a substitute for informed professional advice, diagnosis, endorsement or treatment. You should not take any action or avoid taking action without consulting a qualified professional. Always seek the advice of your physician or other qualified health provider with any questions about medical conditions. Do not disregard professional medical advice or delay seeking advice or treatment because of something you have read here a FamilyHype.com.