We've all been there – the thrill of independence that comes with your child's  first ride.
When it comes to choosing the best scooter for teenagers, factors like a reliable folding mechanism, shock absorption, adjustable handlebar height, and a sturdy rear fender are paramount. Electric scooters, particularly those with cruise control and extended ride time, offer not just convenience but also efficiency for young riders.
Additionally, scooters with big wheels provide stability, ensuring a smoother ride on various terrains. Opting for the best electric scooter means considering these features, ensuring a safe, comfortable, and enjoyable experience for teenage riders.
Scooters, being economical and eco-friendly, are a popular choice among parents and teens alike. But with a sea of brands out there, how do you pick the right one? At FamilyHype, we're here to help.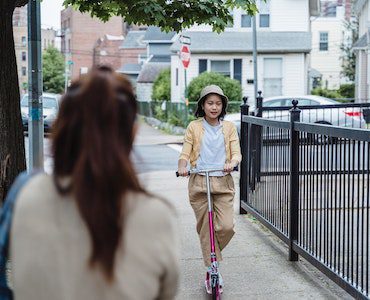 In this article, we'll break down the basics of mechanics and navigate through top electric scooters ideal for young adults. You can expect reviews on each performance, design, safety features, and durability.
Our aim is to arm you with all the information you need to make an informed choice about your teen's new set of wheels. After all, isn't it our job as parents to ensure they're not only having fun but also staying safe? So buckle up and let's explore the ride for young adults together!
Scooter For Teenager Summary
At FamilyHype, we understand the importance of finding the perfect ride for your young adult. Whether your teen is looking for a Razor, Segway, or something else, we want to make sure you have all the details you need to make an informed decision. Safety should always be the number one priority when it comes to rides, so we've put together this guide to help you find the best ride for your young one.
When considering which scooter to buy, you should take into account the type of ride, the size of the wheels, the weight of the scooter, the braking system, the handlebar design, and the overall portability. These features can affect your teen's ability to use your ride safely and comfortably. Additionally, it's important to consider brand reputation and customer reviews to ensure you are getting a quality scooter.
Best Teenagers' Scooters
Before you dive into the world of scooters, it's crucial you understand the basics – they're not just for kids anymore, and there's a lot more to them than meets the eye!
For young adults, grasping the fundamentals of scooters and their components is essential. It ensures safe operation by teaching how to steer, control speed with the throttle and brakes, and maintain tire pressure. It also instills a sense of responsibility for care. Understanding the power source promotes economic awareness while fostering independence and problem-solving skills. Knowledge of regulations and eco-friendliness further contributes to responsible scooter use and safer riding.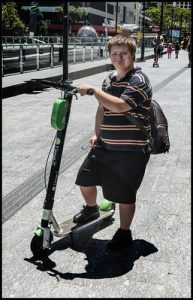 Scooter maintenance tips and safety gear essentials are integral parts of scooter ownership. Equipping yourself with this knowledge ensures that your teen rides safely and their scooter lasts longer.
Now, let's discuss some top scooter brands suitable for teenagers.
Best Scooter Brands For Teenagers
When you're on the hunt for the most ideal scooters that young adults can hav, certain brands truly stand out from the rest. Razor and Micro Scooters are renowned for their commitment to scooter safety measures, making them ideal choices for teenagers. They offer excellent features such as lightweight design, powerful motors, and secure brakes.
We also highly recommend Segway Ninebot, known for its eco-friendly ride that don't compromise performance or style.
Read on as we dive deeper into comprehensive reviews next, providing insight into these leading brands and more!
Best Scooter Reviews
When it comes to choosing the perfect ride, the market offers a trio of compelling options: Razor, Micro, and Segway Ninebot. Each brand brings its unique set of features and qualities to the table, catering to different preferences and needs.
Razor:
Razor scooters designed for teenagers are sturdier and feature upgrades like reinforced aluminum frames, larger wheels for a smoother ride with solid or pneumatic tires to choose from, adjustable handlebars, and improved brakes. They maintain a foldable design for portability and may even offer electric options for longer commutes, ensuring a smooth ride.
Micro :
Micro scooters for teenagers are designed with precision and durability in mind. They often feature larger wheels for a smoother ride and adjustable handlebars to cater to varying heights. These scooters combine style with functionality, making them popular choices among older kids and teenagers for both commuting and leisure. They are known for their high-quality craftsmanship and are a reliable mode of transportation, offering a fun ride quality and a convenient way to navigate their surroundings while staying active.
Segway Ninebot:
Segway Ninebot scooters are known for their long-lasting batteries, powerful motors, and smart connectivity options. They offer portability, safety features, and durability. Many Segway Ninebot scooters are equipped with shock absorption features and a pneumatic tire to provide a smoother and more comfortable ride. Segway Ninebot offers electric scooters with various braking systems, including electronic brake and regenerative options. These scooters cater to a wide range of riders and are eco-friendly, making them a versatile and efficient choice for urban transportation.
Armed with this knowledge, you're now ready to navigate the exciting journey of selecting the ideal scooter for your teen.
Choosing The Best Teenager Scooters
Now that you're well-versed in scooter brands, it's time to focus on selecting the perfect set of wheels for your young adult.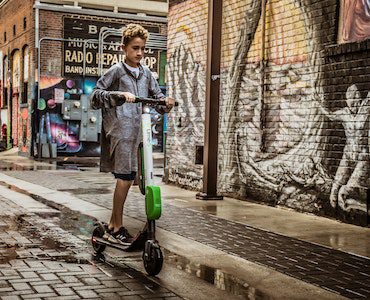 Choosing the right ride for your teen involves considering their age, size, intended use, and safety. Decide on the scooter type, check weight limits, and factor in terrain and budget. Additionally, you may want to consider brand reputation and customer reviews to ensure you are getting a quality scooter. Make sure to adhere to local regulations for scooter use. Involving your teen in the decision ensures they get a safe and enjoyable riding experience.
Some important considerations if you're looking for the best electric scooter for teens are:
durable construction
powerful motor
reliable braking system (disc brakes or regenerative braking)
excellent battery life
adjustable handlebar
portable scooter or folding mechanism
well-designed suspension system (single or dual suspension system)
Prioritize safety measures and consider scooter maintenance requirements, including the ability to maintain the scooter's top speed. Will they be able to keep up with necessary upkeep to ensure both safety and optimal performance? Remember, the goal is promoting their independence while ensuring safety.
Conclusion
In conclusion, finding the top electric scooter for teenagers involves considering factors like weight capacity, safety features, and the specific needs of young riders transitioning from kid scooters to more advanced models. With the right choice, teens can enjoy a thrilling and safe ride, making their journey into electric mobility both exciting and responsible.
We understand the importance of finding the perfect scooter for your teenager. Whether your teen is looking for a Razor, Micro, Segway, or something else, we want to make sure you have all the details you need to make an informed decision.
As you shop for the best ride for your young one, safety should always be the number one priority. With this guide, we hope to provide you with the information you need to navigate the wide world of scooters and find the perfect fit for your teen.
FAQs On Best Scooters For Teenagers:
Can You List Best Scooters For A Teenager?
When choosing a scooter for a 13-year-old, it's essential to consider factors like height, weight, skill level, and intended use. Some scooters for teens are:
Razor A5 Lux Scooter
Micro Sprite Scooter
Fuzion Z300 Pro Scooter
Globber Elite Scooter
Segway Ninebot KickScooter E22
Xiaomi Mi Electric Scooter
Which Teenager Scooter Is Best For 16-Year-Olds?
For 16-year-olds looking for electric scooters, several options are available to cater to their needs and preferences. Models like the Segway Ninebot KickScooter E22, Xiaomi Mi Electric Scooter, Ather 450X (where available), Ola S1/S1 Pro, and Bajaj Chetak Electric are good choices if you're looking for an excellent teen electric scooter.
Can A 13-Year-Old Ride A Scooter For Teenager?
Yes, a 13-year-old can ride a scooter, but it's essential to select a sturdy scooter designed for their age and size. They should wear a helmet and adhere to local rules and safety guidelines to ensure a safe and enjoyable riding experience.
What Scooter Is Best For A 12-Year-Old?
The best scooter for a 12-year-old depends on various factors, including their size, skill level, and intended use. Here are some scooters that are generally suitable for 12-year-olds:
Razor A3 Kick Scooter
Micro Maxi Deluxe Kick Scooter
Fuzion X-3 Pro Scooter
Razor E100 Electric Scooter
Globber Elite Deluxe Scooter
Swagtron K5 3-Wheel Kids Scooter
What Is Best Scooter For 14 Year Old Teenager?
Choosing a scooter for a 14-year-old boy involves considering factors like size, riding preferences, and skill level. The best electric scooters for teens this age are:
 Razor A5 Lux for comfort
Micro Maxi Deluxe for quality
Fuzion X-5 Pro for stunts
Xiaomi Mi Electric Scooter for a balance of performance and cost.
What Is The Safest Teenager Scooter?
Safety in a scooter depends on factors like rider behavior and proper safety gear. A safe scooter typically has sturdy construction, good brakes, and a stable deck. Responsible riding in suitable environments is crucial for safety.
What is the best brand of scooter?
The greatest scooter brand depends on individual preferences. Razor is known for affordability and quality, while Micro excels in engineering. Fuzion specializes in stunt scooters, Xiaomi balances performance and cost, and Segway Ninebot offers innovation. Swagtron focuses on affordability, and Apollo and Dualtron are top choices for electric scooters.
Which scooter is perfect for beginners?
The ideal scooter for beginners varies depending on age and intended use. Razor's A3 Kick Scooter is a simple and durable choice for all ages. Micro Maxi Deluxe offers precision engineering for a smooth ride, while Fuzion's X-3 Pro is beginner-friendly for those keen on stunts. For a young rider, the Swagtron K5 3-Wheel Kids Scooter provides added stability. Prioritizing safety with proper gear is crucial for all novice riders.
What is a good age to start a scooter?
The suitable age to start a scooter depends on a child's development and readiness. Kick scooters are typically appropriate for children as young as 2 to 3 years old if they have basic balance and coordination skills. Three-wheel scooters can be used by kids around 2 to 5 years old, offering extra stability. Stunt scooters are designed for older children and teenagers with the necessary strength and skill, while electric scooters often have age restrictions, usually for teens around 13 and older. Safety gear, especially helmets, should always be provided, regardless of age, to ensure a safe riding experience.
Which scooter has the greatest power?
Scooter power can vary significantly depending on the type of scooter and its intended use. Electric scooters typically have varying levels of power based on their motors and battery capacity. Here are some electric scooters known for their power and performance:
Dualtron Thunder
Apollo Pro
Kaabo Wolf Warrior
Zero 11X
Dualtron X
Last Updated on September 30, 2023 by Mary Cimeni
DISCLAIMER
(IMPORTANT)
: This information (including all text, images, audio, or other formats on FamilyHype.com) is not intended to be a substitute for informed professional advice, diagnosis, endorsement or treatment. You should not take any action or avoid taking action without consulting a qualified professional. Always seek the advice of your physician or other qualified health provider with any questions about medical conditions. Do not disregard professional medical advice or delay seeking advice or treatment because of something you have read here a FamilyHype.com.