As parents, guardians, and caregivers, we all understand the thrill and excitement that comes with our little ones hopping on their first scooters. Watching them explore their world on wheels is priceless! But that joy can quickly turn to anxiety if we don't take proper safety measures.
This article is here to guide you through one of the most critical aspects of your child's scooter experience – finding the best helmet that your little kiddo can use. It's not just about buying something cute; it's about getting a protective headgear that offers optimum protection while being comfortable enough for the tiny head of the child.
When it comes to helmets, we think about the protection that they can bring to our kids. We consider safety, durability, fit, comfort, and style. When selecting a helmet, make sure it has proper safety certification, is made of durable material, fits your child's head correctly, is comfortable to wear and, of course, is stylish!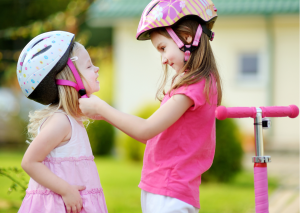 In this article, we'll discuss key features to consider in the best toddler scooter helmet and list some top-rated options available today. Plus, we'll share practical tips on teaching your kiddos important scooter safety rules.
Key Takeaways
Everyone can understand the importance of keeping our little ones safe while they scoot around. With that in mind, we will cover a lot of information about toddler safety, key helmet features, top-rated helmets, and scooter safety tips. Scooters are a popular mode of transportation among young kids, and having the appropriate helmet is essential to ensure their well-being.
We believe that the ideal way to ensure our children's safety is to equip them with both knowledge and gear – starting with a well-fitted helmet.
There are a variety of different toddler helmets on the market including those used for bikes, skateboards, rollerblades, and scooters. Each type is designed with different protective features, sizes, and colors to meet the needs of the kid and their scooting activity. It's essential to consider the type of activity your child will be engaged in to make the right choice to protect them.
The ideal scooter helmets that toddlers must use should be a snug fit, be made of lightweight materials, have adjustable straps, and provide ample protection for a toddler's head and face. It should offer comfort during extended periods of wear and should also possess a stylish appeal, making your little one enthusiastic about putting it on. Additionally, it should have adjustable straps that can be tightened and loosened depending on the size of your child's head.
Importance Of Toddler Safety While Scooting
There's nothing more heart-wrenching than seeing your little one take a tumble, that's why ensuring their safety while scooting is absolutely vital.
Toddlers are at a stage where their motor skills are still developing. They are more prone to falls and mishaps due to their still-improving balance and coordination. A small stumble can lead to scrapes, bruises, or more severe injuries if not properly guarded.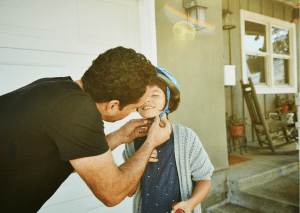 Knowing how to stay safe can also give your kiddos more confidence in their scooting abilities. When they're equipped with the necessary safety gear and are aware of safety protocols.
While many scooting injuries may be minor, some can have long-term implications. Head injuries, in particular, can be severe. Proper safety measures, like wearing helmets, can prevent such significant injuries, ensuring the child's long-term health and well-being.
Looking at the scooter injury statistics, it's clear how crucial protection is. Remember, toddlers are still mastering motor skills development and can easily lose balance.
Key Features To Look For In A Toddler Helmet
When choosing protective headgear to be used by your little ones in their scooting adventures, you'll want to pay attention to specific features.
The most crucial aspect of any helmet is how well it fits. This is especially vital as their heads are still growing and can be uniquely shaped. The toddler helmet should sit level on the child's head, not tilting backward or forward. It should be snug but comfortable, with no side-to-side movement.
Since toddlers grow quickly, adjustable chin straps and internal sizing mechanisms can ensure the helmet continues to fit correctly over time. The chin strap should form a 'V' under the child's earlobe when buckled and should be tight enough that only two fingers can fit between the strap and the chin.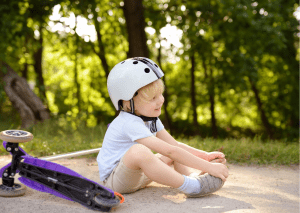 A good helmet should have adequate ventilation to keep the child's head cool during activities. Seek multiple vent features that allow airflow, ensuring that the child remains comfortable.
Remember, safety and comfort go hand in hand!
Let's now explore some top-rated toddler helmets that adhere to these scooter safety guidelines.
Top-Rated Toddler Helmets For Scooters
You're sure to discover the perfect headgear among these highly-recommended options to enhance your little adventurer's scooting escapades. We understand how crucial helmet customization is, and these top-rated options offer just that.
Nutcase Little Nutty Street Bike Helmet: Known for its distinctive, fun designs, the Nutcase Little Nutty bike helmets come with an adjustable spin dial for a snug fit, a detachable visor, and 360-degree reflectivity for added safety during low-light conditions.
Giro Scamp MIPS Youth Bike Helmet: The Giro Scamp Bike Helmet is equipped with the Multi-Directional Impact Protection System (MIPS), providing an additional layer of safety in certain impacts. It features a Roc Loc Jr. fit system that ensures a precise fit.
Joovy Noodle Bike Helmet: Designed especially for younger kids, the Joovy Noodle Kids Bike Helmet comes with an extended visor for maximum protection against sun and rain. The kids bike helmet also boasts 14 air vents, ensuring the child's head remains cool during rides.
Helmets for kids are not just accessories but tiny protectors that your loved ones can use. As you explore these best helmet options, remember safety comes first.
Tips For Toddler Scooter Safety
Instilling a strong sense of safety in your little one as they explore the world on their wheels is paramount, and we've gathered some handy tips to guide you through this process.
Begin with teaching balancing techniques.
Before your child even sets foot on the scooter, make it a rule that they must wear protective gear. Make the process fun! Let your kids choose a headgear with their favorite colors or characters.
Before venturing out to the park or sidewalk, start your child in a safe and controlled environment, like your backyard or an empty parking lot. Create a mini obstacle course with cones or chalk in your driveway.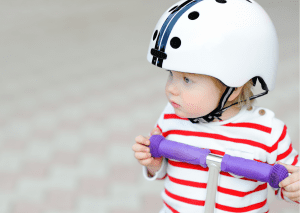 Just like cycling or driving, scooting has its own set of safety rules. Teach your kiddo to always stay on the right side, and look both ways before crossing. Play a game of "Red Light, Green Light" or "Simon Says" incorporating the hand signals and other safety rules.
Encourage road awareness early on – make sure they understand basic traffic rules.
Lastly, remember that patience and practice are key. Safety first, always!
Conclusion
We understand the importance of keeping our little ones safe while they scoot around. With that in mind, we've covered a lot of information about toddler safety, key helmet features, top-rated helmets, and safety tips.
We believe that the ideal way to ensure our children's safety is to equip them with both knowledge and gear – starting with a well-fitted helmet. There are a variety of different toddler helmets on the market including bike, skateboard, toddler rollerblade, and scooter helmets.
Each type is designed with different protective features, sizes, and colors to meet the needs of the child and their scooting activity.
Let us know which helmet you selected to safeguard your little protector! We welcome your feedback and experiences.
Frequently Asked Questions (FAQs):
Should Toddlers Wear Best Helmets For Scootering?
Yes, toddlers should wear high-quality helmets when scootering to ensure their safety. Make sure it meets safety standards and fits your child properly to ensure maximum protection.
Should Toddlers Aged 3 Wear Best Helmet For Scootering?
A 3-year-old should definitely wear a helmet while riding this two-wheeled vehicle. Select helmets tailored to toddlers from reputable brands that have a strong reputation for crafting top-quality toddler bike helmets.
What Helmet Is Best Used For Scooters?
When using a scooter, it's advisable to use the best bike helmet designed explicitly with young riders in mind, ensuring it provides comprehensive protection.
Are Best Scooters Safe For Toddlers Aged 3?
Scooters can provide a safe experience for 3-year-olds, especially when they wear helmets designed to suit their age group. Brands like nutcase helmets offer excellent protection.
Are Scooters Safe For Toddlers?
Yes, if they wear toddler bike helmets and are supervised. It's vital to ensure they wear a helmet, especially from the category that assures quality.
What Helmet Size Is Ideal For 2-Year-Old Kids?
For a 2-year-old, selecting the right helmet size is essential, and this choice should be guided by their specific head circumference range. Measuring their head with a soft tape can help you determine the proper fit, ensuring that the helmet securely accommodates their head circumference.
Can 2 Year Old kids Use Scooters?
A 2-year-old can use a scooter, especially if they've started on a balance bike. However, they should always wear baby bike helmets to ensure their safety.
What's The Best Age For Toddlers To Wear Helmet?
Your little kiddos can start wearing helmets as soon as they're introduced to riding toys, including bike seats. Many infant bike helmets cater to younger toddlers.
What Are The Best Features To Look For When Buying Helmets For Toddlers?
When buying a toddler helmet, ensure a proper fit and check if it has an integrated visor or built-in visor. Features like a magnetic buckle and sealed sweat pads can enhance comfort. Also, a skater style helmet can be a trendy pick.
Are Bike Helmets OK For Scootering?
A bike helmet is OK, especially if it's from the top bike helmet list. Ensure it matches the safety standards most helmets abide by, making it suitable for both bike seats and scooters.
Last Updated on September 29, 2023 by Rejie Salazar
DISCLAIMER
(IMPORTANT)
: This information (including all text, images, audio, or other formats on FamilyHype.com) is not intended to be a substitute for informed professional advice, diagnosis, endorsement or treatment. You should not take any action or avoid taking action without consulting a qualified professional. Always seek the advice of your physician or other qualified health provider with any questions about medical conditions. Do not disregard professional medical advice or delay seeking advice or treatment because of something you have read here a FamilyHype.com.