Swimming lessons are a critical aspect of a child's growth. They should learn how to swim at an early age because it is both practical and fun. It can be a survival skill in times of emergency in waters and, at the same time, can be one of the best pastimes an individual can have (especially during out-of-town trips and vacations).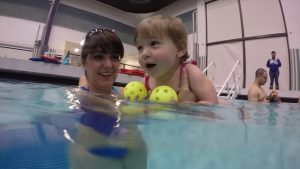 With swimming comes the use of buying swim goggles. A common misconception is that we should only use the best goggles for toddlers in competitive swimming pools. However, it is essential to know that every time a person swims, wearing kids' swim goggles is critical—no matter which body of water you are in. In the next parts, we will explore the reasons why goggles are essential swim gears, what things to consider when buying goggles, and what the best swim goggles for toddlers are.
Why Are Goggles Important?
Goggles are mainly used to increase the comfort of the child—for them to relax while swimming and orient themselves with the environment. It encourages toddlers to open the child's eyes without damaging them.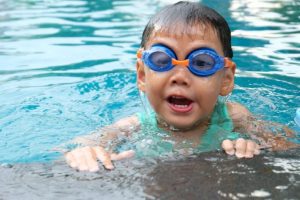 However, the main reason for wearing a child's swimming goggles is to protect the eyes from the water chemicals. Public swimming pools are known to contain a compound called chlorine. It is mixed with pool water to eliminate bacteria. Unfortunately, chlorine damages and irritates the eyes. Hence, swimming goggles help toddlers avoid this kind of risk (more about it here: https://momlovesbest.com/kids-swimming-goggles).
Things To Consider When Buying Goggles
From the reasons above, it is evident that the best swim goggles for toddlers are essential to children. However, some toddlers prefer swimming without them due to loose rubber straps or foggy lenses. To encourage kids to keep wearing this gear, here is a list of the factors to consider when choosing the best swim goggles for toddlers.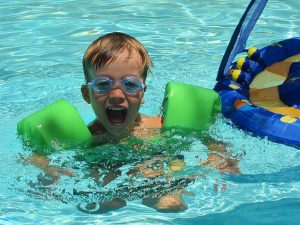 Fit – It is critical to choose goggles that have durable and adjustable goggle straps (preferably neoprene straps). This way, anyone can control the suction level on the child's head.
Comfort – Kids who wear glasses usually don't like wearing prescription goggles because they cause discomfort. To avoid a headache, it must exert minimal pressure around the user's eyes. You should also get anti-fog coating goggles or wide-view swim goggles with curved lenses or polycarbonate goggle lenses
Creativity – It is also essential to consider the design of the goggles. Cute or trendy designs will convince and excite toddlers to use them for underwater vision.
Top Swimming Goggles For Kids
Some people might think that it is simple to choose the best swim goggles for toddlers. However, that is not the case. With that, let us share a list of our favorites: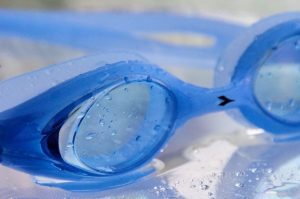 Kids' Simple TYR – This brand is the number-one-selling kid's goggles. According to customers, this gear fits them perfectly and is the most comfortable swim goggle. It also offers an adjustable nose bridge. It means that there is no need to adjust anything aside from tightening its straps.
Aqua Sphere Seal Kid 3 – If you are looking for the best swim goggles for toddlers, this is perfect for you. It is the mask-style goggles for kids since they are more of a slasher at this age. The large frame also offers UV protection from the sunlight due to its UVA/UVB mirrored lenses (check more reviews here).
Jojo Maman Bebe Children -This type of goggles is the best one for holidays. What's unique about this is that it does not fog up, unlike other goggles. They also have good straps that are easy to adjust while wrapped around the head of the child.
Speedo Skoogles – The best feature of the Speedo Skoogles is its "Middle Eye Fit," which is not too close to the eye socket. It relaxes the child and puts some relieving pressure on their delicate eye tissues.
Despite all of the information stated above, it is still advisable for parents to teach their young swimmers how to swim without using competitive goggles. Being too dependent on the usage of this underwater gear, no matter if it is considered the best swim goggles for toddlers may spark fear during unexpected happenings while swimming.
FAQs
What Goggles Are Best For Swimming?
The top picks for best swim goggles for toddlers include Swedish goggles, Speedo Vanquisher 2.0 Goggles, TYR Socket Rocket Goggles, The Speedo Speed Socket, Speedo FastSkin3 Elite Goggles, Frogglez Goggles, Arena Cobra Ultra Goggles, and MP Michael Phelps Xceed Goggles. You can find younger kids' goggles on FamilyVacationCritic page.
How Do You Keep Swimming Goggles From Fogging?
Clean, goggle your mask often, and then don't touch it inside.
What Goggles Do Olympic Swimmers Wear?
Last Updated on April 12, 2023 by Raymond Sy Tamco
DISCLAIMER
(IMPORTANT)
: This information (including all text, images, audio, or other formats on FamilyHype.com) is not intended to be a substitute for informed professional advice, diagnosis, endorsement or treatment. You should not take any action or avoid taking action without consulting a qualified professional. Always seek the advice of your physician or other qualified health provider with any questions about medical conditions. Do not disregard professional medical advice or delay seeking advice or treatment because of something you have read here a FamilyHype.com.