As parents, you want to be with your child as much as you can, but sometimes, bringing your child with you in a stroller can be a hassle, especially if you are by yourself and have no one to carry the stroller with you. Fortunately, many baby accessories, such as the infant kinderpack, can serve as an alternative.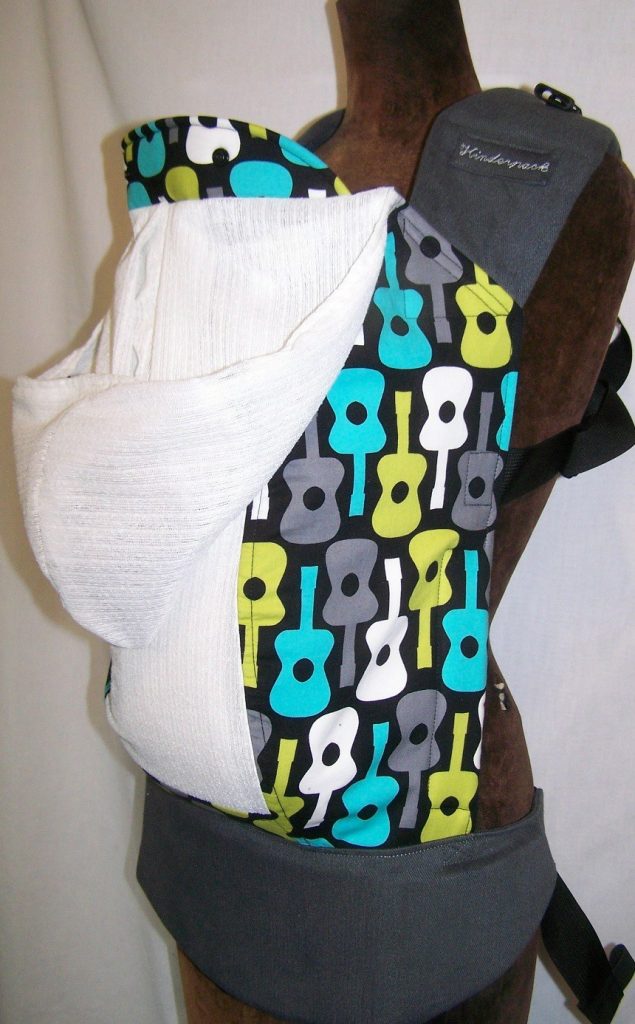 If you are new to the baby world you may wonder what the infant kinderpack is. To define it, the infant Kinderpack is a type of soft structured baby carrier that is made from high-quality fabric and soft mesh. It has a unique shape that helps keep your baby positioned comfortably while you carry them with you.
What Makes An Infant Kinderpack Special?
Unlike other baby carriers, the infant Kinderpack carrier has a well-thought design to create a seat that molds perfectly with a baby's bottom to make them feel like sitting naturally. It also cradles the legs upward to mimic a seated position wherein the bottom is lower than the knees. Hence it puts the baby in a good ergonomic position while supporting their body at the same time. In short, the infant kinderpack prevents pressure on the leg, pelvic, and spine, which is a benefit that you may not get from regular baby carriers.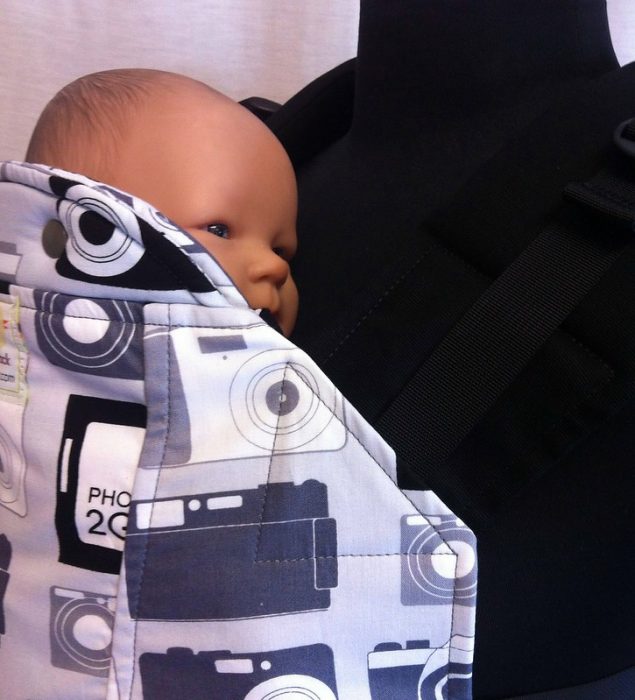 What Are The Different Size Kinderpacks?
There are different size kinderpacks to choose from, including a preschool and toddler kinderpack. It grows with your baby since its base is adjustable to change its width.
Infant Size Kinderpack
The size is best from infancy up to 2 years, from 8 lbs up to 35 lbs or 22″ tall and beyond. Although this version has an adjustable base and versatile buckle mechanism, it is still best to upgrade to a different size kinderpack to ensure comfort as your child's body proportion changes.
Standard Size Kinderpack
It is a good option for babies from 8 months to 3 years, 20-40 lbs or 28″ tall. There is no need to upgrade to a bigger size as the baby gets older; hence it became a popular choice.
Toddler Size Kinderpack
The toddler kinderpack is recommended for babies from 18 months up to 4 years, 24-45 lbs or 32″ tall. It is ideal for bigger babies as it has a huge size difference from the standard version.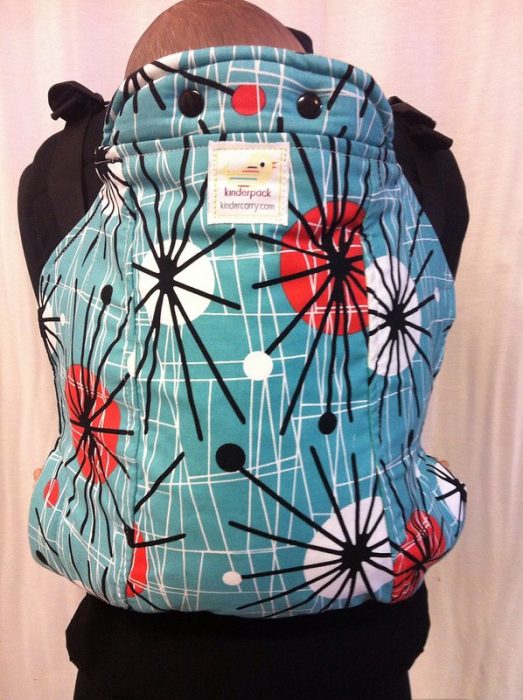 Preschool Size Kinderpack
The size kinderpack is designed especially for bigger children. It is excellent for preschoolers from 3-5 years since it can accommodate up to 33-55 lbs or up to 38″ tall.
Adult Size Kinderpacks
The goal of creating the baby carrier is to promote a cozy and safe space for the baby without compromising the comfort of the person carrying it. There are two size kinderpacks available for parents, the standard and plus size to make it custom fit.
Features:
 Adjustable Shoulder And Waist Straps
The baby carrier has contoured shoulder straps and easy to adjust chest straps. It offers the "Perfect Fit" strap adjusters to allow easy adjustment of the length for better positioning when nursing the infant.
 Full Panel Hood And Sleep Shade
It has a 2-piece lined aviator shaped hood, which adds an aesthetic appeal to it while promoting maximum comfort for the baby at the same time. The hood has stuff and snap design that allows it to be folded easily inside the carrier's body when the infant is not using it to create a pocket for baby essentials.
3 Piece Shaped Body panel
The kinderpack is the only carrier to have 3-piece shaped contoured body that cuddles the baby's bottom and back to provide better support and comfort.
Sturdy Structure
All the baby carriers utilized canvas as the primary fabric for the straps, internal layers, and body. It is made to be solid and durable yet supportive. It will keep your baby safe and contained while they relax in your chest.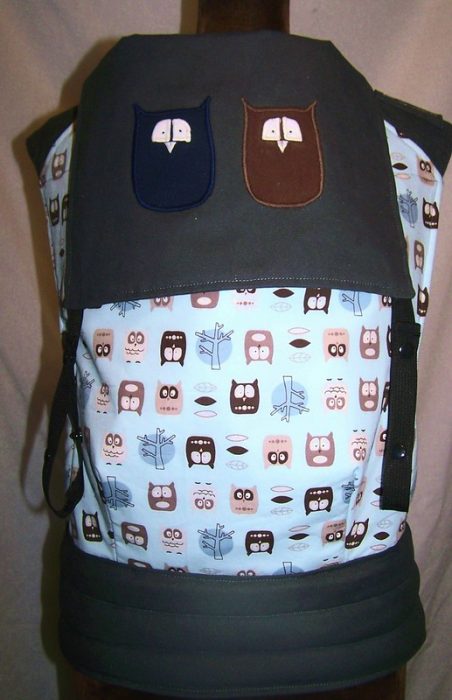 Benefits Of The Kinderpack
The Kinderpack not only makes carrying your baby convenient, but it also offers many amazing benefits for children with special needs.
It Promotes Parent And Child Bonding
The infant carrier is designed like a kangaroo pouch, allowing both the parent and child to have skin to skin contact. This method is known to help regulate the infant's heartbeat and digestive system while keeping them calm.
It Enables Parents To Carry Bigger Children With Special Needs
Unlike other baby carriers, it is available in different sizes and can hold bigger kids. It can be very handy for parents with children with special needs since it allows them to tend to their needs right away. In addition, it also helps lower your child's anxiety level since you are always with them.
 It Is Useful In Crowded Spaces
Infants are very fragile, and their immune system is not yet fully developed. Hence having a safe space for them in a place packed with people is strongly recommended. The kinderpack will serve as a nest while you cuddle them in your chest and prevent them from getting too exposed in the crowd. It also has a hood to protect your child from flashing lights and noises.
It Is Portable And Lightweight
Before baby carriers, most parents rely on strollers and car seats to carry their baby around. The problem with these baby accessories is that they are cumbersome and inconvenient when commuting since it takes a lot of time and effort to fold and carry them. The comfy fabric carrier is lightweight and easy to store. Hence it is the product of choice if you want to go out on a short walk or run errands with your little one.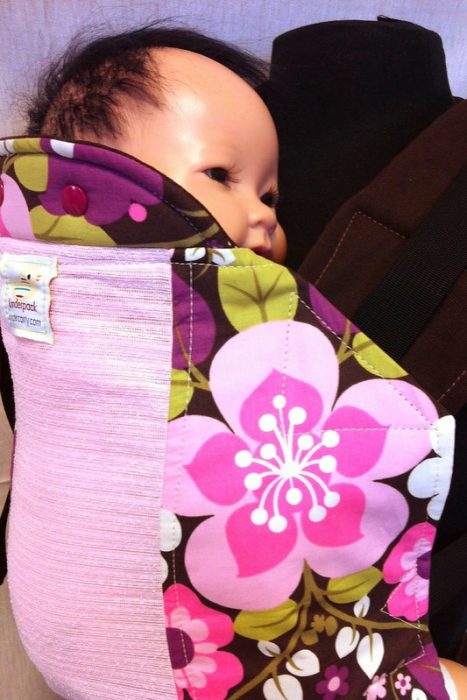 Tips For Buying The Right Infant Kinderpack
Read Reviews
There are many factors to consider when buying the infant kinderpack. While the price is essential, the qualities and features are as essential. It might help you know your options by reading reviews and comparing brand features before deciding which one to purchase.
Send Inquiries
The most straightforward way to get answers if you have any questions with the infant kinderpack is to utilize the contact us section. You can also attach files if you need to find out more information regarding a specific product.
Sign Up For Our Newsletter
Latest updates with the brand and the products can be released at any time, and it is good to sign up for our newsletter to keep yourself posted with promotions and design upgrades. It is also a good way to get exclusive deals if you are in the loop.
Pay Attention To Sizes
Since the infant kinderpack is not a one size fit all, it is vital to pay attention to sizes. You do not want the baby carrier to be too small or too big. It should be custom-fit to keep your little one contained and prevent your back and shoulders from being free from strain.
Choose The Right Design
The soft structured carrier is available in many designs and prints to choose from. It is best to select the one that matches your style so you can walk with confidence while you carry your little one with you.
Search For Sale Items
You can buy online from reputable sites to get huge savings, or you can always check the website for sale items. You can also earn rewards and special discounts when you create an account and share the website on different social media platforms.
Frequently Asked Question:
Pricing And Shipping Cost
Prices may vary depending on size, availability, fabric, and design. It can range from $169- $184 or more if you include extra straps and accessories. Special offers can be accessed if you sign up for our newsletter.
All domestic shipping is free and delivered via USPS Priority Mail for carriers and first-class mail for additional accessories. Orders shipped to Canada are delivered through USPS Priority International and have an additional $25 fee, while all other international destinations start at $39 custom charges not included. Shipping takes 2-3 business days with 2-3day delivery time if by Priority Mail. International delivery times and schedules may vary.
Payment Method
You can use PayPal or Credit Card to pay for your orders. Payment plans are available if you apply for PayPal credit, and layaway programs can also be an option on many official retailers.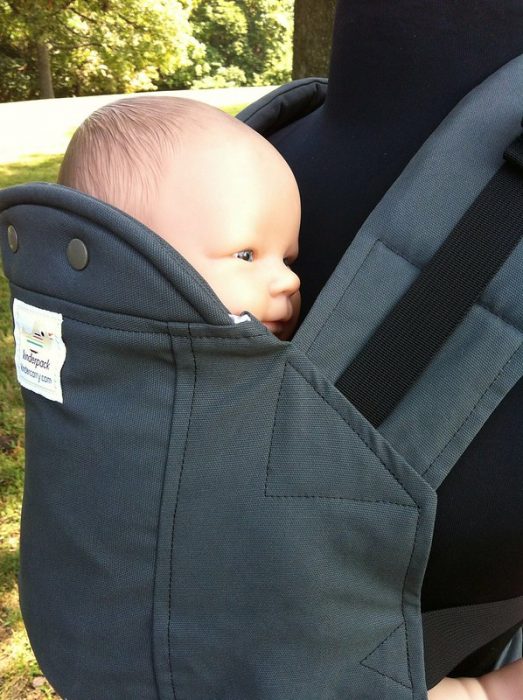 Fabric and Materials
High-quality materials such as Koolnit mesh fabric and 100% brushed cotton is used for the canvas and decorative panels. The baby carrier is also cushioned with polyolefin and polyfoam. Nylon is used for webbing and threads as well as snaps. The buckles are made from nylon and acetyl. All components of the Kinderpack are free of flame retardants, lead, and other toxins per CPSIA regulations,
It is crucial to find your baby's best products as their comfort is your top priority. It is always good to be informed and do your research before investing your money on anything. Always be guided by understanding the product, learning the benefits, and following the best tips.
Last Updated on June 3, 2021 by Marie Miguel
DISCLAIMER
(IMPORTANT)
: This information (including all text, images, audio, or other formats on FamilyHype.com) is not intended to be a substitute for informed professional advice, diagnosis, endorsement or treatment. You should not take any action or avoid taking action without consulting a qualified professional. Always seek the advice of your physician or other qualified health provider with any questions about medical conditions. Do not disregard professional medical advice or delay seeking advice or treatment because of something you have read here a FamilyHype.com.