Cuisinart's Multipurpose Air Fryer Toaster Ovens
Search no more, the air fryers from Cuisinart inc and subsidiaries can bake, broil, toast, air fry, and grill. Its  Compact AirFryer Toaster Oven's space-saving design lets you cook delectable dishes with little to no oil. Want more? Its large AirFryer Toaster Oven can quickly air fry up to 4lbs of chicken wings, fries, or zucchini sticks.
AirFryer Toaster Oven with Grill with 8 functions generates deliciously crispy products and incorporates a dual-sided grill and griddle pan. Nonstick interiors make air fryer toaster oven cleanup easier. Continue reading to know more about Cuisinart's air fryers of 2022.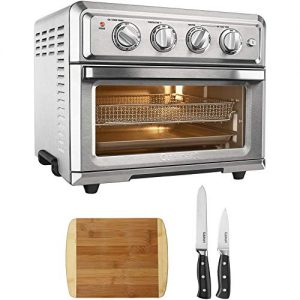 Cuisinart Air Fryers 2022
TOA-70 Airfryer Toaster Oven With Grill
The original AirFryer from Cuisinart just got an upgrade, making it even more impressive. You can now produce even more delectable meals in your Cuisinart AirFryer Toaster Oven with Grill. Using the brand-new plate that combines the functions of a grill and a griddle, you can sear steaks and veggies on one side and cook the ideal breakfast on the other. Take your cooking to the next level with its roomy 8-function oven.
The TOA-70 Cuisinart Airfryer, with 8 functions, is perfect for cooking various foods, such as fried chicken and potato wedges, for up to 3 pounds. It features a 60-minute timer, auto shutoff, and adjustable temperature (up to 450F) for delicious food every time. This Cuisinart Airfryer sets your favorite recipes free from the kitchen. Enjoy incredibly crispy french fries and perfect, golden brown burgers as you air fry food at home. With three conveyor belt speeds, this air fryer lets you cook up to 70% quicker than other models. The nonstick interior is easy to clean and includes a timer to select the perfect toast shade. And it's powerful too.
Cuisinart Model TOA-26 Compact Digital Toaster Oven
Your meals may be prepared quickly and easily in the space-saving oven that can AirFry, bake, broil, and toast all in one convenient location on your countertop. With 6 different function options, you may make all of your favorite things, such as burgers and fries, roasted chicken, cakes, cookies, and more. Cuisinart's Compact AirFryer Toaster is an appliance that combines the benefits of saving space and providing convenient cooking options.
Designed with a compact design, it takes up less space on your countertop and can fit in any kitchen. This TOA-26 Compact Airfryer can cook up to 2.5 lbs. With an adjustable temperature of 450F, you can use it for both baking and air frying. Choose from 6 functions: Convection Bake, Convection Broil, AirFry, Toast, Pizza, and Warm for the perfect meal. This compact air fryer comes with a basket and an easy-to-clean non-stick cooking pan. The TOA-26 AirFryer is made of high-quality materials and designed for convenience, appearing sleek and stylish. The AirFryer cooks food in minutes with its convenient basket, baking/drip tray, and oven rack.
TOA-95 Large Cuisinart Airfryer Toaster Oven
Take cooking to the next level with an extra-large oven that won't consume your entire countertop. Custom features, such as AirFry and Dehydrate, as well as Bake, Broil, and more, allow you to cook your favorite meals quickly with the addition of optional convection heat and temperature settings that may be adjusted. In the flexible oven, which was designed to increase variety while minimizing fuss, you may reheat a snack or cook a meal with wonderful results either way.
The TOA-95 is a versatile large air fryer with a compact design. Its powerful heating system allows you to customize the temperature to your liking. This air fryer has a large capacity and a digital timer that lets you program cooking time, allowing you to AirFry, Bake, Broil, Pizza, Roast, Dehydrate, and Toast. Easily select the perfect toast shade for your morning meal with our Toast Shade Selector. For even more convenience, it has a Defrost option that helps you thaw large quantities of frozen food in less time.
This airfryer has high and low convection ovens that can be easily programmed to cook at any temperature, and any time, so you can go from cooking a cake in minutes to browning 12-inch pizzas in just 20 minutes. Its nonstick interior is easy to clean and dishwasher safe.
TOA-60 Air Fryer Toaster Oven
This one-of-a-kind appliance is a luxury full-size toaster oven that also has a built-in air fryer. It is a kitchen workhorse. This implies that in addition to baking, broiling, and toasting, you can also air fry right inside the oven using this appliance. Air frying, which makes use of forceful and extremely hot air, is a healthier approach to producing a variety of delectable fried foods, including wings, fritters, fries, and shrimp, among others. And because toaster ovens are designed to remain on the countertop, the fryer does not need to be moved from the cupboard to the counter and back again.
Whether you're cooking for two or six, you've never experienced cooking the way a TOA-60 Airfryer does. This powerful and versatile appliance has 7 functions: Air Fry, Convection Bake, Convection Broil, Bake, Broil, Warm, and Toast. Advanced Air Technology affiliates and allows you to achieve browning levels of up to 500 degrees Fahrenheit in just 20 minutes. A powerful air fryer with a 60-minute timer and auto-shutoff, the TOA-60 is perfect for cooking food in a fraction of the time. It has a nonstick, easy-clean interior and includes a baking pan, oven rack, and air fryer basket. To ensure your safety, this unit is whisper quiet.
Cuisinart Model TOA-65 Digital Toaster Oven
The motor, fan, and heater of this air fryer toaseter are 1800 watts and have been specially designed to offer high-velocity, high-heat airflow, resulting in precisely fried results with minimal noise.
It is capable of multiple cooking methods: Dual Oven, Warm, Bake, Toast, Broil, Roast, Pizza, Bagel, Reheat, and Warm.  adjustable low temperature for slow cooking, braising, and other cooking methods. In addition to this, specialized operations for dehydrating and proofing
When it comes to frying wings, fries, snacks, nuggets,  and vegetables, the air fry feature and presets remove the uncertainty of the process.
It has adjustable time with predetermined time ranges for each action. It also offers to defrost and high/low convection fan speed settings with a wide temperature range, ranging from 800 to 4500 degrees Fahrenheit. It has a 0.6 cubic foot capacity, which allows you to air-fry up to 3 pounds, toast 6 half of a bagel, roast a 4-pound bird, or bake a 12-inch pizza.
Finished in stainless steel, this model features a sizable viewing window and bright inside lighting. The interior is nonstick, and the baking pan and the air fryer basket are safe for the dishwasher.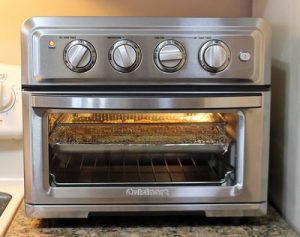 What is your favorite air fryer from Cuisinart? Get the latest air fryer reviews from Family Hype today!
Frequently Asked Questions (FAQs)
Last Updated on October 9, 2022 by De Guzman
DISCLAIMER
(IMPORTANT)
: This information (including all text, images, audio, or other formats on FamilyHype.com) is not intended to be a substitute for informed professional advice, diagnosis, endorsement or treatment. You should not take any action or avoid taking action without consulting a qualified professional. Always seek the advice of your physician or other qualified health provider with any questions about medical conditions. Do not disregard professional medical advice or delay seeking advice or treatment because of something you have read here a FamilyHype.com.