Best Standing Desks
There are more people working from home right now than ever before. Some of us work on our couches, some at are dining tables or counters, and some even work from the bed. A better idea is to have a designated space for working in. You don't, necessarily, need an actual office, but a desk tucked somewhere into your home gives you that designated working area. Even better, make that one of the best standing desks on the market.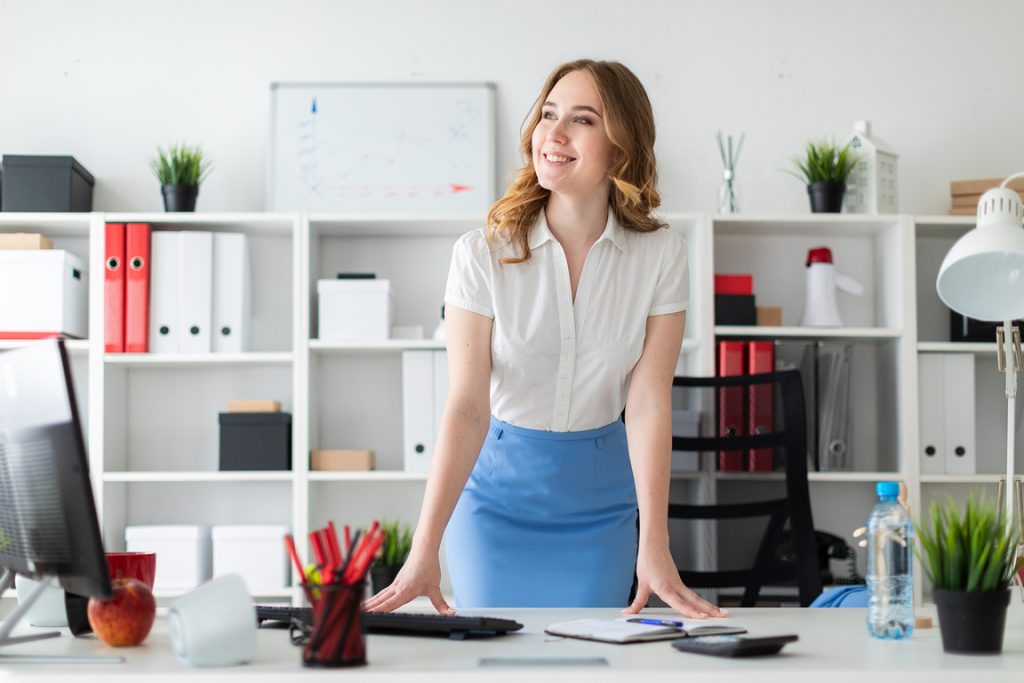 Best standing desk options
The options you have include an adjustable stand-up desk, which can be used as a traditional desk to sit at and adjusted up to different standing heights, a stand-up desk converter that goes on top of a traditional desktop, or even an electric stand up desk converter.
Full-on Standing Desks
Full-on standing desks can be pretty expensive. A stand-up desk converter is a less expensive alternative that can be placed on top of the desk you already have. You would have to pay more for an electric stand-up desk converter but it may be worth it to get the ease of bringing the desk up and down.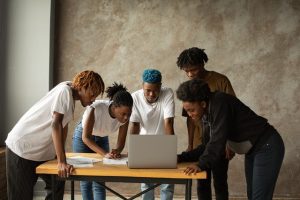 Benefits Of The Best Standing Desks
Is Standing At A Desk Better than Sitting? Studies have shown that sitting for long periods of time is really bad for your body's health. Some of the effects of being sedentary rival what smoking does to the body. If you spend your days sitting at a desk or sitting all day for any other reason, you could be taking years off of your life. You'll also be increasing the risk of ending up with some serious diseases or health conditions.
Top Standing Desks
You may already notice that after long periods of sitting, your body aches in certain areas when you get up. That's because sitting in the same position without much movement doesn't allow your blood to circulate as well as it should and keeps pressure on those areas that you experience aches and pains.
If you switch between sitting and standing throughout your day, you will start to see those aches and pains diminish. Your joints will feel better without having stiffness from all that pressure and from the better circulation you get when you stand up. You will probably notice a difference in your energy level, too. The blood and the oxygen that circulates through your body are like a fuel system. The organs inside your body, including your brain, need that fuel to help you function more efficiently.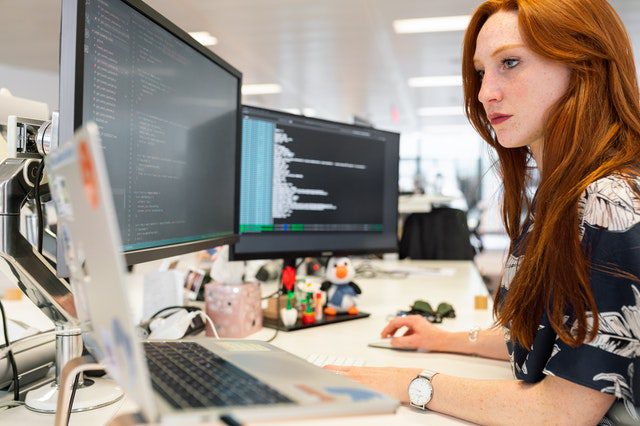 How Does An Electric Standing Desk Converter Work?
Electric Standing Desks
These make it super simple to transition up to standing height or back down again. Push a button and your desk lifts up to a preset height you already programmed in. There's no fussing with adjusting the desk up or trying to figure out what the perfect height is. You'll figure out the perfect height one time and the electric standing desk converter or desk remembers it.
The price tag on an electric stand-up desk converter or electric standing desk is higher than the manual ones, but if you have it in your budget, it's super convenient.
Top Manufacturers Of Standing Desks
High-Quality Standing Desks
There are quite a few manufacturers of standing desks. Vari (mentioned below) has a very good reputation in this market space. Their desks are of high quality with very good functionality. FlexiSpot is another big name in this industry. Also, UPLIFT is known for their high-quality stand-up desks.
Best Standing Desk Converters
You can also look into the standing desk converter. FlexiSpot also offers stand-up desks, as does VIVO, Zinus, TechOrbits, and HUANUO. You may find that a stand-up desk converter is a better option for you if you already have a traditional desk to work on. It will ultimately cost you less than buying a whole new desk to get the stand-up desk capability.
Best Standing Desk Options On Amazon
Top Standing Desks
FAMISKY Standing Desks
FAMISKY measures 55 x 24 inches. It gives you plenty of space to work with. It has a beautiful walnut desktop. You can also use the splice tabletop that comes with it to boost your monitor. You can program up to three preset heights within the range of 28 to 45.5 inches. Having dual motors makes the transition quicker and quieter. It moves up smoothly, too. The FAMISKY electric standing desks have a streamlined and sturdy build that can blend into any room.
FAMISKY Standing Desk Pros
The FAMISKY standing desks have 3 preset programmable heights.
This desk has dual motors for smoother transitions.
It has a built-in anti-collision system.
It gives you somewhere to hang belongings.
It has cable management tray for stowing messy wires.
Famisky has great customer service.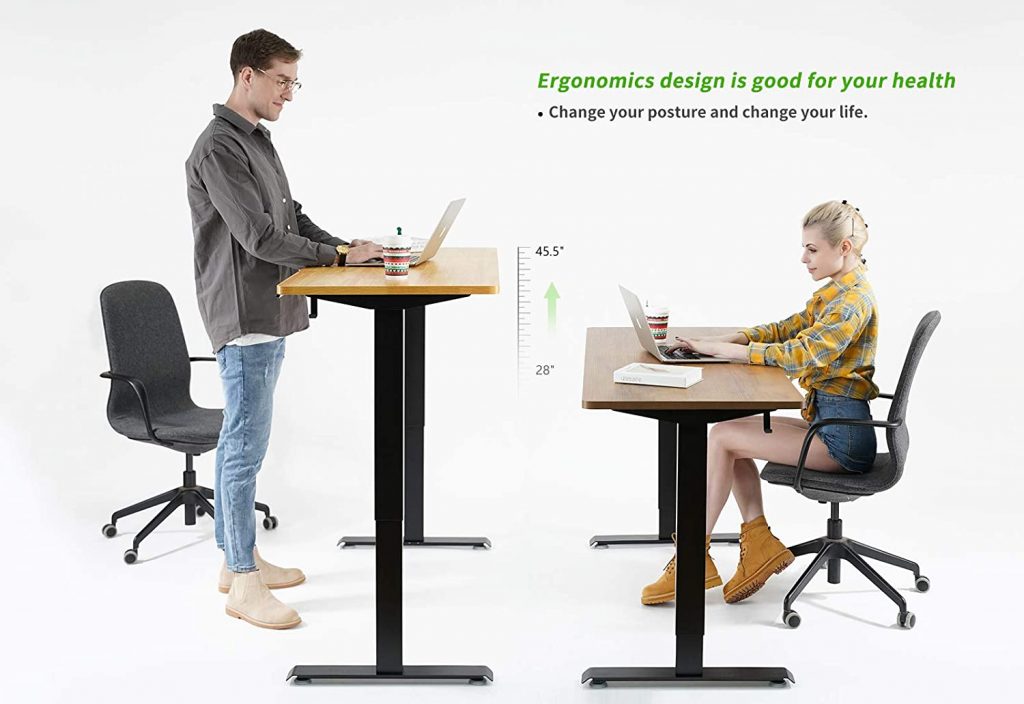 FAMISKY Standing Desk Cons
Desktop in two pieces is noticeable.
Some pre-drilled holes may be too large for hardware.
May have to recalibrate motors to keep the lift mechanism from getting stuck.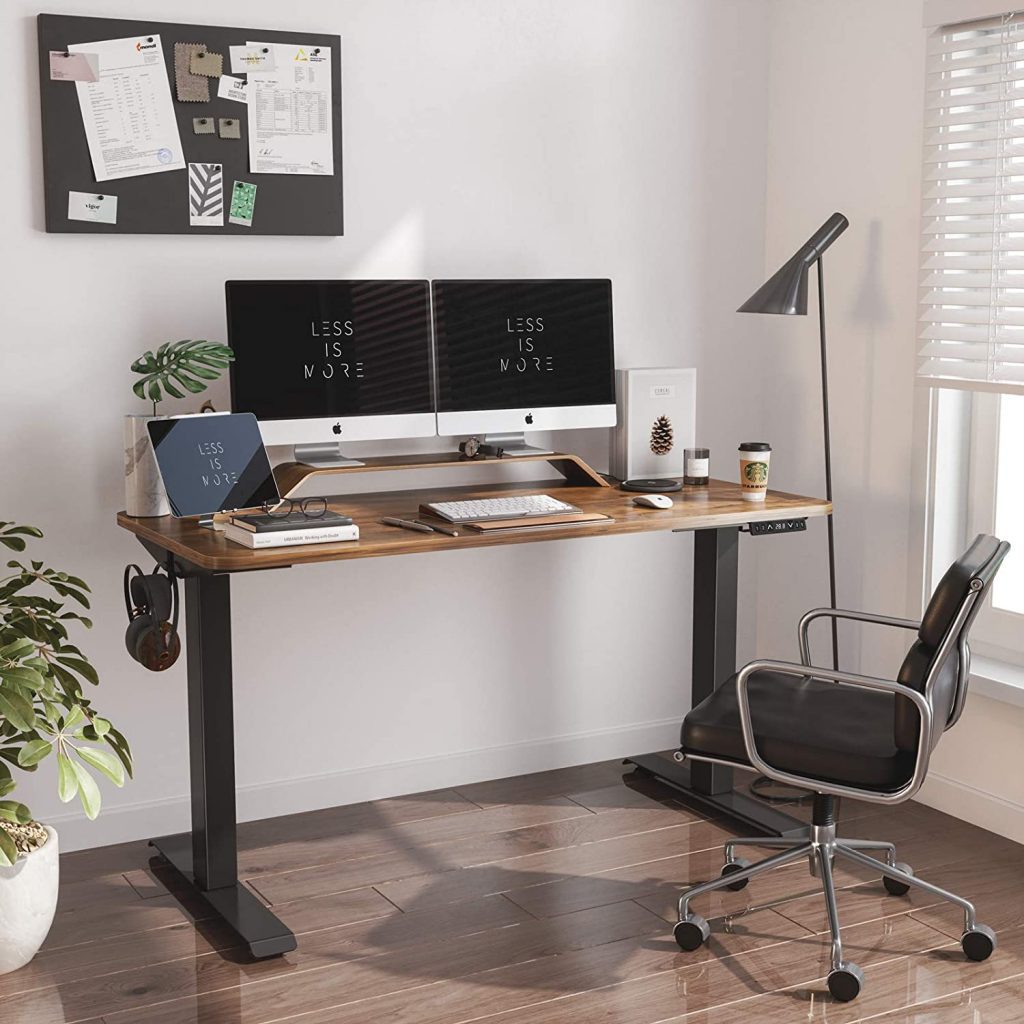 FEZIBO Standing Desks
FEZIBO is beautiful with a rustic brown desktop and a black metal frame. It's large with 55 x 24 inches of workspace. It also comes with a splice board to use on top. You get three preset programmable heights with a range of 27.6 to 47.3 inches. There is a strong lift system integrated into the desk that has a maximum lift weight of 176 lbs. It's easy to assemble with very solid construction. You also get the added bonus of desk hooks and a cable management tray.
FEZIBO Electric Standing Desk Pros:
This stand up desk features simple assembly that one person can handle
The FEZIBO electric standing desks fit in almost any space.
It is great value for money.
No wobbling at full extended height.
This desk has reset heights for easy adjustment.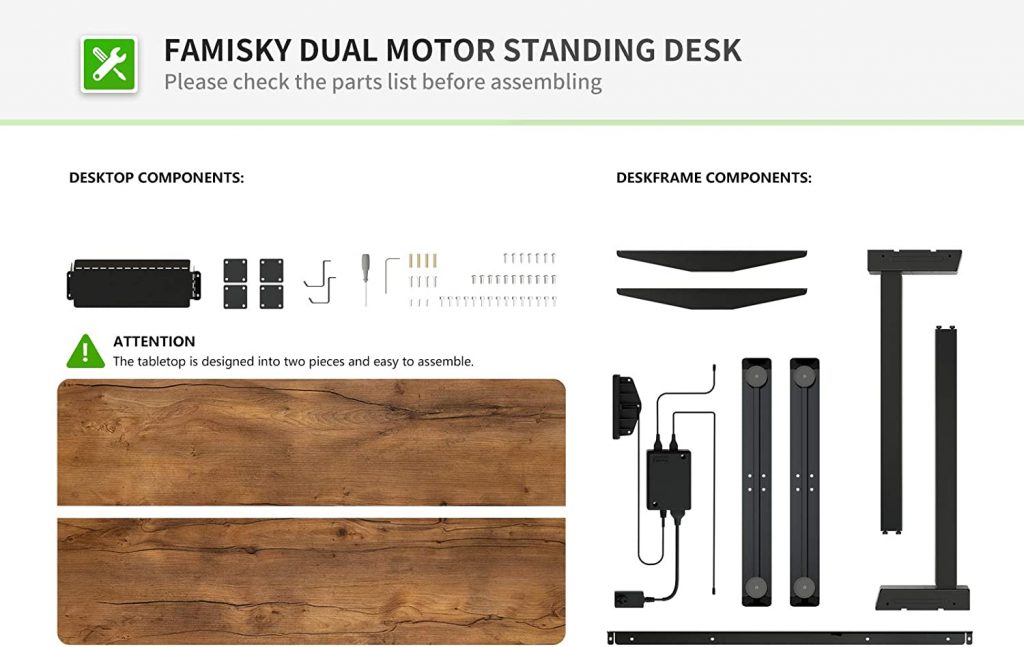 FEZIBO Electric Standing Desk Cons:
The motor of FEZIBO is noisy
Some pre-drilled holes not large enough for included screws.
Visible seam down middle of desk top where pieces come together.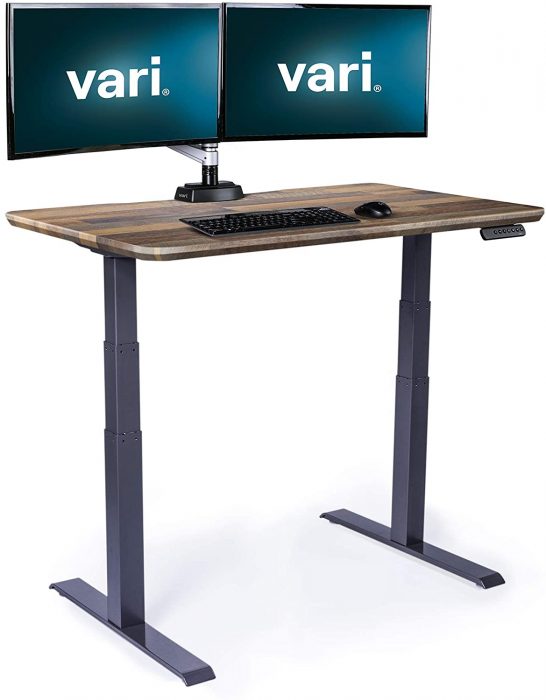 Vari Standing Desks
The Vari Electric Standing Desks are a bit more expensive than the previous two. This one has a solid one-piece wooden desk top with no seams. There are dual motors that make everything move smoothly and quietly. The motors can support up to 220 lbs. with their powerful lift. Your desk will ship in two separate boxes with the legs in one and the desk top in the other. This allows for easier movement of the boxes and reduces the risk of any damage to the wooden desk top. Assembly is quick and easy, too. It shouldn't take you more than 10 minutes to have this table ready to use.
Vari Electric Standing Desk Pros:
Vari Electric Standing Desk has 5 year limited warranty.
It is easy to assemble.
One solid piece of wood for desk top
It has has LED control panel for easy operation.
Super quiet operation with dual motors.
5 desktop colors to choose from.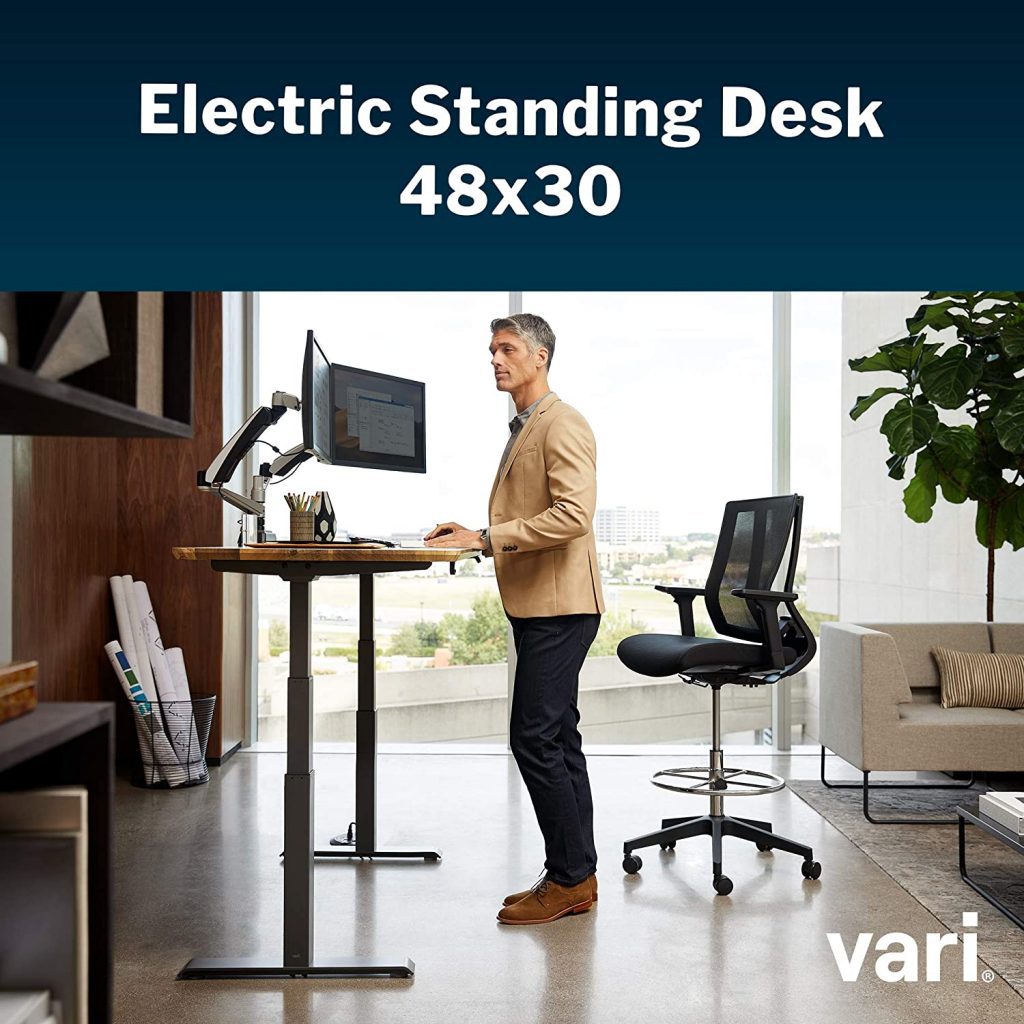 Vari Electric Standing Desk Cons:
Shipped boxes could arrive at separate times.
Programming presets a little confusing.
This table is very heavy.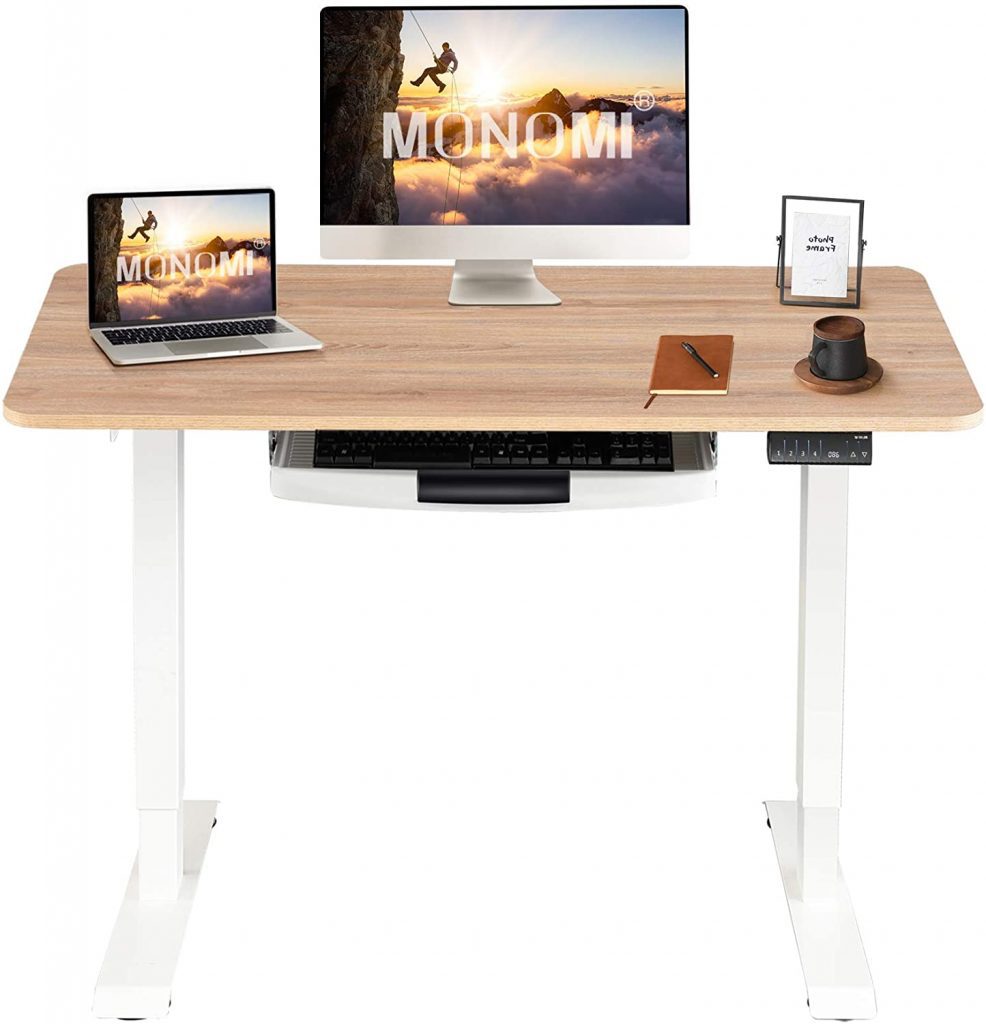 MONOMI Best Standing Desk
MONOMI is a value option. The motor is quiet and lifts the desktop smoothly and quickly. There is a touchscreen control panel where you can move the desktop up and down with directional buttons or use the preset memory buttons to go to your preferred height. You'll have a pull-out keyboard tray that stows underneath the desk. It has a maximum lift weight of 188 lbs. There's also a cable hole built into the desktop to help things stay organized and neat.
MONOMI Electric Stand up Desk Pros:
Sturdy, durable construction.
It is lightweight and easy to move.
The hanging keyboard tray saves space.
Easy assembly.
The MONOMI Electric Stand Up Desks are an affordable option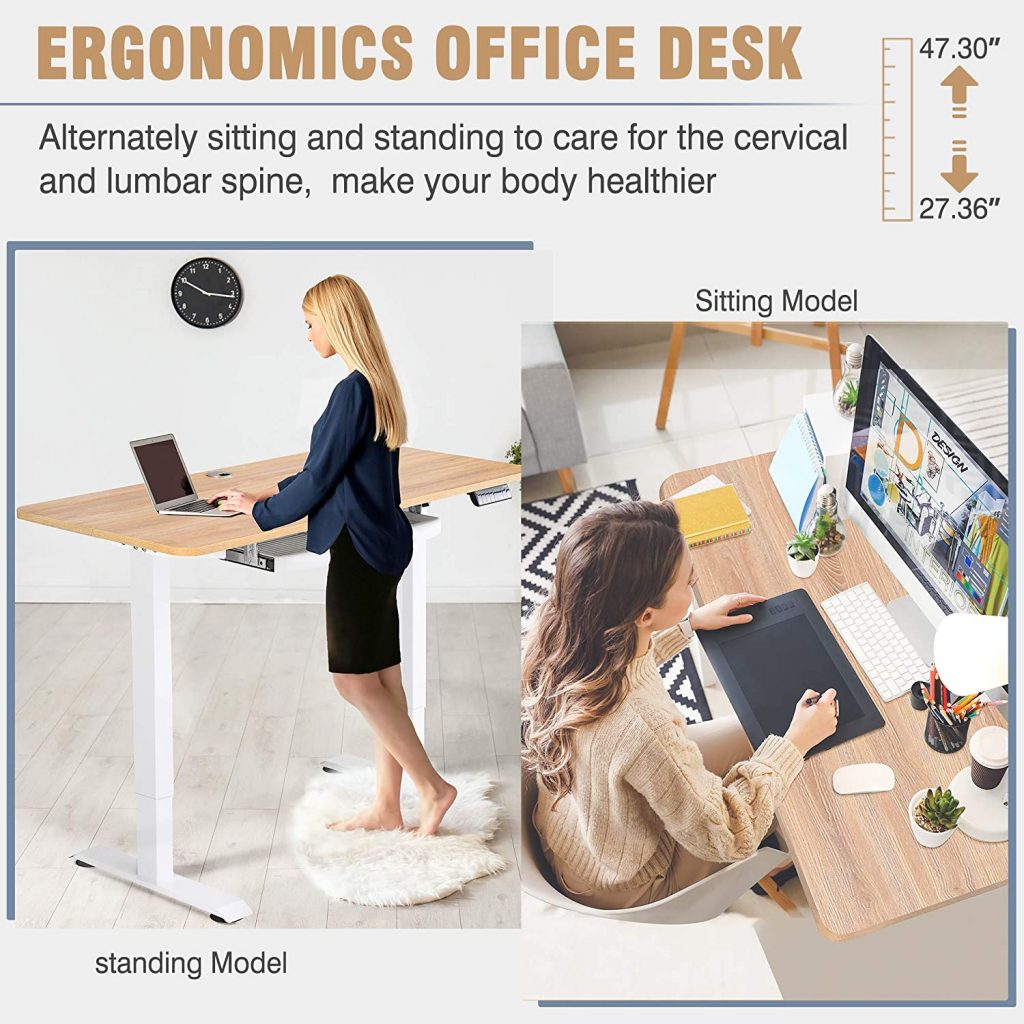 MONOMI Electric Stand up Desk Cons:
The Keyboard tray doesn't pull all the way out.
The desktop is in four pieces.
Operating instructions are a little hard to follow.
Your Takeaway On The Standing Desk
Here's what we hope you take away from this article. A standing desk or stand-up desk converter gives you an option for when you're working to get you up out of your seat and allow your body to get better circulation and move around more. The health benefits are worth the cost of purchase for one of these products. Find yourself something with durable construction, a budget-friendly price tag, enough adjustability to fit your height, and the extra features you want. Standing while you work makes you better, so do this for yourself.
FAQs On The Best Standing Desk
How Long Should I Stand At My Stand-Up Desk?
Throughout your workday, you should switch between sitting and standing. It's recommended that you stand between 15 and 30 minutes every hour that you are working.
Are They Worth It?
Yes, they are. A standing desk or standing desk converter is an investment in your health. Sitting all day is not good for your body.
Are Stand Up Desks Overrated?
Absolutely not. Stand-up desks help you stay healthy and give your body a break from the pressures of sitting for so long.
Are They Better For Your Back?
Yes, they are. Standing desks get you up out of a seat where many people sit with poor posture. They take the pressure off your spine. They also help to increase circulation throughout the body.
Are Stand Up Desks Healthy?
Using stand-up desks is better for your health than just sitting all day. You need to get up and move around throughout your day. It prompts you to do that while still getting your work done.
Are Stand Up Desks A Fad?
Unless catering to health is a fad (which it's not), then no, standing desks are not a fad. With all of the research surrounding sedentary lifestyles showing how bad it is for our health to be sitting all day, stand-up desks have been proven to be something we need to keep around.
Is UPLIFT Made In the USA?
UPLIFT desks are designed and made in the USA. They are a product of Austin, Texas.
Are UPLIFT Desks Worth Buying?
UPLIFT desks are worth it if you spend a lot of time working at your desk. This company makes high-quality, customized standing desks. You can customize almost every aspect of your desk when you order from UPLIFT. The best part is, the customization is free.
Other Resources
TechRadar  Facebook
TechRadar Linkedin
TechRadar Twitter
WalkWhileWalking Facebook
WalkWhileWalking Linkedin
WalkWhileWalking Email
Disclaimer: FamilyHype.com (Family Hype & FamilyHype) is a participant in the Amazon Services LLC Associates Program, an affiliate advertising program designed to provide a means for sites to earn advertising fees by advertising and linking to Amazon.com.
Last Updated on September 27, 2021 by Jacqui Arnaiz
DISCLAIMER
(IMPORTANT)
: This information (including all text, images, audio, or other formats on FamilyHype.com) is not intended to be a substitute for informed professional advice, diagnosis, endorsement or treatment. You should not take any action or avoid taking action without consulting a qualified professional. Always seek the advice of your physician or other qualified health provider with any questions about medical conditions. Do not disregard professional medical advice or delay seeking advice or treatment because of something you have read here a FamilyHype.com.