Supplements designed specifically for expectant women are known as prenatal vitamins. They contribute to ensuring that both you and your unborn child get the necessary nutrients for a healthy birth. People who have difficulties swallowing pills or who just like the flavor and texture of gummies may find that taking their supplements in the form of chewy candies is an excellent alternative. However, before beginning any new supplement, you should always consult with your doctor first.
When shopping for prenatals, there are a few considerations that should be kept in mind. First things first, check to see whether the vitamin has any folic acid in it. Folic acid is essential for women who are expecting because it lowers the risk of some birth abnormalities, particularly those that affect the brain and spine. Even if they do not intend to conceive in the near future, it is suggested that all women take dietary supplements containing a daily dose of 400 mcg of folic acid.
Vitamin D is yet another component that should be looked for in supplements. Because it assists the body in absorbing calcium, which is an essential vitamin for proper fetal growth, vitamin D is an essential nutrient for women who are carrying a baby. Vitamin D is measured in international units (IU), and most supplements include 400 IU of this nutrient. However, if you are vitamin D deficient, you may need more daily value of vitamin D.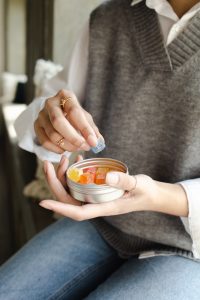 Source: pexels.com
There is a type of nutritional supplement that is available in the shape of a candy that is chewy and flavored. These are known as "gummy vitamins." They often have a fruity taste (like raspberry lemonade and other fruit mixture flavors), and they are frequently packaged in the form of cute animals or animated characters. Because they are a simple and hassle-free method to get the vital nutrients that your body needs on a daily basis, they are a favorite among both children and adults. Gummies, despite the fact that they do have some nutritional value, should not be used as a substitute for a balanced diet and should not be utilized in this manner. Sugar, gelatin, and other substances that, when ingested in high numbers, may not be beneficial to your health are generally included in the formulation of these gummies. To stay safe, make sure you follow the recommended dose set by the manufacturers.
There are various chewable prenatals available in the market that have been tested and surpass the quality standards established by the US Food and Drug Administration (FDA). The following is a list of the top chewable supplements for expecting moms sold in the United States (with 5 stars rating from customer feedback), along with a description of each product. You can purchase many of these supplements at your local grocery store if they have them in stock, but don't forget to consult your doctor before trying out a new supplement.
Vitafusion Prenatal Essential Multi For Mom & Baby's Everday Health Needs
These are intended to assist a healthy pregnancy; however, iron has not been included in their formulation. They are gluten-free and non-GMO, and they have folate and vitamin D3 within their composition. Vitafusion gummies are a favorite of many expecting moms.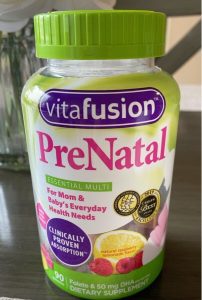 Source: world.openfoodfacts.org
Nordic Naturals Prenatal DHA
A supplement made from fish oil called Nordic Naturals DHA, it helps to boost newborns' cognitive health and the development of their neural systems. It is also one of the only brands of pregnancy gummies that include*s DHA, which is crucial for women who are expecting since it helps to prevent birth abnormalities of the brain and spine. DHA may be found in this vitamin, making it one of the few brands that contain DHA.
Garden of Life Vitamin Code Raw Prenatal Multivitamin
This multivitamin is produced from natural, whole-food components, and it does not include any artificial colors or flavors of any kind. It also has no high fructose corn syrup. In addition to calcium, iron, and vitamin C (including citric acid), it also contains vitamin D3 and E.
Rainbow Light Prenatal One Multivitamin
The Rainbow Light One Multivitamin is an all-encompassing multivitamin gummy that provides the body with a combination of more than 30 essential vitamins and minerals. It is designed to fill any gaps in nutrition for both the mom and the baby. During pregnancy, it will help promote good energy metabolism levels, the immune system, healthy skin, teeth, and hair, and a healthy scalp.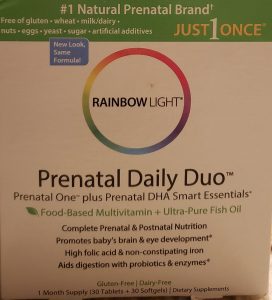 Source: world.openfoodfacts.org
MegaFood Baby & Me 2
The one-of-a-kind prenatal vitamin known as MegaFood Baby & Me 2 is designed to support the health of expectant mothers as well as the requirements of their unborn children. Iron is vital for pregnant women to consume since they are more likely to suffer from iron deficiency anemia. This product includes 27 mg of iron.
Nature Made Prenatal Multi + DHA
Omega-3 fatty acids are necessary for the development of the unborn brain and vision, and Nature Made Multi + DHA contains these acids. Furthermore, it does not include any artificial flavors or sweeteners, colors, or preservatives. They are made with natural flavors.
Ritual Essential Prenatal Multivitamin
The Ritual Essential Multivitamin is a one-of-a-kind gummy supplement formulated to offer you just the nutrients essential for your health throughout pregnancy. In addition to being devoid of fillers and synthetic chemicals, this item is also gluten-free and vegan-friendly and it has a delicious fusion of natural fruit flavors.
New Chapter Perfect Prenatal Vitamins
New Chapter daily supplements are formulated to be pleasant on the stomach and are comprised of nutrients derived straight from whole foods. In addition to being certified organic and devoid of genetically modified organisms, this gummy vitamin includes no synthetic colors, tastes, or sweeteners.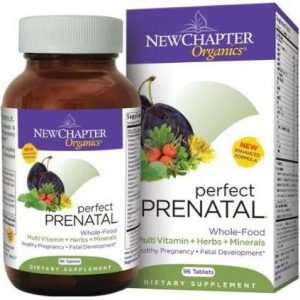 Source: flickr.com
Olly Essential Prenatal Multivitamin
A gummy form of a multivitamin, Olly Essential Multivitamin does not include any artificial colors or tastes of any kind. In addition to not containing gluten, it is a good source of important pregnancy vitamins like vitamins C, D, and E, as well as folic acid.
SmartyPants Prenatal Complete
Smarty Pants prenatal vitamins are also gummies with lots of nutrients you can have. The omega-3 fatty acids, DHA, and EPA that are included in SmartyPants Complete are delivered in the form of gummy vitamins. Additionally, it consists of vitamins C, D3, and E, in addition to folic acid.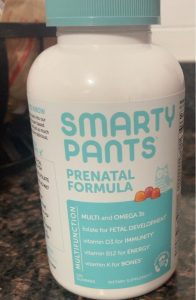 Source: world-zh.openfoodfacts.org
Nordic Naturals Prenatal Omega-3
A supplement made of fish oil called Nordic Naturals Omega-3 helps to boost newborns' cognitive health and the development of their neurological systems. It is also one of the few brands that include DHA, which is crucial for the wellness of pregnant women since it helps prevent birth abnormalities of the brain and spine. It also supports heart health. DHA may be found in this vitamin, making it one of the few brands that contain DHA.
Those individuals who have difficulty swallowing pills or who just prefer the flavor and consistency of candies may find that these vitamin gummy bears are an excellent and convenient alternative. When it comes to taking pregnancy gummies, these are the most essential things to keep in mind:
They are not a suitable replacement for eating a balanced diet.
Consuming a wide range of fruits, vegetables, and grains that are whole should be done in addition to taking them. If you have an allergy to any of the components, you must not consume them.
Before you take them, you should discuss any worries or concerns with your primary care physician.
Frequently Asked Questions
Are gummy vitamins for pregnancy good enough?
Gummy supplements are a good option for those who can't swallow pills. They contain the same amount of nutrients as their pill counterparts and are just as effective at preventing deficiencies during pregnancy. As a dietary supplement, gummy vitamins are a good option. Many also contain additional vitamins and minerals, like biotin, folic acid, iodine, and zinc. They're easy to digest and won't sit in your stomach like a rock as some of the pill-based options do. They have various fruity flavors, like raspberry lemonade. Some are made from purple carrot juice concentrate and contain naturally occurring vitamin A and other nutrients. Supplements with blueberry and carrot concentrate are great options for pregnant women who want to avoid synthetic dyes and ingredients. Some also contain glucose syrup and lactic acid.
Are gummy supplements less effective?
Can I take one prenatal gummy a day?
It depends on the gummy prenatals you're taking. Make sure you don't take more than the recommended dose indicated on the bottle.
Can you take prenatal gummies if you're not pregnant?
Which is better prenatal gummies or pills?
How many gummy supplements do I take a day?
Why are prenatals necessary?
What are the side effects of prenatal gummies?
Like any supplement, pregnancy gummies may have side effects. Some brands may also contain allergens, like milk, soy, or high fructose corn syrup. Make sure you check the ingredients to avoid any adverse reactions.
What is the safest prenatal vitamin?
What is the best time to take prenatal gummies?
What is the best way to use pregnancy gummies?
Which gummy prenatals are best for you?
Do these gummies help boost your fertility?
Are prenatals better than multivitamins?
What medication should you not take with prenatal supplements?
Last Updated on May 9, 2023 by Jeanne Meets
DISCLAIMER
(IMPORTANT)
: This information (including all text, images, audio, or other formats on FamilyHype.com) is not intended to be a substitute for informed professional advice, diagnosis, endorsement or treatment. You should not take any action or avoid taking action without consulting a qualified professional. Always seek the advice of your physician or other qualified health provider with any questions about medical conditions. Do not disregard professional medical advice or delay seeking advice or treatment because of something you have read here a FamilyHype.com.