Best kids app for Kindle Fire. As society evolves, so does learning. We learn not only through formal education but also for other alternatives, such as non-formal education and technology-based learning. Technology-based learning offers learning which involves inventions and technological developments intended to make learning more accessible, more efficient, and more inclusive to people, including the young ones.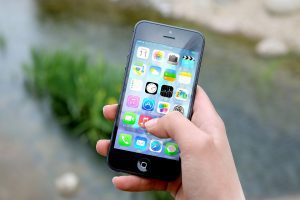 One of the latest developments in technology is the emergence of different iPhone or smartphone applications or apps. Applications can serve various purposes, providing benefits to individuals of all ages and generations. Many apps have been specifically developed to make learning more engaging, particularly for children. Browsing through the interactive app store, you can discover fantastic apps catering to toddlers, preschoolers, educational games, and even older children.
Kids' tablets are a great way to introduce technology to children while providing educational and entertaining content. In this article, we're going to talk about what the best Kindle Fire tablet for kids is that children and parents can both love.
Time Turns Technology
Today, we have many new ways to teach lessons to our children. We now have tons of gadgets. These gadgets serve as a medium to transfer information, show concepts and models, and teach a lesson or two to kids of various age ranges. One of them is the development of the Kindle Fire, which is Amazon's latest addition to its famous line of devices for portable e-book use. Its features are designed to be market-ready and competitive with the leading products in the same industry, such as the iPad and other tablets.
The Kindle Fire stands out from other devices due to its affordability, making it a more accessible choice for families who are budget-conscious.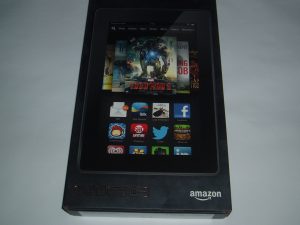 Through the use of these kinds of devices, not only does the person become more familiar with the technology, but it also gives them a chance to learn interactively in a non-traditional setting. App and game developers nowadays really take time to understand the market and identify which techniques can be used to effectively make education interactive and engaging by developing the best kid apps for the Kindle Fire. 
New educational games for kids are continuously being developed, giving children and their families a wide range of options to choose from in terms of Kindle Fire apps designed to aid in learning. The best kid apps for the Kindle Fire aid learning that was once only possible inside the classrooms. Through these educational apps, we can revolutionize our methods of learning to make them adaptable, most notably for children who struggle to keep still for the traditional way of learning adventure.
Although having educational apps can significantly help children learn better and discover more things, it is also just right to limit the usage and monitor the relevance of the apps our kids may start to have an interest in. Our guidance is necessary because keeping an eye on our children's internet activities, especially at a vulnerable child's age, will help us keep them secure from the limitless scope of our internet account. 
With this, ensuring that your kids indulge in the best kid apps for the Kindle Fire and the most relevant educational apps will be a better process of tracking their academic progress and growth. You can be more assured that they're getting a complete quality experience if they choose to try apps that are considered one of the best kid apps for the Kindle Fire.
No need to worry if you're unsure about the best kid apps for the Kindle Fire as we have compiled a list of them for you. The list includes app descriptions, information, and ratings to help you choose the best for your children.
It is now simpler to find the ideal app to educate and amuse your child with this comprehensive guide to the top Kindle Fire kids apps. These applications, ranging from interactive storybooks to educational games, are certain to deliver a mix of entertainment and learning to your youngsters. With their engaging and vibrant graphics, these apps are designed to captivate your child's attention, and they provide hours of enjoyment and education.
Best Kids App For Kindle Fire
Best App: Khan Academy Kids
With a five-star rating, Khan Academy Kids is an excellent way to learn almost everything with just a few clicks. Khan Academy Kids has an excellent reputation in providing tutorials and video sessions for various lessons in different subjects. These tutorials assist any person from any age to better understand a concept or idea. Undoubtedly, Khan Academy Kids is one of the best kid apps available for Kindle Fire.
Khan Academy makes learning feel fun and kids like it because it's like playing a game. Kids apps need to be engaging so they don't get bored. This one definitely is. You'll find Khan Academy Kids in the free apps for Fire tablets.
This is our number one pick for the best Kindle Fire apps for kids because it keeps kids interested, has tons of learning to offer, and does not cost much.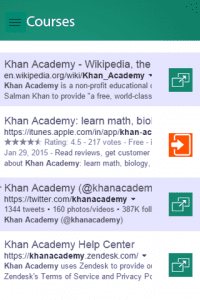 Best App: Pinkfong Baby Shark Coloring Book
Who doesn't know the Baby Shark craze? Improve your child's accuracy and precision. Develop their color compatibility assessment skills and pattern-creation with the help of this coloring book of an app. It may be a simple task. But, it is a developmental task that can help with the holistic growth of your child.
This is the best Kindle Fire app for toddlers. These are free apps that have many coloring pages for kids to use different kinds of coloring implements to color. You'll find the Baby Shark Coloring Book to be one of the Kindle Fire kids apps that's the easiest to use. It's perfect for younger children.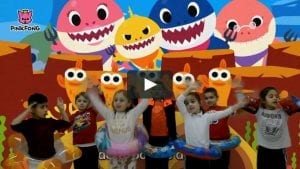 Best App: Ted Conferences
Ted Conferences has a 4.5-star rating, making it evident that it is one of the best kid apps found in Kindle Fire. Your children can learn technical concepts and lessons. Also, your child can also watch videos that can inspire, motivate, and help them understand the world we have today. 
Ted Conferences isn't one of the Kindle Fire kids apps that only caters to children. This is an amazing app that is based on what was being used for adults but has been adapted to be a kids app, too. It's one of our favorite Kindle Fire Kids apps because it's so different from what other Fire tablet learning apps are about. This is one that older students that are in high school may like.
Best App: ABC Kids – Tracing and Phonics
With a 4.5-star rating, this kid app can help with the literacy development of your child's skills in reading and writing stories. These skills are essential, especially in their younger years. This one is one of the best Kindle Fire apps for toddlers and preschool-aged children. These are our favorite Kindle Fire Kids apps for teaching letter recognition and how to write letters. You can get it free on a Fire tablet and with no ads so kids won't click any affiliate links. 
Stack the States is only $2.99, this 4.5-star-rated app can help enhance your children's mastery skills in the context of geography and history, which can be helpful overall.
This can also train your child in pointing out states on maps and even strengthen their sense of direction! They say that memorization can be best practiced at a young age, so why not try it through this app? 
Stack the States is meant for children who are at least 4 years old. It's one of our best Kindle Fire apps for kids, but it was also voted as Best Educational Game App. These Kindle Fire kids' apps teach something a little different than what many other educational apps are focused on. It's nice to have something you can round your child's learning out with. 
Once your child has finished learning a set of concepts, why not put it to the test? This free 4.5-star app helps in finding a lesson where you can take a short quiz. This quiz will show you the areas you mastered and the ones you have yet to improve. This is instantly one of the best kid apps for the Kindle Fire because it has automated what parents once did manually, making review quizzes.
Quizlet can be used for different age groups. Kids in high school can benefit from it, as can elementary school children. This is one of our nominees for best Kindle Fire apps because it has been proven to help kids make better grades at school by learning the basics of Math. Science, and English.
Dragon Box Algebra is one of the best Kindle Fire apps that help kids learn math in a fun and interactive way. It uses a game-like approach to teach algebraic concepts and has been highly praised by educators and parents alike.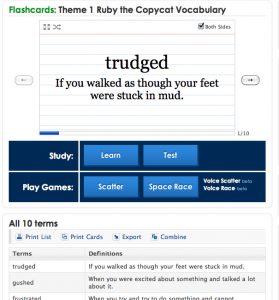 There are many avenues for kids to help them gain knowledge and discover new things. We, as adults, should help them utilize these skills to develop them as early as now. Kindle Fire kids apps are designed with education in mind. Kids still get to have a fun way of knowing and learning something in the process. Through our guide, we hope we were able to help you change your children to change the world eventually.
Best Kids App For Kindle Fire FAQs
How do I get games on my kids' Kindle Fire?
To download games, open the Appstore on your tablet, search for the game you want, and click on the "Download" or "Buy" button. Alternatively, you can use the FreeTime app to browse and download games that are specifically curated for kids.
What age is appropriate for Kindle Fire?
Kindle Fire is suitable for kids ages 3 to 12. Each child has a profile wherein age gets indicated. Then, you can download apps for toddlers like the PBS Kids app, and school-age apps, that include the periodic table, wild kratts, songs, art, movies,  and more.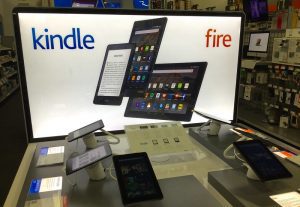 Is the Kindle Fire good for kids?
Yes, because it has a safe and controlled zone that they are only allowed to access. The background turns into blue, indicating that they are in the kid's zone. You'll have all the parental controls you want and they can safely play within the Amazon Freetime program.
What is the best tablet for kids?
There are several great tablets available for kids, but some of the best ones include:
Amazon Fire Kids: These tablets come with age-appropriate content, parental controls, a durable design with a protective case, and an affordable price tag.
Apple iPad: The iPad has a wide range of educational apps and games, and parental controls can be set up through the Screen Time feature.
Samsung Galaxy Tab A Kids Edition: This tablet has a durable design, parental controls, and a Kids Mode that restricts access to certain apps and content.
LeapFrog Epic: This tablet is designed specifically for young kids and comes preloaded with educational apps and games.
Ultimately, the best tablet for your child depends on your budget, your child's age and interests, and your preferences for features and functionality.
What's the difference between Kindle Fire and Kindle Fire kids?
What is the difference between a Kindle Fire and an iPad?
The main difference between the two is the operating system that they use. The iPad uses iOS, while the other uses Android. For the camera, the iPad has both a rear and front-facing camera while the other has an only front-facing camera. The source of media for Kindle Fire is Amazon, t it is the App Store for the iPad. 
What is the newest Kindle Fire for Kids?
The newest one is Fire HD 8 Kids Edition. It has a big HD screen with Dolby Sound and dual speaker.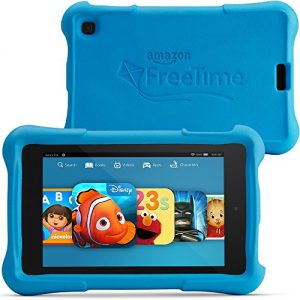 What are some other educational apps for toddlers on the Kindle Fire?
How much screen time is ok for kids?
It's recommended that kids ages 2-5 should only have about an hour of screen time per day. However, as kids get older, you need to figure out what is appropriate for your child. Kids shouldn't have more than a few hours of screen time each day. Apps for toddlers that aren't educational in nature should be highly limited or eliminated altogether.
What apps work on Amazon Fire Kids?
Amazon Fire Kids Edition tablets support a wide range of apps suitable for kids, including Amazon Kids+, YouTube Kids, PBS Kids Video, Minecraft, Roblox, Khan Academy Kids, Angry Birds, and Toca Boca apps. It's important for parents to review and approve all apps before their child uses them on the Fire Kids tablet.
What can kids do with a Kindle Fire?
The Kindle Fire Kids Edition is designed for kids and comes with a kid-proof case, an Amazon Kids+ subscription, parental controls, and a higher price tag. The regular Kindle Fire is a general-purpose tablet without kid-friendly features and content.
How do I manage apps on my kid's kindle fire?
To manage apps on your kid's Kindle Fire, use the Parent Dashboard or go to "Settings" and select "Apps & Games." On the Parent Dashboard, you can add or remove apps and adjust settings for individual apps. On the Kindle Fire, you can manage individual apps and adjust settings. Remember to review and update the apps regularly to ensure they are appropriate and safe.
How do I make my kindle fire kid friendly?
To make your Kindle Fire kid-friendly, create a child profile, set age filters, enable FreeTime, set screen time limits, and manage apps using the Parent Dashboard. Regularly review and update the settings and content on the device to ensure it remains safe and appropriate for your child.
What are the benefits of kids' Amazon Fire tablet?
The Amazon Fire Kids tablet offers age-appropriate content, parental controls, durability, affordability, educational value, and entertainment options, making it a great device for kids and parents.
Can you listen to music on kids' Kindles?
Yes, you can listen to music on a kids' Kindle Fire tablet. The tablet comes with a built-in music player app that allows you to play and manage music files. You can transfer music files to the tablet using a USB cable or by downloading them from the Amazon Music app or other music apps that are available on the device. Additionally, the tablet comes with parental controls that allow you to restrict access to music content based on your child's age and interests.
Other Resources: 
https://www.newsday.com/lifestyle/family/amazon-freetime-educational-apps-kids-1.19857382
http://topbestappsforkids.com/bestkindle-fire-apps-for-kids/
https://www.commonsensemedia.org/reviews/category/app/device/kindle-fire-51/genre/educational-games-60
Last Updated on May 9, 2023 by Inma Barquero
DISCLAIMER
(IMPORTANT)
: This information (including all text, images, audio, or other formats on FamilyHype.com) is not intended to be a substitute for informed professional advice, diagnosis, endorsement or treatment. You should not take any action or avoid taking action without consulting a qualified professional. Always seek the advice of your physician or other qualified health provider with any questions about medical conditions. Do not disregard professional medical advice or delay seeking advice or treatment because of something you have read here a FamilyHype.com.