Creative sets designed for children are a great way to stimulate development in so many different ways. Whether it be paintbrushes, pencils, water color, or even crayons, your child will be able to discover their artistic side and improve their motor skills and their bilateral coordination. They can experiment with all of these different mediums and challenge their cognitive thinking. It can markedly improve their self-esteem levels too as they work with a craft. This one is also beneficial for parents as it allows them to create a bonding moment with their children, creating a meaningful connection and you can have your child communicate their feelings with this. But what are the best art kits for kids that stimulate creativity and happiness? Here are the best brands with 4 to 5 stars in the reviews and are tried and tested that will provide numerous hours of fun.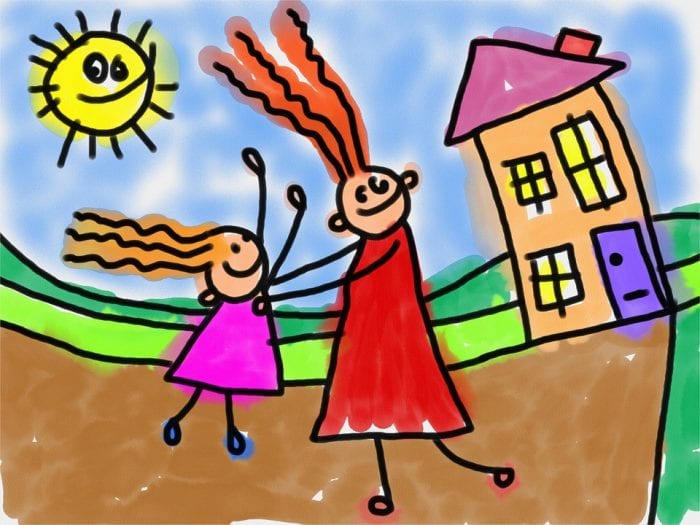 Crayola Inspiration 140 Pieces
Let your child discover their creativity and complete their imagination. It is one of the brands that's kind of the ultimate art kit set that will inspire and get children excited to create various items. This color set involves non-toxic crayons and other media, and it comes in a handy little carrying case, so it's quite simple to carry about. This one is ideal for all ages since the age range is 5 and above. The carrying case is probably one of the nicest out there. It provides a bunch of different compartments for top-tier organizations. The storage compartments include a snap-fit design, which is perfect for those supplies that you want to keep neatly tucked into one spot.  It also comes off of clothing super quickly, so it's a great art kit that's perfect for fostering design and happiness.
The one downside to this is that the carrying case is a little large, so they won't be able to put it in a backpack with ease. But, it's a great set to get children started with, and it's the perfect one to put in any room. The product rating on Amazon is 4-5 stars.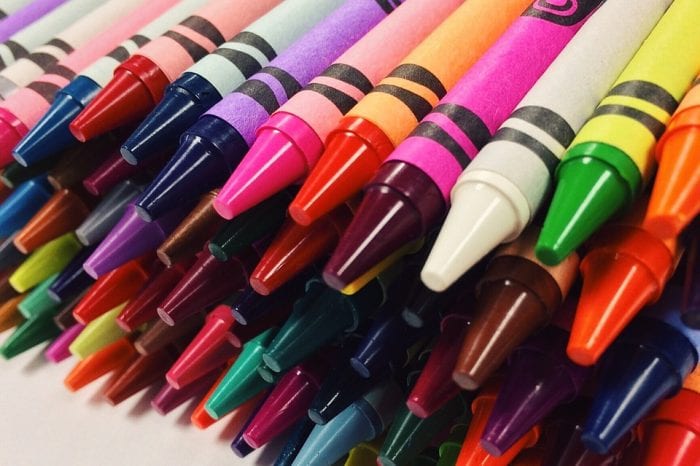 Art 101 USA 142-Piece Set
Another product with 5 stars in reviews is Art 101 USA 142-piece. This super beautiful one, that's perfect for the young Rembrandts that are out there. It's a beautiful wooden case that includes 24 watercolors, 24 pastels that are oil, 24 colored pencils, along with 60 crayons, a color chart, an eraser, and even a sharpener, so it's the best art case that involves everything built-in. The wooden case also has a removable drawer for safekeeping and is a beautiful set. It's nice to have everything all in there, and they also have a mixing pallet in it as well, which if your child is interested in learning how to mix the paints to create new colors, this is the perfect tool for them.
There are also a lot of different brushes, too, so that they can get inspired by this set. The two downsides are as follows: some pieces can cause a child to choke, so it's not suitable for children under the age of 3, and if they like to put stuff in their mouths, this may not be ideal for them. 
Creativity For Kids Hide And Seek
Rock painting is a great way to get creative and explore creative ways. This arts kit includes ten different rocks that you can paint and use in the game. Close match activities like hide and seek become more exciting with these personalized rocks. You can paint them however you want and add stickers and other designs. It's a calming and fun expressive outlet that can be enjoyed by everyone. Those who find these rocks will also enjoy this unique game experience. The stickers are cool because they can be shared on social media to foster better and more creative with your items, so it's a great type of means to express yourself.
However, there are a couple of downsides. For one, the rocks are a bit awkward in shape, but they do still feel decent in your hands, just they're a bit different. Also, if the rocks aren't smooth, they won't hold the transfer as well as they would if it was smooth, so keep that in mind when you're choosing how to paint these. But, they're fun items that can foster creativity, building it to new and impressive levels. It is worth mentioning that it is one of the art kids with 4 to 5 stars in Amazon ratings.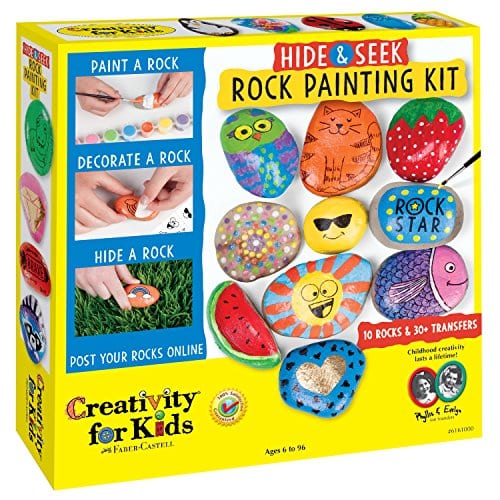 Rainbow Crafts Stencils And Drawing
Looking for another item with 5 stars in the rating? This one is the ultimate stencil kit, and it includes over 260 different templates for you to try. There are letters, numbers, animals, and even shapes. It consists of a mechanical pen, coloring pencils, a case to carry everything, and a sharpener for when you need to sharpen these items. You can save time and effort in purchasing other craft kits item since this one comes with many items in it already. This kit is excellent for them to create full and immersive scenes for personal projects, and it can be used for art projects for school too. It is a unisex kit, so you don't have to worry about it having only just girls' stuff or boys' stuff. The one downside is that the pencils are good, but they may be a bit limited for children.
Alex little Toys Paper Bag
This kit is a fun one if your child likes to create little sack puppets. It comes with all of the items needed to create these puppets, including a glue stick. This one is great for the whole family, and you can keep these once you're done. You can even make these and put on a puppet show after. This one is ideal for ages 3 years and up. If you are looking for a good quality one for your child, this is worth considering since it has a 4-5 stars rating on Amazon. Though, the one downside is you may notice that kids of all ages enjoy making them rather than using them, so the fun is in the journey and keeping kids engaged, and that's something you'll want to remember since that can play a big part in whether you want to get this or not.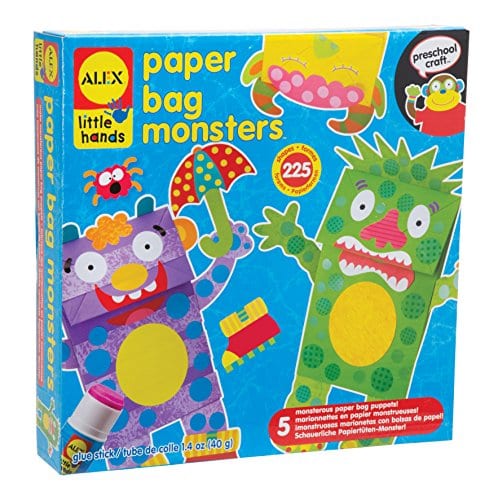 Faber-Castell Paint By Numbers
Let your child discover their artistic side and have them create their best artistic work with this set. This 4-5 star product in most reviews is ideal for kids of all ages. The number guide included can help beginners paint like a pro. This is one of the brands that will elevate the art of your kiddos to the next level. You will definitely receive 5 stars from your child if you give this amazing Paint by Numbers to them.
Art kits are fun, and they allow your child to foster the creativity that will help them get better over time. If you want to make a difference in a child's life, consider getting them an art kit, since this is a great way to get them interested in these projects, and to make it even more fun for everyone too. Conduct little research before purchasing one for your talented child, and consider the order of products based on sellers' ratings of 4 to 5 stars to ensure the best results in their artwork.
FAQs
What should I a craft box for kids contain?
One must-have in a craft box for kids is a set of organizers. You should also put things like adhesives, scissors, markers, and various types of paper in it.
What is in an art kit?
An art kit is practically box filled with crafting tools. The latter can pertain to pens, papers, and other creative materials.
Does Michaels sell art supplies?
Yes, you can shop for art supplies from Michaels. They have supplies for arts for all ages and most are 4-5 stars in the reviews. You can save money from the discounts and free shipping promo they offer. Aside from those, the store also carries home decorations, paint, greenery, and many more.
What to get a child who loves art?
If your kid loves art and crafts, you can give them an art kit, art supplies, paint, a toddler art set, coloring paper, water color paint sets, and colored markers. You can also shop for different stickers of cartoon characters or animals. You can also shop for a science kit if your child is a lover of science too. The idea for art and crafts is limitless. Another option is the doodle art journal. You can shop online or in-store. When you shop for items to be used for art, it is practical to buy a set instead of pieces. Most brands have a lower price for "set" items compared to buying them individually. This will enable you to save money. Further, look for items with 4 or 5 stars in the reviews before purchasing them.
What are the best art kits?
If you are looking for the best art kit for your kiddo that includes STEM activities, teens can also find suitable options. There are many brands that provide premium quality items for arts and crafts for all ages. Among the best brands that receive 4-5 stars in customer reviews are the Faber Castell painting kit- for kids who love to paint, H&B 72-Piece Drawing & Art Supplies Kit, Kid Made Modern Studio in A Box, Color Zone Paint Your Own Unicorn, and Prina 50-Pack Sketch Kit.
What should be in a craft kit?
How do you make a homemade art kit?
What to get a 7 year old who loves to draw?
Are art kits effective?
What is the best cheap art supplies?
Which art is best for kids?
What art supplies do kids need?
How do I organize my kids art area?
What do you put kids artwork in?
How do I start art for kids?
Art Kits For Kids Other Resources
Last Updated on April 12, 2023 by Bry Roquero
DISCLAIMER
(IMPORTANT)
: This information (including all text, images, audio, or other formats on FamilyHype.com) is not intended to be a substitute for informed professional advice, diagnosis, endorsement or treatment. You should not take any action or avoid taking action without consulting a qualified professional. Always seek the advice of your physician or other qualified health provider with any questions about medical conditions. Do not disregard professional medical advice or delay seeking advice or treatment because of something you have read here a FamilyHype.com.