The Formula Pro is a cool machine. You may wonder if the Formula Pro Dispenser is worth it or not. It's definitely quite interesting to read about, but here are some interesting facts and reviews that you can read to determine whether formula dispenser is worth it.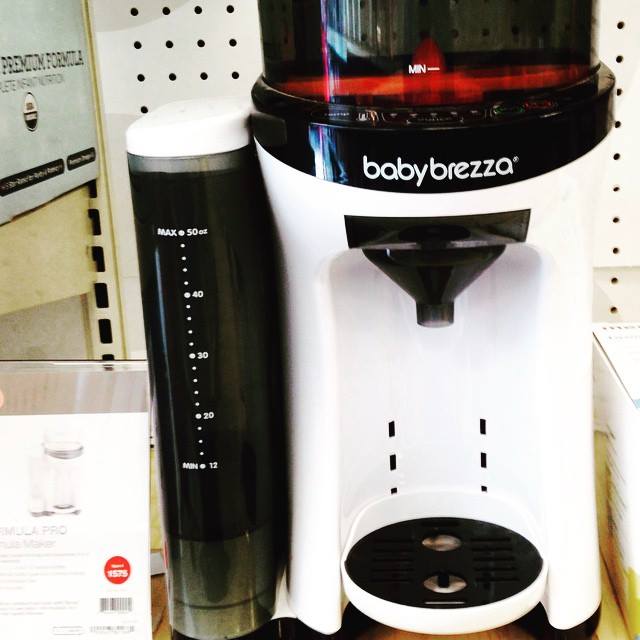 If you are a mother who are formula feeding your baby, Baby Brezza will be helpful for you. To help you buy the right Baby Brezza, we also did our research and made a list of the best Baby Brezza formula dispenser from Amazon based on pricing and positive ratings from verified customers. You can continue reading to learn more FAQs and reasons why you should invest in a Baby Brezza product.
To help you buy the right Baby Brezza, we also did our research and made a list of the best Baby Brezza formula dispenser from Amazon based on pricing and positive ratings from verified customers. You can continue reading to learn more FAQs and reasons why you should invest in a Baby Brezza product.
It's A Keurig Machine For Formula
At its core, the Baby Brezza is basically like a Keurig machine, but for baby formula powder. Baby Brezza is quite an impressive machine, and you may wonder whether or not you should get it, and if it will enchance the parents' busy lives. The answer is yes, Baby Brezza will, and setup is easy
The Baby Brezza has a formula that helps to create a high-end baby formula for your child. You use formula powder for baby at the top of this, add water, and then push a button. From there, the machine will warm up the formula up to 98 degrees so that it can be used, and Baby Brezza can create the perfect baby bottle in just under 30 seconds (depending on the bottle size).
Another good thing about Baby Brezza is that it can hold up to 700 grams of formula, and 50 ounces of water, which is nine six-ounce baby bottles before you need to add more water. The removable water tank has wide opening making it easy to fill, will hold a constant temperature that, with the push of a button, you can create the ideal Baby Brezza baby bottle for yourself.
Brezza
On Amazon
Baby Brezza Formula Pro Advanced Dispenser Machine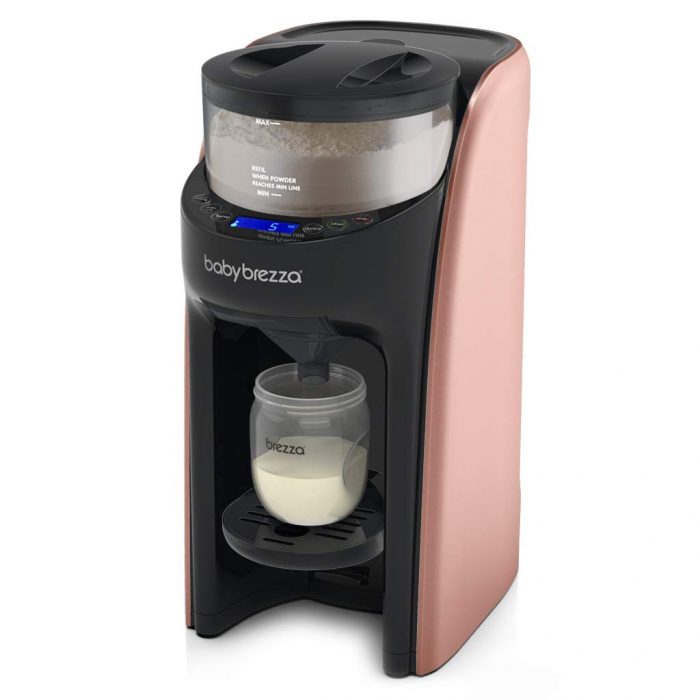 Think of this as a coffee maker but instead of coffee, it makes milk easily accessible for your baby. Brezza is convenient to use and makes making baby formula milk less complicated. The new advanced version of the Baby Brezza formula dispenser machine is fully customizable and Works with virtually all formula brands & all baby bottle sizes.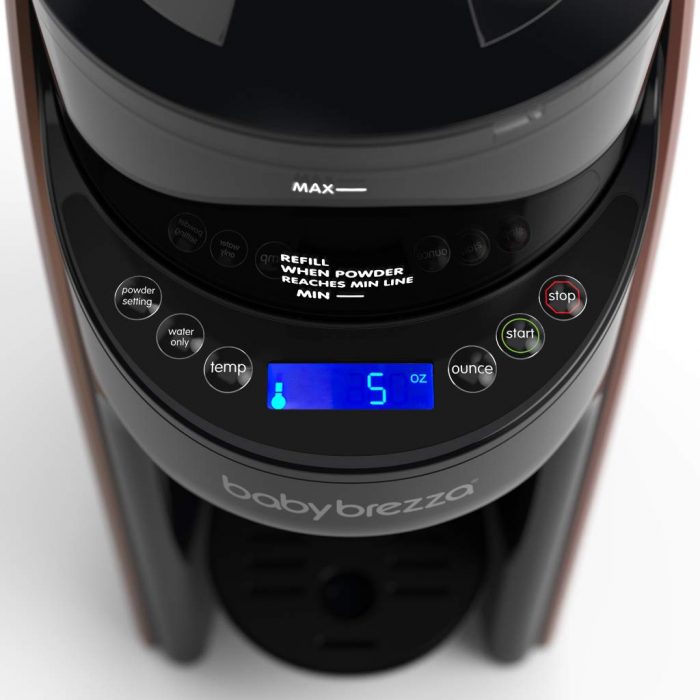 Baby Brezza Formula Pro FRP0046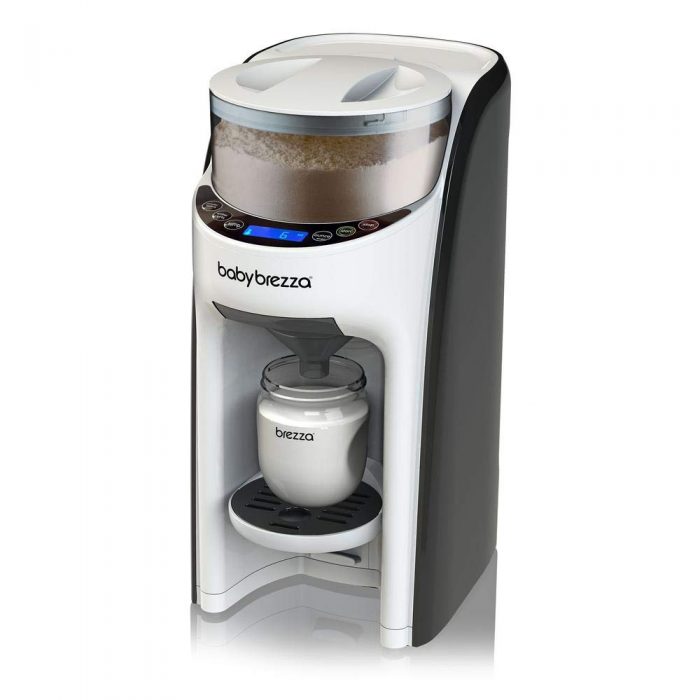 The Baby Brezza formula Pro FRP0046 is equipped with a patented mixing technology that ensures consistency with the formula and water ratio. You can also customize the ounce increments, temperature settings of your Baby Brezza, and perfect bottle baby according to your preference (room temperature, body temperature, or warmer than body temperature).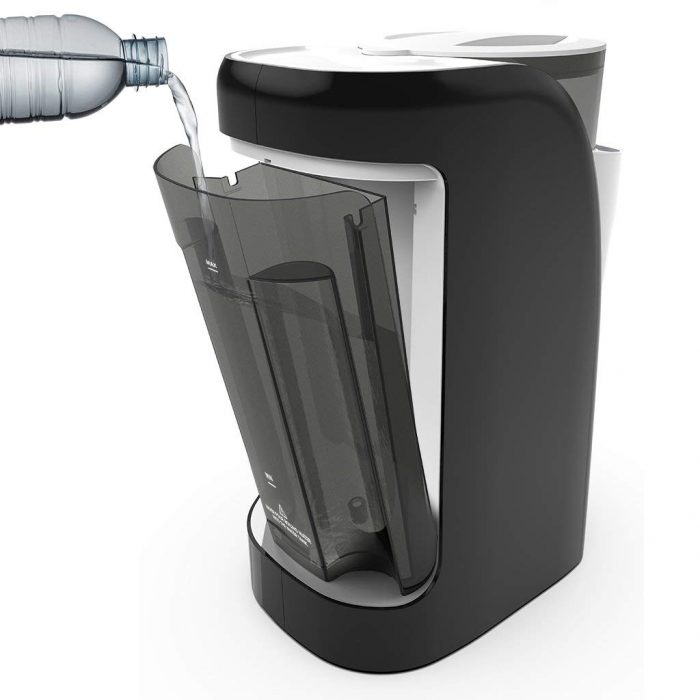 Baby Brezza FormulaPro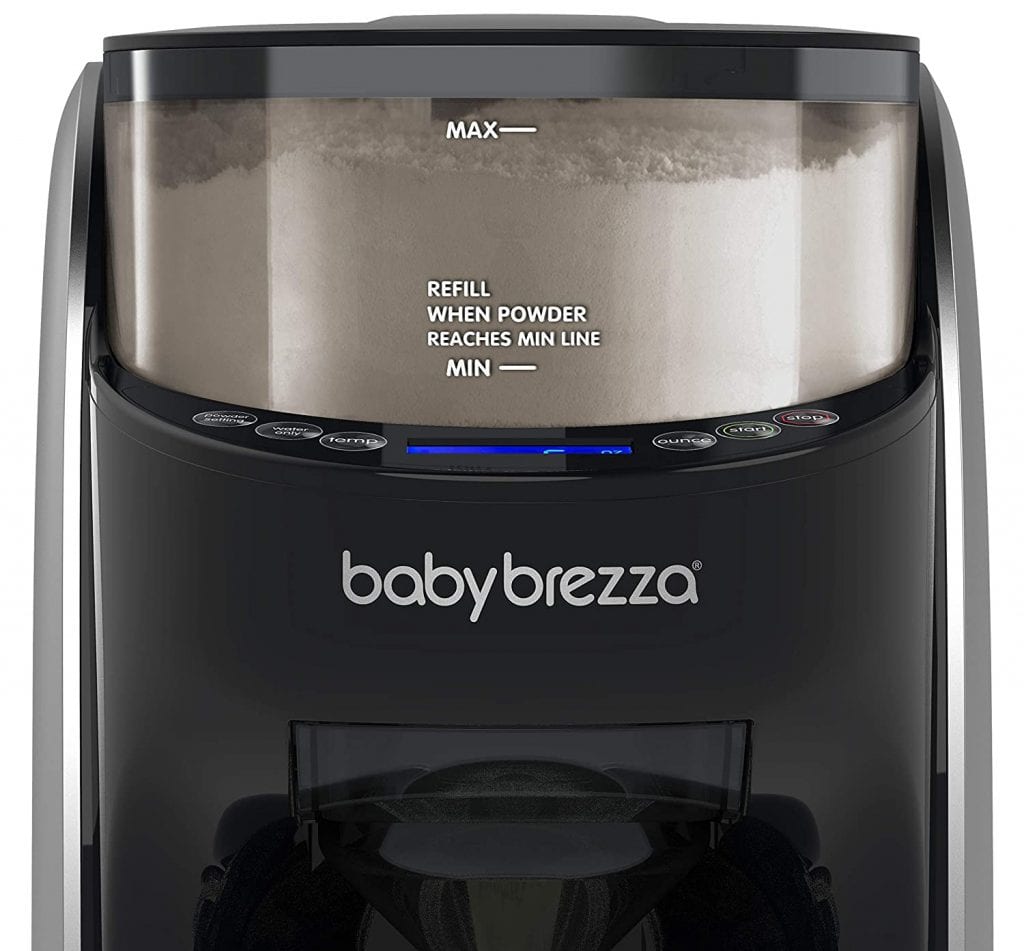 This Baby Brezza formula dispenser machine comes with a 1-year limited warranty in the US and is BPA-free. Therefore, Baby Brezza is safe to use for your baby, having Brezza handy will save you time in warming your baby's milk as Baby Brezza automatically warms a formula baby bottle in less than a few minutes. The waiting game is over. You can now quickly feed a hungry kid with Brezza,
Brezza Setup
When you're setting up the Baby Brezza, it's incredibly simple, but you will need to set the number based on the baby formula that you're using. That's probably the one complaint parents may have with this Brezza unit since it does require you to set that up, and you need to find the formula number. But, once you get down to it, once you mark what you need, you can then get the most out of the Baby Brezza product.
You will need to add more baby formula and water as required and sterilize your Baby Brezza monthly, all of which are pretty simple actions that can get you the baby formula you want.
The Baby Brezza does have a spare parts sale learn team that can help you with shipping returns. You can also order cleaning cloths baby bottle brush, and other important items from Baby Brezza as well, as needed.
Overall, shipping returns on this is pretty easy, and the Baby Brezza products warranty does last a long time. It does have cups bottles nipples gift ideas for the Baby Brezza as well on its website, but if you want a warmer new safe smart to help give you amazing food for your baby, then this advanced Baby Brezza formula maker is what you need.
The User Manual International On It Is Easy To Understand
Having a user manual international means that the Baby Brezza is pretty easy for anyone to begin using, and the user manual international that the company provided comes in a variety of languages for people to use.
But it isn't just words the Baby Brezza user manual international has.  The pictures in the user manual international are also very diverse too, and you can learn and understand how to put the Brezza machine together using the user manual international.
If you want a Baby Brezza but aren't sure about whether or not you can understand it, well the user manual international is pretty easy to decipher. With the Baby Brezza user manual international, you'll have everything that you need to know right there on how to use it, and the Baby Brezza user manual international is pretty easy to pick up, and very easy for you to process too.
The Baby Brezza Advanced Pro Formula
There is also the Baby Brezza Formula Pro Advanced which provides the best newborn baby (an even older babies) formula mixer out there.  With the Brezza Formula Pro, you can choose from different formula pro settings including room temp, body temp, and warmer than body temp.
With the Baby Brezza Formula Pro® you can use both formula and water with this, and in the formula pro® it involves putting it in there, and then dispensing it.  It makes baby food prep so much easier with the Baby Brezza Formula Pro® because by using this formula mixer, it is a smart baby bottle warmer that really helps.
The Baby Brezza Formula Pro also works with baby bottle cups and bottle nipples depending on what you need, in tiny increments.  The products bottle that the Baby Brezza Formula Pro® works with involves virtually anything, and it is one of the best 2 step formula maker reusable baby bottles that you can use.
Breza Is The Best For Food Prep
The Baby Brezza Formula Pro is also the best for food prep because it works with all types of baby formula, including Similiac, which the Baby Brezza Original Formula Pro doesn't use, to create a safe smart experience for your baby to enjoy.
With the Advanced Formula Pro Advanced, it can work as a warmer 1 step dispenser that works with baby bottle nipples and other important parts.
Brezza Wifi
This Baby Brezza formula mixer takes it to the next level with wifi new capabilities, and it is a smart baby bottle warmer that you can use easily, and the Baby Brezza user manuals are pretty simple to understand.  It is a user manual international, so no matter where you are, you can use this.
As for the Setup of the Baby Brezza Advanced formula Pro Advanced, it's very easy and does come with some spare parts.  You typically can get more spare parts for your Baby Brezza easily.
The Baby Brezza Pro advanced Colors Formula Pro are diverse, and they can sit well in your kitchen.
The Baby Brezza smart bottle warmer does work with all kinds of baby bottle cups, baby bottle nipples and products bottle warmers typically use.  You can also use most cleaning cloths bottle nipples, and other products with this Baby Brezza warmer.
With the Advanced Pro, you also can try new recipes.  You can get the Baby Brezza Cookbook Bottles book to help you figure out some amazing recipes, but there is also Advice Chef Addie's recipes to try too, and you can also brush food with these too if you're curious.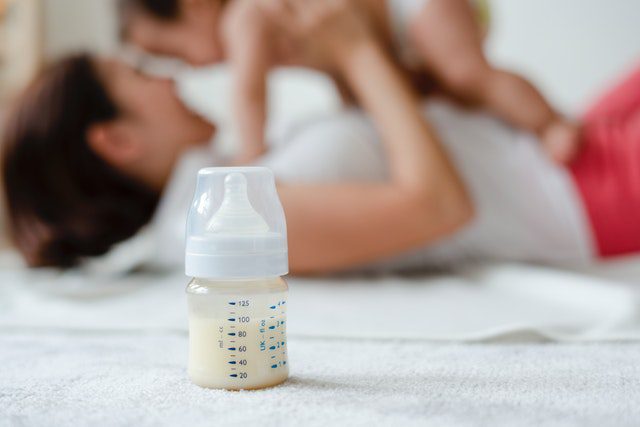 What Parents Love About Baby Brezza
From Baby Brezza brand reviews, what parents love for the most part is how easy this is. Imagine just by pressing the start button, you have a Baby Brezza bottle that's super easy to use, and from there, you can do this again and again. For those babies, you're trying to wean off breastfeeding, or those that can't breastfeed, this is great. It answers all the hassles for your middle-of-the-night feedings. This is better than other methods that take a long time, and it happens in half the time as well. This machine will limit the frustration of having to handle a crying baby as well. It saves time, money and effort, literally making your life easier.
The most significant benefit that Baby Brezza provides is speed. It takes no time to make this, especially when compared to alternatives, and Baby Brezza doesn't' waste the water or make messes either, a total win!
Parents will also notice that the design of the Baby Brezza product is quite lovely, and there is a lot that you can do with this. There are a lot of different baby bottle sizes, but best of all, no odd sizes! This is probably one of the more annoying problems a parent need to deal with, but the fact that Baby Brezza is simple to put together, you get a lot of different options, and they're all super easy to fix up, definitely will help many get the most that they can out of this.
Baby Brezza Tank Holds A Lot
There is also the fact that the Baby Brezza water tank holds a lot. It often is something that a lot of parents like, and many times, there are times when you don't feel like needing to make a bunch of baby bottles, so you run this once, and you're pretty much done.
The ease and convenience of this are one of the major draws to the Baby Brezza, and most parents will tell you that if you work a schedule that involves a lot of running around, it's worth it. Plus, if you have a babysitter, Baby Brezza is very easy to work with, and it will allow them to get the most that they can out of this, and a lot of cool features to try out.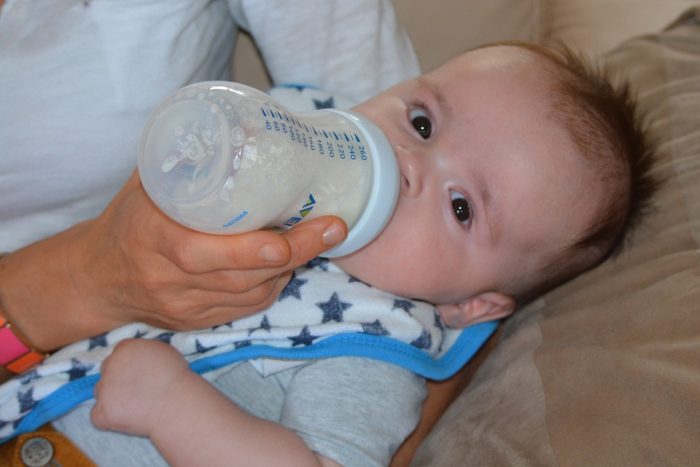 The Not-So-Awesome: Cons Of This Product
There isn't much to say about Baby Brezza not being awesome other than the price. It is expensive, and you can't use all the different types of baby bottles with this. If you use Similac Alimentum for your infant, you won't be able to use this machine with it. If you don't have 170 dollars to spend on a baby formula machine, this also may not be the ideal option for you.
If you don't plan on using this for the long term, it might not be beneficial for you. Yeah, it might be useful for one baby, but after the next couple of years, it kind of isn't helpful. If you end up having twins, or multiple kids, or at least plan to have that, then this might be a good option for you. Otherwise, once they grow out of baby bottle feeding, you might want to pass this off to a family member that you have that you know will benefit from this.
This is also a very high-maintenance machine according to reviews. The funnel needs to be cleaned every 4 baby bottles especially when you're feeding a newborn baby. You also need to wipe down the powder-dispensing hole. If you think this is extra work for you, then you better think twice before you purchase one.
But, here's the thing. You can make lots of baby formula on hand. Baby Brezza is super convenient, especially if you're someone that doesn't like to deal with the hassle of putting together baby bottles and warming them up to the perfect temperature. You don't have to worry about this hurting the child's mouth, nor do you have to worry about them screaming your head off until you feed them.
To put it simply, the Baby Brezza may be a high-end device, and it might not be something you have directly on your radar. Still, personally, I think if you're putting together a registry list, and Baby Brezza is an item you can get from the site, you should throw it on there. It will make it so much easier for you to give your daughter or son formula quickly and to help them grow up. The machine is suitable for busy parents, and worth checking out if you need something that works wonders, and is something that, with the press of a button, can dispense warm baby bottles of formula. It will also be wise to check other reviews to help you decide if you would need this.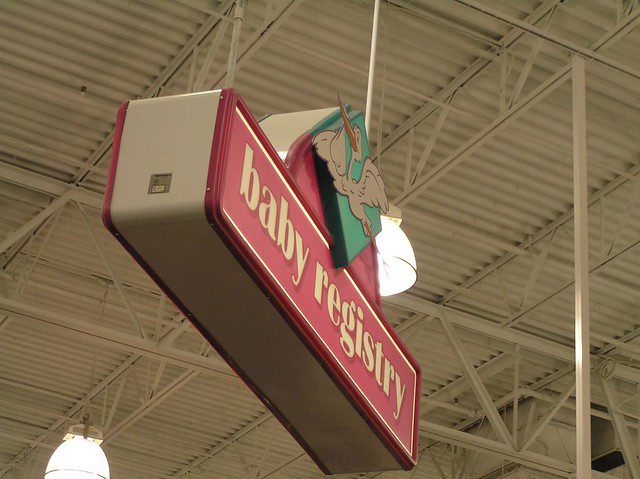 Frequently Asked Questions
(Common Questions Being Asked About Baby Brezza)
Is Baby Brezza safe?
It works to keep the water at a constant temperature of 98 degrees, which is the prescribed baby bottle temperature. Therefore, It is safe and convenient to use while ensuring that the bottle will not exceed this temperature. It has various settings that match specific types of formula. Make sure to double-check your settings before using it.
Does the Baby Brezza sterilize the water?
It recommends filtered water to prevent buildup caused by "hard water" in the parts of the machine. Unsterilized baby bottles can lead to adverse effects on the baby's health.
Does Baby Brezza help with gas?
The machine's infant bottle has an anti-colic TruFlo Vent System feature. This system keeps the milk air bubbles-free and results in less gas.
What does a Baby Brezza do?
The Formula Pro has a worldwide patent-pending technology that measures and mixes water, and powdered baby formula to the 98 degrees prescribed temperature and dispenses formula or water for the perfect consistency. Just by clicking the on-button on, you can make a bottle in only around 30 seconds.
Do I have to boil water for Baby Brezza?
The manual recommends using room temperature or cold water. If you prefer to boil the water beforehand, it says that you should let the temperature cool before pouring it into the water tank.
Can you use Baby Brezza for breast milk?
The machine has a regular mode feature specifically designed for breast milk. It is safe for breast milk because it warms the water in minutes and preserves the essential nutrients.
Last Updated on August 3, 2022 by Michelle Guerrero
DISCLAIMER
(IMPORTANT)
: This information (including all text, images, audio, or other formats on FamilyHype.com) is not intended to be a substitute for informed professional advice, diagnosis, endorsement or treatment. You should not take any action or avoid taking action without consulting a qualified professional. Always seek the advice of your physician or other qualified health provider with any questions about medical conditions. Do not disregard professional medical advice or delay seeking advice or treatment because of something you have read here a FamilyHype.com.