Fireman Sam toys are very appealing. Since kids love to play as superheroes, you can encourage this with the top Fireman Sam toys. Fireman Sam is based on the animated children's program that follows the adventures of the title hero and his colleagues. When you watch the shows, you will find out that their job is to protect the citizens of the Welsh town Pontypandy. You will hear the alarm sound during the show, followed by his fellow brave firefighters.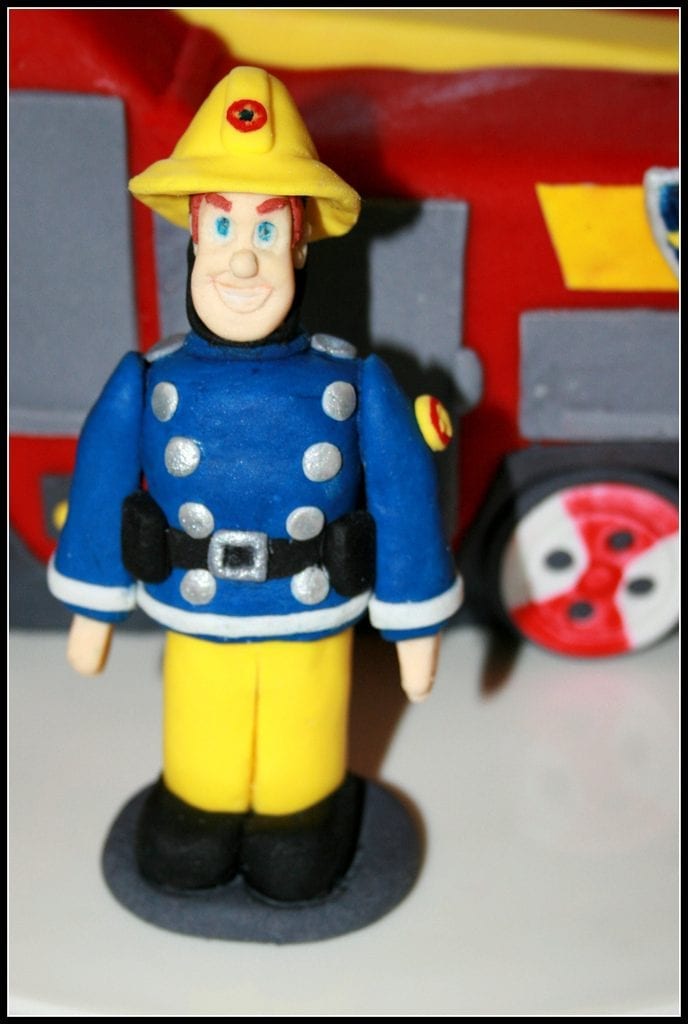 Today on this blog, we will tackle more details about Fireman Sam, including the price, accessories, and other fun items included in the game, depending on the specific version or package.
To get to their mission, they will jump on a fire engine, or helicopter, or even launch an inflatable lifeboat. You will surely love these best adventures! And, of course, don't forget that you have wheels when you land on the ground, ready to roll into action and combat the flames. The excitement is heightened by the wailing siren, alerting everyone that a rescue is underway. Equipped with a powerful hose and standard tools like an axe, they can tackle the flames and save the day!
The Heroes
Your first purchase of the top Fireman Sam toys would, of course, have to be the heroes themselves. You can check this set out from business stores like  Amazon. You will find the "Fireman Sam Set of 5 Articulated Figures" for only $12.35. Your son can start his collection with the likes of Fireman Sam and Penny Morris. Firefighter Penny Morris is a member of the Pontypandy Fire Brigade. She was initially from Newtown. She is also the main driver of Venus, the rescue tender, and Neptune, the rescue boat. What an excellent way for your child to start a collection with these heroes. What an excellent way for your child to start a collection with these heroes and save on the purchase!
There are also accessories that come with the toys such as a dog, clothing, or microphone that your kids can use to make announcements or call someone's attention.
For this first purchase, you will get an articulate figure of Fireman Sam, 2x Tom, Nurse Flood, Penny, and Norman to assist quickly in various rescue scenarios. Regardless of the role, Fireman Sam is a great game to play for kids any time of the day.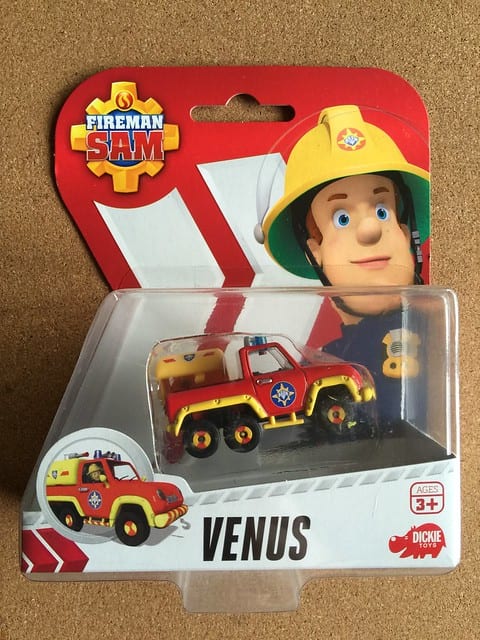 Keep The Fantasy Rescue Alive 
You can also keep the fantasy rescue alive with the "Fireman Sam Rescue Playset & Sam Figure and Helmet." Not only will your child have a great set to collect, but he can also quickly play along and be a firefighter with a helmet. Of course, pretending to be a firefighter is one thing. Dressing for the part is a whole new page for fun and excitement! It is a great game to play with a team of two or more children.
These products are also available on Amazon Inc. When you purchase the set, you will have your very own helmet. You will also have great rescues using the Rescue Helicopter that has push-button rotor blades. Moreover, you will also have the Venus friction rescue vehicle and Jupiter friction action vehicle to bring you to and from emergency sites. Finally, included in the set is also an articulated Sam Figure.
Water Rescues
Emergencies on the water cannot be avoided. When the emergency arises, his colleagues will have to get on a boat and rescue a citizen of Pontypandy. Your son will surely love to get a hold of the Neptune boat. This set includes two sea buoys to aid your little one in marking the rescue area! This addition to the play sounds interesting and is a great complement to your Fireman Sam Set of 5 Articulated Figures.
Mountain Rescues
Make sure your son is also ready for mountain rescues. You can do this by getting the Fireman Sam Mountain Rescue Helicopter. This helicopter is friction-powered with rotating propellers and doors that open. Your son will be able to reenact episodes in the show, such as a fallen sheep getting stranded on the mountain. Or what about when a citizen of Pontypandy goes missing during a storm? What better way to find that than getting on a helicopter and covering as much area as possible?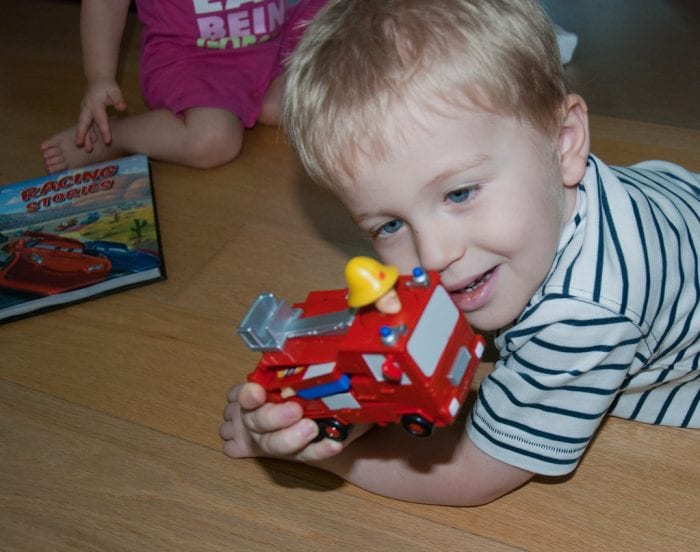 Back To The Station, They Go!
Finally, after a hard day's work, your top Fireman Sam toys will need an ideal place to go back to. The Pontypandy Fire Station Playset is just what your little one will need. This playset is built with a carry handle. In addition, it also includes a working lift, a fireman's pole, and of course, doors that open!
Your little one can even check the engines of the vehicles using the turntable and vehicle maintenance ramp. Not only can your son be a fireman in action, but he can also help make sure all the equipment and vehicles are working correctly and ready for the next rescue, ensuring that all things are in optimal condition.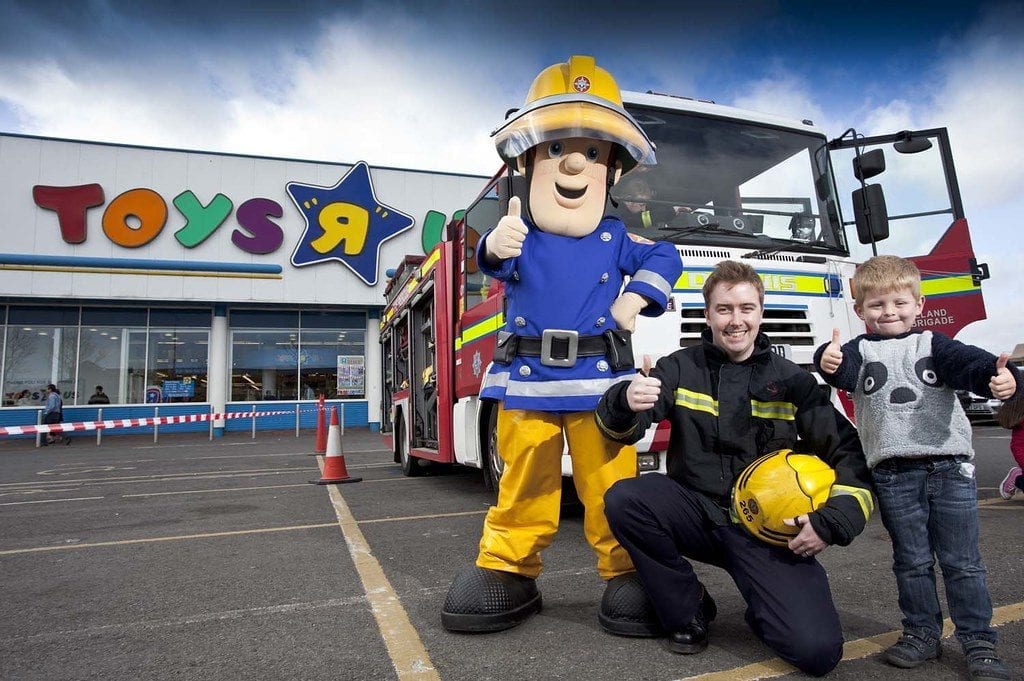 Keep the dream of being a real-life hero alive with this toy. Your little one can even follow the show and be an "active" participant in the show by having on hand the characters and engines being shown. This makes being a hero more exciting and fulfilling for your little one.
Frequently Asked Questions
What Is Firefighter Sam's Cat Called?
Rosa is the name of the cat. It first appeared in the seventh episode of season 1.
Is Charlie The Brother Of Firefighter Sam?
Yes, Charlie and Sam are brothers. He is a fisherman who has fraternal twins, Sarah and James.
Where Does Firefighter Sam Live?
He lives in Pontypandy, where he fights fires and rescues lives. He works for Pontypandy Fire Service, utilizing various vehicles and tools, including the iconic Jupiter fire engine, helicopter, and even a rescue platform, to ensure the safety of the town's residents.
How Many Seasons Of Fireman Sam Are There?
It has 11 seasons in total. The first season was aired on TV in 1987. It eventually had its final run on May 9, 2018.
Is Fireman Sam Norman's Dad?
It has never been confirmed if Fireman Sam is young Norman's father. However, people speculate that he is.
What Are Fireman Sam's Vehicles Called?
In the "Fireman Sam" series, vehicles, including the rescue tender Venus, are named after planets in the solar system. Venus, named after the second planet, is a vital part of the Pontypandy Fire Service fleet, often driven by Firefighter Penny Morris. The only exception to the planetary names is Hydrus, the amphibious vehicle. Check the official Fireman Sam website or toy retailers for the latest details, including Fireman Sam Venus merchandise.
Last Updated on May 11, 2023 by Rejie Salazar
DISCLAIMER
(IMPORTANT)
: This information (including all text, images, audio, or other formats on FamilyHype.com) is not intended to be a substitute for informed professional advice, diagnosis, endorsement or treatment. You should not take any action or avoid taking action without consulting a qualified professional. Always seek the advice of your physician or other qualified health provider with any questions about medical conditions. Do not disregard professional medical advice or delay seeking advice or treatment because of something you have read here a FamilyHype.com.