If there is one thing that you have to take into consideration with convertible car seats, it should be how long it will last. The Milestone 3-in-1 by Graco 4ever covers that area. In addition to that, this product also offers a safe place to rest while traveling. There are many options for car seats that grow with your child and you will find it out when you keep on reading down below!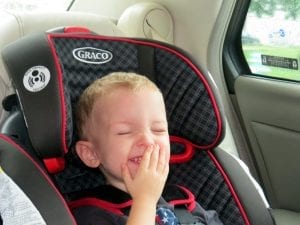 To give you an example of the best ones, we made a list of the highly-rated 3-in-1 cars seat from Amazon. We also included a brief description of other Graco car seats so you can see what benefits they offer in terms of the infant's feelings while using them. You will also learn more facts about the Graco milestone car seat.
Milestone 3-in-1 Car Seat, Infant to Toddler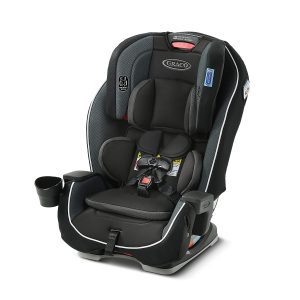 The Graco Milestone 3-in-1 car seat offers three seats in one. It can be converted into 3 ways and its 4 -position recline keeps your child cozy all throughout the ride.
The inright LATCH system allows easy and secure installation.
Can be used in a rear-facing harness (5-40 lb.) to forward-facing harness (22-65 lbs.) and highback booster (40-100 lbs.).
It is ProtectPlus Engineered to help protect your child during frontal, side, rear, and rollover crashes. It has undergone most rigorous crash tests from the European rollover testing procedure and adheres to local and state laws as per NHTSA recommendations.
It has a no-rethread simply safe adjust harness system that allows the harness and headrest adjust together in one motion.
Comes with harness storage compartment that keeps the harness safely stored when the seat usage is in belt-positioning booster mode.
The average rating value is 5 stars out of 5 stars.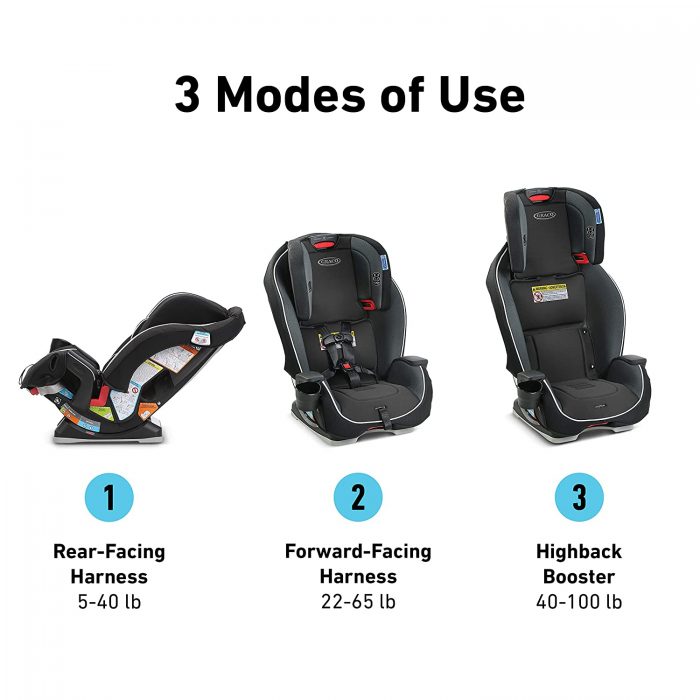 Extend2Fit 3-in-1 with 4-position Extension Panel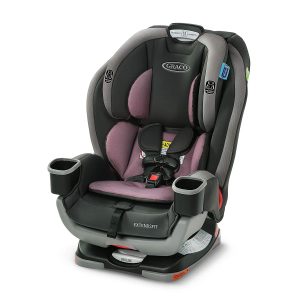 The Extend2Fit 3-in-1 can accommodate 4 pounds up to 100 pounds.
It has an easy and secure installation via the inright LATCH system one-second attachment.
It is Graco ProtectPlus Engineered. A higher-end product with impressive results in the most rigorous crash tests. The child is protected in frontal, side, rear, and rollover crashes.
It has a unique design with excellent safety features at a reasonable price.
Extend2Fit allows 6-position and it extends up to 5″ to add extra legroom.
It offers a 10-position headrest which can be adjusted as your child grows.
The no-rethread simply safe adjust harness system allows the harness and headrest adjust together in one motion. This gives assurance that the child is always properly secured.
When it is in belt-positioning booster mode, the harness storage of the Graco milestone keeps the harness safely stored.
The average rating value is 4.4 out of 5 stars.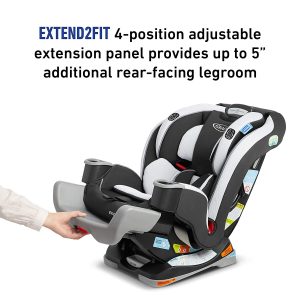 4Ever DLX 4-in-1, Infant to Toddler 
The 4Ever DLX 4 in 1 is the best choice for your growing baby as it can give you 10 years of use.
It has a No-Rethread Simply Safe Adjust Harness System.
It is ProtectPlus Engineered a combination to help protect your little one in frontal, side, rear, and rollover crashes.
It accommodates a minimum weight of 4 lbs up to 120 lbs.
This infant chair converts from rear-facing (4-40 lb.) to forward-facing (22-65 lb.), high-back booster (40-100 lb.), and backless booster (40-120 lb.).
It features a rapid move cover, fuss-free harness storage, integrated and belt lock-off.
Easy installation with the inright LATCH system, one-second attachment plus an audible click to assure secure installation.
The average rating value is 4.8 out of 5 stars.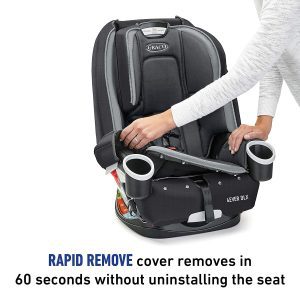 Grows4Me 4-in-1 with 4 Modes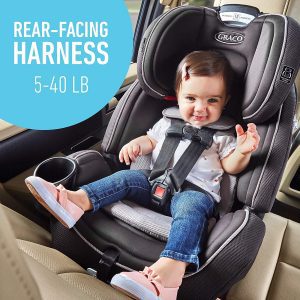 The Graco Grows4Me 4-in-1 is defined by its name, it grows with your child until they reach 110 lbs.
The convertible car seat converts from a rear-facing harness (5-40 lb.) to forward facing-harness (22-65 lb.), to a highback booster (40-100 lb.), and finally to a backless booster (40-120 lb.).
This chair has the basic and safety features of a 4-in-1 comfortable seat pad plus it is wider and has an innovative design.
The Graco Grows4Me is made of high-quality materials and soft fabric that make them durable yet comfortable.
No rethreading is required. The harness and headrest adjust together in one motion.
Its 6-position recline keeps your child safe and comfortable during travel.
The average rating value is 4.9 out of 5 stars.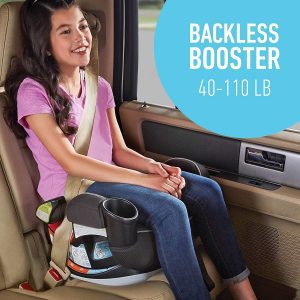 The price averages around $240 for this, which is a good deal considering they will last you and your child for a long time. Just make sure to adhere to the expiration date, which you should see in the owner's manual.
Top Features
Here's what Graco Milestone users loved about this model:
A Car Seat From Birth to Booster
This Graco Milestone might as well be the best and the last car seat you will ever need. You can use it from birth to booster! It can support kids who only weigh 5 lbs and can be converted to different positions, such as rear-facing, forward-facing harness, and highback booster! Here are the weight recommendations, which you can find in the instruction manual:
Rear-Facing harness (5-40lbs.)
Forward-Facing harness (20-65lbs.)
Belt-Positioning (30-100lbs.)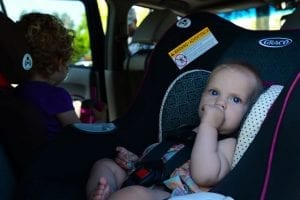 Despite the overlapping, you can't switch to forward-facing the moment they reach 20 lbs due to safety reasons. Your child should stay in the stage they are in right now until they get to the maximum weight and not the minimum weight of the next state. Refer to your owner's manual for the exact recommended weights and measurements for turning. It would also be best if they stay in each stage as long as possible. Rear-facing infant chairs are positioned that way because it has been found that it's safer for an infant and toddler to ride that way for as long as possible should there be an impact. You need to follow the guidelines for weight and size in the owner's manual.
Easy Install
The Centers for Disease Control and Prevention conducted a study and found that 46% of car and booster chairs aren't properly used, and this reduces their effectiveness. It often happens in the secure installation process.
Fortunately, the Milestone Car Seat is easy to install due to its In Right LATCH one-second attachment. Install it in one second and with an audible click to make sure the buckled anchors are secured. It has easier to install compared to others. Sometimes, a few others require that you work through complicated belt instructions.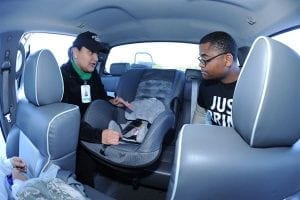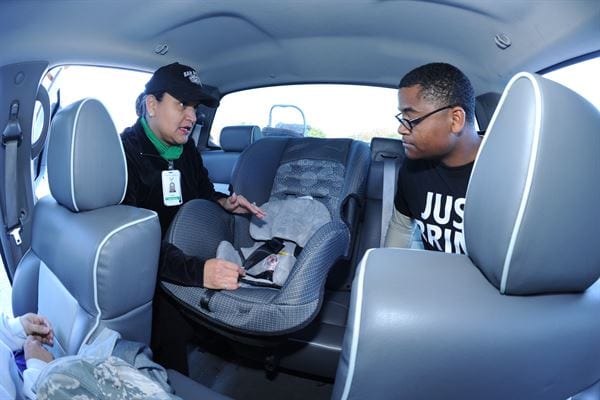 The Milestone 3-in-1 straps are also prevented from twisting, which increases its safety. It's important to monitor if the seat straps will be tangled. It also meets the international standard for attachment points. A child needs to lay flat for it to be the most effective. It's just like an adult with a belt. If the seat strap is not used properly, it won't work well.
The car tether straps are also said to be responsive to tightening when being installed. It prevents the scenario of jamming a knee into the seat.
Long-Lasting Internal Harness
A harness is a strap that makes the child stay in the car seat and distributes the crash forces. Having an internal car seat five-point harness can transfer the force to certain areas of the body and into the seat and keep the baby safe. Protecting the softer parts of the baby like the abdomen is important. A child's restraint criteria have to be different than that of an adult because their bodies are a bit more fragile.
You can let your child ride in a rear-facing position safely with the harness and in a forward-facing position as well with this car seat. Remember not to turn the rear-facing around until the owner's manual indicates your child's size can handle the forward-facing impact. The guidelines that are in the instruction manual have been developed by lots of research and many studies. Don't take those lightly.
Riding forward-facing with a harness is safer than riding a booster. This car seat will keep your children safer in a harness than in the three-point harness of your vehicle's belt system. A 5-point child restraint is designed to keep a child in a safe position at all times. Kids using a shoulder belt have more freedom to move around and sit in less safe positions. They may change the belt path and put the belt behind them, and that makes it less safe than using an actual child restraint.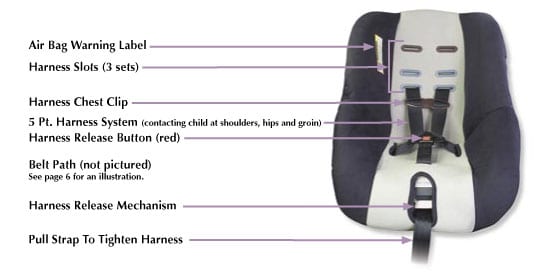 Many Choices For Crotch-Buckle Positioning
There are three crotch-buckle positions found 5, 6, and 7 inches away from the back of the seat, which makes switching positions easier too. You can refer to the owner's manual for how to go about switching that position up.
If your baby has outgrown the lower buckle, you can transition them by lifting the cover and finding the slots. There is a unique path that can allow the straps to weave through the positions easily. The cover can be lifted and reset very easily, also.
Always keep the lower anchor strap in front of the buckle when rear-facing.
Has More Safety Features
The Milestone 3-in-1 is one of this brand's family of growing products with great safety features like the Safety Surround. It satisfies the effective impact management meets standards. The Safety Surround Side Impact Protection system is something Graco came up with because a side-impact collision can be devastating. And they happen quite frequently. You can read more about it in the instruction manual.
It has an added thickness of Expanded Polystyrene Foam (EPS), which lessens the impact of a side-impact collision. It also has machine-washable eps to make cleaning convenient. This was manufactured to surpass the European standards for the frontal crash test, which is stricter than the side-impact regulations in the U.S. This energy-absorbing foam also helps protect your child whether they're still rear facing or they've progressed to sitting forward facing.
There's also the Simply Safe Adjust Harness System in the Graco Milestone that allows the kids to be safer and more comfortable as the height of the harness and perfect headrest height can be adjusted with just one hand. This ensures that your child is always properly secured. One big complaint from parents is that the child restraint systems of other car seats are too difficult to adjust. Being able to adjust this child restraint with one hand will prove to be very convenient.
It also has a steel-reinforced frame, and it has undergone rigorous training to make sure that it will remain durable and secure in case of an accident.
Child's Comfort
The entire car seat makes the kids love the comfortable ride. Sometimes children have to sit in their chairs for long periods of time on road trips and such. For that reason, their vehicle seat should have good padding so it's nice and keeps your child comfy. For sure, your son or daughter loves the comfort the car seat gives.
This model has a plush head insert that can keep your baby close and secure while traveling in the rear-facing position. It is hand removable, and you can easily remove it when they outgrow it. Milestone 3-in-1 has a lot of various conveniences. You'll even find a spot for the owner's manual storage located at the bottom. It makes it easy for you to find the instruction manual anytime you need to adjust something or move it to another place in the vehicle.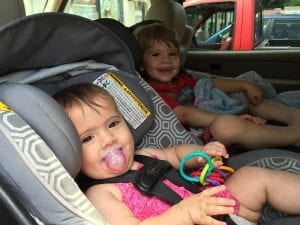 There are also multiple recline positions for occupant retention that keeps your infant feeling cradled. It has a handle in the front, making it convenient.
There is also a removable cup holder for child's drinks that can give older kids the freedom to bring their drinks or keep snacks close to them. While it may not have a second cup holder, this should not deter you from choosing this top brand and top quality car seat.
Graco Thought Of You Too, Mom And Dad!
It also has features that parents will love.
It has an integrated harness storage compartment that helps in organizing your stuff, and the harness straps better. This also has a storage area for the manual in its back.
With a safety surround built in 2014, this has a leveling system that can make installation easier. You must align a ball in the section to make sure it is installed correctly. If you're going to be installing this using the seat belt in the vehicle, you can find steps for doing that in the owner's manual. It will walk you through using the shoulder belt guide. Some older vehicles don't have the anchors needed to use the click connect system for installation. That's when you'll have to use the shoulder belt to secure it.
There are also older seat models that can help you with positioning, assisting parents with its secure installation. If you heard horror stories from using prior car seats by other parents. Worry no more for this car seat is simple to use and very safe. This seat is worth considering.
Product Reviews From Parents
The Milestone 3-in-1 convertible car seat earns an average customer rating of 5 stars out of 5 stars. Read reviews from real parents were compiled together to get a more accurate view of the Graco Milestone. It supports what features people loved the most and what were some of the possible issues that Graco might not have mentioned.
Review from Shanalynn 16 a year ago. Great infant carseat! I love she's still rear facing at coming up on 3 years old in 3 months. Highly recommend!
Review from Devon Mom of Twins 11 months ago. Literally perfect!
Review from Devon Mom of Twins 11 months ago. Have had our for 3 yrs. No issues at all.
The Graco Car Seat Is Proven When Tested
Hopefully, you won't have to test its performance during an accident, but it's better to be prepared and safe. There are reviews and accounts of parents who unfortunately managed to experience this, and their children were able to get away unscathed and uninjured. This car seat touts as safe for children from birth through booster mode, and it has been proven to be the case.
Follow the recommendations of the NHTSA in disposing of your car seat if the accident is moderate or severe. You may find information about the disposal of the car seat or booster seat in the owner's manual. You can also check with your insurance company to see if the car seat can be covered.
Truly Comfortable
This brand emphasizes the importance of being comfortable. The Milestone car seat's design is filled with features that can make your child comfortable, from the plush-infant body inserts to the base cushions.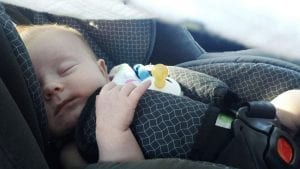 Awesome Harness
Parents love that they can adjust their harnesses without removing the seat as constantly doing that can create accidental installation errors. The rear-facing harness and front-facing belt harness can be adjusted with one hand.
Parents' Product Concerns
While the Graco Milestone car seat is great, it's not perfect. Here are some of the issues that parents have encountered with this model.
Lack of Compatibility As A Car Seat
The biggest concern of parents about the Milestone car seat is its car compatibility.
Those who have older vehicles that don't have LATCH anchors find it difficult to get the seat to be secured since there is no more space. There is such convenience that comes with the click connect system, but only if your vehicle has the anchors needed to facilitate it. Most vehicles made after September 1, 2002, should have a LATCH system.
Another concern about this model raised was its difficulty in angling it unless the back of the seat is completely smooth. A lot of the new vehicles have obtuse seats for aesthetics. While it looks good, it makes installing a car seat difficult. You can refer to the owner's manual for how to rectify this situation.
Add rolled-up towels behind the unit to have more leverage. While it can be annoying, this isn't an issue with most of the car seats available today.
Our Overall Thoughts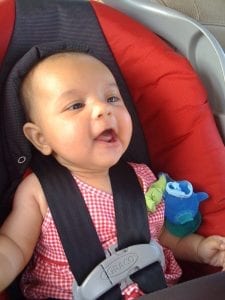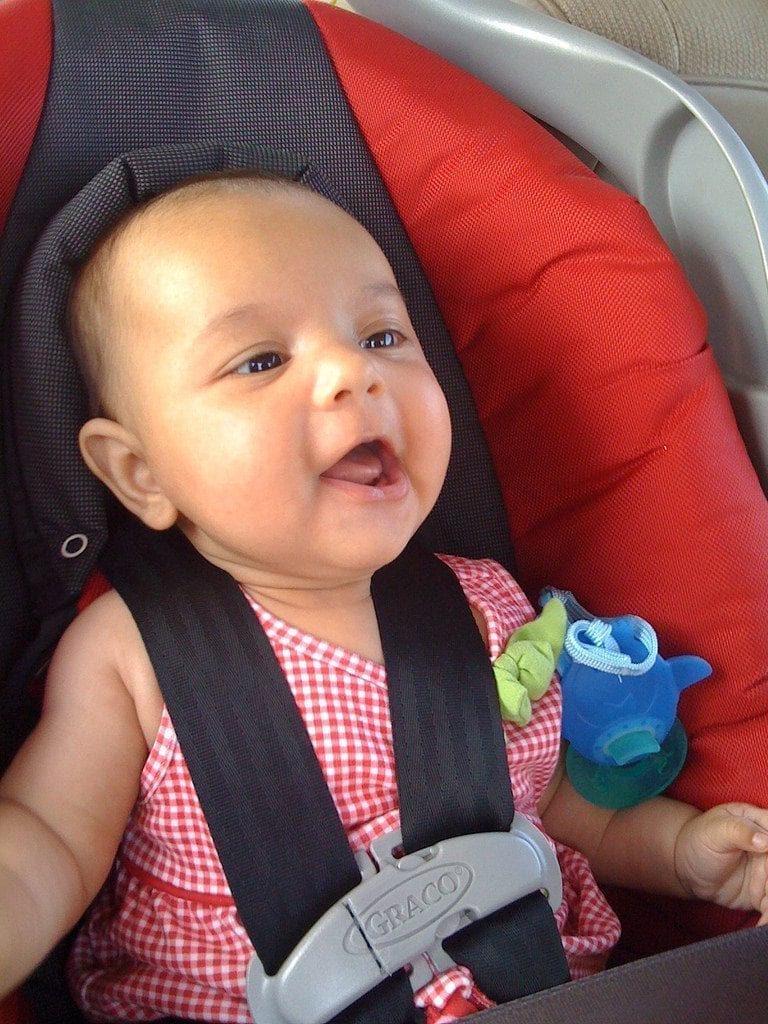 After a thorough review, we highly recommend the Graco Milestone Car Seat for your first son/daughter, second son/daughter, or nth-child.
The Graco is safe, comfortable, and easy to use. Its car seat's lightweight structure makes it easy to be transferred to cars while still being sturdy. The product weight is 19.5 lbs. The Milestone Car Seat also has a steel-reinforced frame that will help protect your child.
With its price, this is worth investing in and buying. The infant seat is a purchase that will accompany you throughout your parenthood and ensure that your child will be safe and comfortable in your car while traveling.
Milestone 3-in-1 Car Seat
Frequently Asked Questions
Is It FAA approved?
Yes, it is FAA approved. You can check the information is printed on the car seat. You'll find that all of Graco's products for the car are FAA approved. The Milestone, Snugride, 4Ever system, and more car seats.
Is It Isofix-Compatible?
The U.K. version of the Graco Milestone car seat is sadly not ISOFIX compatible. It is just Universal that requires the chair to be installed in the vehicle with a seat belt.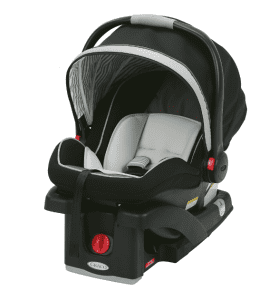 How Much Does Milestone Weigh?
It is a lightweight travel infant seat. The product weight rating is 19.5 lbs. It is a great choice as it grows while your kid grows. Milestone is ideal for families with kids of different ages.
Last Updated on May 4, 2023 by Lisette Lao
DISCLAIMER
(IMPORTANT)
: This information (including all text, images, audio, or other formats on FamilyHype.com) is not intended to be a substitute for informed professional advice, diagnosis, endorsement or treatment. You should not take any action or avoid taking action without consulting a qualified professional. Always seek the advice of your physician or other qualified health provider with any questions about medical conditions. Do not disregard professional medical advice or delay seeking advice or treatment because of something you have read here a FamilyHype.com.