Bike handling is a fun family activity that's good for getting some exercise, as well as enjoying the best quality time with the kids. For younger kids, though, it's hard to go on a bike riding activity for the family because they just can't keep up. That's where baby bike padded seats come in. These are mounted seats that attach to most bike frames of an adult bike to give your little one somewhere to sit. Here, you'll learn about some of the best features you'll want to look for in the baby bike seats and determine the ones that fit your toddler's needs.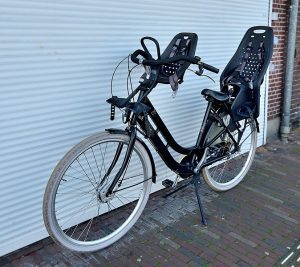 Having a bike seat for toddlers to come along for the ride can be fun for everyone. In the article, we also included a list of the products from Amazon so you can have an idea of what makes an ideal item according to reviews from verified users. If you continue reading, you will also find a comprehensive review of other brands and common FAQs.
Best Baby Bike Seats
Different Types And Features
Let's start by talking about the different types of the best baby bike seat. The one you're probably most familiar with seeing is the rear-mounted seat post. This can be either a bike frame mounted or you can use a rear rack mount. The rear-mounted seats are the largest of the three types we'll be looking at. Most of them can accommodate kids starting at 1 and up through 4 years old. You'll also get the most adjustability from the rear-mounted bike seats.
Next, there's the front-mounted child bike seat. This is the smallest option, as it is mounted where there is less space and just enough room. It sits at the front of the bike right between the adult's arms. Front-mounted bike seats can be used for infants starting at 9 months and can usually accommodate children up to about 2.5 years old. Children tend to like riding up front more than sitting in bike seats at the back. However, if you're looking for a child bike seat that will last the longest, the rear seat is the way to go.
The last type of the best child bike seat is the mid-mounted seat. These bike padded seats get mounted right in front of the adult rider and behind the handlebars of the bike. While you can use these frame-mounted bike seats with different styles of bikes, many people will use these mounted child bike seats with mountain biking. Maintaining balance while riding mountain bikes down a trail is critical for the safety of the rider. The mid-mounted seats allow the rider to keep their balance because it doesn't change their center of gravity.
You can also look at the difference between frame-mounted bike seats and rack-mounted seats. Both options are safe, however, we believe that the frame-mounted bike seats are more stable. A rear rack is mounted on the bike, itself. Then the child's bike seat is frame or rack mounted on top of that. It just makes more sense to go with frame-mounted bike seats whenever possible.
Looking at the adjustability of bike seats is also important. Rear seats usually have the most adjustable options for padded straps. You can usually adjust the padded shoulder straps in them, as well as the recline degree.
One final note here, which does not have to do with the features of the bike seats. No matter what type of mounted seat you decide to go with, make sure you also have a helmet for your child to wear during bike rides. The child carrier will offer your little one some protection in the event of a fall or crash, but not for the child's head. Always put a bike helmet on children when they're riding in child bike seats.
Now, let's get to the fun part and check out some specific child bike seats.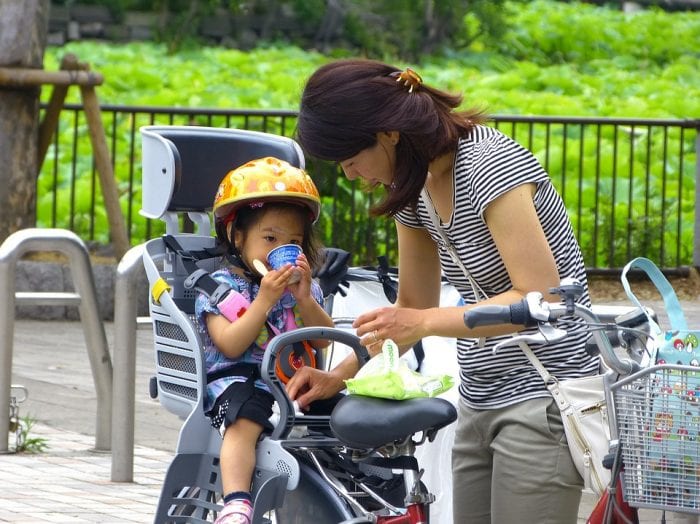 CyclingDeal Rear Baby Bike Seat
These baby bike seat posts are easy to install and are rack mounted at the rear of the bike, making them some of the most affordable bike car seats available. They're compatible with many kinds of bikes, however, they won't work on a rear-wheel or dual-wheel suspension bike. Much of the bike seats can be adjusted, such as the headrest height, the length of the leg rests, and the shoulder padding. Removing the bike seats from your bike is easy, too. It has a one-step release.
The bike baby seat is compatible with frame sizes 26″, 27.5″ MTB and 700 c and 28″ 29″ Hybrid road bikes with round seat tubes.
It has a special seat belt buckle that cannot be easily unlocked by kids. It has met the Australian & US standard in terms of safety.
It is ideal for children from 9 months to 4 years old with weights up to 40 lbs or 18 kg.
The Bellelli Bike Baby Seats
These are the best baby bike seat post for those who will be switching the seat from bike to bike. The reason is it can be used in the front-mounted position, the rear-mounted placement, or the mid-mounted spot. It's also very easy to install and remove in just one step. They also have adjustable footrests. These are the best child bike seats if you have several bikes you'll be using it with, and if you want to use it for a long time. The weight limit is so high, it can sometimes be used with children up to 7 years old.
It can accommodate 50 lbs maximum weight and fits round seat tubes of 24-46 mm or oval seat tubes of 30-60 mm.
It has an advanced design that includes a reclined angle for neck and shoulder support as well as high side boards to promote comfort and decrease turbulence.
It features a safety mounting, a three-point safety harness, safer leg and foot side protection, and a child-proof safety buckle.
The Bell Shell Baby Bike Seats
This baby bike seat can be front-mounted or rear mounted. It's super easy to install and easy to remove if you want to put it on a different bike or move it to the rear of your bike. The installation starts with getting the bracket frame mounted on the bike. Next, you'll connect the suspension frame or rack to the child carrier. Then the frame or rack gets attached to the mount. So, essentially the child carrier seat is both frame-mounted and rack-mounted.
The child carrier seat has very high sides for better protection of your child. The back of the child carrier seat is very well ventilated so your little one doesn't get too hot.
It is easy and fast to install. It comes with a 3-point harness system, foam set pad, and adjustable footbeds.
It fits most bikes except those with rear suspension.
It is versatile and worth it to buy in your local bike shop since you can use it as a front mount seat or rear mount carrier.
The Schwinn Deluxe Baby Bike Seats
This is a frame-mounted seat that you attach to the rear of the bike. It has more safety strap features than many of the other bike seats on this list. It's compatible with many different types of bikes. It has a weight limit of up to 40 lbs. and is recommended for use with children that are at least a year old. It's easy installation and remove and has easy-to-adjust foot holders, as well.
The child seat is comfortable for both the little one and the carrier since it is made of polypropylene and is very lightweight.
It has a quick-release system e 3 point harness, a padded crossbar, and leg restraints as bonus safety features.
It is vented to prevent wind drag and it has custom comfort padding to provide support to your child's back.
Thule RideAlong Bike Seats
The Thule RideAlong is the best toddler bike seat that is ideal for children nine months to 33 pounds, and it is about ¾ inches to mount. It does feature soft and adjustable straps color-coded adjustment buttons, and a handlebar to keep kids' hands occupied. It also has a variable height and footrest, along with a standard lock to make sure a theft of your Thule RideAlong Mini doesn't happen. There is also a handlebar pad and windscreen as well. This is good because it's got some useful features that are simple to use, and an adjustable five-point harness that allows for buckling and unbuckling, and it also comes with a handlebar to hold on to, so they're not grabbing you. It's perfect for having a child come along for a balance bike ride.
The Thule RideAlong Mini is very highly rated. Parents love that it's easy to install and easy to use. These are front-mounted seats that have a pretty high weight limit. The biggest downside to the Thule RideAlong Mini is it's too easy for children to get their feet out of the bottom straps.
Since the Thule RideAlong Minis are front-mounted seats, you need to make sure they will be compatible with your bike. Some bikes have larger frames than others. As this has to be frame mounted in the part of the bike that has the least space, you'll need to have a large frame bike.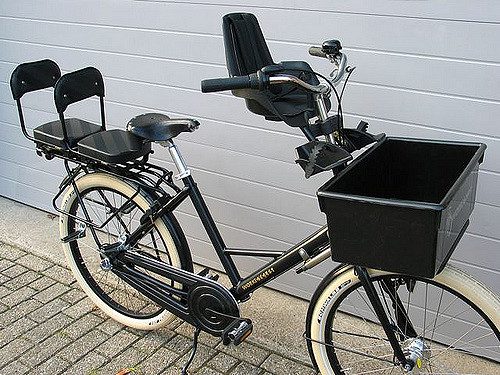 Thule Yepp Nexxt Maxi Bike Seats
This is a more recent model, and it's the winner of the 2017 red dot award, (which makes it one of the best toddler bike seats), and it took its strengths in engineering along with materials and worked with the maxi design to create something lightweight, easy for mounting, safe, water and heat-resistant, and comfortable for everyone, and since it's light, it doesn't feel like you're holding onto much. You'll be able to hold onto this quite easily, and it's made of ethylene-vinyl acetate and expanded polypropylene, and it's the lightest rear mount seat on the market, used to keep the stabilization and prevents it from being top-heavy.
This one doesn't require adapters either, and it comes with mounting technology, including a clawlike foot that clamps down tighter and twists with a knob on it. There is also a rack that does require this, but it is pretty good. It does hold a lot of weight too, up to 60 pounds, so you can use this for a long time with your kid. The high weight limit will allow you to use these Thule seats for much longer than most of the other seats on the market.
It comes with the same five-point harness that requires you to shift a lever down as it closes, and it does exceed European and US safety regulations. It's been certified, and it comes with a good product that can handle the worst-case scenarios.
The Thule Yepp Nexxt Maxi can be purchased as both a rack-mounted kids' bike seat and a frame-mounted kids' bike seat. The frame mount frame-mounted costs you just slightly more.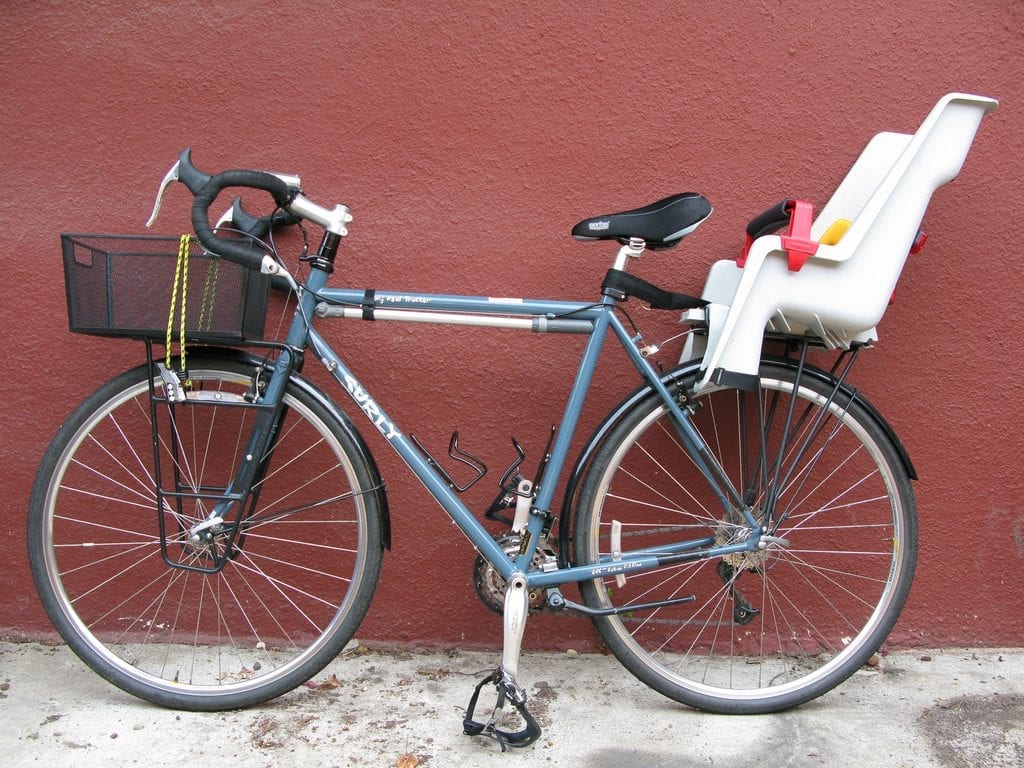 Thule Yapp Nexxt Mini
This is another baby bike seat similar to the previous model, but it's a little bit smaller. The weight limit isn't as high, so you couldn't use the Thule Yepp Mini as long as the Maxi Thule Yepp kid's bike seat. It does have large vents to keep kids cool, effective straps for feet, a variable height footrest, a handlebar for a kid's hands, along with a widescreen and handlebar pad.
The mount does wrap around your entire bike headset, and the coolest part about the Nexxt mini is that it fits on headsets that are both unthreaded and threaded without needing an adapter, which does give it a bit of edge over the other. It also makes it similar for you to install since you don't have to remove handlebars or modify the bike or anything. You'll mount the Thule Yepp Mini on the front of the bike. It's easy and gives kids a better view than riding behind in a rear bike rack seat or bike trailer.
It has similar features to the Thule Ridealong Mini, but the foot straps are more likely to keep the feet of a kid secured and provide large air vents to help keep kids cool. The shoulder straps aren't as good as the Thule RideAlong, and they only have one height setting, which is a pain for setting up, but again, no bike seat is going to be perfect.
Peg Perego Orion
This is a cheaper one, and it's pretty good. It has a strong suspension, an adjustable footrest, and standard nylon shoulder straps.
The child carrier will be mounted in the front of the bike. This baby bike seat doesn't have as high of a weight limit, so you won't get as much use out of it. The maximum weight limit only goes up to 33 lbs. By that point, though, many parents will be transitioning their kids over to a child bicycle. So for some parents, this could be the best bike seat for your needs. You can use this with all sorts of different types of bikes, including mountain bikes and E-bikes.
There isn't much to complain about this baby bike seat, and while it isn't as high-quality a seat as the others that are here, it's got an excellent mounting system that works for bikes with almost no room on the headset for that. Since it attaches to the seat tube of the bike rather than the headset, the bike is pretty stationary when you turn these handlebars. With the weight in the same spot too, it creates a balance bike ride, and it allows for the advantage for adult bike riders that struggle with balance issues. So if balance isn't your thing, this might be the ideal seat. It is smaller compared to some of the other front-mount bike seats that are there, and unfortunately, as the child grows up, it creates less coverage. The detachable handlebar only works for kids up to 22 pounds too, so the thing is if you're going to get this, know that you are getting what you pay for.
Hamaz Caress Frame Mount
This is another pretty decent one, and it holds a lot of weight, up to 48 pounds, which means it's a max seat that grows with your child! It has a 3-inch seat attached tube mount, and the Hamax Caress comes with variable reclining for the kid, steel suspension, and a helmet recess in the child carrier seat so that the child will get to wear a helmet with ventilation holes to protect himself, a backrest that has adjustable heights, straps that won't slip an adjustable footrest and a theft-protection lock.
The Hamax Caress is the ultimate in comfort that gives you a nice frame-mounted feel to it, and this one works for you. You can get the Hamax Caress in rame-mounted seats or a rack-mounted seat version. It comes with strong construction, simple and easy adjustments, a variable reclining that goes pretty far back, enough of a suspension to limit the bumps during rides, and straps for the shoulders that are good and enveloped in soft and tacky foam to prevent the child from having it slide off. The Hamax Caress is a good one that involves both comfort and safety features with a high weight limit. It's a worthwhile investment, and while usually, you go with something a little more traditional in terms of seat quality, this is still a decent one that allows for some good riding, no matter where you may be going.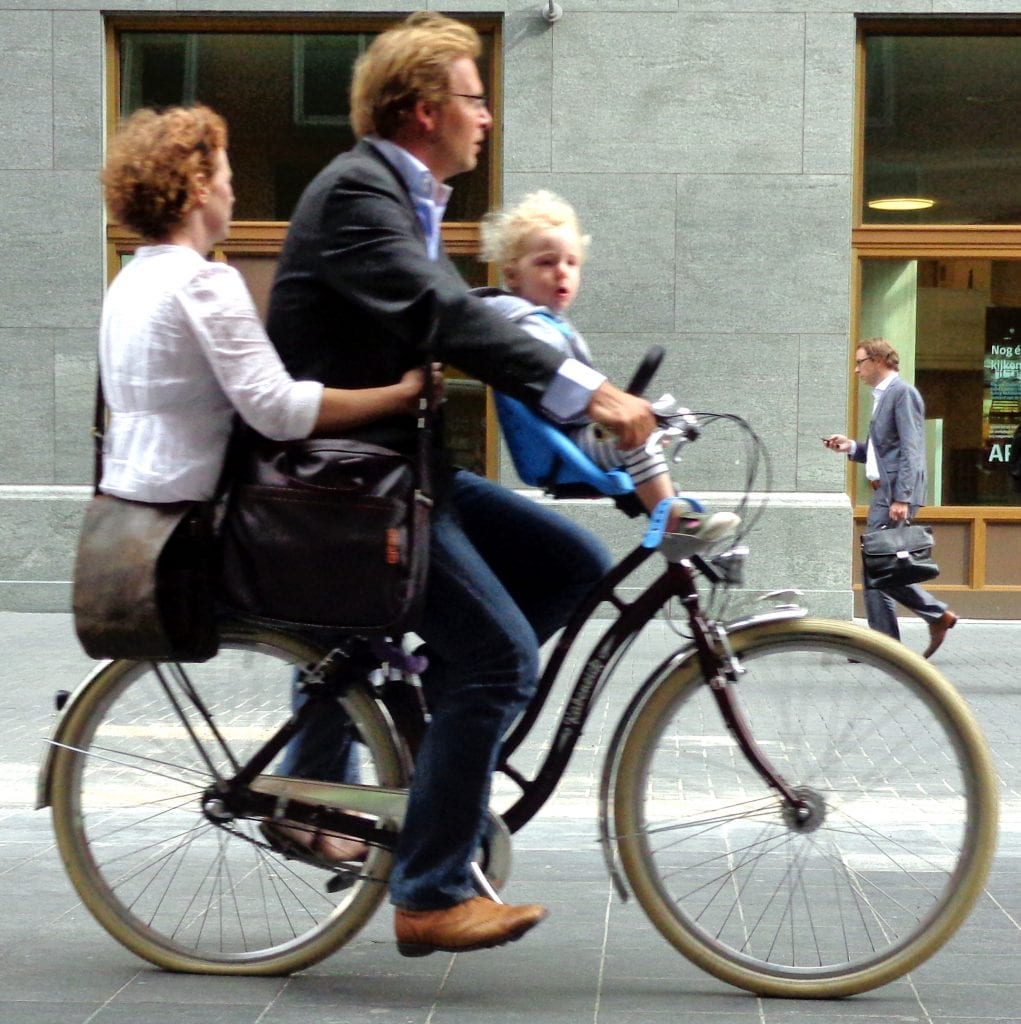 Topeak Babyseat II
The Topeak Babyseat II uses a cocoon-like child carrier seat to help your child feel comfortable and secure when they ride. You'll also find the handrest bar in the front of this kid's bike seat for added protection should you crash. At the top of the Topeak Babyseat II, there is a recess that allows room for your child's helmet. Children should always wear a helmet when they're riding with parents and many manufacturers of a baby bike seat that doesn't leave enough space for the helmet.
The Topeak Babyseat II has a suspension system built into the child carrier seat so your little one can have a smooth and comfortable ride. That makes it a good choice for mountain bikes. There is a seat pad that can be taken out of the kid's bike seat when your child gets too big to use it. The Topeak Babyseat II is compatible with almost any bike. It comes in four different colors, as well. You'll be able to easily find the various rack mounts you may want to use for your bikes.
The weight limit for the Topeak Babyseat II is up to 55 lbs. You should be able to use it up to 6 years old. You can certainly use it past the point of transitioning your kiddo to a child bicycle. And the Topeak Babyseat II is so easy to install and remove, you could go back and forth between putting your child in the seat and allowing them to ride their child's bicycle. What's more, the Topeak Babyseat II has great reviews while costing less than some of its competitors.
Child Bicycle Safe-T-Seat by iBert
The Safe-T-Seat is a front-mounted bike seat that doesn't take up a lot of space. Your child will have a fun little round handle to hold on to while they ride. The Safe-T-Seat comes in three colors. You also get a 2-year warranty.
The view your little one gets from sitting in the front is much better than riding in rear mount seats. And with bike trailers, kids sit close to the ground. That allows for dust, rocks, and water to get thrown up into their faces. Bike trailers can be great tools for your family bike rides, also, but they don't give your child the thrill they get from sitting in the front between your arms.
Be aware that the weight limit on this one is lower than some of the others. It only has a capacity of 38 lbs. It's also meant for road and sidewalk riding, not for use with mountain bikes.
The baby bike seat is ideal for those children that are looking to have something simple, yet effective for riding. Here, we talked about some of the best on the market, and why you should consider them. If you're going to take your child along for a comfortable ride, you want something that will keep them safe and comfy, and luckily these car seats provide not only that but so much more for you and the child as well.
Frequently Asked Questions (FAQs)
Are Front Or Rear Child Bike Seats Safer?
What Is The Kid's Bike Sizing Guide According To Two Wheeling Tots?
Can You Ride A Bike While Babywearing?
Can You Replace A Bike'S Footrests?
Can A 9-Month-Old Ride In A Bike Seat?
Does A Baby Need A Helmet In A Bike Seat?
Which Is Better Baby Bike Seat Or Trailer?
Last Updated on May 9, 2023 by Eunice Barbosa
DISCLAIMER
(IMPORTANT)
: This information (including all text, images, audio, or other formats on FamilyHype.com) is not intended to be a substitute for informed professional advice, diagnosis, endorsement or treatment. You should not take any action or avoid taking action without consulting a qualified professional. Always seek the advice of your physician or other qualified health provider with any questions about medical conditions. Do not disregard professional medical advice or delay seeking advice or treatment because of something you have read here a FamilyHype.com.