Summer is right around the corner, and if you have a toddler that you want to take swimming, you need to make sure that they have a safe vest they can wear to stay afloat in the water. While you should never leave a child who doesn't know how to swim unattended, this will help with them having confidence in the water, and if you want to teach them how to swim, this is a good investment. This of course doesn't replace swim lessons done by an instructor, but a swim vest is a nice little addition when learning to swim. Here are the best ones out there for parents to try, and why they matter.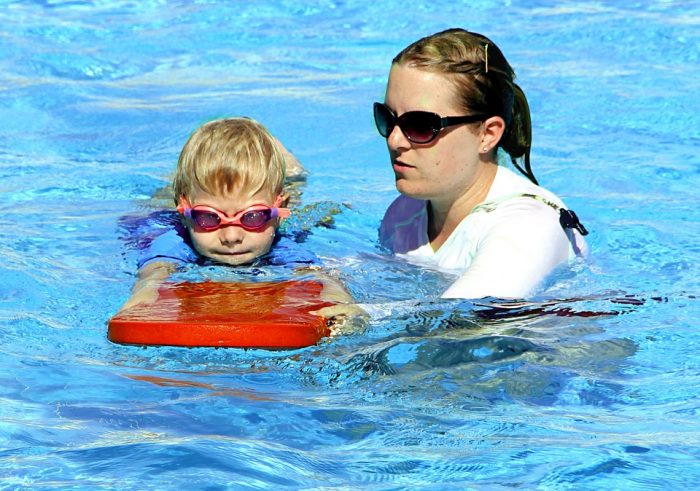 What Is A Toddler Swim Vests
A swim vest is a small little swim jack that can help children learn to swim. A swim vest is usually worn when a child is starting to go in the water, and needs more protection to stay afloat. Most of them offer a variety of other benefits including sun protection while a child begins to learn to swim, a crotch strap to offer more range of motion, rash guards to prevent chafing when a child wears the swim jacket, and even a safety strap to offer peace of mind, and a safe and comfortable experience. Good swimmers begin with wearing a swim jacket, and luckily a vest for kids is good for a lot of children. A traditional life vest is usually good when you're out on the water and need to get a vest for kids. But kids swim vest is a good one to offer some protection in the water. 
While water wings are good, the problem with water wins is that they usually can only help kids swim so much. When kids swim, they want to be able to use their arms, and luckily, a swim vest for kids offers that. 
There are plenty of best sellers out there in terms of a kids swim vest, but you should make sure that when a kid begins to swim more and more, a swim vest is a good investment.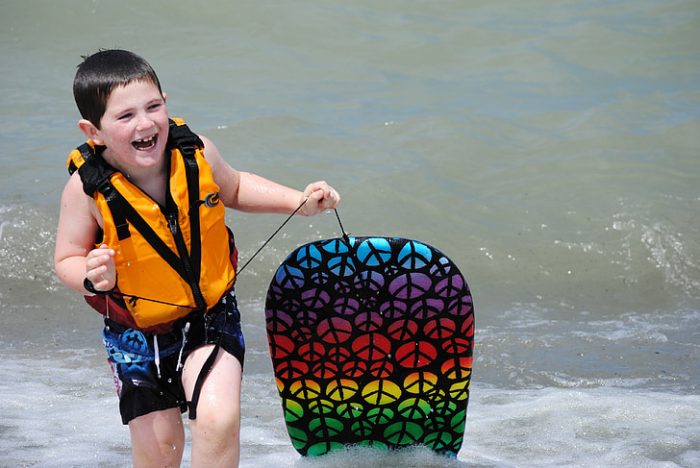 Speedo Kids' Begin Safety Vest
this is a more traditional design than your average toddler swim vest and device, and it is basically a school swim vest, and it's made from neoprene for a lower profile, making it not at all bulky, providing more freedom of movement, and the like so swimmers can learn without problems. It also protects against the UV rays for outdoor swimming, since it is a great way to help protect their skin if they are paler. It also is a secure life vest, and comes with a front zipper, along with a crotch strap. It can be used for children up to 60 pounds, so it's a good basic swim vest if you're looking for your child to stay safe this summer.
This extra sun protection in this kids swim vest offers more fun in the sun, and with sun protection automatically put into the swim vest, you don't have to worry about your child getting burnt. 
Printed neoprene swim vest options are usually the best when choosing a swim vest for kids. That's because printed neoprene is easy to move in. 
Speedo kids' swim vest are made with high-quality materials, and when choosing a swim vest for kids, a speedo kids' option will keep them nice and safe. 
Speedo Kids' Begin to Swim 
Speedo Kids' vests are usually a swim vest you can trust, and a swim vest speedo brand offers your child a safe experience in the water. 
With a Kids' Begin to swim vest for kids, this kids swim vest is made with a polyester linin for comfort in mind. The Kids' Begin to Swim offers a level 2 safety for children, and is a kids life vest that is simple to use, and is a classic swim vest. With this speedo kids' vest, you're getting a high quality kids life vest on printed neoprene, and it even comes with a crotch strap. This neoprene swim vest offers a kids swim vest experience that your child will be happy with.
This Speedo kids' swim vest also comes in a floatation device version, so if you're looking for something more than just a kids swim vest, you can get it in a similar pattern. This Speedo Swim vest offers quite a bit of buoyancy, and a whole lot of fun, and is a great swim vest for kids they'll enjoy. 
The begin to swim series is a high-quality speedo kids swim vest that you can rely on, and as a parent, you know you'll be happy to see your child wear.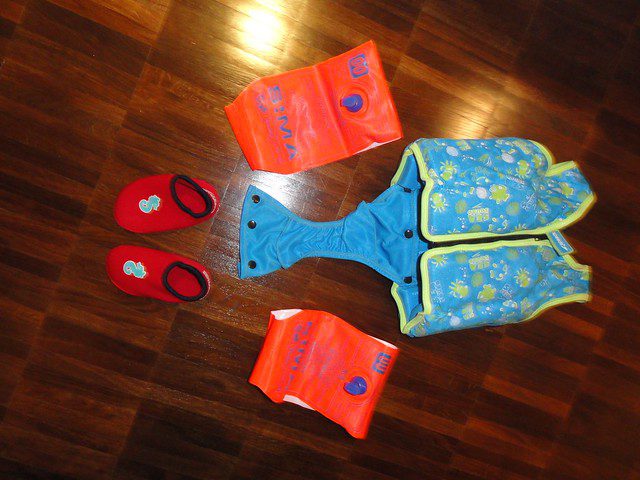 Kids Water Skeeter Floatation Vest
This is another cool speedo one, and this one is good for children up to 50 pounds and provides confidence when learning to swim without the floatation device getting in the way. It has a USCG Type III approved design, so what that means is that it doesn't fully wrap around, allowing for the arms to move about. It has side straps and a crotch snap to snugly put them in place. This means they can move their arms about more in the water. This is also good for children who have trouble floating due to its turtle-like shape. Like the other swim aids out there, you shouldn't replace a life jacket with this, but if you're teaching your kid to swim and such, this is a great option. It also comes in three different colors, so you won't have to worry about it being "too girly" or whatever for a boy. This is a little different than your usual classic swim vest, but if you're looking for a great swim vest for kids, you'll be able to enjoy it here. For more swim vest options and prices, check out Target.
Splash About Collections Floating Suit
This is a very colorful suit that's really good for younger kids. It allows them to move their arms about, and they also have buoyancy so that they can stay floating. It comes with 16 different removable floats, so you can adjust it for children that are lighter or heavier by removing or adding this. It's also pretty cool because your child can grow into this, meaning that if you use this as a baby, you can slowly take away floats as children grow and get more confident in floating. It also comes in a lot of cool and bright colors, so you can see the child when you put it on. This is a little more than a swim vest for kids, but rather, it's a floatation device and swimsuit that they can use to help a child feel a lot more confident when swimming. 
While this doesn't offer the same level of protection as a swim vest for kids, it is similar to a neoprene swim vest in material, and also is good if your child is learning how to swim and they are past the point of needing a classic swim vest but aren't ready to move on without some sort of personal flotation device as of yet. 
It's basically a swimsuit with floats attached, and it's a good alternative to your typical floaters out there, and it is unisex too, though girls may like this a bit more. It is definitely not Coast Guard approved though, so you should never replace a life jacket with this and only use this as a swimming aid when at the pool or along the beach.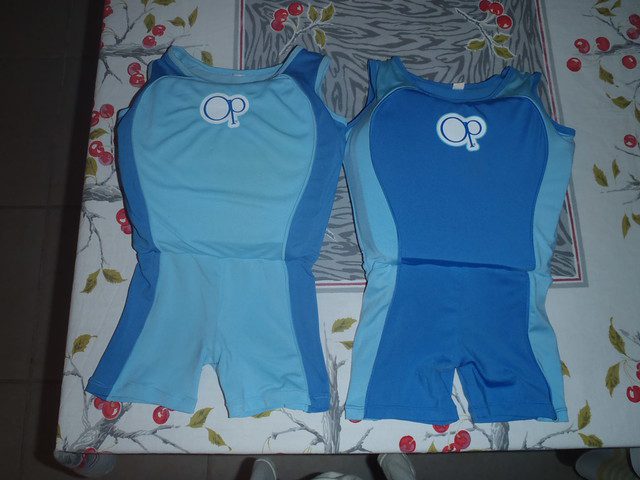 Stern Learns Classic Series
Now, if you want a lifejacket that is US Coast Guard approved, this is a swim vest you should consider. It's actually constructed from nylon and PE foam, and it's used primarily for floatation, and it comes with front straps that are adjustable, and a leg strap that's added for a fit that's secure, and it's good for promoting gross motor skills and the development of them. The core development is needed, since it does lean the infant back when used, and the neckline is a little tight. But it does provide the secure fit that you're trying to get from your pool floatation devices, and it's an alternative to the floatie sets that are out there. This is a great swim vest for kids because it offers a classic swim vest look, with a little bit more strength than your average swim vest. 
Stern Learns Heads Up Child
This is another one from the company, and again, this is another US Coast Guard safe device, and it is approved by them. It's made from super high-quality materials, and it comes with two straps that are in the front for a secure fit within the body. The leg strap is added for a more secure fit, and it does allow for the core to be strengthened with this. One of the main issues with this though, is that it does run large in size, so if your child is small, they might not be able to use it. It is a bit stiffer and tighter, but it also allows for the kid to feel ultra-safe and secure in the water, and with the bright colors, they're easy to see. This is less of a swim vest for kids or even a classic swim vest but rather, is a light jacket, and may be a good option if you're looking for something stronger than your average kids swim vest. 
Dinosaur Swim Life Jacket
This is a toddler swim vest that's light enough for children to learn how to move their arms and swim, and it also comes with floaties that help the child stay upright. It is very relaxed in feeling and fit, and the designs are quite cool since they have dinosaurs on them. It also keeps the head above water, which is a big part of these floatation devices. While the sizing does run large, you can get this for a child, and they'll grow into this effectively and easily. You'll be amazed at how much of a difference this can make for a child, and it's a good device to have. This swim vest is a good vest for kids because it offers a great print that children will love, and is a swim vest toddler version that they will enjoy.
This vest for kids does offer a pretty decent amount of protection, and with the high-quality materials it offers, this vest for kids is a swim vest you can rely on.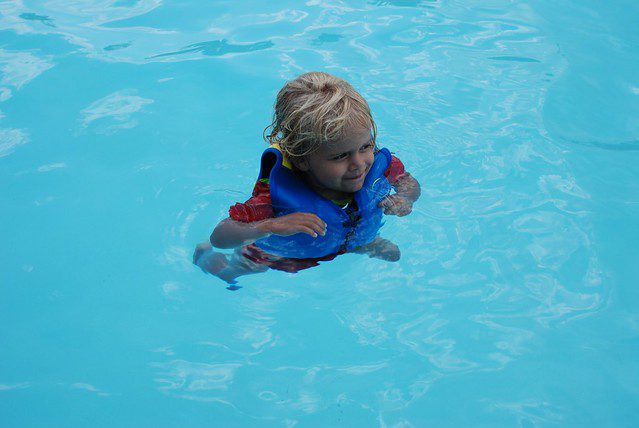 When looking for toddler swim vests, you may wonder what you should get. All of these are good swim vest toddler options, but if you're still not sure, you can check your local sporting goods supply store for a vest for kids. 
A swim vest toddler option is your best bet, because with this swim vest, they will learn to grow and fit into this swim vest over time. 
You definitely want a swim vest that fits the child's need, but also one that is easy for them to move in. If your child doesn't need the protection of a certain type of swim vest, you can always get them another variant of the swim vest for them to enjoy, and something that they will love. 
There are plenty of swim vest options for your child, and they are usually not that expensive.
You should definitely consider a swim vest for a toddler especially if they are learning to float in the water, or even basic swimming. If you want to help the child build confidence in swimming, and really make it so that they can get the most out of their time at the pool, this is how, and you'll be able to, with all of this, have the safest gear for your child to use.
FAQs On The Toddler Swim Vests
What is the best swim vest for a toddler?
The best toddler swim vest is the Stearns Puddle Jumper Deluxe, Speedo Kids' Begin to Swim Vest, Body Glove Puddle Pals, Konfidence Children's' Swim Jacket, Zerlar Floatation Swimsuit, SwimSchool Swim Trainer Vest, Speedo Water Skeeter, and Splash About Float Suit. Check for more options here: https://www.lifejacketadvisor.com/best-toddler-swim-vests-floatation-devices/.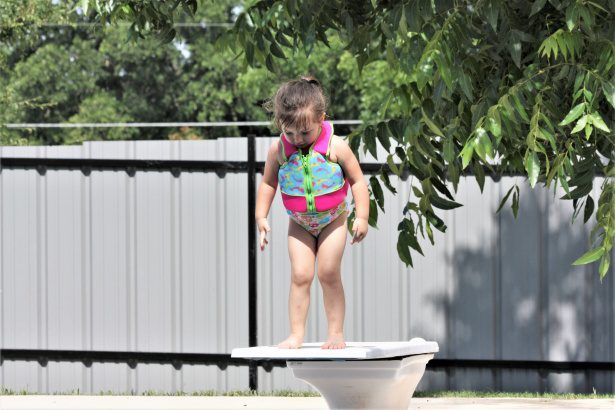 What is the best flotation device for toddlers?
These include Aqua Leisure Swim School Aqua Tot Trainer with Safety Strap, Learn to Swim Tube Trainer, Speedo Begin to Swim Fabric Armbands, Speedo Kid's UV Neoprene Swim Vest as well as Stearns Kids Puddle Jumper Deluxe Life Jacket.
At what age can you use a puddle jumper?
The product is designed to cater to children ages 3 and up (30-50 pounds).
What does a swim vest do?
Swim vests for kids are designed for the pool and calm bodies of water. They allow a greater range of body movement and give enough mobility and flotation to young swimmers. A swim vest is a great way to learn to swim since it keeps a child afloat. 
Should toddlers use floaties?
Floaties are good for toddlers because they create a false sense of confidence for children and parents. It allows children to be comfortable being in the water with floaties.
Do Puddle Jumpers prevent drowning?
Though it may help, still it's important to note that no flotation devices can work well enough to replace adult supervision. Therefore, don't be overly-assured of a child's safety just because he is wearing flotation gear.
Is a swim vest the same as a life jacket?
Swim vest is not a personal flotation device unlike life jacket and puddle jumper. It is a swim aid. They are not Coast Guard approved because they won't keep the kid's head above the water.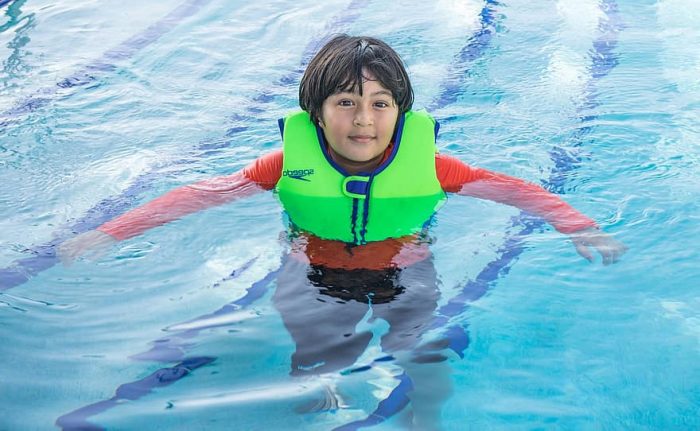 What is the safest life jacket for a toddler?
The best ones on the list are Mustang Lil' Legends 100, Stohlquist Nemo, O'Neill Superlite Life Vest, O'Neill Wake Waterski Vest, and Stearns Infant Classic Boating Vest.
Last Updated on January 31, 2023 by Rejie Salazar
DISCLAIMER
(IMPORTANT)
: This information (including all text, images, audio, or other formats on FamilyHype.com) is not intended to be a substitute for informed professional advice, diagnosis, endorsement or treatment. You should not take any action or avoid taking action without consulting a qualified professional. Always seek the advice of your physician or other qualified health provider with any questions about medical conditions. Do not disregard professional medical advice or delay seeking advice or treatment because of something you have read here a FamilyHype.com.