A lake is a beautiful place for you and your family to go, and children love playing in the water. But, what are the top lake toys out there? What are the best lake toys that will get you the fun that you want, and toys that your child will love? Read on to find out.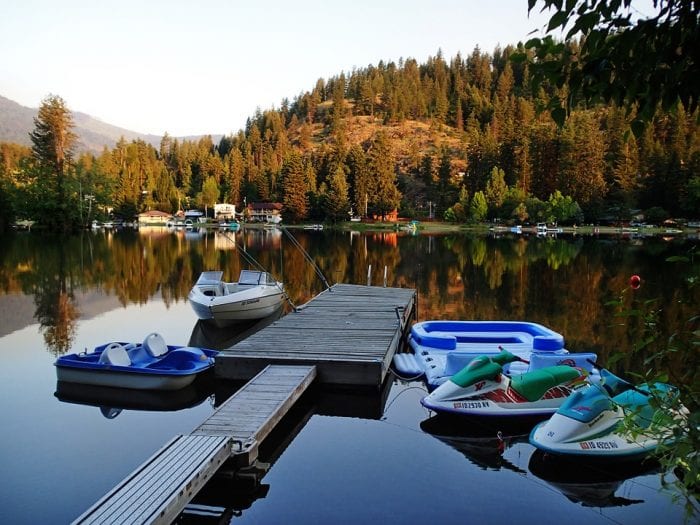 The Aqua Lily Mat
It is literally like the private island that you can take anywhere with a body of water. It allows you to create a personal buoy in any body of water, and it's a super fun matt. It's 18 feet by6 feet, so your child will have a lot of space to play on it, and it is fully buoyant, and weighs less than 30 pounds, which is nothing for the fun that you get with this! It's perfect for a day on the lake. The best part is that it weighs very little but packs a punch, and it can hold up to 1300 pounds of weight when distributed! It's a great one for any child, young or old, to enjoy when they're out on the lake!
SeaWindow: A Floating Snorkeling Window
Now, the lake may not have the best fish to look at, but there are still a few things you can see in the water! It's a pool floaty that has a magnifier at the center of it that showcases the water below you to show what is underneath the water. It's good for younger children that aren't ready for snorkeling, or those children who don't like the way snorkels and goggles sit on their face.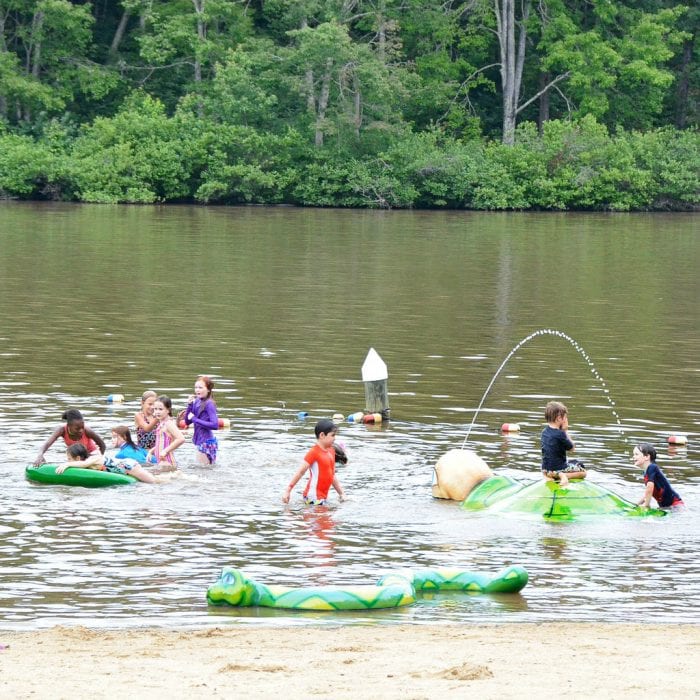 Aerobie Superdisc
It is a great one for children, both young and old, and it's a cushioned disc that you can throw around. You can use this to play with the dog at the lake as well! It's got a 10-inch diameter, and it floats in the water, which is perfect for playing at the lake. If you feel like you want something to throw around, and something that fits every age bracket.
SCHEELS Wheel Tubes
If you're going to the lake, you don't want to forget about the tubing! Tubing is super fun, but I do recommend this for children who are a little bit older since it can be hard to hold on. Scheels is one of the best companies for tubes, and they offer a wide variety of different ones, where you can have up to three people on this. It also comes in different colors and sizes, along with shapes too! It is a must-have for any lake fun!
Hyperlite Broadcast Wakesurf Board
Again, another one that is good for older children because it can be a little awkward in terms of use. But, if you're interested in wakeboarding, and your kid is old enough to understand how to do it, this is a great one! It allows for advanced riders to get some high speed, but for beginners, it allows for them to maintain the momentum that's needed too. It is a must-have for any summer lake fun!
Nintendo Controller Pool Float
Children love Nintendo, and if your child loves to lay around on the lake, this is a great one for them. It has the look of the old school NES controllers, and it's about five feet long, so it's perfect for children that want to learn how to float on a pool floaty and want something super unique for them to use.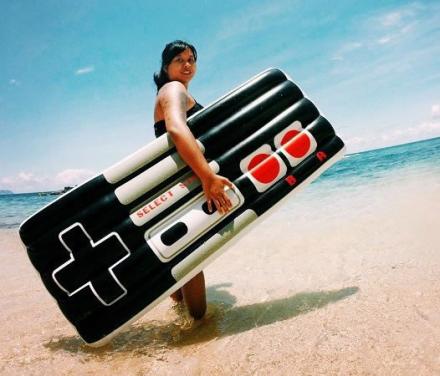 Floating Volleyball Court
It is a bit expensive, but it's worth it if you're a fan of volleyball you literally can set up this mini court in the middle of a lake, and you can climb up on this, and use this to play some fun volleyball. Lots of people love to play sports in the middle of the lake, and volleyball is one of those popular ones. It is the best choice if you're looking for something fun to do in the middle of the lake!
SlideHands 
it lets you surf with your hands, and they're a hybrid of a surfboard and a bodyboard, and in a sense, they're aboard that attaches to the hands, allowing you to catch some waves in the ocean. It is simple, but children love these, and they're worth it if you do go to a lake that has a little bit more wave action going, and you have kids that don't go out too far on it.
Rave Sports SUP board
It is a paddleboard that is great for teaching children how to use this, and it is suitable for both beginners and advanced users. It's simple to get on, with a rubberized bottom to help prevent slippage. The paddle on this is quite easy to navigate, and it is a good way to teach children how to balance while out on the lake. It is a must-have in my book for anyone looking to have some serious lake fun, and it's easy to get started with it that you won't regret this.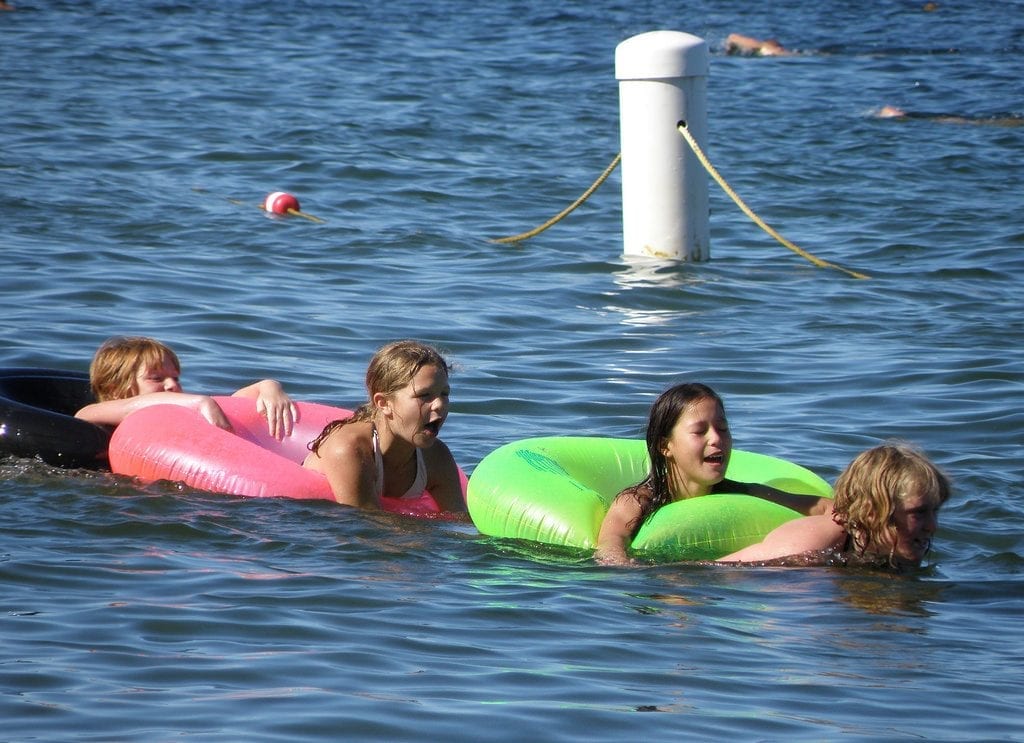 The lake is a great place to go to during the summers, and with the temperatures warming up, and summer just a couple of months away, you will want to be prepared. A trip to the lake is perfect for those children that have a lot of energy and love to swim around, for there is a lot to do, and there's so many fun lake toys out there. While they are pricey in some cases, they're worth it if you're looking to get the most out of your summer fun, and have a lot of great times with the family.
FAQs On Top Lake Toys
Should I get a kids' umbrella?
Yes, you should get the kids' umbrella. It can protect them from sun and rain.
At what age should my child be before getting an umbrella?
You should get an umbrella for your child as soon as they start preschool. It is when their arms and hands are strong enough to hold the umbrella steadily.
Should I buy an umbrella for my little boy?
Yes, you should buy an umbrella for your little boy. A lot of umbrellas have designs that are meant for boys, so they should not feel awkward while using it.
Is it better to get a manual or automatic kids' umbrella?
It is better to get a manual umbrella than an automatic one for kids. Its mechanism is simpler than others, so your child can be safe when they use it.
When can I buy an automatic umbrella for kids?
You can buy an automatic umbrella for older kids. It is when you can be sure that they won't hurt themselves while trying to open or close it.
What is a good canopy for the kids' umbrella?
Either plastic or polyester makes a suitable canopy for kids' umbrella.
How wide should an umbrella's canopy be for kids?
It must be at least 14 inches wide. This width can cover your child's body and backpack.
How can I wash a polyester canopy?
Uncap the tips to avoid getting the ribs wet. Then, flip the umbrella over so that only the canopy touches the basin. Scrub it gently with a damp cloth after dipping it in soapy water.
Will a child consider liking a plastic umbrella?
Yes, your child may like a plastic umbrella because it is unique and lets them see the sky. That is especially true for young girls.
What is the downside of getting a plastic canopy for my kid's umbrella?
The downside of opting for a plastic canopy is that droplets of water may evaporate and leave marks on it. You can't sew it either if it splits on one side.
Does the umbrella handle matter?
Yes, the umbrella handle matters, especially if a child will use it. In general, it should be effortless for them to hold and carry.
Can I get an umbrella with a unique handle?
Yes, you can get an umbrella with a unique handle. Disney- or Nickelodeon- themed umbrellas have oval-shaped handles and wrist straps, so your children won't misplace them.
Are Disney umbrellas affordable?
Yes, they are very affordable. It only costs less than $15.
What designs are available for kids' umbrellas?
You can get any possible design you can think of. There are thematic umbrellas, as well as abstract ones.
Can I get a Disney umbrella set?
Yes, you can get a Disney umbrella set. For approximately $20, you may buy a matching umbrella and raincoat.
Top Lake Toys Other Resources
https://www.scheels.com/e/post/10-best-lake-toys.html
https://www.familyhandyman.com/list/lake-toys-to-add-this-summer/
https://toynotes.com/cheap-lake-toys
Last Updated on January 27, 2023 by Rejie Salazar
DISCLAIMER
(IMPORTANT)
: This information (including all text, images, audio, or other formats on FamilyHype.com) is not intended to be a substitute for informed professional advice, diagnosis, endorsement or treatment. You should not take any action or avoid taking action without consulting a qualified professional. Always seek the advice of your physician or other qualified health provider with any questions about medical conditions. Do not disregard professional medical advice or delay seeking advice or treatment because of something you have read here a FamilyHype.com.