Indeed, choosing the right stroller can be a challenging task due to the wide range of options available in the market. To help simplify the decision-making process, we have made you a good review of the options available for you. Britax Agile – Being a parent is never an easy role. Aside from additional responsibilities, parents will have to also have financial investments to cater to the needs of the baby. One good investment a parent should have is the Britax B baby stroller. Of course you don't want a stroller with a limited space and many reviewers recommend this brand for being a great brand and model. It may be expensive for some, but it pays for the convenience and comfortability of both the parents and the baby.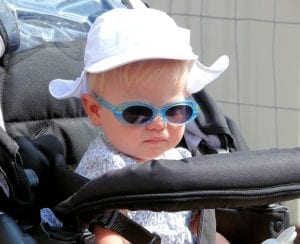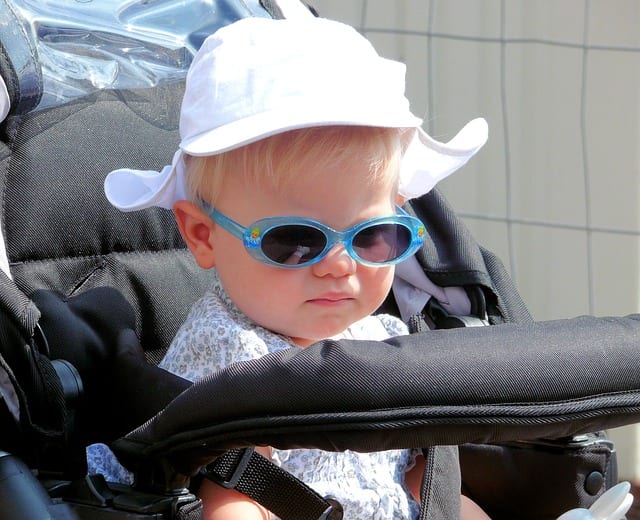 Way before Britax, before the invention of baby strollers, babies were usually carried in baskets, slings, and bags. Baby strollers or baby carriages as they call them before have been around since the 1700s. It has been of service to parents and babies for a long while now. Ever since its invention, it has faced a lot of evolution – from being a literal carriage with heavy-duty metals to foldable lightweight materials we have nowadays.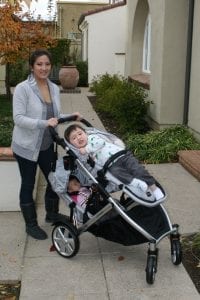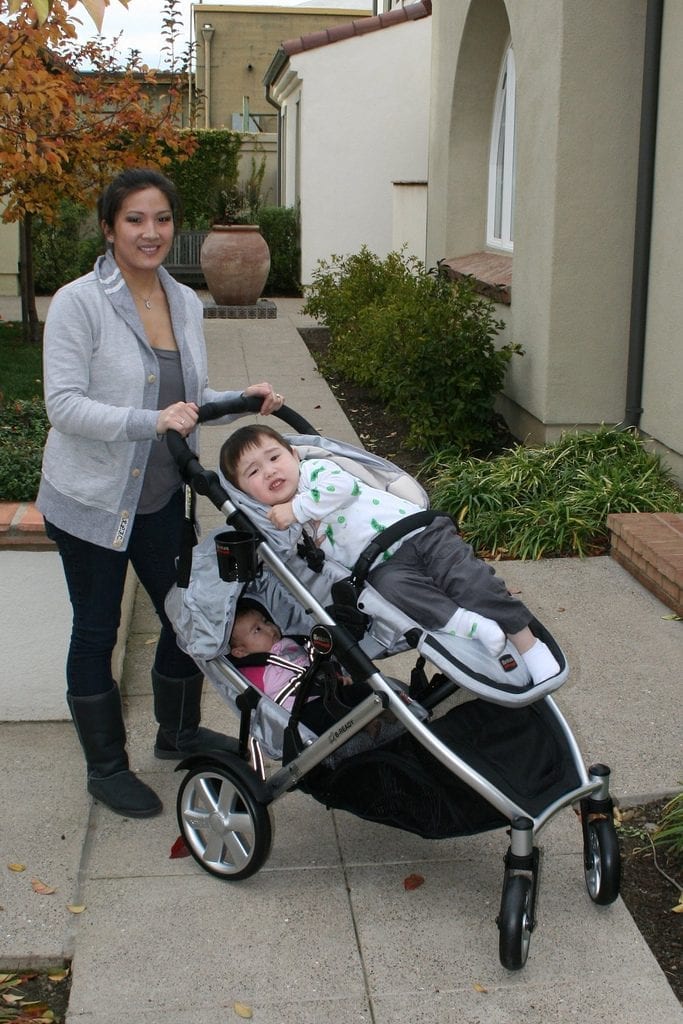 Many things have changed with strollers, and you also have more choices to choose from now than before. Because there are a lot of brands offering strollers, it can be challenging to decide which one to buy. To help you, we created a list of Britax best strollers from Amazon. If you continue reading, you will also find our comprehensive review of the B-Agile Strollers.
What Makes Britax Strollers Great?
These strollers are renowned for their exceptional quality and thoughtful design, making them a popular choice among parents. What sets Britax strollers apart is their unwavering commitment to safety. With features like a secure harness system, impact-absorbing frames, and advanced side-impact protection, They prioritize the well-being of your child. Moreover, their strollers offer impressive maneuverability, allowing parents to effortlessly navigate various terrains while maintaining excellent control. They also provide supreme comfort for your little one with adjustable recline positions, ample padding, and spacious seating areas.
What we also love about the the brand is the great attention to convenience by incorporating features like one-hand folding mechanisms, ample storage space, and compatibility with infant car seats. With their combination of safety, maneuverability, comfort, and convenience, Britax strollers stand out as a reliable and trusted choice for parents seeking top-quality products for their children.
Britax B Agile
Lightweight Stroller

Britax Agile offers convenience and easy portability, it is highly recommended for parents who like multitasking.
The B Agile from has a lightweight design and it only weighs 18 lbs and it can be folded in seconds.
B Agile is compatible with most car seats from the same brand and it comes with a spacious compartment.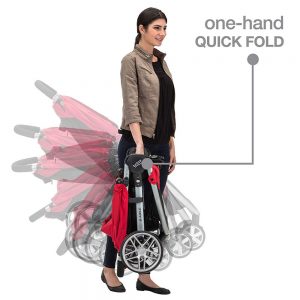 Britax B-Lively Lightweight Stroller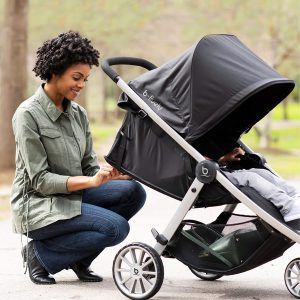 Britax Agile stroller is ideal for baby up to 55 lbs. Unfolded Stroller dimensions: 33 x 23 x 40 inches.
It comes with an Xl storage basket that can fit your baby essentials and more.
This stroller also has a ventilated UC 50+ canopy with a peek-a-boo window to protect your little one from the sun and strong winds.
It also comes with car seat adapters for car seat compatibility.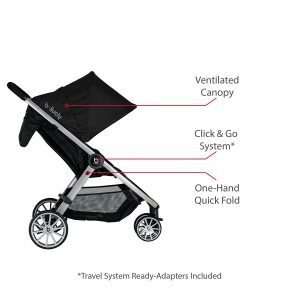 Britax B Agile Free Stroller

The Britax stroller as compared to other strollers can hold up to 65 lbs, hence it can be used by your baby much longer.
It is best for parents with an active lifestyle as it comes with a 3-wheel design which makes it easy to maneuver on all terrain and corners.
It comes with an adjustable handlebar, 7 storage pockets, XL basket, and a canopy.
It is travel system ready.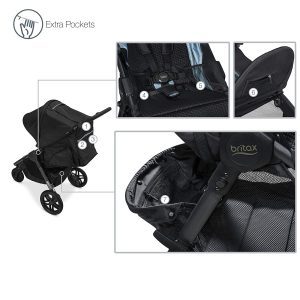 B-Lively Travel System with B-Safe 35 Infant Car Seat 

The Britax Agile travel system is complete with a B-safe 35 infant car seat base and adapters that are designed specially to protect your child from impact in case of accidents or crashes.
It has a SafeCenter Latch to provide a tight base for our car seat.
This infant carrier a huge canopy, cup holder, large basket, and sturdy handle bars.
You can take it with you when grocery shopping.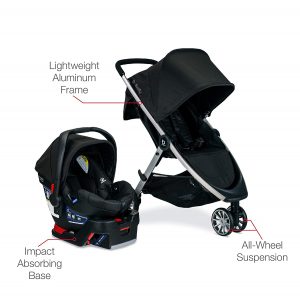 Britax is a brand with expertise in mobile safety and child safety products. They are a manufacturer of childcare products such as high seats, car chairs, and strollers. The brand produces strollers appropriate from birth and up, they even have strollers that can accommodate your second child.  Moreover, the stroller offers great price, most products are shipped quickly compared with other brands.
It is also known as an innovator when it comes to the mentioned child safety products. This article will discuss one of the best-sellers of Britax strollers, the Agile 3 stroller, and why it is the ultimate baby stroller.
The Great Features of Britax Agile Stroller
B Agile is Lightweight
The Britax B Stroller is easy to carry and lightweight with an aluminum frame. The stroller weight is about around 18-20 pounds (8-9 kg). It only  A parent can easily take it for a stroll in the park or mall with the baby. Moreover, B-Agile is durable and sturdy. If you are a parent who has an active lifestyle, the B-Agile stroller is perfect for you as you can even take it when running and traveling. It can also take some off-the-road actions with terrains while still giving your child a smooth ride. It is absolutel a great stroller option for moms with active lifestyle.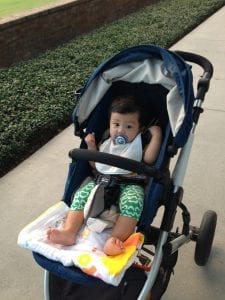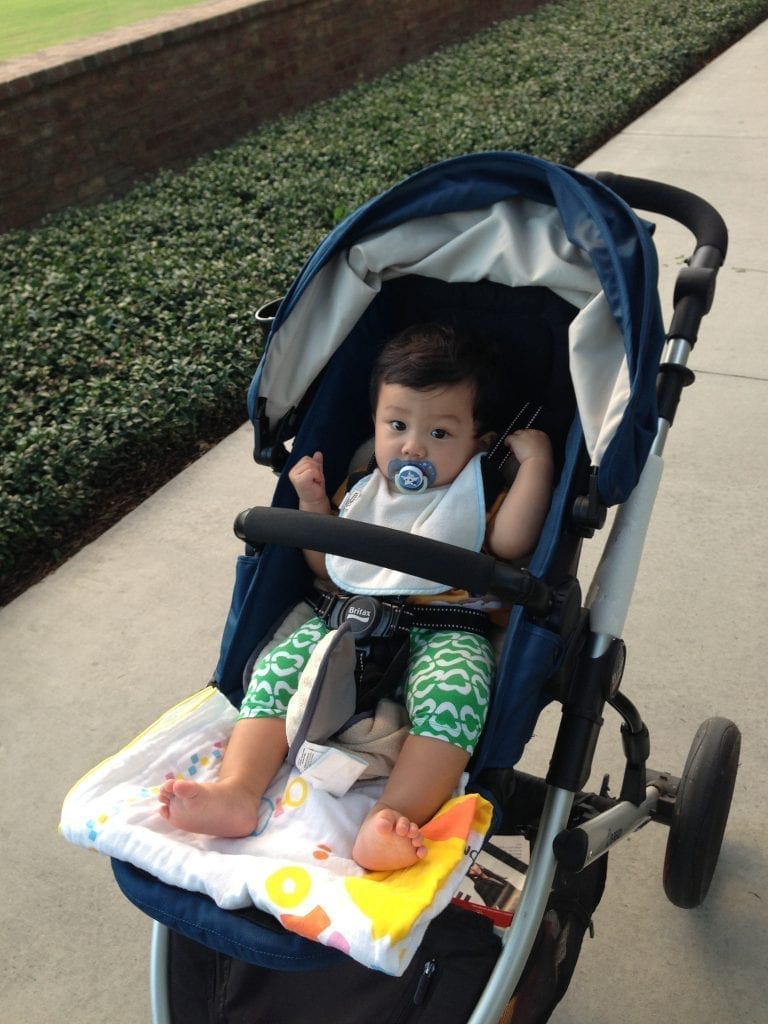 The Stroller Has A One-Hand, Quick-Fold Design With Car Seat Safety Harness
One definite advantage of  Agile 3 over other strollers is its one-hand, quick-fold design feature. You don't have to spend more than a minute to fold the stroller. Modern-day parents are used to multi-tasking and holding multiple items with their hands. With the convenience of using just one hand. You can easily fold this stroller. You can even carefully hold your baby in one hand while folding the B-Agile in another.
This also brings their car seat safety harness to their strollers. The 5-point harness may easily be adjusted as the child grows. The 5-point clip is specially designed to provide extra security for the child while he or she is in the stroller. It also unfastens with a single click.
Britax B is Easy To Maneuver
Another useful product feature of the B-Agile Stroller is its three wheels design. It is effortless to push and navigate on different kinds of surfaces. Another great thing is that it is high-quality, has a soft cover, wonderful carseat, and many other useful details. You won't even have to worry about exerting a lot of effort to push the stroller. This product can also take some terrains even though it is not an all-terrain stroller. Convenience is the key when looking for the best stroller for babies.
Britax Agile 3 Stroller Has Large Storage And Extra-Large Canopy
To make room for some supplies and accessories for the baby, this stroller has a large storage basket. It also features an additional zippered pocket suited for your belongings.On the other hand, the extra-large canopy with ventilation window helps to keep your child cool on warm days.
Frequently Asked Questions – More Information for Parents
Does the Agile recline?
Yes, it does. This stroller is built for safety, comfort, and durability.
How long is a Britax B-Safe 35 Good For?
Car seats expire
so you have to make sure that you replace them so that your child will always be safe. Brita B-Safe 35 expires six (6) years after the date of manufacture. When you purchase your Britax B-Safe 35, take note of the manufacturing date so that you can be prepared. Once Britax B-Safe has reached its expiration date, that really means it has to retire and must not be used again.
What strollers are compatible with Britax B-Safe?
All Britax strollers are compatible with the B Safe. the Baby Jogger, BOB, and most other popular strollers. The important thing to keep in mind is to make sure that your adapter works with your car seat.
This strollled was unfortunately recalled becuase the car seat handle can crack and break, causing teh seat to fall unexpectedly. This could pose a risk of injury to the infant.
Can I turn stroller into a car seat?
What is Britax B Agile 3 folded dimensions?
Last Updated on May 17, 2023 by Mary Cimeni
DISCLAIMER
(IMPORTANT)
: This information (including all text, images, audio, or other formats on FamilyHype.com) is not intended to be a substitute for informed professional advice, diagnosis, endorsement or treatment. You should not take any action or avoid taking action without consulting a qualified professional. Always seek the advice of your physician or other qualified health provider with any questions about medical conditions. Do not disregard professional medical advice or delay seeking advice or treatment because of something you have read here a FamilyHype.com.