When you are pushing your infant or toddler around, you want it to be as easy as possible. This means that the weight should be something manageable. When it comes to the Britax B Agile weight, there are little other strollers that can beat it. This article will help you to understand all there is to know about the weight and other features of the Britax B Agile and other Britax strollers.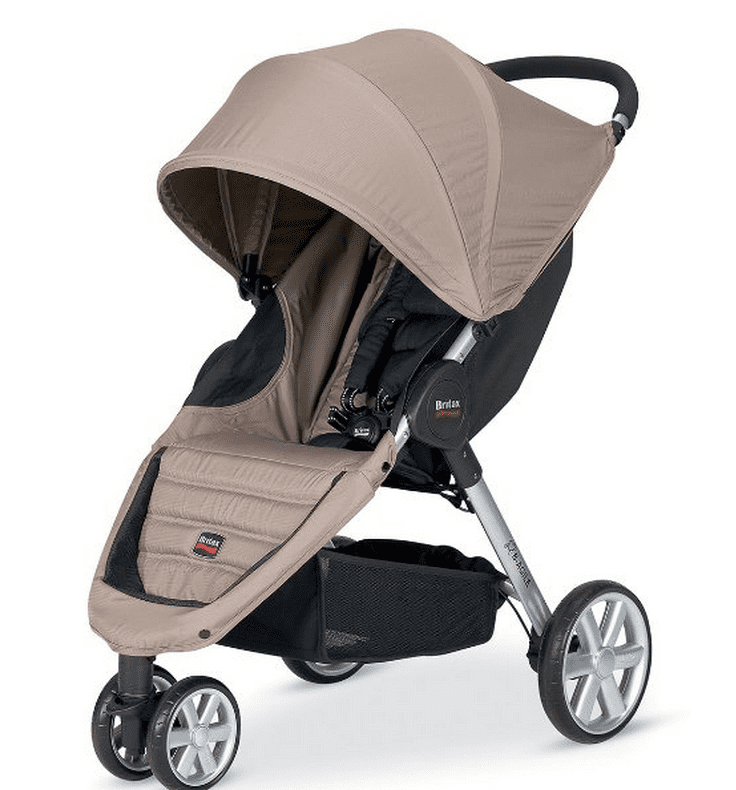 Britax B Agile Weight
The main reason why parents are drawn to the Britax B Agile is how light it is. When you are walking around with your infant, you want the experience to have the least amount of stress as possible. A lot of this stress can come from having to push around a heavy stroller. You already have to carry your baby, diaper bag, and other essentials the stroller you have should not be an added stress. Your stroller should help you. This is why the Britax B Agile only weighs 18 pounds, but it can hold up to 55 pounds.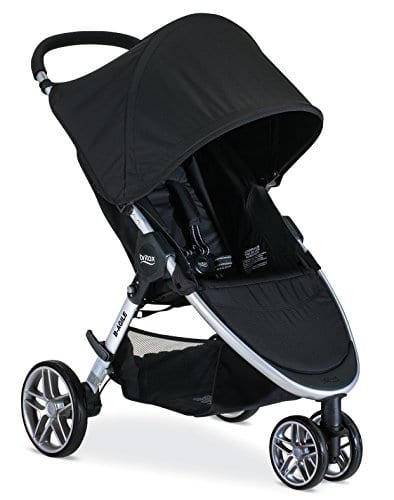 How Much Does The Britax B Agile Weigh?
The Britax B Agile stroller weighs 18 pounds. This makes it easy to carry and push around. This is a stroller that you can easily take in and out of your vehicle making it favorite for parents. Having a lot of features in a stroller is nice, but if done incorrectly, these features can add a significant amount of weight to the stroller. This balance of features and weight is something that the Britax B Agile has succeeded in.
Does The Britax B Agile Recline?
Yes, the Britax B Agile does recline. It does not lay completely flat, but it reclines to a near flat position. This will give your infant or toddler a more comfortable position to sleep in if he or she is tired. You can lower the back down with one hand and raise it back up with two hands. But with that being said, depending on the weight of your child, you may want to use two hands to put the stroller into the reclining position. This way you have more control over the entire process.
Is Britax B Agile A Jogging Stroller?
Although the Britax B Agile stroller is easy to maneuver, it was not built to be a jogging stroller. The wheels are not rubber, which is a feature all jogging strollers have. In addition to not having the correct wheels, the Britax B Agile does not have a hand brake. A hand brake is essential while running with your baby because you want to make sure that you have as much control over the stroller as possible. A hand brake will help to give you peace of mind while you are jogging with your baby, So if you are looking for a stroller to jog with, the Britax B Agile is unfortunately not that stroller. 
Can You Add A second Seat To Britax B Agile?
No, you cannot add a second seat to the Britax B Agile stroller. Instead, this stroller offers a "click & go" system which allows for the parent to easily connect and disconnect the Britax infant car seat. The stroller that you can add a second seat to is the Britax B Ready stroller. Not only can you add a second seat to the Britax B Ready stroller, but the seats can be configured in 14 different ways. This will give the parent and the babies the best riding combination possible for each of their needs. 
How Much Does A Britax Stroller Cost?
Each Britax stroller has a different price because each Britax stroller has different features. The least expensive Britax stroller is the Britax B Clever coming in at $199.99 on Amazon. The next Britax stroller in the line up is the Britax B Lively at $239.99 on Amazon. This stroller features an easy one-hand fold system and can recline to a flat position. The most expensive Britax stroller is the Britax B Free stroller at $379.99 on Amazon.
What Is The Best Britax Stroller? 
The best Britax stroller is the Britax B Free. This stroller was designed with the entire family in mind. It offers a total of 7 pockets and an extra-large storage basket for all the baby gear you could ever need for your baby. The Britax B Free also has a 3-wheel configuration with no-flat tires that makes maneuvering it simple and easy. This stroller is also the best because it will hold your child until they are 65 pounds. This weight capacity is more than most strollers. The last major benefit of the Britax B Free stroller is that it is compatible as a travel system. With just one easy click, you can lock in your Britax infant car seat.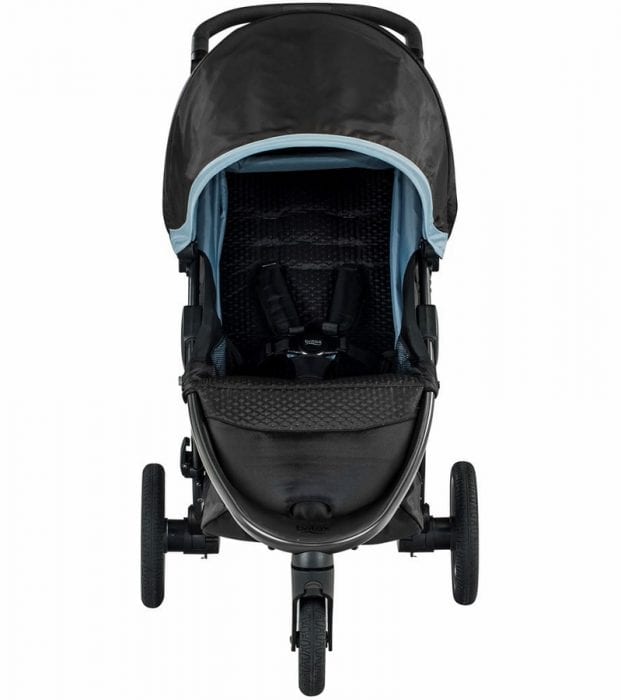 Can You Jog With Britax Stroller?
At this time, there is not a stroller in the Britax stroller collection that you can jog with. The wheels of each of the Britax strollers are not compatible with jogging. They also lack the hand brakes that give security to the parent and the child.
Can You Run With Britax B Free?
No, you cannot run with the Britax B Free stroller. The wheels are all-terrain, but that does not mean that you can run with them. The all-terrain wheels make it easy for the parent to maneuver around in the places that the family needs and wants to go. The wheels on this stroller are the best of the Britax brand.
What Car Seats Are Compatible With Britax B Agile?
There are a few different car seats that are compatible with the Britax B Agile. The first is the Britax infant line. These car seats include the B-Safe Ultra, B-Safe Endeavours, and the B-Safe 35. These Britax infant seats come fully equipped to be used with the Britax B Agile stroller.  If you have a Britax B Agile stroller, but your infant car seat is Nuna, Cybex, or Maxi Cosi, then you will need an adapter piece. But these brands are still compatible with the Britax B Agile stroller.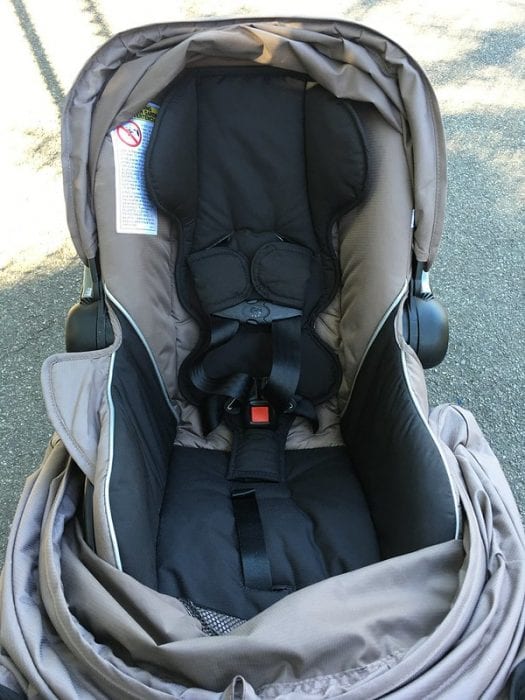 Can Britax B Agile Be Converted To Double?
The Britax B Agile cannot be converted to a double stroller, but a Britax B Agile double stroller can be purchased. The double stroller weighs 26 pounds and each seat can hold up to 50 pounds. This stroller also comes with an adjustable handle and a large storage basket to hold all the necessary baby gear. 
Britax B Agile Weight Other Resources
Last Updated on June 24, 2022 by Margret Fermin
DISCLAIMER
(IMPORTANT)
: This information (including all text, images, audio, or other formats on FamilyHype.com) is not intended to be a substitute for informed professional advice, diagnosis, endorsement or treatment. You should not take any action or avoid taking action without consulting a qualified professional. Always seek the advice of your physician or other qualified health provider with any questions about medical conditions. Do not disregard professional medical advice or delay seeking advice or treatment because of something you have read here a FamilyHype.com.