When you have a baby, you want what's best for them, including the stroller they ride in. One such stroller is the Bugaboo Bee 3, a stroller that is quite pricey, and yet many parents will gladly pay that much if it means a high-quality stroller. However, does the Bugaboo 3 live up to its price tag, or should you stick with a more affordable stroller?
Here are some Bugaboo Bee 3 reviews below.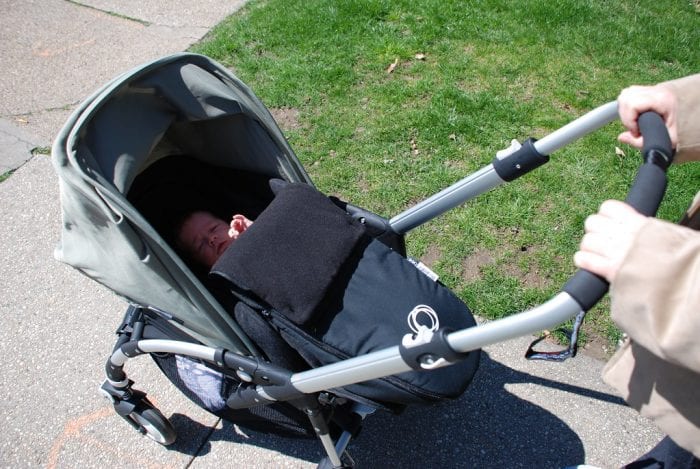 What Does The Stroller Have?
When you're spending a lot on the stroller, it's usually because the stroller has features that you can't find in cheaper models. Alternatively, you may want a stroller that provides the smoothest ride and control possible. 
The Bugaboo Bee 3 boasts a large size, and it's quite lightweight too. Being a little under 20 lbs., most parents can carry and control this stroller with ease. It boasts four wheels, all with their suspension, and the handling is smooth. 
You can adjust the seats as well. You can change its direction, and it's so easy to use as well, with you switching the seat's full-back as your baby grows and needs more space. Other strollers make it a hassle to change the seats, but not the Bee 3. also, it's easy to recline as well, with three positions. However, many find that only three options are limiting and not suitable for strolling. However, some places are useful when the baby is sleeping. 
What about storage? The Bee 3 does have lots of room, such as the under-seat basket. It allows you to carry quite a bit of supply, but you may have to lift the seat when it's facing away to access it. It's easier for you to reach when the seat isn't facing away, but we do wish that the basket was easy to access with either side.
There are handlebars you can use to steer, and it's quite easy for you to do so. Also, you can expand this stroller using bassinet attachments to help the stroller last longer for a growing child.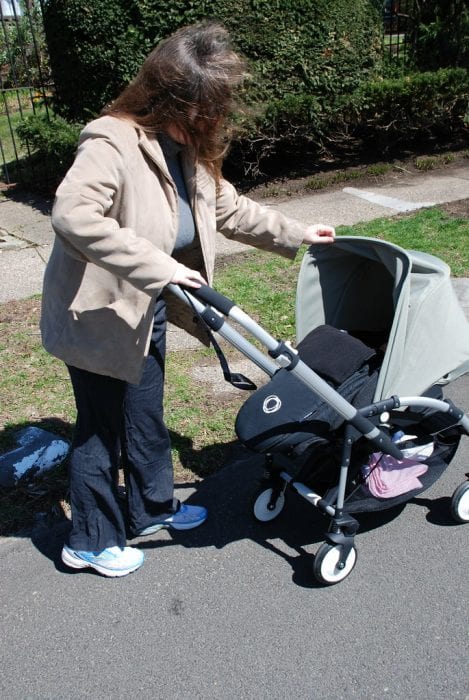 What About Assembly? 
There's some assembly required with the Bee 3. Some parents may roll their eyes at the thought of this, but luckily, the assembly isn't too bad. The instructions are quite easy to follow, and everything clicks in a place like it should be. It shouldn't take you not more than 20 minutes to put this stroller together, and it's quite durable once you do so. 
Mobility 
You want storage that is easy to fold and collapse when you're traveling. Luckily, according to Bugaboo Bee 3 reviews, it is quite easy to fold and store. However, you may need a couple of hands to do it, which may be annoying when you have a baby in one of them!
How Well Does It Run?
Perhaps the biggest question a parent may have is, how does the stroller run across different terrain? Not every terrain is going to be a smooth sidewalk. Sometimes, you may run into the dirt or a building. With carpets that are low pile and hardwood floors, it does run as smooth as butter. You can turn it smoothly and in a way that your baby won't notice. It's quite lovely, and you're going to love every bit of it.
What about a bumpy path in an urban environment? Sadly, this is where the Bee 3 falls a little bit. With an uneven surface, the Bee 3 does falter a bit and makes it harder to control when there are bumps along the way, which is quite unfortunate. Not every stroller ride is going to be smooth, and the Bee 3 doesn't seem to account for that.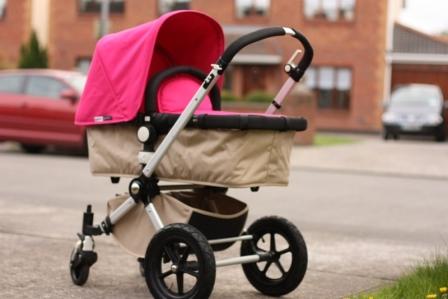 What About Color? 
For some parents, color doesn't matter. The parent just wants a stroller that runs well, and they don't care what color it is. However, other parents may want a color that is stylish and looks good. Luckily, the Bugaboo Bee 3 reviews say that it has color combinations for all the parts, and there are over 64 combinations a. With so many colors, there's going to be a color for every parent out there. 
Also, they have different themed colors, and some of them are a limited release. It's best to try them first to see which one works best for you.
Is It Worth Buying?
You may wonder if this stroller is worth the pretty penny. For some parents, it's worth every penny. For other parents, it's a bit expensive and not worth it. It's very sleek, comes in a variety of colors, and is excellent to handle. 
However, if you live in an environment that is bumpy and uneven, this stroller does fall apart and may not be worth the money. There are cheaper models available that are better for off-road. 
The Good
The good of the stroller is that it's easy to assemble, rides smoothly, cleans easily, and comes in different colors and designs for picky parents. You can tell that a lot of effort went into its design. 
The Bad 
The bad of this stroller is that it's terrible for rough and bumpy rides, and the recliner isn't as good as it should be. The recliner should allow for more positions, but none of them are that satisfying. Also, the canopy does lack a window, which some parents may not like.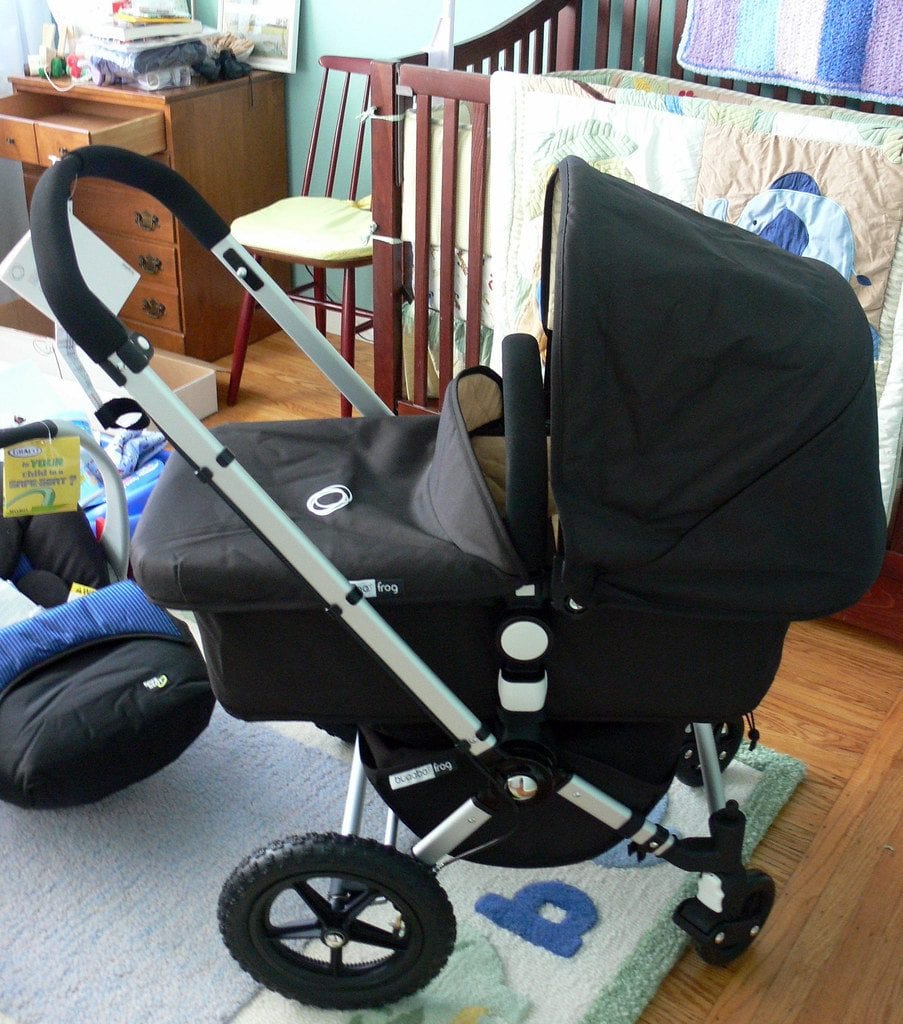 Conclusion 
The Bee 3 is expensive, with some models online going for as much as $800+! For many parents, it's just not worth it for what you get. If you're able to find a cheaper one, then it may be worth the price, but if you live in a place with uneven terrain, it's especially not worth it. 
It's a high-quality stroller; however, so many parents may still want it. It does have a lot of good with it, but we don't think it warrants the price tag. However, you are welcome to try it out for yourself and see if you think it's right for you. 
FAQs
What year is bugaboo bee 3?
Bugaboo Bee 3 was launched for the first time in September 2014. It was for families living in the city.
How much does the bugaboo bee three weight?
Bugaboo Bee 3 only weighs 19.2 pounds. Its compact design is perfect for city dwellers.
What age does Bugaboo Bee go up?
Babies can use Bugaboo Bee as soon as they are born. It can be useful up to the age of 3.
Can bugaboo bee be used for newborns?
Yes, newborns can use Bugaboo Bee. It is a convertible stroller.
What's the difference between bugaboo bee 3 and 5?
Bugaboo Bee 5 is the advanced version of Bugaboo Bee 3. While the latter has a one-piece seat, foam handle, and white wheel caps, the former has a two-piece seat, vegan leather handle, and white or red wheel caps.
What sets the Bugaboo Bee apart from the Plus?
The Bugaboo Bee Plus is a massive update from Bugaboo Bee because the seat elongates, while the other one does not. It is ideal for bigger babies.
What is the newest bugaboo bee?
Bugaboo Bee Ant 2020 will be the newest stroller from the brand. It still has not come out, but it is said to outperform the existing Bugaboo strollers.
Which Bugaboo stroller is the best?
Bugaboo Bee 5 is the best Bugaboo stroller in the market. Its sleek design and luxurious features are hard to beat.
Last Updated on March 24, 2020 by Kathleen Hingan
DISCLAIMER
(IMPORTANT)
: This information (including all text, images, audio, or other formats on FamilyHype.com) is not intended to be a substitute for informed professional advice, diagnosis, endorsement or treatment. You should not take any action or avoid taking action without consulting a qualified professional. Always seek the advice of your physician or other qualified health provider with any questions about medical conditions. Do not disregard professional medical advice or delay seeking advice or treatment because of something you have read here a FamilyHype.com.