Baby toys are not just for keeping your baby entertained. They're for helping your baby develop and explore their world with every stage of development. In this post's case, we're looking at toys that are good when your baby is learning how to sit up. Toys like these will reward your baby with their recent accomplishment, and teach them how they can go even further. 
If your baby hasn't learned to sit up yet, they usually do so around 3 to 5 months. Once babies can sit up on their own, or are learning to do so, the toys can reward them for all their trouble. Let's look at a few of them.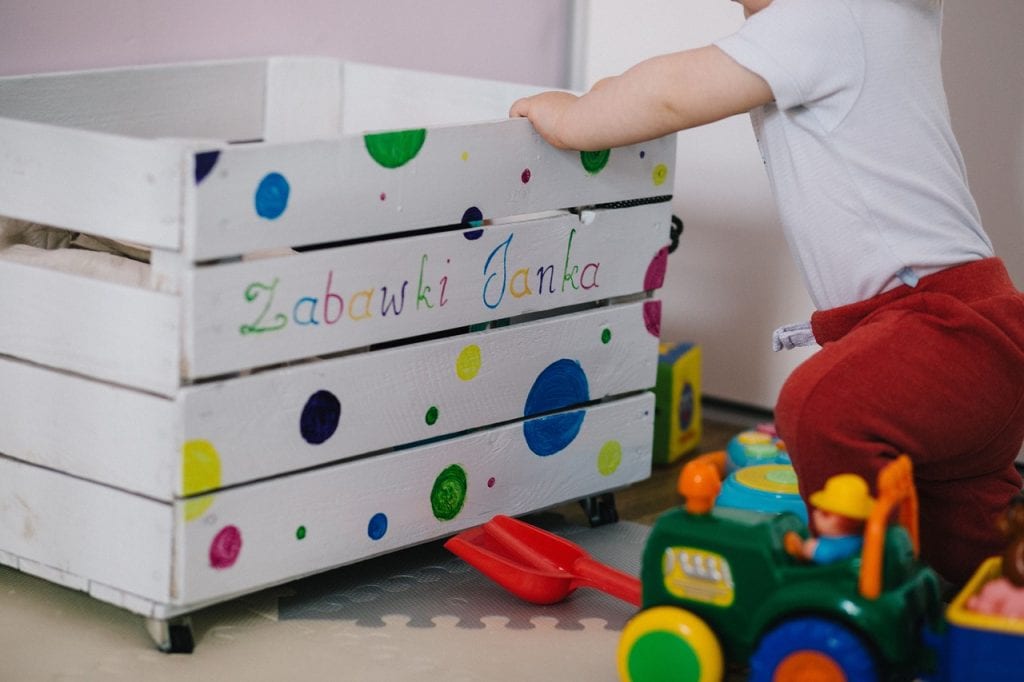 What To Look For In A Sitting Toy
Here are some things to look for when you're purchasing a toy for your sitting baby. 
You want a toy that encourages hand use. The next step for a baby is to learn to crawl, and toys that teach fine motor skills can help. 
A toy that teaches other ways to learn is smart, too. Toys that teach words, ABCs, and other problem-solving skills can help your baby, too. 
As usual, make sure the toy is suitable for your baby. While they are growing, they still can't handle small parts. 
Finally, look for a toy that is fun as well. Your baby is easily entertained, but some toys are so boring, even they won't like them.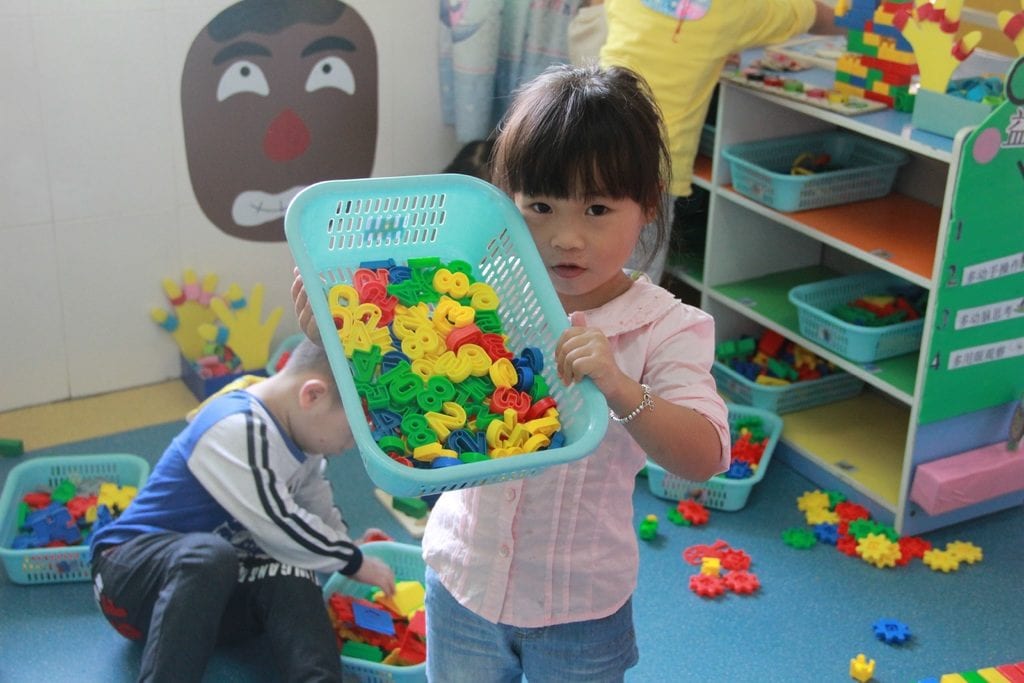 Fisher-Price Laugh And Learn Around The Town Learning Table 
This table may have a verbose name, but it's quite good. This table helps your baby learn different things as they learn to sit down. There are books they can look at, sliders they can play with, a piano they can rock out on, and more. This table has quite a few activities, and it grows with your baby. When your baby learns to stand, you can put legs on the table so they can play it while standing, and when they're sitting, just remove the legs and there you go. 
Sassy Wonder Wheel 
This wheel is cheap, and it doesn't have the sass despite its name, but it's an awesome toy. It's bright and colorful, and when your baby is sitting down, they will love spinning the wheel and watching the beads inside spin around. 
Musical Turtle Toy
It is a toy that is shaped like a turtle, with many unique buttons to explore. When your baby is sitting down, they will love pressing on the turtle and hearing all the unique sounds that come out of it. It's made from safe materials and high-quality materials as well. It plays sounds that teach the ABCs, English and Spanish phrases, math, and other lessons as well. The turtle can even move, allowing a crawling baby to play with it as well. That's the beauty of this turtle; it has quite a few features that make it a win for everyone.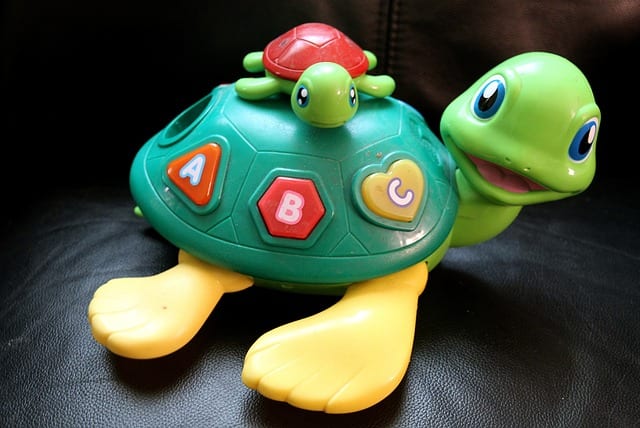 Snap Lock Beads From Fisher-Price
When your baby is sitting, having toys that can improve their motor skills allows them to eventually learn how to crawl. One way to do that is through these beads that your kids can play with by snapping them together. These toys are simple yet quite versatile, and they're easy to carry around too. These beads are made from safe materials and are not a choking hazard. 
Plastic Links 
It is similar to the last one. Only it involves rings that your baby can link together. Not only does this encourage fine motor skills, but it also encourages your baby to be creative and make some unique shapes with the links. These plastic links are very cheap, yet can provide hours of entertainment for your baby as well. They're colorful, challenging, and can help your baby develop some skills.  
ALEX Discover My Busy Town Wooden Activity Cube
It is another toy that's great for a baby learning to sit down. This toy helps the baby's arms, torso, and legs develop. All in all, it's great for every aspect of a baby. Activity cubes are great toys because the baby can sit down and play with them as they discover every side of the cube, and that's always fun. 
Sprout Ware Stacking Cups
As a baby is learning to sit, they are also learning object permanence, which is when they realize that objects still exist even if they're covered up. Think about it. Why do babies like to peek a boo so much? Because they think their parents' faces are gone when their hands cover it! 
With stacking cups, they allow a baby to realize that even though they covered an object with a cup, it's still there. Your baby will love sitting down, playing with cups, and thinking the object has disappeared when they cover it, only to realize that it's still there. 
Pop-Up Pals 
It is a toy with a simple concept. You press a button, and an animal pops up. It is a toy that can provide hours of entertainment and teaches your baby about cause and effect. When they push a button, the animal appears, and the baby is likely to hit the button again and again as a result. It's a simple toy, but one that will provide hours of entertainment. 
A Wooden Puzzle 
A simple wooden puzzle only has a few pieces, with the pieces being large and not a choking hazard. Because of this, babies will love putting together the puzzle and learning how the pieces go together. It can provide hours of entertainment and problem solving, and once your baby is finished, they will be rewarded with a pretty picture.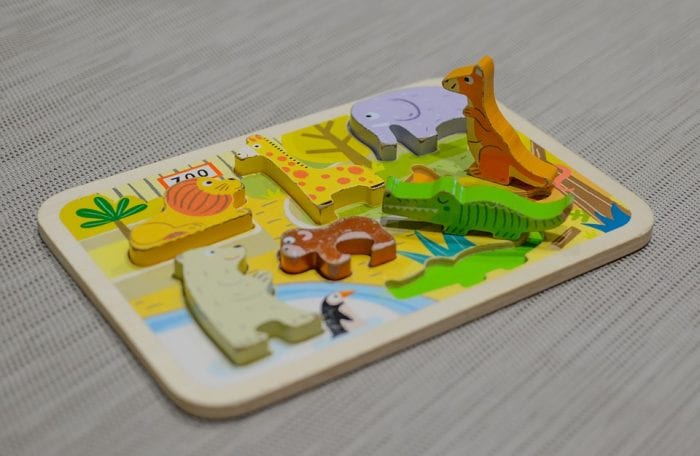 Conclusion
These are just a few of the toys that your baby will love. Reward your baby, who is learning to sit down with these toys. Your baby will love them, and so will you, so give them a try and see how effective they are for your child.
Baby Sitting Up Toys FAQs
What can help baby sit up?
A 4-5-month-old baby can sit on the floor with the use of pillows surrounding the child.
When should I put my baby in a sitting position?
Your baby might start sitting as early as four months but do not try to rush it. Make sure the baby has motor skills hold her neck up. Your child must have some balance and have trunk muscles.
How old is a baby when they sit up?
Between the ages of 4 and 7-month-olds, your baby will reasonably learn to sit independently. Most babies can sit well for several minutes without support by the time they're 8-months-old.
How do babies sit up?
Babies sit up by using their shoulders. They tend to push up from a tummy position or rolling from front to back. Kids strengthen the next set of muscles—the lower back—with learning to sit.
What causes a baby not to sit up?
If the baby doesn't sit up, watch out for the signs of cerebral palsy.
Are Sit me up chairs good for babies?
Sit-Me-Up should not be used until your baby can independently hold up their head.
Are baby floor seats good?
Teaching a baby to sit on the floor seat can promote the back and neck strength, and keeps the child off the ground. It can be great fun for your kid if the chair bounces or reclines.
Is it OK to make a 3-month-old baby sit up?
It varies from one baby to another. They may start propping themselves upon their hands, or with a little support from Mom, Dad, or a seat.
Do babies crawl or sit up first?
Sitting assisted at first, and then unassisted when she's ready. That's That's because babies often discover crawling from learning to sit.
What are the best toys for the baby to sit up?
You can choose from these baby sitting up toys: Best Classic Floor Seat to Help Baby Sit Up: Bumbo Floor Seat, Most Versatile Toy to Help Baby Sit Up: Boppy Nursing Pillow and Positioner, and Best Budget Baby Floor Seat: Regalo Grow with Me Floor Seat and Activity Chair with Removable Feeding Tray.
Baby Sitting Up Toys Other Resources
https://www.whattoexpect.com/baby-products/baby-care/best-products-sitting-up/
https://www.babylist.com/hello-baby/best-baby-floor-seats
https://www.bestproducts.com/parenting/baby/g113/baby-floor-seats-sitting-up/
Last Updated on June 25, 2022 by Jejomar Contawe
DISCLAIMER
(IMPORTANT)
: This information (including all text, images, audio, or other formats on FamilyHype.com) is not intended to be a substitute for informed professional advice, diagnosis, endorsement or treatment. You should not take any action or avoid taking action without consulting a qualified professional. Always seek the advice of your physician or other qualified health provider with any questions about medical conditions. Do not disregard professional medical advice or delay seeking advice or treatment because of something you have read here a FamilyHype.com.