Infants love swings because it adds the benefits of potentially creating entertainment like fun lights, sounds, and more. The lack of batteries makes them even better, and if you do have an outlet nearby, you definitely will love this feature. Shopping for an infant swing including an AC adapter can be hard to find the right one for your child, but luckily, you don't have to look far.  Here are the best infant swings with adapter sets that you can try out.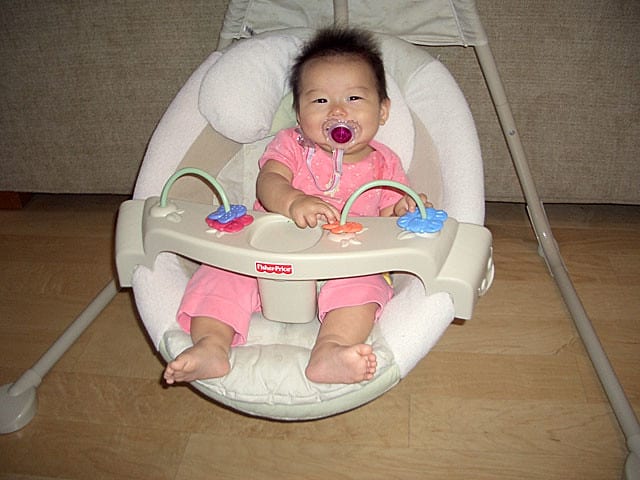 4Moms Mammaroo
This portable baby swing is probably one of the most talked-about and one of the best infant swing products on the market. This infant swing has five different motions that parents will make when they soothe a fussy infant, which is excellent if you want it to do it automatically. It also has Bluetooth compatibilities, which means that you can control this with your smartphone. These have come a long way, right?
The Mammaroo infant swing does have an MP3 speaker for soothing options, and a max weight usage of 25 pounds, and while it seems like a neat gadget, this infant swing is similar to traditional swings.
Probably the one downside is the hanging mobile doesn't move, and there aren't nightlights on the control buttons, which may make or break the purchase, but for a high-tech swing, this infant swing is great.
More infant swings online offer the same features as the 4Moms Mammaroo but are not as expensive. Some online stores can even ship it to your home for free (others with minimal cost). To give you an idea of what options you have in terms of the portable swings with an ac adapter, we created a list of the best infant swings from Amazon, and we included a brief description of each. You can continue reading the article to learn more about the different best portable infant swing brands with AC adapter and FAQS.
Top-Rated And Best Baby Swing With AC Adapter On Amazon
Ingenuity Power Adapt Portable Swing With AC Adapter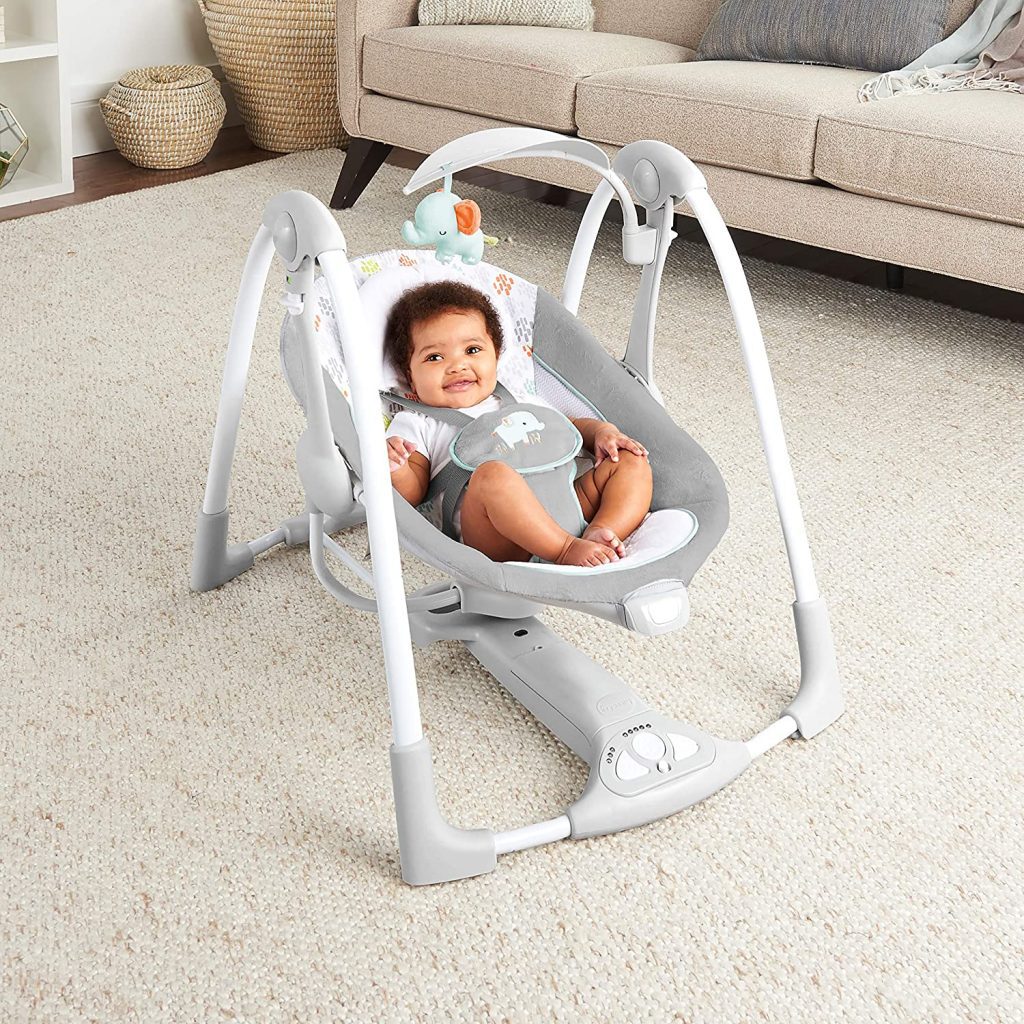 It can be converted from a swing to a vibrating swing seat. It is ideal for babies 0-9 months.
This swing has 5 swing speed settings that you can change according to your child's preference.
The portable swing has 12 soothing melodies and 4 nature sounds to help your child sleep better and longer.
It is a lightweight swing that you can easily and bring anywhere.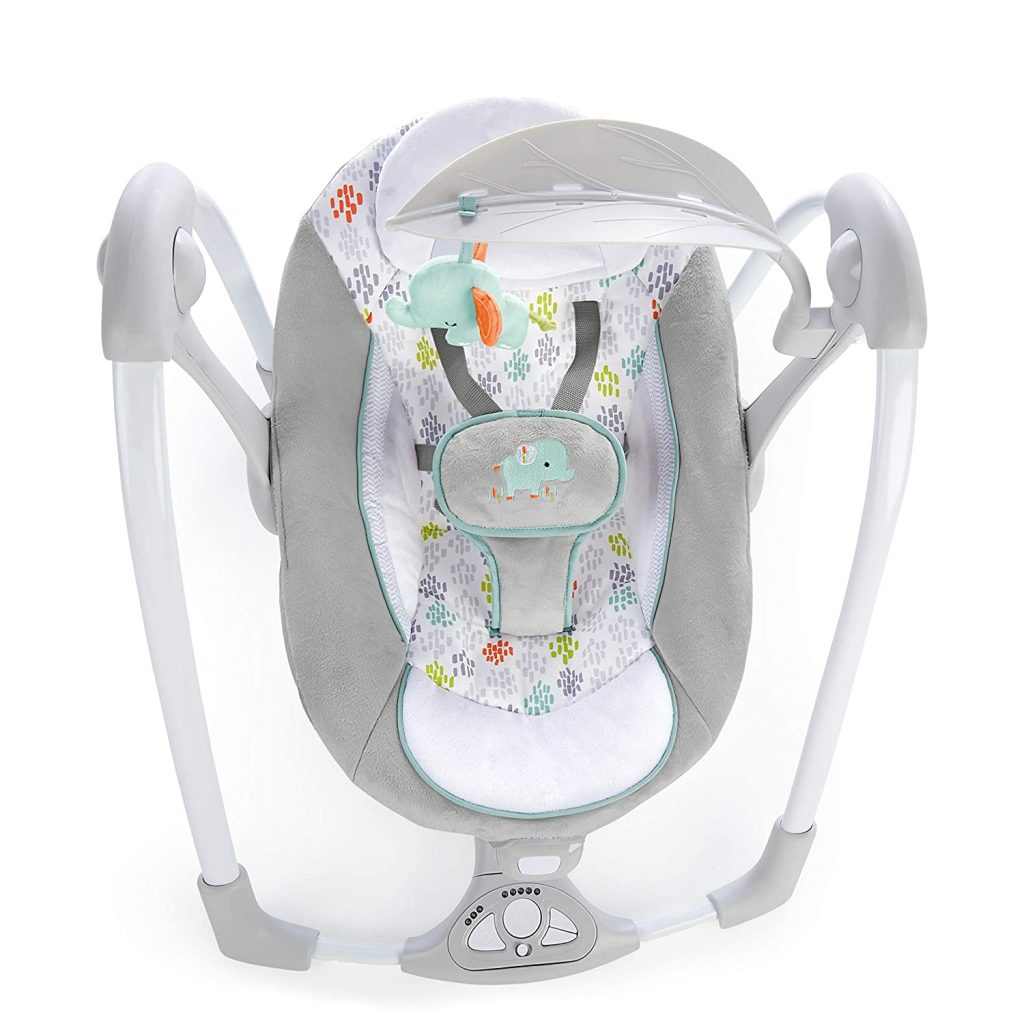 DuetSoothe Baby Swing and Rocker With AC Adapter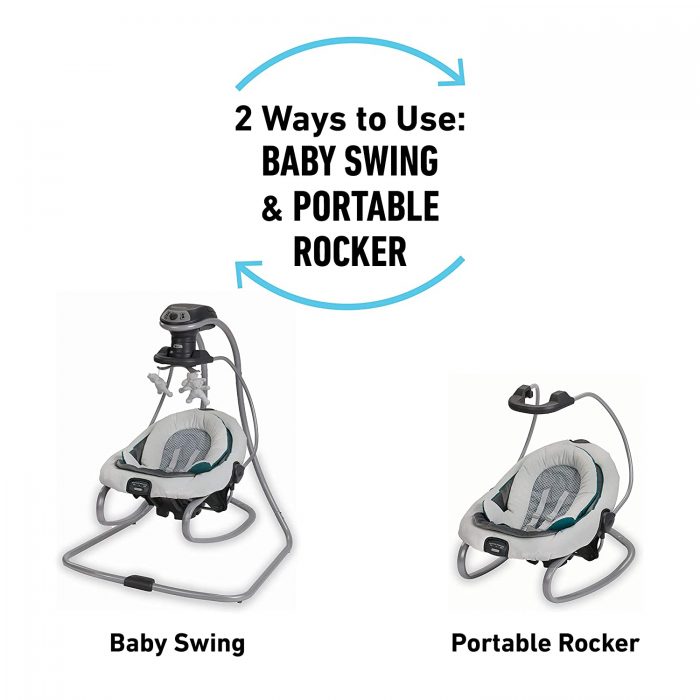 The Graco DuetSoothe features an ingenious seat with a side-to-side swing option or back-and-forth.
These portable infant swing with ac adapter include two soft toys, 10 classic melodies, and 5 soothing sounds may can help fall asleep quickly.
It is an extra quiet automatic swing that creates more peaceful moments for the infant.
You can detach the swing seat and convert it to a removable rocker.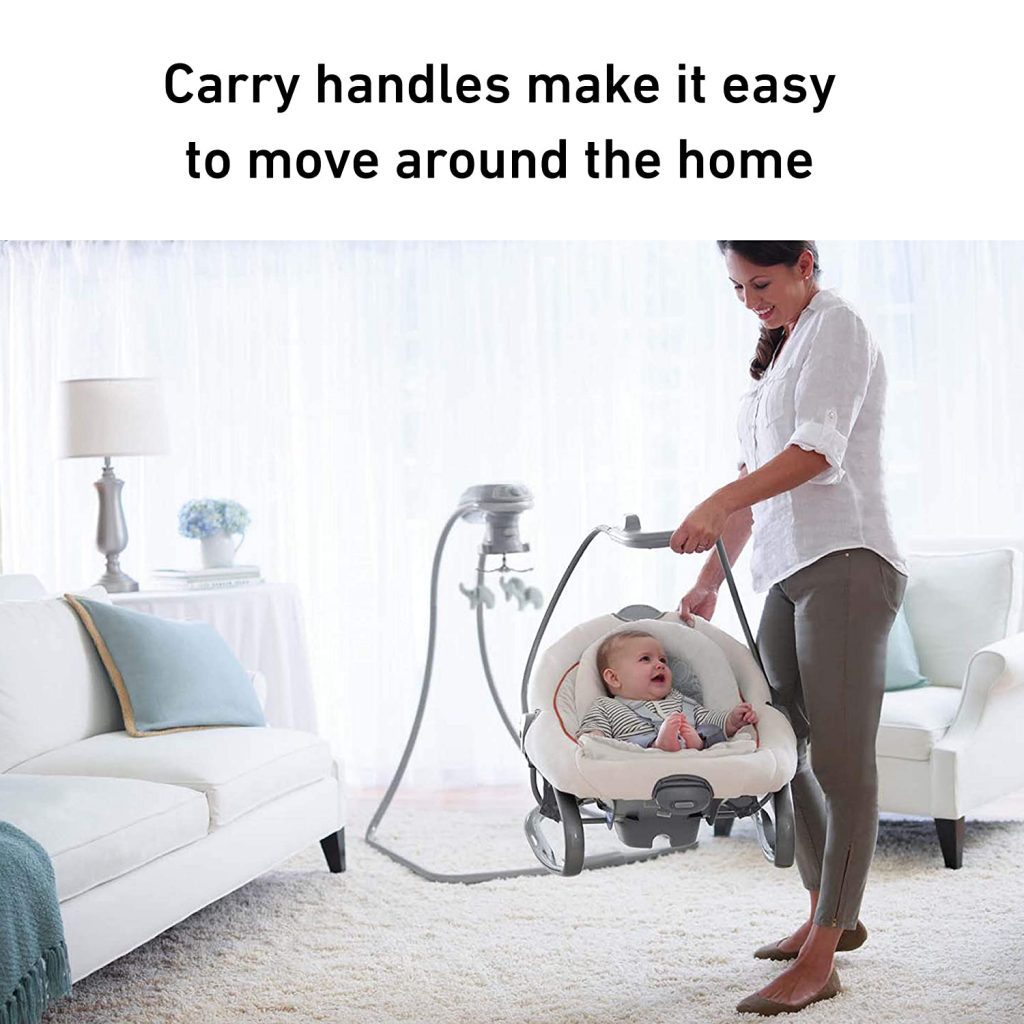 Graco Simple Sway Baby Swing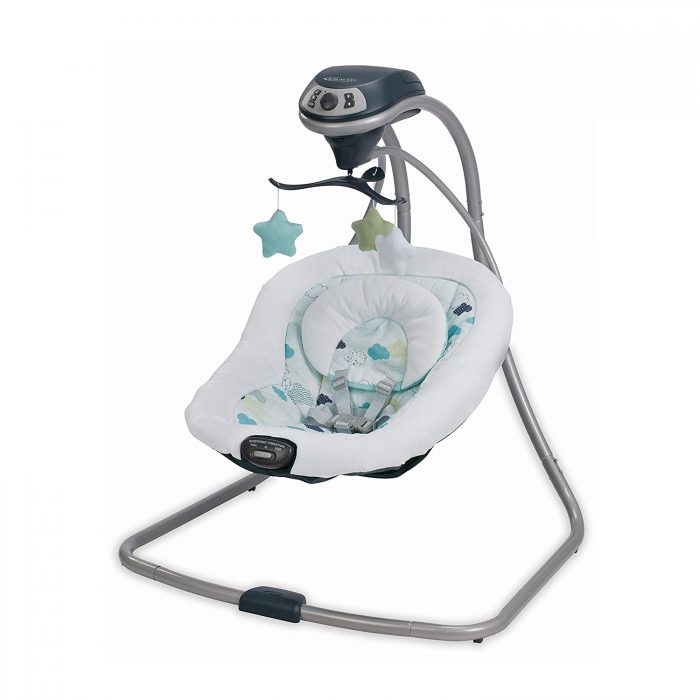 The Simple sway portable swing has a small frame and is perfect for a nursery with limited space.
It has a plug-in option which saves you money on batteries.
It has 2-speed vibration which promotes a relaxing environment for your infant.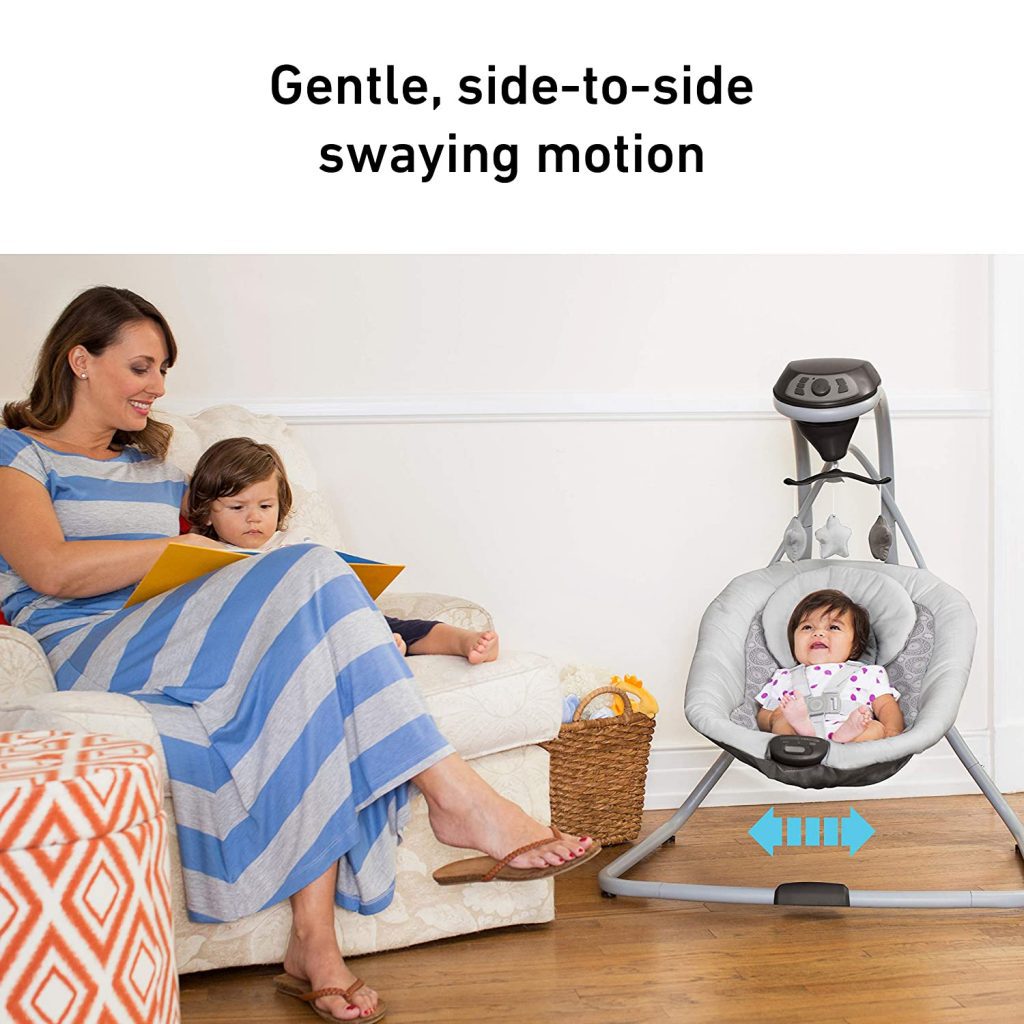 Fisher-Price Moonlight Meadow Swing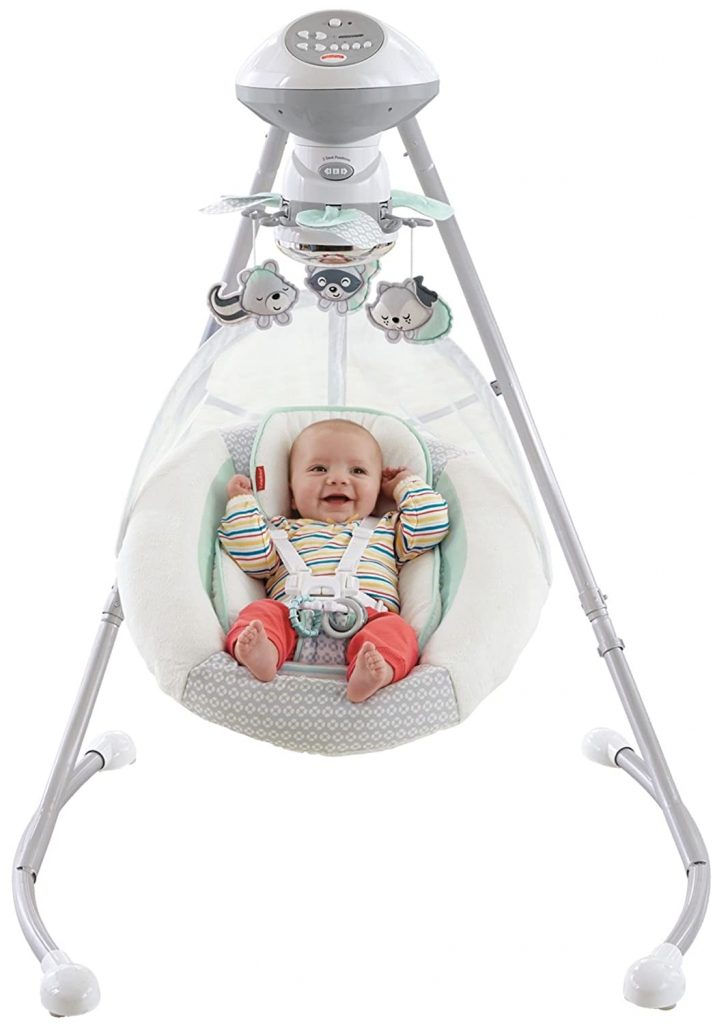 This Fisher-Price baby swing works as a cradle and swing
It has 6 swing speeds and 3 adjustable seat positions
It also has 16 soothing melodies to give relaxation to your child.
This portable infant swing is easy to assemble and you can bring it anywhere.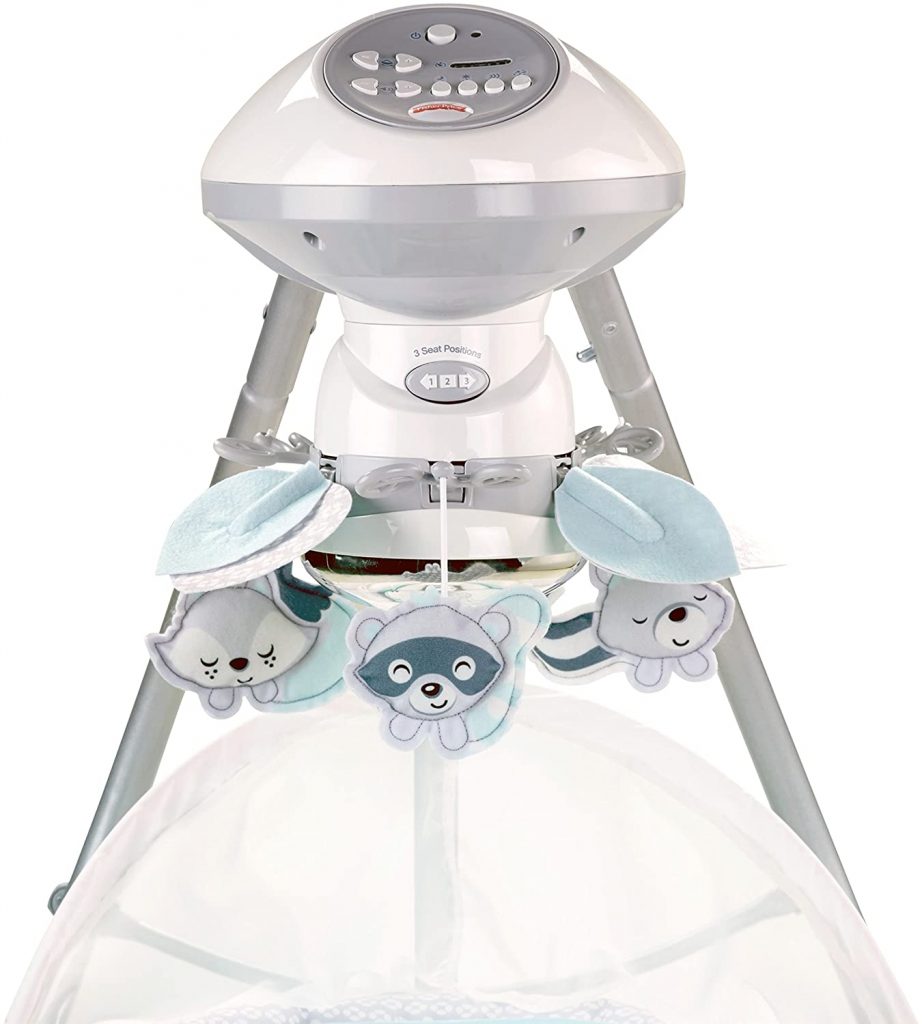 Graco Simple Sway
The Simple Sway is both a plugin and battery-operated infant swing, and if you want vibration, you will need to add batteries. Since it is a plug-in infant swing, it's suitable for indoor use. The seat is cozy and deep, and the seat pad fabric is super easy to remove, and if it does get dirty, throw it in the washing machine.  The plush head support is a little thin, but it is removable so that you can throw an extra pillow in there. It comes with six different swing speeds and 15 songs and soothing music that you can try. The vibration can be adjusted, and the two modes can are available.

However, unlike some infant swings, it only does swing side to side, which is like a cradle, and it is an excellent baby entertainment machine. Still, it does take up a lot of floor space, so it isn't easy to travel with, but it is suitable for uncomplicated use.
Graco Duet Baby Sway With AC Adapter
This one is also a infant bouncer, and it has both a battery and a plugin. It is one of the biggest models, which is a bit of a downfall, especially if you're trying to save real estate space in your home, and you can use this to play motions and music, and it uses a battery to control it.  You can move it around as a floor bouncer, and it keeps everything in one space, and the battery is adopted instead by plugging it into theinfantrocker, and it is something that will move according to the motions of the baby. It does have six different moving sounds and two vibrations, and you can adjust this to be most suitable for what the child wants. It is only able to swing from side to side, and it is adjustable, but you may want to remove the support since it is too thin for the newborn. It's a good one, just limited in features.
Ingenuity Inlighten 2-in-1 Cradling Swing
It has similar features to the MamaRoo brand, and it does come with a smartphone connection to entertain the baby. It also comes with eight different melodies, and three nature sounds, along with varying speeds for the swing. The seat of the infant swing is large enough for extra comfort for the children, and adjustable recline positions.  It does carry a minimum weight of five pounds, so your baby can use it from the moment they get home from the hospital. It is similar to the MammaRoo infant swing, also considered one of the quality infant swings, but with extra features, including a mobile that does move, which does beat out that one. However, there are a couple of quality issues, especially in the head support. The seat of the infant swing lacks it, and you'll need to bring removable head support to help keep the infant safe. It's also a bit bulky, but there are birds in the mobile and a mirror that provide hours of entertainment.
Fischer Price Smart Connect Sway
Another very advanced swing and it also connects with smartphone apps. This swing does a side-to-side, along with a front-to-back motion. It comes with colorful birds on the head of the child, and one of the birds does have a mirror. The seat is a bit wide, making it cozy for little kids, and it also comes with a five-point harness that is secure and great if you're worried about the kid getting hurt. It is good, and parents can remotely activate it, but the thing is, it needs manual rocking, so if you don't have the time to rock it, it may not be a good idea.
Sweet Snugapuppy Baby Swing
It is a straightforward one that you just plugin, and you can use this both indoors and outdoors. It is a bit heavy, so you can't move it around, and you can't take it a lot. It does swing both ways, though, and you can turn it around. Ti's got two recline positions, and 16 great sounds and songs, and it's super easy to convert as well if you need it. It does have smart technology too that adjusts according to the weight of the infant, which prevents the swing doesn't get low. It is comfy, and it has a cute puppy design to it, but you'll need to add more support for the infant.
These are all significant swings, and you can benefit from all of these, especially if you want something that works efficiently. These are all simple to the plugin. While all these items do have benefits and drawbacks, there is a lot that you can do with them. You can turn this into a foldable mini swing for storage and travel purposes.
Our Final Thoughts
One of the best pieces of infant gear you can get is a plugin infant swing. It is because the plugin infant swing provides hours of entertainment and relaxation. When you need some relaxation, buy infant gear that allows your infant to relax. These infant swings are all designed by professionals, giving your infant the relaxation they need. The prices of plugin swings don't cost too much, but they can allow your infant to calm down and take a nice nap.
With that said, pick wisely and pick a plugin swing that suits your budget. A plugin swing should meet all your needs, so get out and go to a store near you and shop for one.
Frequently Asked Questions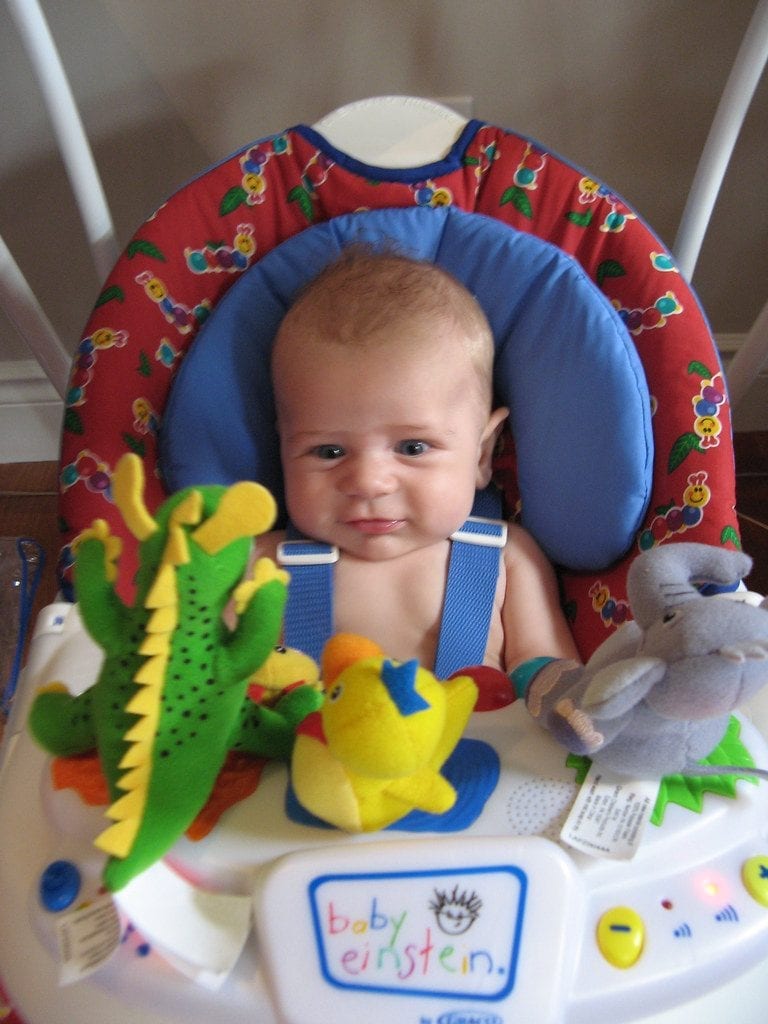 What Age Can A Baby Use A Swing?
A baby swing with a power cord is for babies who can sit up on their own. Usually, this is around the 5-6 month range, but it may vary. Always check the age range of infant swings when you buy them to make sure your infant is within the right weight limit and age.
What Is The Best baby Swing?
There is no "best" infant swing. There are swings for babies meant for all budgets and needs. These infant swings in this article are high quality and an excellent place to start, but some parents may find a infant swing with a power cord that works better for them.
Some parents want a infant swing with an AC adapter, while others will wish for swings with nature sounds. The best infant swing is up to your needs. Just look at a list of what some of the best swings are. Pick the best for your situation.
How Do I Choose An Infant Sway?
When planning to buy a infant swing, one of the questions that come into parents' minds is are infant swings expensive. Think about your budget, how many babies you have, and all the features you expect out of infant swings. Then, make your purchase. It's that easy, and you can be able to choose from some of the great infant swings.  Also, if you find that the infant swing gets a lot of infant love, make sure you buy one that lasts a long time. When you're at home, you can plug in most swings. Always pick one with plug-in options. To keep your infant happy, you may also check for additional features such as toy bar, built-in sounds with a soothing white noise option, a reclining seat, soft fabrics, a safety strap that goes over the infant's shoulders, or leg/waist strap for more peaceful moments while she is in the swing.
Is Sleeping In A Swing Harmful For The baby?
Infant swings are not beds, but with that said, there isn't anything wrong with letting your infant take a tiny nap, should you be nearby to watch. The nature sounds and the other features of an infant swing may end up putting the infant to sleep, so let them nap a bit, and if they haven't woken up, put them in a better location. Just don't leave your infant in the infant swing.
What's The Difference Between A Bouncer And A Swing?
Infant swings go in a swinging motion and are electronic. A bouncer is more spring-like and can move around naturally.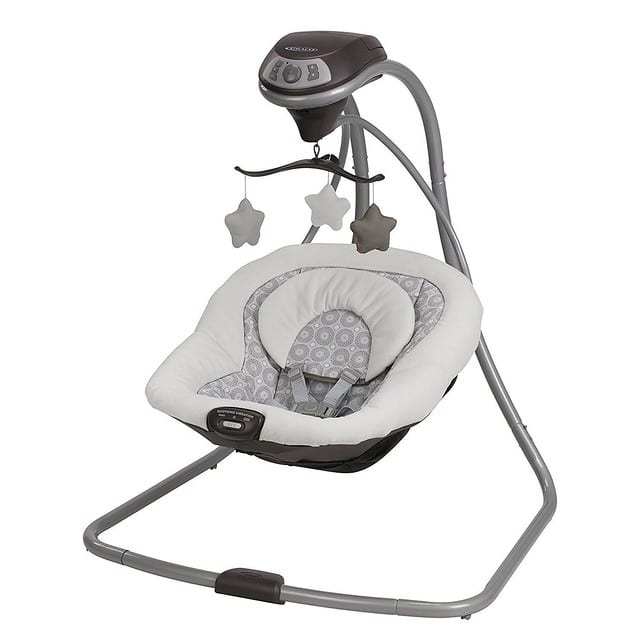 What Is The Purpose Of Baby Swings?
Swings have a calming effect that puts babies in deep sleep. But note that swings are also risky and unsafe when used incorrectly. Make sure to read the infant swing safety features.
Do Swings Cause Brain Damage To The Baby?
For some advocates and pediatricians, it is a form of child abuse that can cause permanent brain damage or even death.
Do You Need A Bouncer For The Your Child?
A bouncer can keep a infant entertained, and is suitable for birth up to 9 months. We believe that a portable bouncer is well worth checking out. Give it a go and see if your child likes it. Try the 4moms Mamaroo if you want a good bouncer. Also, some units are a swing and bouncer combo.
Is Vibration Terrible For The Baby?
A vibrating seat or vibrating infant swings can calm a infant down but use common sense. Make sure the infant swing doesn't tip over and make sure the batteries are not exposed. Otherwise, a little bit of a vibrating seat isn't necessarily bad for your infant.
Should I Use A Baby Swing?
Many parents find it quite useful for calming down a child or keeping them entertained. There's no reason not to try baby swings, in our opinion. Give them a go and see if they are for your baby.
Are Electric Baby Swings Safe?
Are Portable Baby Swings Safe?
What Are The Side Effects Of Baby Swing?
While infant swings can be a useful tool for soothing and entertaining your little one, there are some potential side effects that parents should be aware of. These can include overstimulation, which can make it difficult for your infant to settle down and sleep, and an increased risk of Sudden Infant Death Syndrome (SIDS) if the swing is not used properly or if your infant is left unsupervised. Additionally, some babies may experience motion sickness or discomfort as results to extended period of time or at a higher speed setting in using of the swing. Thus,  it's important to always use the swing in accordance with the manufacturer's instructions and to provide proper supervision to ensure your infant's safety and well-being.
How Long Can Baby Be In Electric Swing?
The amount of time that a infant should spend in an electric swing varies according to the model of swing that is being used and the recommendations provided by the manufacturer. However, as a general rule of thumb, it is recommended that the amount of time that a infant spends in an electric swing at one time be limited to between 30 minutes and one hour. It is essential to offer infants opportunities for tummy time, interaction, and different positions throughout the day in order to foster their development. In addition to this, make sure that you always refer to the directions and safety recommendations that were given to you by the manufacturer of the electric swing that you are utilizing.
What Age Is Best For Baby Swing?

Last Updated on May 13, 2023 by Shulammite Jan Languido
DISCLAIMER
(IMPORTANT)
: This information (including all text, images, audio, or other formats on FamilyHype.com) is not intended to be a substitute for informed professional advice, diagnosis, endorsement or treatment. You should not take any action or avoid taking action without consulting a qualified professional. Always seek the advice of your physician or other qualified health provider with any questions about medical conditions. Do not disregard professional medical advice or delay seeking advice or treatment because of something you have read here a FamilyHype.com.