The classic chalkboard will never go out of style. You see them in many different places, from the chalkboard sign at your favorite café to the classroom, and even on the fridge. Something about chalkboards gives them an edge over marker board items in some regards. For a kid, a small chalkboard can encourage creativity and allow them to do homework, draw, and have lots of fun with their little chalkboard. So, let's take a look at a few chalkboards for children, as well as what things you should look for in a mini chalkboard. You might decide to change your old one after reading this!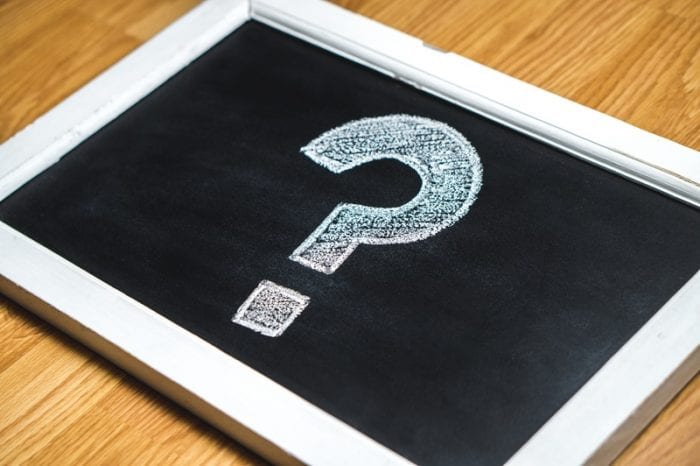 What To Look For In A Chalkboard
Here are a few things to look for in a chalkboard made for kids. These may be things you haven't thought about. These are things that will make your child's experience with a chalk board of their own better.
Chalkboards can be a hassle to erase. We've all known of boards that fling dust everywhere or have chalk that just sticks on there no matter how hard you erase. A good board won't have either and instead make erasing a breeze. A chalk board that isn't easy to erase will likely get used once or twice and then tossed aside. Make sure you check the reviews of mini chalkboards to see if others are saying they're easy to erase.
Some chalkboards for kids will offer a side that has an option for erasable markers. This allows your kid to be more creative and see which they like better. Both chalk and dry erase have their pros and cons, and your kid can have both with a board that offers that. You'll just want to look for a double sided chalk board that's used with on one side and dry erase markers on the other.
A functional chalkboard for kids should be portable. Kids want to take the board everywhere they go, so it should fold or be small enough to be mobile. Several options offer convenient storage solutions, enhancing their portability. One should consider acquiring a compact writing slate or a magnetic writing surface, or perhaps one that combines both features. A magnetic board allows children to keep all the necessary components in one place, as the magnetized writing sticks accompany the panel effortlessly.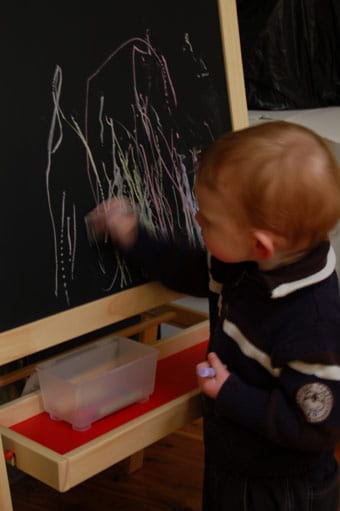 A good chalkboard should be sturdy. You don't want one that will fall or break, now do you? These boards should be great for people who are klutzy or end up dropping everything. It is advised to consider the quality of the slate when making a purchase. More affordable ones might be less sturdy. It could be beneficial to explore better alternatives like made of wood or those with frames. These choices not only provide an elegant appearance but also exhibit increased durability and practicality, ensuring an optimal writing experience for users.
You should find a board that fits your budget. Some will be cheap and offer quality, while others are more expensive and have more bells and whistles. Some have a balance of both. Look for the best board for your budget, and consider that when you buy.
There are different types of mini chalkboards. You can get a simple small rectangle shaped mini chalkboard.
An individual can find a range of compact writing boards with various features. They might opt for a tabletop version, a wall-mounted board, or even an easel-style design. These writing surfaces can also come in distinctive shapes that children will find enjoyable and engaging.
After considering the attributes of different mini writing platforms, it's worth delving into specific examples showcasing their unique characteristics and advantages.
IKEA 500.210.76 Softwood Mala Easel, 17″ L x 24″ W x 46″ H, Black/Natural/White
IKEA is one of the best names in quality, affordable furniture, and this one is a great little chalkboard for your little one. It's quite cheap and great for a child who wants a learning head start.
Introducing an impressive dual-sided display easel that serves multiple purposes. One side features a slate surrounded by a wooden frame, while the other boasts a dry erase whiteboard. Crafted from high-quality pine wood, the easel resembles a wooden A-frame when standing upright. Perfect for educational purposes or creating unique signs, this versatile tool adds value to various settings, It makes a great message board in a classroom or office.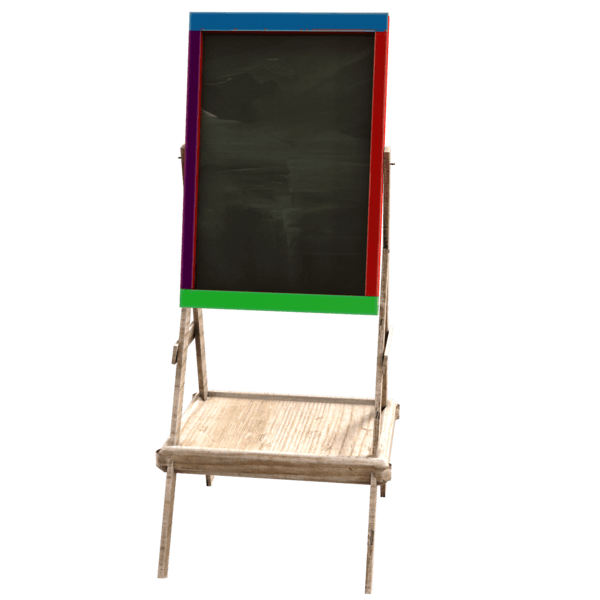 Board Dudes 17" x 23" Chalk Board With Oak Style Frame (CXM80)
This is a very cheap chalkboard. It goes for under $15 in most places and looks great. You can also purchase it in a pack of 2. This one has some mixed reviews, but many people like it as well. It's honestly one of those boards you may want to look into if you're on a budget. Just make sure that you know what you may be getting into.
This wood frame chalkboard comes with the hardware needed for wall mounting. It's a pretty big sized board so it wouldn't really fit into the mini slate category that's good for portability. However, it works great for a great sign that will be staying put, or for part of a child's playroom.
Schylling Chalk Board Brief Case
This chalkboard is shaped like a briefcase. This is great for a kid on the go, as it allows your kid to carry the easel anywhere easily. It has multiple sides, too. The case can conveniently hold the eraser, and markers with all the storage one could need. It is an exceptional choice for school essentials due to its rectangular shape, double-sided board capabilities, and ample storage features.
Step 2 All Around Easel For Two, Red/Yellow/Tan
Step2 is an excellent brand for younger children. It's made from plastic, not wood, giving it a bit more durability for a younger child. However, it does not fold, meaning it is less portable. Despite this, it is still quite small and easy to store, so it's not all bad. Try it out and see if your kid likes it.
It has a magnetic chalkboard on one side and a dry erase message board on the other. The chalkboard easel can be used by two children at one time, also. You can add a set of magnetic alphabet toys and numbers to one side so your littles can use it as a message board for learning.
Melissa & Doug Deluxe Wooden Standing Art Easel, Arts & Crafts, Easy To Assemble, Builds Fine Motor Skills, 47" H x 27" W x 26" L Assembled
Melissa & Doug always offers quality products, and this is no exception. It's a more expensive board, but you better believe that it has an unmatched quality that other boards lack. It also has clips and racks to make hanging it much easier. If your kid is invested in the idea of a chalkboard, this may be the one to buy. It's pricey, sure, but it can last a long, long time.
Your kids can use this with liquid chalk markers, regular markers, and even paints. There is a paper roller that stores the large paper for your children to create on. This particular product provides young ones with a more extensive space for imaginative expression compared to the limited surface of a common tabletop slate. With its top-notch quality and adaptability, this item stands out from the rest, making it an excellent choice for multiple uses such as sign creation, message boards, playrooms or educational settings.
Melissa & Doug Magnetic Chalkboard And Dry-Erase Board With 36 Magnets, Chalk, Eraser, And Dry-Erase Pen
If you like M&D, but don't want to pay the price of the last one, this one is much less expensive. It allows your kid to experiment with different drawing styles. With that said, the quality is subpar, and it does lack erasers. It is crucial to employ one eraser for handling both ink and EU tools. Embracing this method mirrors
The chalkboard is somewhat larger than a miniaturized version, which reduces its portability. Nevertheless, magnetic sandstone markers can easily be stowed on the surface of the board. Loddie Doddie has skillfully constructed this board to surpass the quality of numerous other similar magnetic chalkboards. It demonstrates exceptional performance for both creating signs and utilizing labels crafted for such surfaces.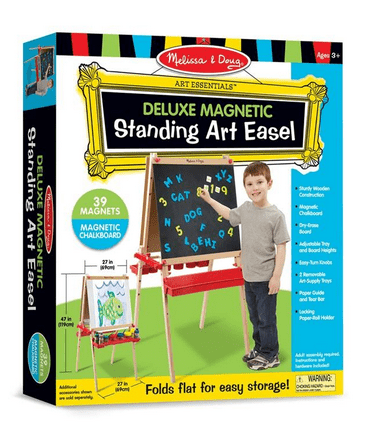 STUDIO DESIGNS Kid's Fold-A-Way Easel Natural 13211
As you may have guessed from the name, this is an easel your kid can fold and carry with them. This allows a traveling kid to take their creations with them. It takes a bit to wipe clean, but it does mean that you will have a much less hard time while traveling. You won't end up ruining your kid's creations.
Presenting a highly adaptable wooden board, which skillfully combines metal and plastic materials. This dual-sided marvel has one side for the application of liquid chalk markers or standard chalk, while the other is suitable for dry-erase markers. Youngsters can explore their creative talents with diverse artwork opportunities, whereas adults can create unique signage or personal message boards. To top it off, there's a paper dowel provided.
Loddie Doddie Best Magnetic Chalkboard
The Loddie Doddie Wood Frame Chalkboard is magnetic and can be used with the Loddie Doddie Chalk Marker set. You can mount this one on the wall and use it for a family message board or in the playroom for your kids to draw on. An analysis of a high-quality magnetic writing board slightly larger than average mini boards. Portability is somewhat compromised, but using notable magnetic dry-erase markers enhances its functionality. The markers can be conveniently stored on the board's surface. Loddie Doddie designed this valuable board to surpass the quality of many other similar products in the market. It serves effectively as a sign and works well with writing labels
Step 2 Pink Easel For Two
This is a cool easel for a girl who likes pink stuff. It's high quality, but the letters are said not to be as good. However, it's durable and allows for easy drawing. The thing is, it is a bit on the expensive side, which can make people think twice before buying the easel. You can see if it fits your budget.
They noticed that the magnetic chalkboard effectively aids children in learning spelling, letters, and numbers. Effortless to erase, this chalkboard easel with a plastic frame boasts durability. Designed to stand on the floor, it offers a larger drawing surface compared to tabletop versions. Children can utilize standard chalk or marker for their creative expressions on this versatile board.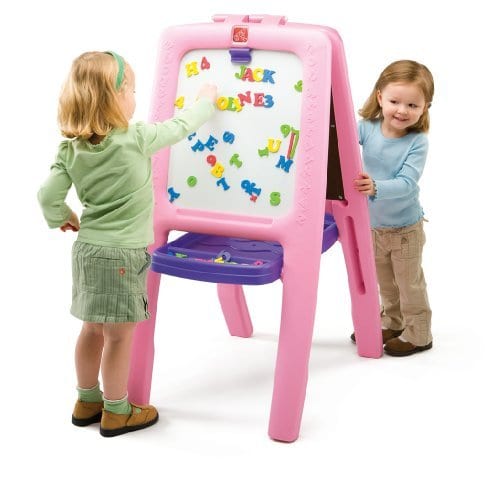 Chalkboard Set: Final Words
An erase board or a chalkboard can help your child grow in many ways. It can help improve their artistic skills or teach them how they can write down their assignments and solve problems. Buying a good board for your kid guarantees they will have a future of artistry and fun. Find a good board for your child and see if they like it. Then, buy them a better one down the road. And, if you retire one of their chalkboards, you can repurpose it in your home as a chalkboard sign or message board for your family.
Unleashing one's creative potential is essential for personal and professional growth. One powerful tool for achieving this is through the use of a top-notch slate board, which allows individuals to explore new ideas, collaborate with others, and delve into a world of unbridled imagination. By incorporating such high-quality boards into various settings – be it homes, classrooms, or workplaces – people can transform ordinary interactions into dynamic learning experiences that foster innovation, curiosity and problem-solving skills.
An exceptional slate board not only provides an accessible platform for artistic expression but also encourages teamwork as groups brainstorm ideas together. Such engaging activities can create a conducive environment for collaboration that transcends conventional barriers. Whether it's creating visually-captivating mind maps or illustrating complex concepts using simple drawings and diagrams – these immersive activities empower participants to dissect problems at hand, encouraging thoughtful discussions that pave the way to ingenious solutions.
Moreover, integrating interactive slate boards in educational contexts enhances learning outcomes by allowing students to participate actively in lessons rather than passively absorbing information. This approach caters to various learning styles by stimulating both visual and kinesthetic learners who learn better through doing instead of merely listening. Consequently, this stimulates higher-order thinking skills such as analysis, evaluation and synthesis which are vital components of successful learning experiences.
The resulting fun-filled interactive sessions transcend traditional boundaries enabling people from different backgrounds work together harmoniously towards common goals thus leading them ever closer towards personal excellence and collective success.
Small Chalkboard Set: Frequently Asked Questions
What Is The Best Chalkboard?
The slate would be one of the best, but it is quite expensive. That's because it combines grain consistency and durability and allows the accretion of chalk on the surface. You can find more great options here: https://www.countryliving.com/shopping/g33028348/best-chalkboards/.
What Is The Best Chalkboard For Kids?
If you want a portable board, the best option will be a mini chalkboard that has some sort of storage area for a chalk marker set or other supplies. If you're wanting something that's better suited to use as a standing set that could be a chalkboard sign or message board, then you can get an easel set. The best chalkboard sets for kids are:
Melissa & Doug Deluxe Standing
Elk & Bear Double-Sided Magnetic Whiteboard
Step2 Pink for Two
Step2 All Around for Two
Flip and Doodle Desk with Stool
All-in-One Wooden Art
Tabletop Magnetic & Whiteboard 2 Sides
Fold And Go Art Studio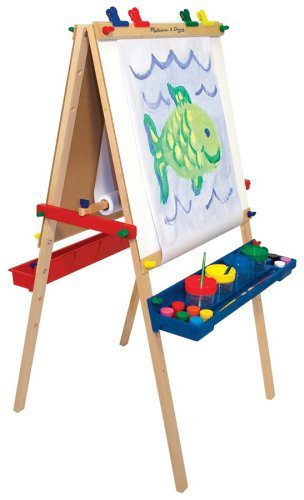 How Much Is A Chalkboard Wall?
The approximate costs of a chalkboard wall are about $15 for 50 square feet.
What Are The Types Of Chalkboard?
Types of small chalkboard sets include Magnetic, Multi-Task, Lap, Menu, Decorative, and Combination. You can get mini chalkboards that are easy to use in your lap, large chalkboard signs that stand as an easel, or a wall mounted chalkboard sign with a large drawing surface. Read further here.
What Is The Use Of Chalkboards Set For Kids?
A small chalkboard set allows kids of different ages to play, create, and develop strong motor skills. The can use them to work on spelling with magnetic tiles, use them in the car as with a mini chalkboard that's portable, make chalkboard signs out of them like for a lemonade stand, or simply draw a pretty picture with a marker set.
What Can You Use Instead Of Chalk On A Chalkboard?
Whiteboard Paint is an excellent alternative for the chalkboard. It is much more environmentally friendly. You can also use a chalk marker set.
What Is The Best Chalk For Chalkboards?
Regular old Crayola chalk works the best. However, if you want something that isn't messy, try using a chalk marker set. They write more clearly so they are perfect for making chalkboard signs out of.
What Is An Easel Board?
An easel is an upright support for displaying and fixing things on it. This is good for a chalkboard sign.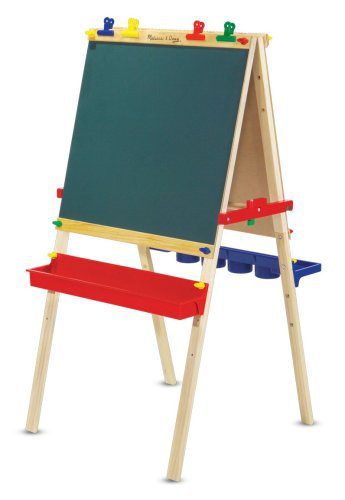 What Age Is An Easel For?
Four years old is the age recommendation for the easel. Anyone who likes to stand and make art or makes chalkboard signs will find an easel useful.
What Is The Best Material To Make A Chalkboard?
You can try to use a thin piece of wood just about any surface. Then, cover it with 3-4 coats of chalkboard paint.
You can also use chalkboard contact paper to make your own chalkboard surface. All you need is a smooth surface to adhere it to. There's no risk with using the contact paper because you can easily remove it without leaving anything behind. You can even turn a window into a chalkboard with contact paper. Chalkboard contact paper is inexpensive and super versatile.
Who Makes The Best Chalkboard?
In pursuit of the top small chalkboard sets, it's crucial to consider several factors such as price, the frame, where it's sold, and the brands offering these delightful items. These worthy chalkboards are ideal for home use and can be easily place around the house or utilized for creative projects.
When comparing the price of various chalkboards, one should consider not only the board itself but also the quality of the frame. Brands with a proven track record of producing premium products are preferable, as they often yield better results and offer a more satisfying experience.
Some stores offer a range of small chalkboard sets, but choosing the right one requires a keen eye for detail and careful consideration of the desired results. Opting for a chalkboard with a non-porous surface can make all the difference, as these boards allow for seamless compatibility with chalk markers and other writing tools.
Some notable brands offering top-notch chalkboard sets include Quartet Lap Boards, Quartet Black Porcelain Classroom Chalkboards, and Quartet Standard Black Classroom Blackboards. These boards have proven their merit among users who prioritize quality and style in their homes.
To conclude, to find the greatest small chalkboard collections, one must examine various aspects such as price, frame, the store it's sold in, the brands producing these products, and the intended results. By keeping these factors in mind, you'll undoubtedly find that perfect chalkboard set to cater to your creative needs and elevate your home decor.
What Chalkboard Is The Cheapest To Use?
The ideal option is a slate. This choice offers a blend of uniform surface texture and longevity that enables the steady buildup of chalk on the board's face.
What Material Makes Good Chalkboard?
Non-porous surfaces commonly employed for blackboards consist of materials such as slate, porcelain, acrylic, and vinyl. Choosing a non-porous option is strongly advised, particularly for those who intend to utilize chalk markers. In the event that a chalk marker comes into contact with a porous surface, it could infiltrate the pores and leave behind unsightly stains.
What Are The Weaknesses Of Chalkboard?
A significant drawback of using traditional blackboards is the chalk dust produced. This dust tends to spread all around, and one can even inhale it. However, when utilizing markers on a whiteboard, there's a risk of inhaling chemicals that might be more detrimental than chalk dust.
Which Color Is Preferred For Blackboard?
Blackboards are usually green instead of black.
Last Updated on May 15, 2023 by Patrick Magtaan
DISCLAIMER
(IMPORTANT)
: This information (including all text, images, audio, or other formats on FamilyHype.com) is not intended to be a substitute for informed professional advice, diagnosis, endorsement or treatment. You should not take any action or avoid taking action without consulting a qualified professional. Always seek the advice of your physician or other qualified health provider with any questions about medical conditions. Do not disregard professional medical advice or delay seeking advice or treatment because of something you have read here a FamilyHype.com.