Your daughter is a year old. My, does time fly. For you, it probably feels like yesterday when you or your spouse were pregnant and wondering what you would name her. Now, your daughter is celebrating her first birthday, and you're starting to see signs of independence. She is learning how to walk, talk, and is quite curious. Her brain is developing at an astounding rate, and your focus should be on a perfectly sized toy that can stimulate her mind and her curiosity. Luckily, we have you covered. Here are some top gifts for a 1-year-old girl. These can work for boys as well since the needs of one-year-olds are pretty much the same.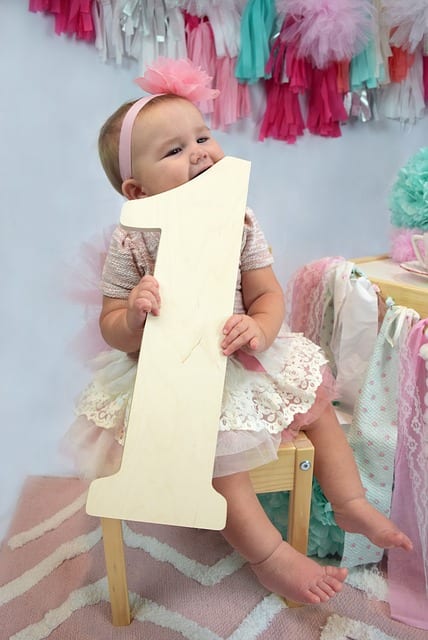 Green Toys Shape Sorter
When your daughter is learning about shapes, this sorter is a great way to go. This is a neat little way to manipulate shapes and fit them into others to see if they are going to work or not. It's a cheap way for your daughter to learn, and your kid will love every bit of it.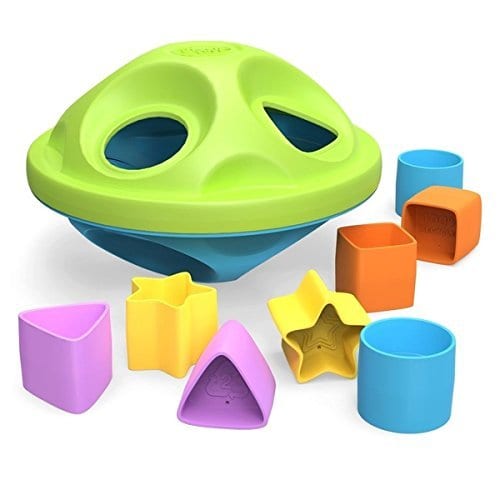 Melissa And Doug Rainbow Caterpillar Gear Toy
This is a puzzle that involves pegs. You put together a caterpillar made of gears, and then you can move it around and watch a caterpillar wiggle along with the beat. It's worth trying for that alone. Check it out today and see what we're talking about.
Fat Brain Toys Tobbles Neo
This is a perfect size stackable tower that involves putting all the pieces together and then toppling or spinning it if you want to. It's eco-friendly and safe for toddlers, all of whom will love putting together this creation and then watching it fall.
Hape Pound & Tap Bench With Slide Out Xylophone
What one-year-old doesn't love playing music? This is a beautiful xylophone that your daughter will love to smack around and hear the noises. It's a xylophone that plays some cute interactive toy that your little one will love. Your daughter may even end up being involved with playing music as she gets older, which is always a plus.
The Fisher-Price xylophone is another great option for introducing music to young children. It's durable, colorful, and comes with easy-to-use mallets for striking the metal keys to creating fun sounds. With these, you can foster a love for music and help develop your child's coordination and cognitive skills.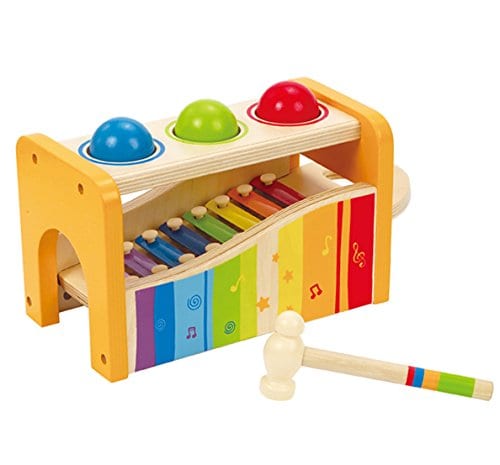 Boon Building Bath Pipes Toy Set
Bath toys are iconic for toddlers. What little toddler doesn't like playing with favorite toys while they take a bath? These toys and gifts are built precisely for the bathtub, and they are quite amazing. They can suction to it, so your baby can put them together and make shapes or move them around. It's a unique bath toy for sure, and a lot different than your standard rubber ducky. It's one that's worth trying out, and we highly recommend it if you're curious about what your child can do with a bath and some imagination.
Manhattan Squish Activity Grasping Toy With Color Bursts
Okay, so toys that encourage grasping are good. It helps your daughter learn more about different textures and helps them when they are a little agitated while they wait. This is like a rattle, and it even has beads so your daughter can hear them. It's squishy, too. It's one of those toys where you have to see it to believe it, and you're going to love every bit of what it can offer your daughter.
Elephant Sshlimpie Blanket Plush
Your little girl may start to love using her blanket. It works great as a security feature, making them feel safe about the world around them. On the other hand, it's fluffy and fabulous for a sensory-starved child. This is one blanket she is going to love to sleep in since it forms an awesome soft plush that's worth checking out.
Jellycat Odell Octopus
This is another unique plush that will be a good companion for your daughter. It's beautiful, brightly colored pink with arms that your child can latch onto. A cloth that encourages hand-eye coordination is always a plus, as it teaches grip and stimulates your daughter's need for companionship. Try this one out today and see what we mean.
Indigo Jamm Colin's Camper Van Playset
This is a wood camper that comes with some peg dolls in them, along with a camper, and it even has a pet dog.  They can take it on adventures outside or even just around the playroom. This is good because it teaches them how to take items in and put them out.  This fun little camper van also comes with generously sized small wooden play toys too, so it creates a relatable setting. Plus, one-year-olds are still learning how to navigate life through role play, so they need that little bit of extra help they can get, so this can also teach them the motor skills necessary.
Radio Flyer Classic Wagon Walker
This is a cool toy that helps stimulate your girl's walking abilities. Something to pull on can help her muscles grow. It's a cool wagon that she can put stuff in, and you can take her on a ride, too. Try it out today, and see what you can do with it. Check for prices and reviews here before you purchase separately.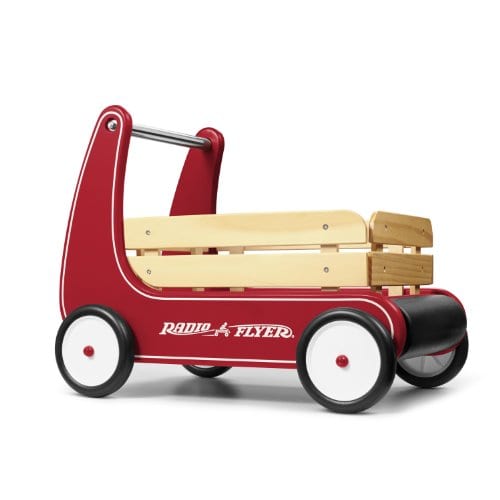 CRASH! BOOM! A Math Tale
This book by Robie H. Harris makes for a new bedtime story you can read for your little child. This is a book about an elephant who stacks blocks. It's an ideal way for her to learn more about math, all with a cute elephant character she is going to love. Read it to your daughter every night and see what it can do.
Conclusion
At the age of one, or even until she reaches two years, it is important to focus on toys that stimulate your girl's senses and support her growth. Gendered toys such as dolls may not be essential during this stage. Instead, provide toys that foster curiosity and enjoyment. If you are interested in your daughter's development, conduct some research to find toys that will aid her growth. Remember to share joyful moments together during these early years of parenting, and consider exploring a wide range of options beyond traditional gender norms, including toys related to tech, fashion, and more. Embrace your parenting journey and empower your daughter to explore her interests and rights.
Best Toys For 1-Year-Old Girl FAQs
One-year-old kids are little action stars. This is the stage where they start to explore, learn, and become active. Giving them toys that will support their development is a good idea. Here are some of our recommendations:
Curious George in the Box
Baby Einstein Sea Dreams Soother Musical Crib Toy and Sound Machine. …
VTech KidiBeats Drum Set. …
Hape Galloping Zebra Walker
Skip Hop Explore & More Yeti Shape Sorter Toy. …
Radio Flyer Classic Wagon Walker
Fisher-Price Bright Beats Dance & Move BeatBo
What Do You Get A 1-Year-Old For Their Birthday?
Not only it's the first-ever birthday of a child, but it is a good time also to support them with their curiosity, exploration, and development. Check out these gift ideas for her 1st birthday:
Melissa & Doug Peek-a-Boo Touch and Feel Puzzle
Manhattan Toy Tree Top Adventure Activity Center
HABA Nature Shape Sorting Box
Infantino Press and Stay Sensory Blocks
Lego My First Puzzle Pets
PlanToys Fountain Bowl Set
Hape Pound & Tap Bench with Slide Out Xylophone
Eco-Kids Finger Paint
What Can I Buy My 1-Year-Old Niece?
A niece is someone close to your heart and will always be a family to you. Here are some of the ideal gifts that you can give on any occasion:
Play Silks
Shape Sorter
Stacking Rings
Dolls
Personalized Books
Stacking Boxes
Stacking Cups
What Are Good Educational Toys For 1-Year-Olds?
For one to be educational, its purpose should help children encourage to learn multiple skills. Here are some educational toys a one-year-old kid deserves to have:
Goobi Juniors 40 Piece Construction Toy Set
LeapFrog Little Office Learning Center Toys
Battat Discover Farm Animals Activity Center
VTech Sit-to-Stand Learning Walker
Alphabet Blocks Toys For Toddlers
VTech Sit-to-Stand Learning Walker
Last Updated on May 9, 2023 by Bernadine Racoma
DISCLAIMER
(IMPORTANT)
: This information (including all text, images, audio, or other formats on FamilyHype.com) is not intended to be a substitute for informed professional advice, diagnosis, endorsement or treatment. You should not take any action or avoid taking action without consulting a qualified professional. Always seek the advice of your physician or other qualified health provider with any questions about medical conditions. Do not disregard professional medical advice or delay seeking advice or treatment because of something you have read here a FamilyHype.com.