If your child loves to play basketball, then you'll want to get them a ball that they can work with. The problem with many basketballs is they can be too big for their hands, and if their hands are tiny, then it can be hard for them to hold the ball. Luckily, there are some options for those with little hands, and here, we'll talk about the top basketball for kids that works with tinier hands so they can play this fun game.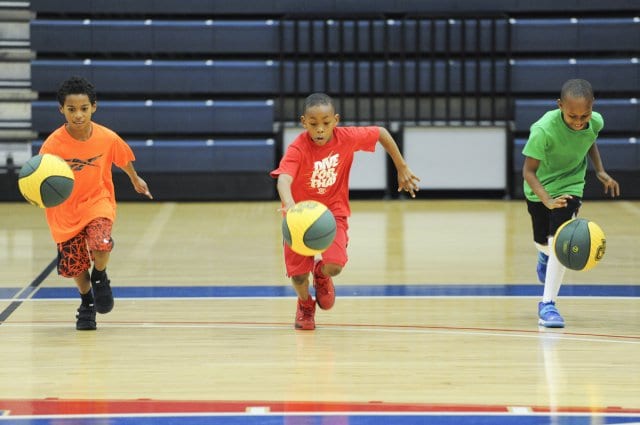 SKLZ Pro Mini Swish Foam
This one is the best for young kids, and it's a great starting basketball for them. It's got a firm feeling that will have a bounce to it, for shooting some hoops with minimal problems, along with dribbling. It's a quiet foam too, so if children want to play with it inside, they can without bothering you or anyone else. It's great also, cause it works for smaller nets as well. It is excellent and versatile, and it can be for basketball hoops, or just playing catch. It is durable as well, and like a traditional basketball, you don't need to inflate it. So, if you want something good, and won't hurt anyone, this is an excellent basketball for beginners. The one downside to this is that the coating might come off as you use it, but it's a good start. It's perfect for tiny hands too!
GlowCity Light Up
Now, what I love about this one is the fact that you can play with it, whether it's light or dark outside. Unless you live in Alaska, you're going to have darkness. It can be hard to continue to play if it does get dark, and a missed throw could mean a broken nose or even a lost ball. This one is a solution, and it can maintain the weight and size that both younger and older kids can use. It also has the right balance that also comes with LEDs that glow and have zero wobbles. This one is good if you want to get them something simple, and since you can put batteries in it, it is quite lovely. And, if the child isn't using it, after 40 seconds, it will automatically shut off. That way, you don't have to worry about the battery draining. Pretty cool, huh?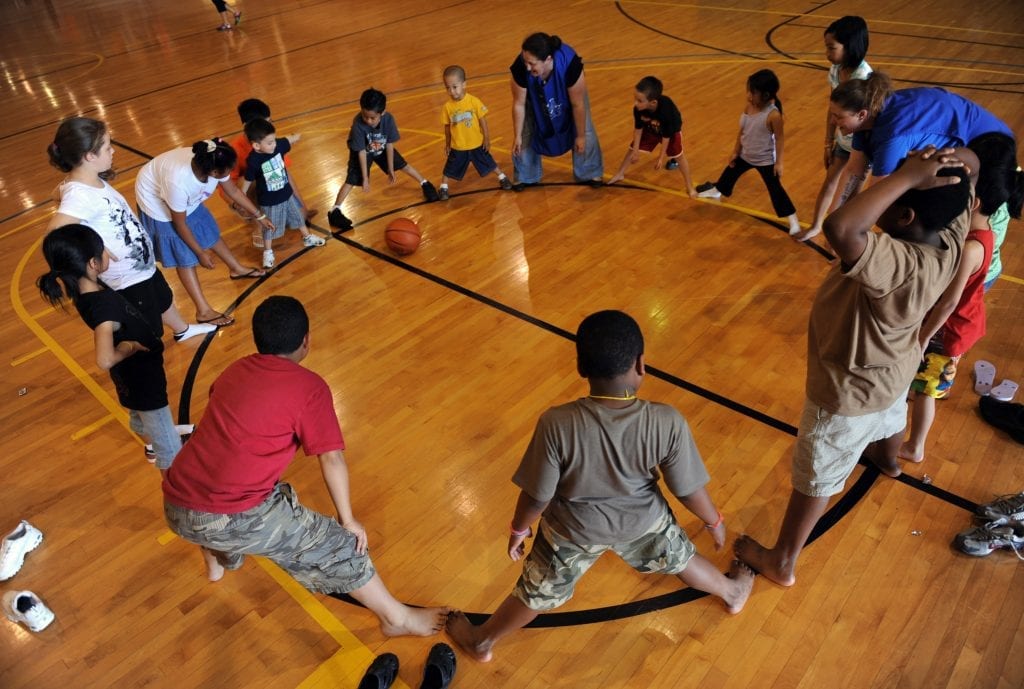 Baden Skill Coach Heavy Trainer
Now, if your child plays on a basketball team, or with a special travel team, they will want to get better. One of them was to do it is well, a weighted basketball. They're a good investment, but they come with a downside: usually, they're a bit too big for smaller hands. But, this one is for child-sized hands, with the weighted nature that the child can use to improve strength, shooting, and handling. It's durable enough to withstand hours of this. It also comes with some good videos and trills that will help the child use this to get better. It provides the feel and looks of a traditional ball, but it comes with a size that's manageable for kids. It comes fully inflated and with a rubberized coating on top of this to help stop leaks from happening. In short, it's the perfect ball for kids to use, and one that they will enjoy!
Spalding Rookie Gear  
This one is kind of the opposite of the one mentioned before, where it's made lighter and is for children under age 8. It's a lightweight basketball, weighing less than the standard ones, which makes it easier for children to pass, dribble, and even throw this. It's of high-quality leather with an excellent grip, which is perfect for learning the basics of basketball and creating confidence. It's got a good bounce, made for both indoor and outdoor uses, and it's ideal for children to learn the game, and if they know how to play already, this is a good one to help them familiarize with how to shoot and pass, which in turn will help them build confidence. It comes in bright colors that little ones will love, and is an extra appeal to them as well.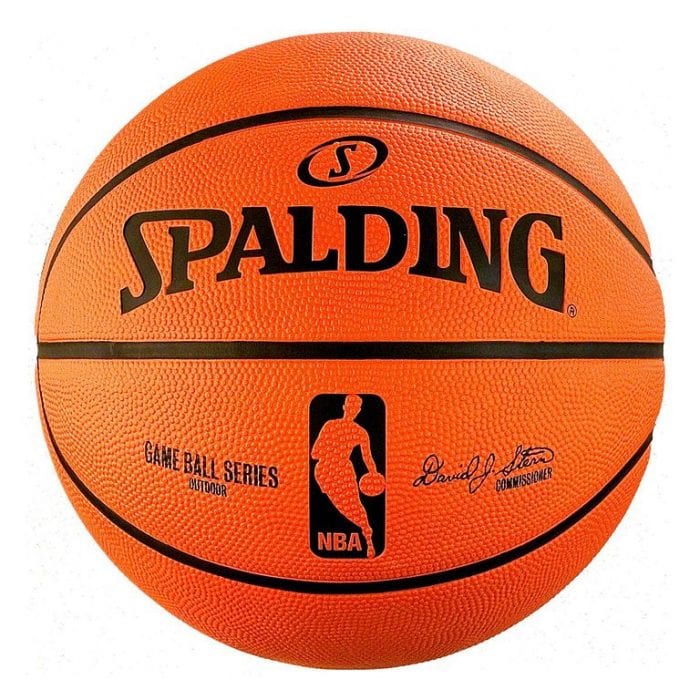 Spalding NBA Mini
This ball is another top basketball for kids who want to learn a bit about basketball, but don't know where to begin. It has a rubber cover on it, so it's got the feel of a real basketball that makes it feel like they can handle the real thing, even though it's smaller. While it is hard to use a traditional basketball for some kids, this one allows for hem to learn the basics without needing to use a bigger all. It's also got a good bounce, so children can learn to rebound and dribble. The colors are bright, and it does have the official NBA logo emblazoned on it. It's suitable for both indoor, along with outdoor use, and does come naturally inflated. The durable nature of it is ideal for children, and it's super easy and lightweight to throw. Plus, the small size is perfect for those with smaller hands. If your child exhibits interest in learning the game and wanting to get this figured out for themselves, this is one of the best ways to learn the game, and it's a fun basketball that they'll love to use.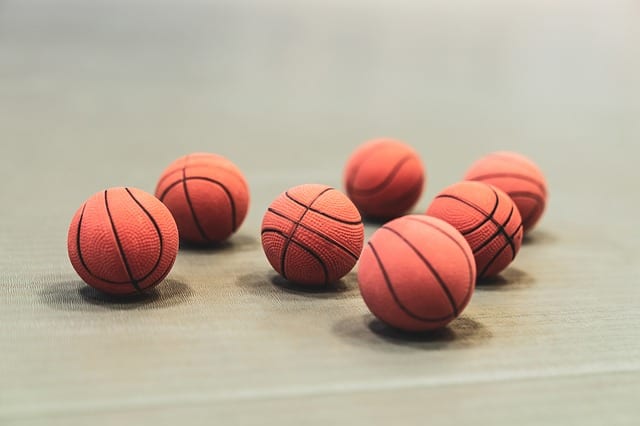 Basketball is a ton of fun, but the problem with many traditional balls is the fact that they tend not to accommodate the smaller hands that are out there. This post is the answer to that, for these are the best balls that children can learn to use, and they're for smaller hands, so children can learn to manipulate them quickly, and get better at learning the game with every use, turning them into the future NBA stars they want to be.
FAQs On Top Basketball For Kids
Who is the best kid basketball player?
Emoni Bates is the best kid basketball player to date. He is only 13 years old, but he is already 6'7" tall.
Which brand of basketball is the best?
Spalding makes some of the best basketballs. Its products are used in the NBA and other competitions.
What is a good basketball?
The top basketball for kids can be controlled and gripped easily by the player. It should have a great bounce, too.
What is the best indoor basketball?
Wilson Evolution Indoor Game Ball is the best indoor basketball. It is made out of composite leather and has a buttery texture.
What is the most expensive basketball ball?
The most expensive ball is Spalding NBA Official Game Basketball. The brand used genuine leather to make it. Every ball costs approximately $170.
How do you pick a good basketball?
You should decide on what type of ball matches the court you'll play on, as well as the size required for the game. Then, find out which one agrees with your budget.
How do I know what size basketball to buy?
The ball that NBA and FIBA players use has a circumference of 75 cm. WNBA athletes' basketball measures 72.4 cm. For kids below the age of 12, the ideal circumference is 68.5 cm.
What size basketball do I need?
The basketball size you need depends on your age and type of court. See the basketball sizes above for guidance.
Top Basketball For Kids Other Resources
https://www.scarymommy.com/spotted/best-basketball-kids/
https://www.momjunction.com/articles/best-basketball-for-kids_00523868/
https://playnbasketball.com/best-basketball-for-kids/
Last Updated on January 26, 2023 by Rejie Salazar
DISCLAIMER
(IMPORTANT)
: This information (including all text, images, audio, or other formats on FamilyHype.com) is not intended to be a substitute for informed professional advice, diagnosis, endorsement or treatment. You should not take any action or avoid taking action without consulting a qualified professional. Always seek the advice of your physician or other qualified health provider with any questions about medical conditions. Do not disregard professional medical advice or delay seeking advice or treatment because of something you have read here a FamilyHype.com.