There are many, many different dolls out there in the baby doll world that look like infants with a wide range of realism and skin tones for proper representation. Some of the most popular include Baby Alive, Cabbage Patch Kids and Bitty Baby (by American Girl), but other brands like Fisher-Price and Melissa and Doug also offer excellent dolls.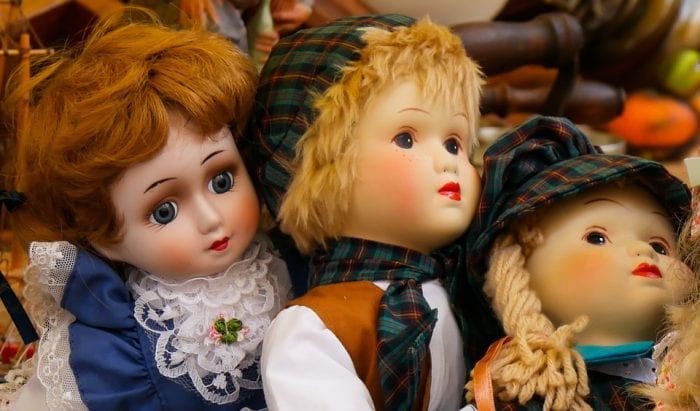 The best baby dolls for younger children are often flexible and soft without many parts, while the best baby doll for an older child has more accessories to play with to keep them interested for longer. Different brands cater to these different needs like various skin tones, while others have different lines within their brands that are made for certain age groups.  Dolls, just like a stuffed toy, are excellent gifts for girls who like to pretend play or imaginative play.
Best Baby Doll For Children Aged 1-2
Children's first dolls should be soft and simple, but still interesting to the child. Dolls that come with no small parts or removable accessories are great for this age group. Ideally, the baby doll should also be bright-colored in various skin tones and the right size for children this age to hold and manipulate.
Some of our favorites include Fisher-Price Brilliant Basics Baby's First Doll, Cabbage Patch Kids Newborn Doll or Melissa and Doug Mine to Love Soft Body Doll. These dolls are all excellent because they do not include too many small pieces and come from reputable brands that you know will use clean materials, which is extra important for small children that often put dolls in their mouths. A great alternative to dolls is a stuffed animal or plush dolls. Plush dolls are soft and made with cloth. Plush dolls are comfortable to hold and usually comes in the form of animals. You can give your kid some plush dolls if they don't like dolls.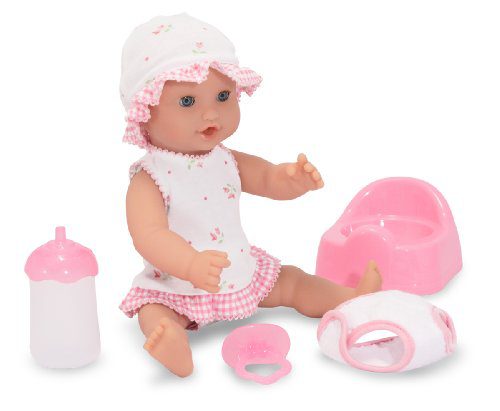 Baby Dolls For Toddlers
The best dolls for toddlers start to bridge the gap between dolls with few pieces and accessories and hundreds. These dolls are best if they are simple, but more intricate in their design. They also are great when accompanied with larger accessories that children couldn't swallow like car seats, pacifiers and strollers because they allow for more interaction without risk to the child.
Popular dolls for this age group include Melissa & Doug Brianna 12-Inch Doll and Berenguer Boutique 15″ Soft Body Doll. These dolls are great because they take on more realistic characteristics like hair and eyes that open and shut but provide few opportunities for accidents. They are also highly compatible with extra like doll-sized strollers and car seats.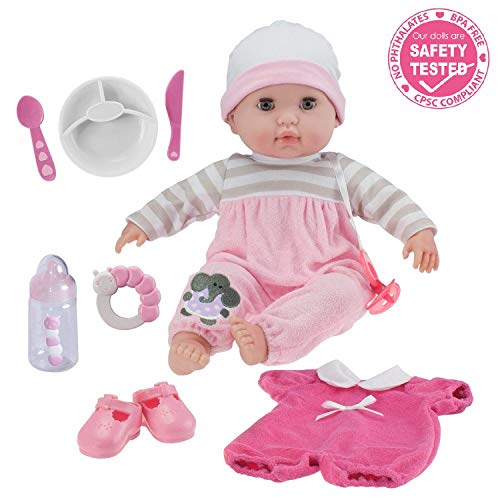 Best Baby Doll for Kids 5-8
The absolute favorite baby doll of children in this age group is often the Baby Alive doll. These dolls come with food and diapers and can teach children about the real process of feeding and bowel movements that babies need, all packaged in a fun which makes it one of the best dolls. They also come with a variety of skin tones and a magnetic pacifier.
Baby Alive dolls also have a wide variety of accessories available to pair them with, making them an excellent baby doll for this age group that should no longer be in danger of placing these items in their mouths or noses.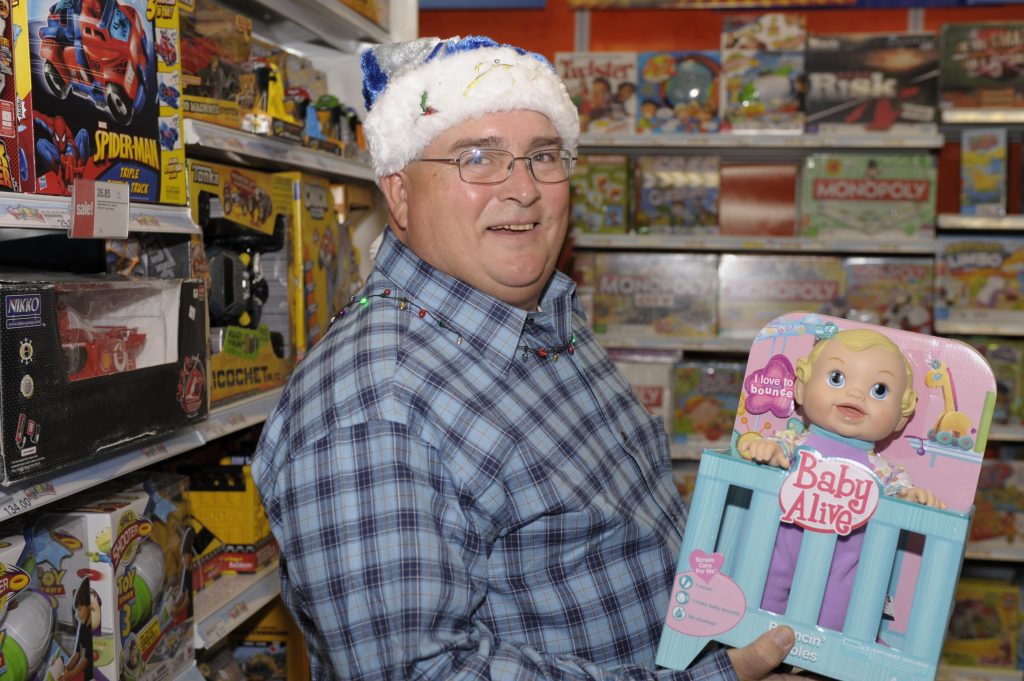 Dolls For Bigger Kids
Once children get a little bit bigger (aged 6-7 and up), they may begin to want dolls that look more like them – older children – and that come with more activities beyond what dolls made to look like infants come with. It doesn't mean that older children stops playing with a baby doll just because of their age. Through playing, even if its imaginative play, kids will be able to develop fine motor skills, which is why it's good to encourage pretend play for older children. Here's a few recommendations of best baby doll for older children.
When this time comes, dolls by American Girl or Our Generation dolls are excellent choices for older children. American girl or generation dolls come in many different designs and have a never-ending world of accessories and accompaniments that make for never ending fun.
The accessories of American Girl and Generation dolls include everything from clothes, hair accessories, bags and shoes to kitchen sets, stuffed animals and cars, so the child playing with them will have the change to explore what interests them; it's basically a full-package for a child's doll. The American girl doll also often include books and clothes that are child-sized that older kids can wear and read with the doll.  Another good baby doll option is the one from the Baby stella collection. Baby stella offers the perfect soft baby doll for creative plays. A standard Baby stella doll size is 12 inches. The Baby stella also features a magnetic pacifier with realistic toes, fingers, and belly buttons. It also comes with different skin tones and colors, so you can be assured you'll be able to pick your favorite skin tones.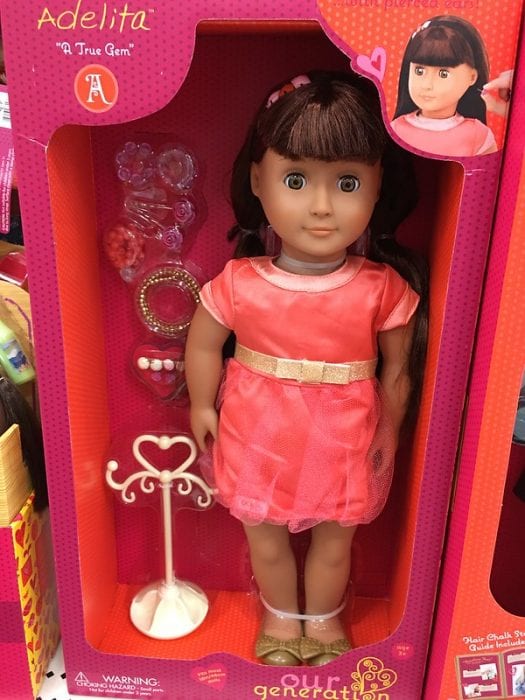 Frequently Asked Questions:
What is the best first baby doll?
Fisher-Price Brilliant Basics Baby's First Doll, Cabbage Patch Kids Newborn Doll or Melissa and Doug Mine to Love Soft Body Doll are some of the best ones for the littlest kids because of their flexible bodies and lack of small pieces. These dolls are often branded as dolls for small children because of those aspects of their design for good reason, since there are many dolls out there that come with small pieces that are not suitable for small children.
What age is Bitty Baby by American girl for?
American Girl's Bitty Baby line of dolls are made for children aged 3-6. Bitty baby is American Girl's offering for younger children, although some older children may also enjoy them as a complement to other dolls they already have, given the variety of clothing and accessories American Girl offers for all of their dolls.
Bitty Babies by American Girl
Come in about six different hair colors and skin tones, and include two outfits: one basic onsie and one set of feetie pajamas for sleeping. Choosing a good skin tone for your Bitty baby is crucial. There's a ton of different skin tones to choose from. You may pick a baby doll with your daughter's preferred skin tone, or you may pick one from different skin tones as way of introducing your children with color differences among humans. Aside from the Bitty baby by American girl, you can also purchase other items like bottles, pretend play food and cribs for the babies.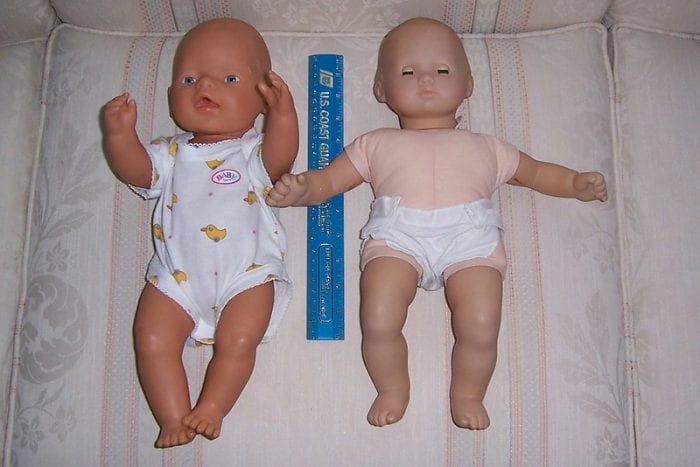 What age is Baby Alive for?
Baby Alive dolls have more functionality and accessories available than other dolls and are also made out of a harder plastic, both of which features make them most suitable for children older than toddlers. Children aged 5-8 will most likely enjoy these dolls the most and will love accessories like diapers and food that make for an engaging playing experience. Baby Alive is one of the best baby dolls for older kids out there.
What are the baby dolls that look real?
The best ones that look almost completely realistic are known as reborn dolls. The best baby dolls are typically made by artists specializing in reborn dolls and are supposed to mimic a real infant as much as possible.  Other dolls that also look real are vinyl dolls and miniland dolls. Miniland dolls are made with durable hair styles and velvety vinyl bodies.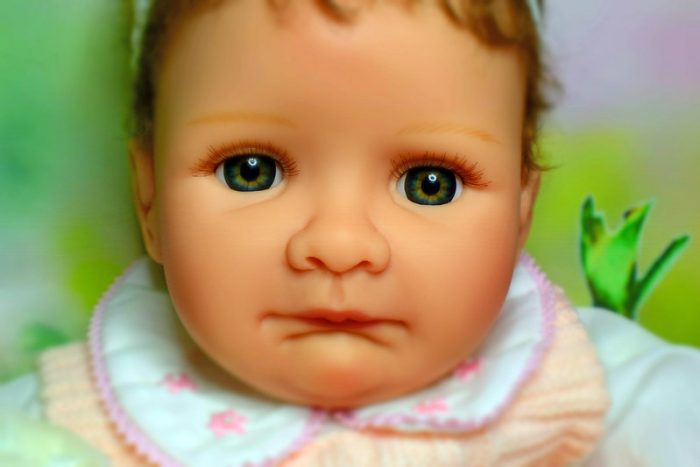 How much does a real life baby doll cost?
The most realistic kind of dolls out there, known as reborn dolls. A realistic doll is often more expensive and fragile than their less lifelike counterparts made for small children. These dolls can be made by artists and are highly customizable, and as such, range about $300-$1,000 or more, depending on the quality of the baby doll, based on factors like the artist that makes the doll's experience and the materials they use.
What age are cuddle and kind dolls for?
Cuddle + kind dolls are made for children older than an infant. Children around ages 1-4 will likely enjoy them the most, but given their high quality and positive mission, as well as variety of designs, children of all ages will certainly benefit from one as a gift.
What is the newest doll for 2022?
What are the best baby dolls for toddlers?
Which dolls are worth a lot of money?
How can you tell if a doll is collectible?
What was the most popular doll?

What is the most popular size baby doll?

What baby doll teaches kids about babies?

When were baby dolls popular?
What is the biggest doll brand?

Last Updated on April 13, 2023 by Patrick Magtaan
DISCLAIMER
(IMPORTANT)
: This information (including all text, images, audio, or other formats on FamilyHype.com) is not intended to be a substitute for informed professional advice, diagnosis, endorsement or treatment. You should not take any action or avoid taking action without consulting a qualified professional. Always seek the advice of your physician or other qualified health provider with any questions about medical conditions. Do not disregard professional medical advice or delay seeking advice or treatment because of something you have read here a FamilyHype.com.