For a kid, jewelry isn't valuable, but instead, it's a fashion statement. Kids love wearing rings, bracelets, and necklaces. If you have a fashionable kid, you may want to consider a box to store all the jewelry. Even jewelry bought from a gumball machine is valuable for a child, and a box that keeps everything safe and organized is always a plus.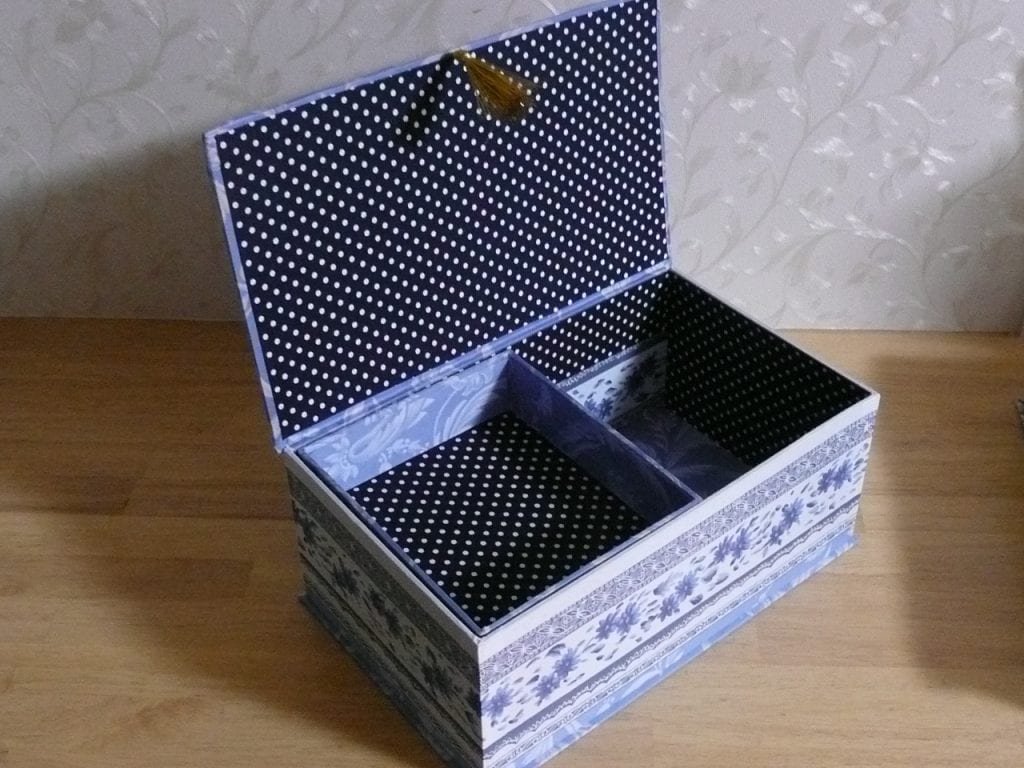 What To Look For In A Kids Jewelry Box Sets
You want a jewelry box that stores all the goods safely. Some will have locks, while others just snap shut. Kids' jewelry is not that valuable, and you probably won't need a jewelry box that's like a safe, but a little bit of security is always some good peace of mind for you or your child.
Many kids will want a jewelry box that is colorful and stylish. Some may come with cute designs and whatnot. Think about that when choosing a case, and pick one that best matches the personality of your child.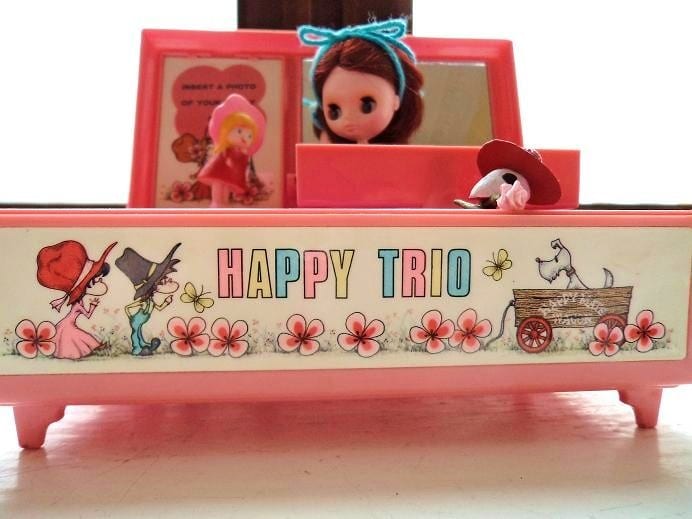 When you're traveling, some jewelry cases will have handles and other goods to make the process much easier to carry around. If you travel a lot, look for a jewelry case with portability in mind. You may not need it for every case out there, but having a good jewelry case that is suitable for travel is always a plus in our book.
You want a jewelry box that offers plenty of protection, which is always essential for your jewelry. Many boxes will have felt interiors that keep the jewelry from moving around and damaging it. As we said before, kids' jewelry isn't that valuable, but your kid will still be disappointed if their favorite ring is scratched up.
Some jewelry boxes play music or have other gimmicks. These are probably the least important when choosing a good jewelry box, but it's something to keep in mind if your child likes that sort of thing.
Now, let's look at some good jewelry cases worth checking out.
SONGMICS Storage Case
This is a mirrored jewelry case that comes in nine compartments with a set of rings. It comes with all the essentials, and it's portable too. Plus, it's lockable. Overall, it's a killer jewelry box that we believe delivers the goods. Also, three colors to pick from, which is always better.
Sodynee Two-Layer Lint
This jewelry box is designed for a kid who likes a little bit of simplicity. It has a felt interior, which keeps your jewelry safe if you bring the box with you and move a lot. It has a lock that is built-in, meaning your kid can keep the goods safe, and it has double storage too. The only problem is that it is keyless, so if the lock does break, you may be in trouble.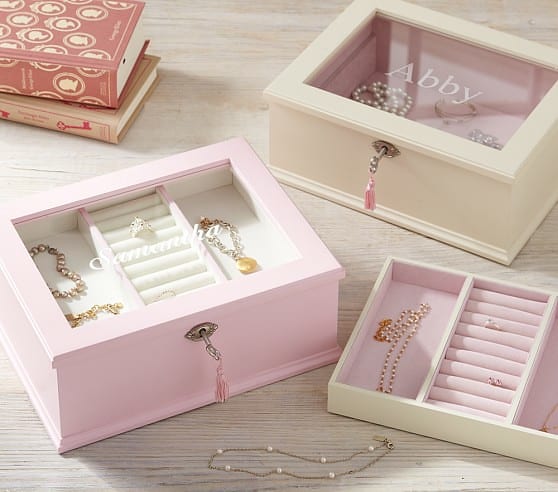 JewelKeeper Swan Lake Tune
This is a beautiful jewelry case that little ladies will surely love. It has a look to it that feels hand-painted. You could imagine some craftsman painting this meticulously. Not to mention, this case does have a music box too. As the name implies, it plays Swan Lake with a signature ballerina also. It has a beautiful interior that you are going to love as well. However, it does have little storage space. We guess that its music box features gave the actual storage space a bit of a back seat, which may turn off some people. This is a beautiful ballerina jewelry box, and if your child wants a ballerina jewelry box, this is one of the best out there. 
This is a kids jewelry box that is perfect for those kids that are interested in a musical jewelry box.  With this musical ballerina jewelry box, it has a spinning ballerina that is fun to watch. This musical ballerina jewelry box also plays swan lake too, and if you want a ballerina musical jewelry box, this is the perfect thing.  A jewelryballerina jewelry box is the perfect gift for baby kids, especially if you know they love the sound that a musical jewelry box has, and is a great storage organization jewelry option for them to have as well. A girl's musical ballerina jewelry box is something that baby kids will love, and is perfect if you need storage that you can trust. 
Enchantmints Ballerina Musical
This is another jewelry box that plays Swan Lake and can lock using a clasp. This box also has secret compartments, meaning your kid can keep their most prized possession in there. There are many drawers to put all the goods in, which is always a plus. However, the drawers are a bit small, which is a little bit of a shame.
Vlando Small Faux Leather
As the name implies, this little jewelry box is made from the coolest faux leather out there. It is entirely lightweight and comes in some bold, dominant colors. It's great if you want to travel or are always on the move. It has a pocket inside too that's made of elastic, and its velvet lining ensures that you won't have to worry about your goods getting damaged. The only downside is that its zipper doesn't secure it all the way.
Oh, and its sides? Entirely adjustable, which means you can store all your goods much easier than before. Overall, it's a killer jewelry box that your little one will love.
Vlando Pink Pandora Mirror
This is a neat little jewelry box that has a lot going for it. It has a big mirror for your girl to do her makeup on or look at herself. It's made entirely of wood, giving it quality and a sleekness like none other. It has a storage space that is quite amazing for what you get. We all know that storage space is essential when you're trying to store your jewelry, and this one does not fail in that regard. And, to top it all off, it has two compartment levels, giving you more space than ever. The only downside is that its outside is a bit plain looking. An older girl may not care, but a younger one may want something busier. We believe that it's what on the inside that matters, and this one has a great interior that is unmatched.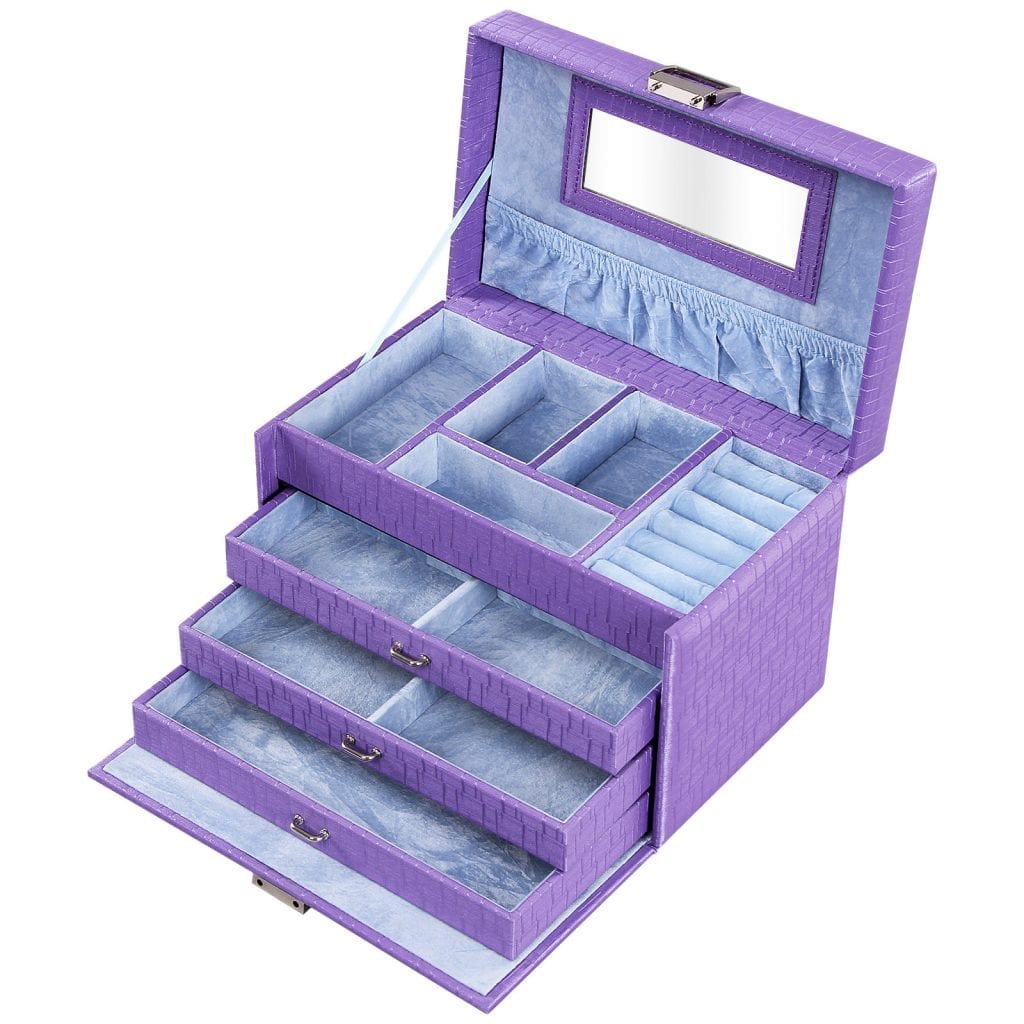 Consider A Wooden Jewelry Box
A wooden jewelry box is a good one if you don't feel like spending a lot of money. With a wood jewelry box, you can make it yourself, and you can put this together with the colors that you want.  This is perfect if you want to give kids baby choices for jewelry box, and you can even make it an organizational jewelry box if you want to. 
The beauty of a storage organization jewelry box, is you can customize this the way that you want to as well, so it could be the perfect storage organization jewelry option for you.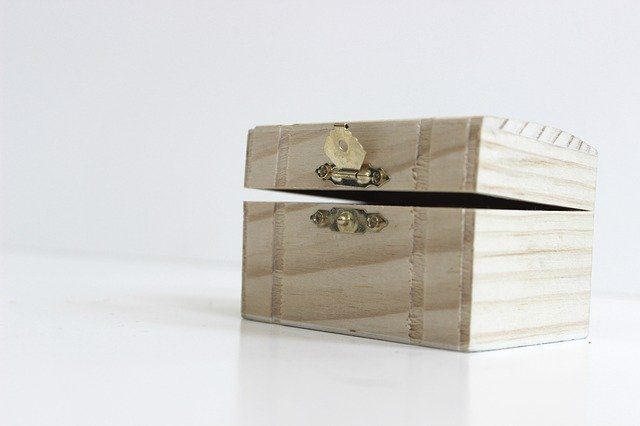 Conclusion
A jewelry box can teach your child about the importance of storing their valuables. Jewelry is something that gets lost easily, and even a child's pair of jewelry can get stolen. A box keeps it safe and prevents it from being dropped or lost. Buy your child a jewelry box and see if they enjoy it. Chances are, they will love the box and keep all the goodies in there.
Choosing the right jewelry box option that you want to get is something that can mean a lot to a kid.  While bunk beds and crib mattresses are essential for them, a jewelery boxwhite or other colors are something sentimental. If you want to buy one, there are gift cards and other options, but you could also DIY these and make your own, especially if you know a wooden jewelry box is what the child wants. 
FAQs On Kids Jewelry Box Sets
What is the best jewelry organizer?
Jewelry makes every woman's heart flutter, and they should be placed in the best jewelry organizer. According to the spruce, the one of the best kids jewelry box sets is the Misslo Hanging Organizer found in Amazon. It is excellent for those who have lots of accessories to keep but don't have enough space for it.
What are the best jewelry boxes?
According to surveys, on top of the list for the best jewelry boxes is the Songmics Jewelry Box. Another would be the Kloud City Two-Layer Jewelry Box priced at $21. There is also the Kendal Leather Jewelry Box, which is useful if you have an extensive collection of jewelry.
What is a man's jewelry box called?
Jewelry boxes for men are called men's valet boxes. They are usually used to store men's essentials like business cards, some jewelry, spare cash, or keys. But these valet boxes may also be used by women.
What should I look for in a jewelry box?
If you are looking to buy a jewelry box, you can consider looking at the lining cloth inside. It should be lint and soft to avoid scratches of your jewelry. This soft lining cloth will also prevent your jewelry from tarnishing.
How big is a jewelry box?
Jewelry boxes may range from small to large boxes. A large jewelry box can range from 15″ long and 10″ wide. This can typically hold 30 pieces of jewelry or more depending also on the size of the jewelry.
How do you store jewelry at home?
You can store your jewelry at home by having jewelry boxes. It will help if you will sort each jewelry and have it in sections. You should store it in a dry place at a reasonable temperature.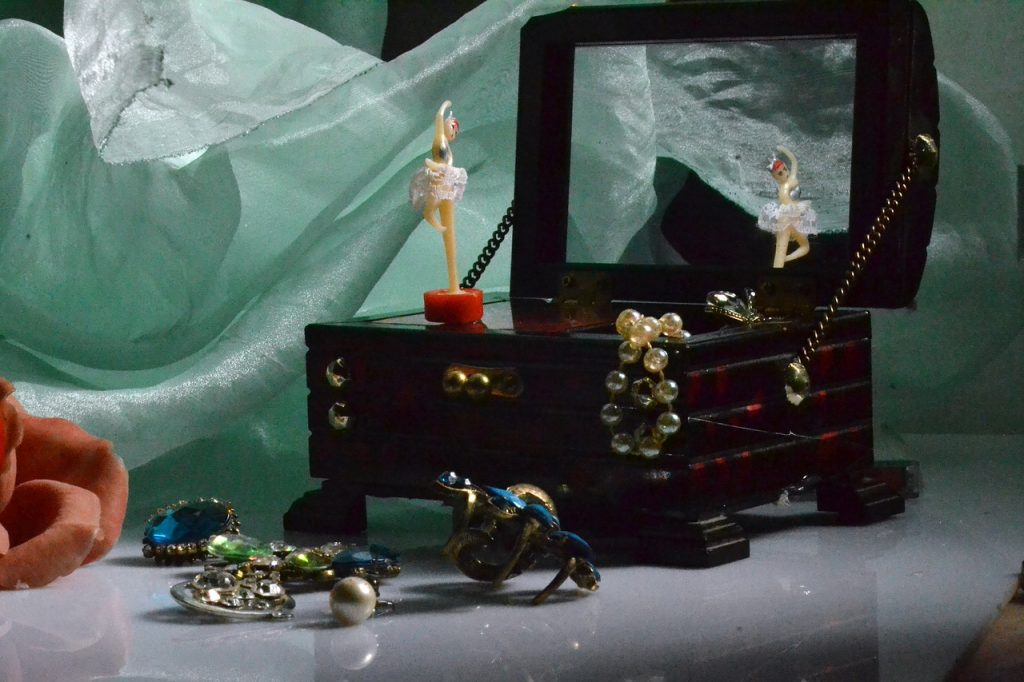 What is a jewelry box called?
A jewelry box can also be called a casket. It is a container smaller than a chest and is decorated. It made to store valuable pieces like jewelry.
How does Marie Kondo organize jewelry?
First, you gather all your pieces of jewelry in one place and spread it all on a flat surface. You can then sort out the good ones and separate the damaged ones.
What are jewelry boxes made of?
Jewelry boxes are usually made of pressboard or cardboard. The expensive ones may be made from porcelain or high-quality wood.
Where should you keep jewelry?
Jewelry should be kept in secured jewelry boxes, especially those valuable ones. Plastic accessories can be kept in plastic trays for safekeeping as well.
Who invented the jewelry box?
Jewelry boxes can be traced back to 5000 BC in Ancient Egypt, as most Egyptians already wore jewelry at that time. There was no trace individually as to who made the first jewelry box.
What should I look for in a jewelry box?
If you are looking for a jewelry box, you need to consider the soft piece of cloth lining inside. This helps prevent scratches and tarnishing of your jewelry.
How do you make a wooden jewelry box?
There are lots of DIY wooden jewelry boxes that you can find online. You can find instructional videos on how to make a jewelry box out of wood.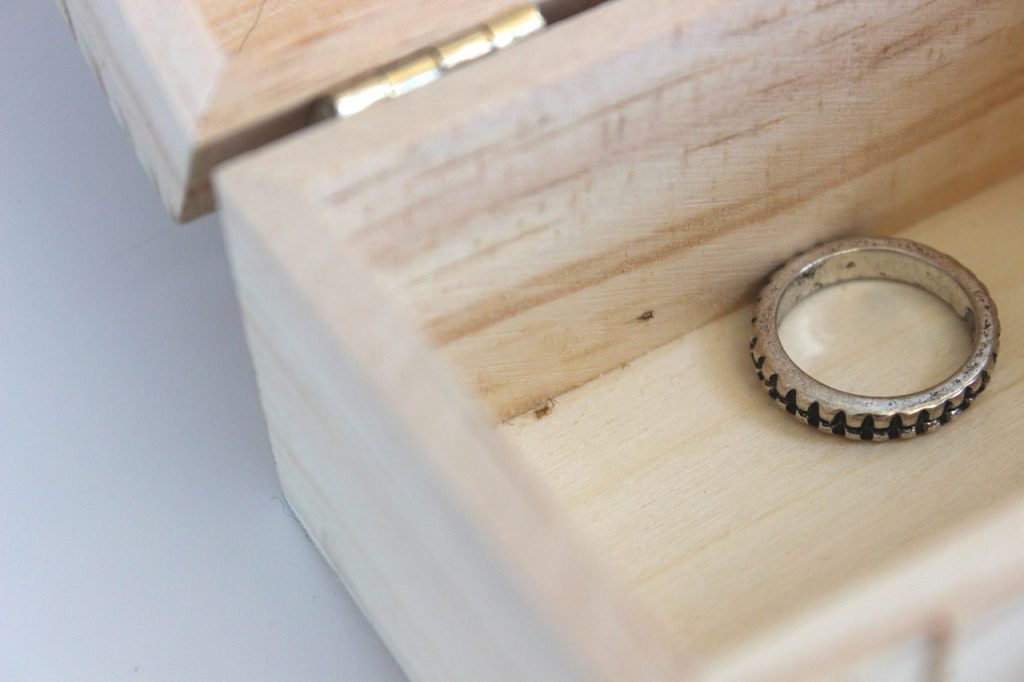 What is the best jewelry box?
The best jewelry box, according to Marie Claire, is the Beige Grain Leather Jewelry Box by Mejuri. It is priced at $150 and can be monogrammed for free.
Does Target have jewelry boxes?
Yes, you can pick and choose different jewelry boxes in Target. You can choose from the individual small boxes up to the large boxes, which can store more jewelry sets.
Other Resources
ScaryMommy: https://www.scarymommy.com/spotted/best-kids-jewelry-box/
TheAlphaParent: https://www.thealphaparent.com/best-jewelry-boxes-for-kids/
WayFair: https://www.wayfair.com/storage-organization/sb1/kids-jewelry-organizers-c417061-a104231~336318.html
Last Updated on January 30, 2023 by Inma Barquero
DISCLAIMER
(IMPORTANT)
: This information (including all text, images, audio, or other formats on FamilyHype.com) is not intended to be a substitute for informed professional advice, diagnosis, endorsement or treatment. You should not take any action or avoid taking action without consulting a qualified professional. Always seek the advice of your physician or other qualified health provider with any questions about medical conditions. Do not disregard professional medical advice or delay seeking advice or treatment because of something you have read here a FamilyHype.com.