There are a lot of benefits of breastfeeding to the point that it's pointless not just to the mother but also to the baby. However, breastfeeding isn't as easy as one would like to think. Moms should still be able to get all the possible help they can get. One way to do this is by buying breastfeeding pillows for them. This ensures that both the mother and the baby are at their most comfortable while breastfeeding.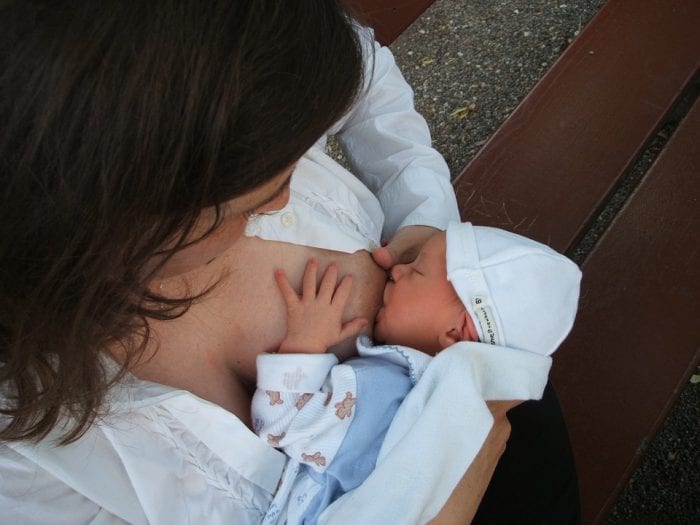 Women come in all sizes, and breastfeeding pillows aren't like clothes wherein one size fits all. Fortunately enough, breastfeeding pillows nowadays come in varieties of sizes and designs that can suit mommy and baby's needs. The list ranges from breastfeeding positions to the ones that you can carry with you.
Our Top Picks
Best Overall: Boppy Nursing Pillow and Positioner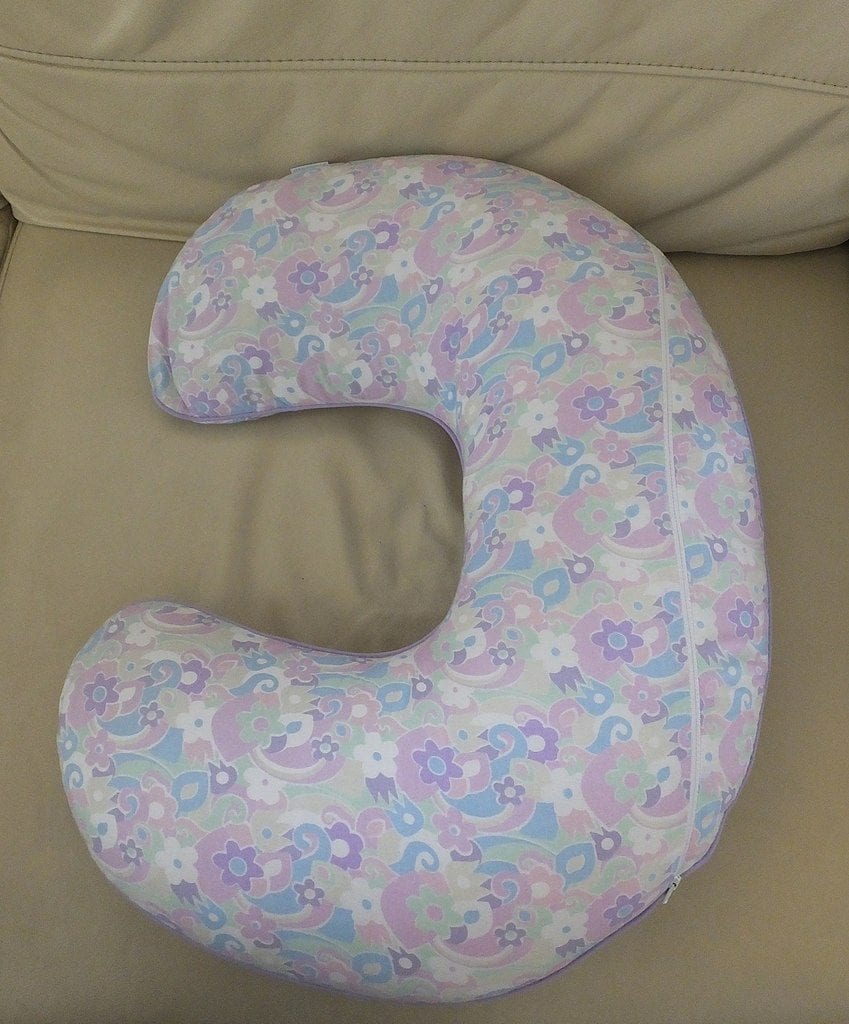 This one has been a staple and standard that more breastfeeding moms have been using for over 25 years now. The Boppy allows the mothers to feed the baby or hold them in different positions while still being comfortable. Other than breastfeeding, this can also be used to prop or support babies up and help them with burping or tummy time as well as be a soft cushion in case they're learning how to sit.
You can also choose the print of the slipcover as it has a plethora of colors and prints to choose from. An example is the animal-themed one. This, the covers, and the pillows can all be washed in the washing machine. Sheets can be bought separately too, so you can buy an extra one to keep while the other is being washed. Moms love this pillow because it's firm but soft, making it an excellent cushion for their arms and back.
For Twins: A Twin Z Pillow
For a lot of mothers, feeding one baby is stressful enough. Imagine if you were to breastfeed two babies at the same time. Breastfeeding twins are something challenging, but this pillow can help moms of twins to cope with that, as it is specially made for moms who have multiple babies or children. This pillow allows the babies to have room on each side so they can feed at the same time. It also has a backrest so that the mother can sit and feed her twins safely and comfortably. This is good for those who had C-sections.
Additionally, many mothers praise the A and Z Twin Pillow and urge the other moms to purchase one for them too. Multiple mothers mentioned how it's the best thing they bought for their twin children. Other than feeding, this can also be used for tummy time and to help babies prop up when they begin to learn how to sit.

Best For Football Hold: My Breast Friend Nursing Pillow – Bluebells
Moms often try different positions in breastfeeding to see which one would be the best before settling for the one they would work with. For this, the football hold or the clutch position is useful and convenient. This nestles the baby under the mother's arm while the head is being cradled, similar to a position that football players assume while carrying a football while running. My Breast Friend pillow is best for moms who understand this position.
There is also an adjustable strap in the wrap-around design that helps keep the pillow in position. It serves as a cushion so that both the mom and the baby are comfortable. There is also a side pocket for items like water bottles, phone, keys, and many more. This has mainly garnered positive reviews, as apparently it has saved moms from giving up on breastfeeding.
The Breastfeeding Arm Pillow Best for Travel
If you're a mom who is always on the go while breastfeeding, this is the perfect pillow for you. Only 10 inches long, you can fit it in most diaper bags. Just slip it under your arm so that you can prop your baby up while feeding without having the pain in the back. Since there are no straps, this can be easily washable in the washing machine.
The fabric is soft and can be used in most breastfeeding positions, and the moms give it high remarks and reviews due to its portability and ease of use. However, it can get warm in the arm during summer.
Large Breasts: Dr. Brown's Gia Nursing Pillow
For moms who have more massive breasts, they face the problem of having breastfeeding pillows not work for them due to the small opening. Dr. Brown's Gia Nursing Pillow then is the perfect answer. It has a broader and taller opening than most pillows and provides them the space they need. With a shrimp-like shape wherein the end of it is lower than the other to create a natural slope, you and your baby can be comfortable with this.
The pillow doesn't have a cover, and it isn't necessary to have one. However, you can buy a cover separately if you want. You can clean both the cushion and blankets in the washing machine.
Moms love this product overall, especially plus-sized mothers. Even though the shrimp-like shape can be awkward, many still love it because this pillow gives them the room and space they need.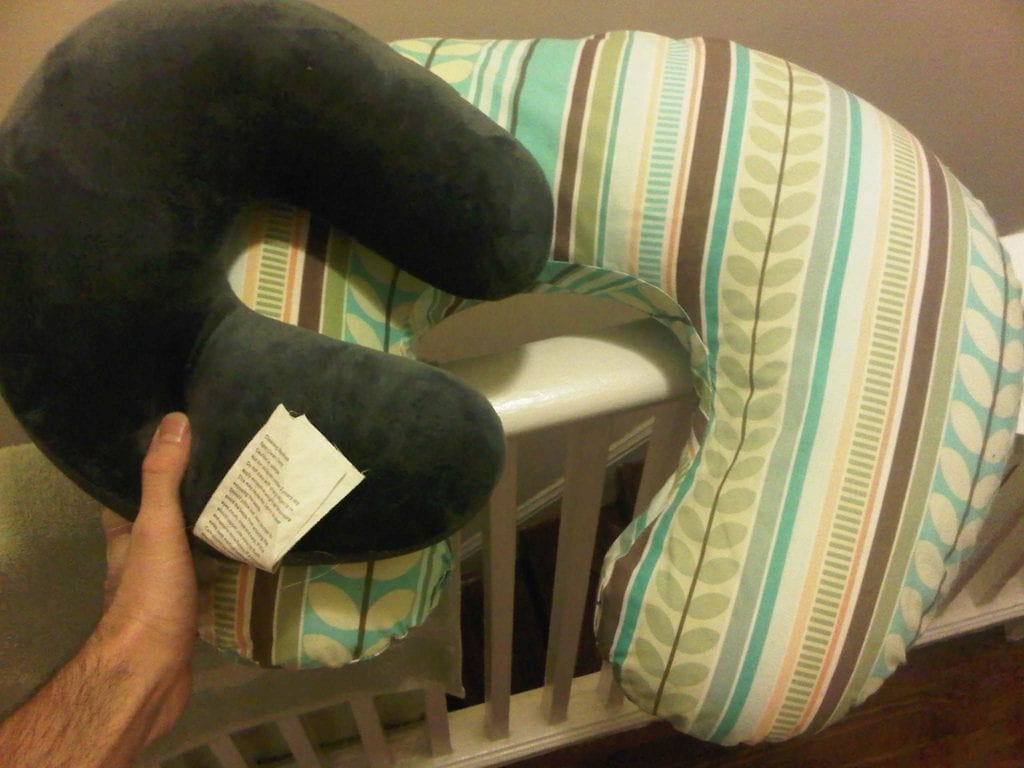 Best Transitional: Babymoov Mom & Baby Ergonomic Maternity Pillow
If you're looking for a pillow that can help you from all stages of your motherhood from the pregnancy to the breastfeeding stage and more, this is perfect for you. If you're pregnant, the Mom & Baby Ergonomic pillow can help you sleep better because it is soft. You can place it anywhere, whether between the legs, under the head, or hips. It supports moms and helps them feel more comfortable. This can also be used even when the baby has just been born and also for breastfeeding positions.
The pillow is filled with microbeads and soft cotton, making it extremely comfortable. It's very compact, measuring 22" by 12", making it easy to carry in the bag and to use in different places.
Best for After a C-Section: Natural Boost Adjustable Nursing Pillow
Moms also need to be careful with breastfeeding, especially if they have had a C-section instead of natural birth so that their incision won't be irritated. While this is difficult, the Natural Boost can help moms with that problem. It places the little one in the best position without having to bend or lift him. Moms can also flip it side to side so that the baby can feed on both breasts easily.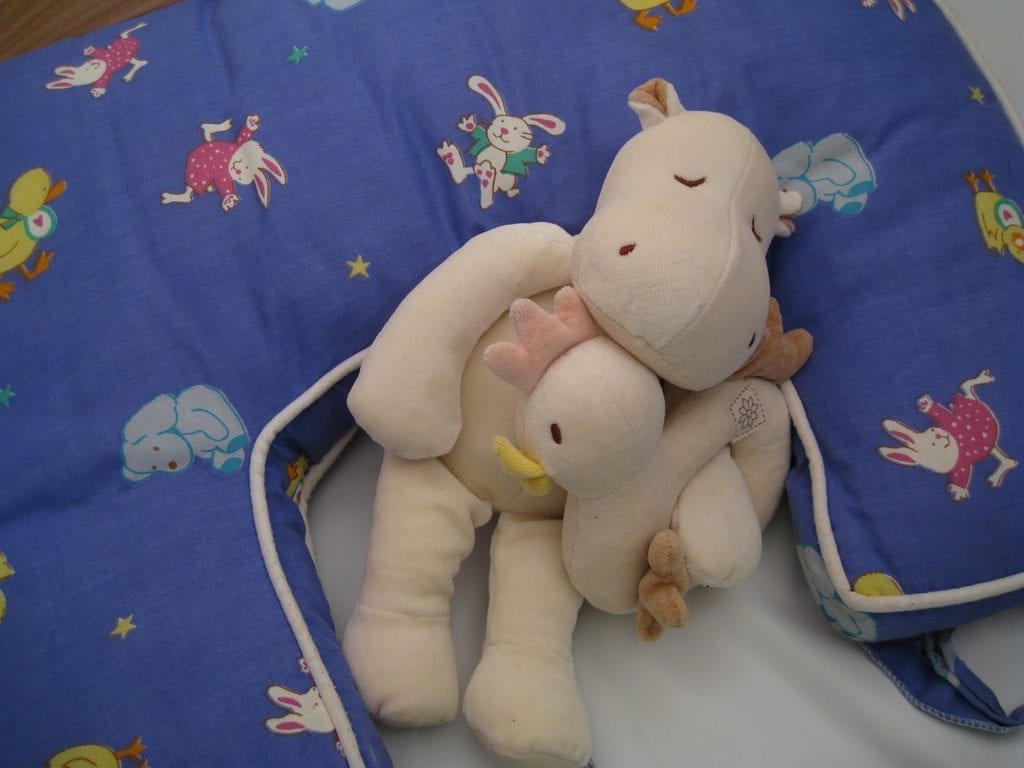 Moms find this an excellent pillow to use due to its comfort and convenience. However, it can be too soft for some people.
This list contains only some of the best, so do feel free to choose according to your preference. Keep in mind that it's not only your baby that needs comfort and convenience, but you need it as well. Be a happy mom!
FAQs
Do you need a nursing bra?
Nursing bras are not required. If you want to be practical, you can just opt for your old bras as long as you are comfortable with it and works well, like the best nursing bras.
Should you wear a bra to bed when breastfeeding?
Whether you are breastfeeding or not, wearing a bra helps to avoid sagging breasts. And whether it is day time or night time, bras support your breast's structure and the Cooper's ligament.
When should you buy nursing bras?
The best time for your nursing bras is 3 to 4 months after you gave birth. At this period, it is more accurate to get the size of your breast because you were able to establish already your milk supply and identify better your cap size.
How many nursing bras should I buy?
On average, you will need three nursing bras only—one for current use, another one for spare, and one to wash. However, you can freely buy extras in case there will be more unexpected leaks and baby spit-up.
What is the difference between a maternity bra and nursing bra?
The maternity bras' purpose to be worn during and after pregnancy. The design is close to a regular bra, but it is more stretchy and has morel hook-n-eyes to accommodate your changing breast size. Nursing bras, on the other hand, is designed for breastfeeding functionality. It has a bra drop-down for more convenient breastfeeding.
How do I choose a nursing bra?
It is recommended that you buy a nursing bra 3 to 4 months after delivery because this is the time that your breasts are fuller, and you will be able to get a more accurate size. However, if you wish to buy earlier, wait until you reached your eight months of pregnancy.  When choosing the best nursing bras, you must go for total comfort, support, and flexibility. Nursing tank tops feature a built-in soft bra, versatility, and style.
How long do nursing bras last?
The best nursing bras usually last for about 6-9 months. During this time, the bras will start to loosen its elastics due to heavy use and multiple washes.
How do you size a nursing bra?
The correct size of a nursing bra is essential to be able to get the best nursing bras. Here we listed three easy steps for getting your right size:
Using a measuring tape, get the rib band measurement measuring your chest above your breast going under the armpit and until your back.
Put around the measuring tape around your breast ensuring it passes over your nipple area to measure the fullest part of your chest. This process will give you an accurate cup size.
To get your exact cup size, use the result of steps 1 and   2. Subtract step 1 from step 2, and you will get the right size of your bra (1=A, 2=B, 3=C, 4=D).
Following the steps mentioned above will help you find the right and best nursing bras for you.
DISCLAIMER
(IMPORTANT)
: This information (including all text, images, audio, or other formats on FamilyHype.com) is not intended to be a substitute for informed professional advice, diagnosis, endorsement or treatment. You should not take any action or avoid taking action without consulting a qualified professional. Always seek the advice of your physician or other qualified health provider with any questions about medical conditions. Do not disregard professional medical advice or delay seeking advice or treatment because of something you have read here a FamilyHype.com.

Last Updated on: