Hiking backpacks are best while trekking through breathtaking landscapes. From forests to mountains to deserts, and taking in the beauty that nature has to offer can be a life-changing experience. People from all across the world go on everything from day hikes to long backpacking trips that are full of hikes.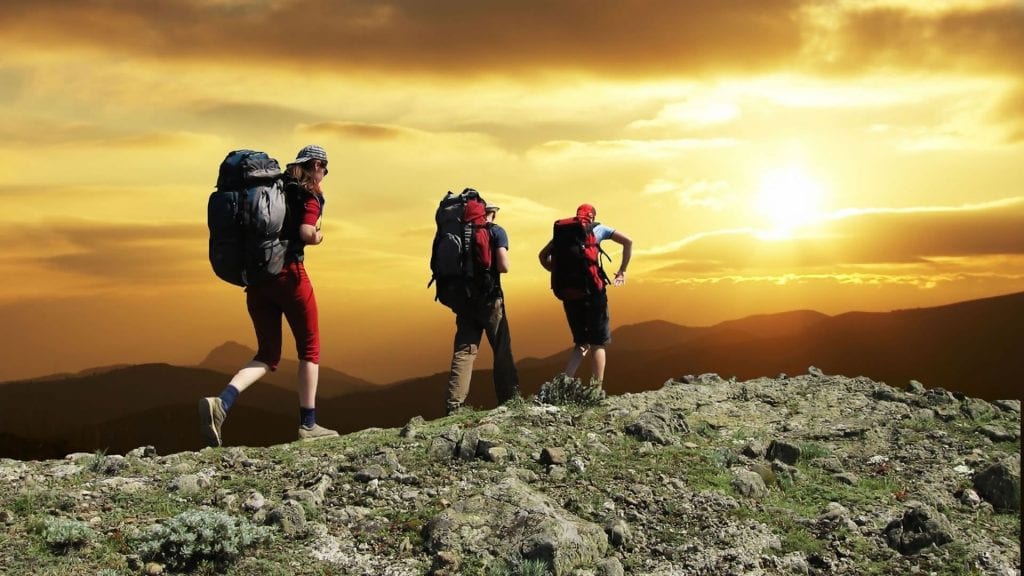 For some people, once they go on a few great hikes, they can't imagine spending their free time another way. For others, they just wish they had more time to spend in the great outdoors and look forward to weekend outings. But, no matter which you are, you'll need some way to carry your supplies, like extra hiking gear, a sleeping bag, a water bottle, a first aid kit, food, and more. That's where manufacturers like Osprey, Ozark, TETON Sports, FENGDONG, and more come in.
Whether you're a regular hiker or just getting into the practice, having the right gear can make an experience go from decent to amazing. One of the most basic pieces of gear is a backpack. That's what will allow you to carry all of your camping gear with you. And, of course, you want to have the top hiking backpacks that are available.
When choosing the top hiking backpacks for your needs, you'll need to set a budget because most backpacks can get well into the hundreds in price when you consider features like size and materials. You'll also need to consider what you'll be using your bag for. If you're going to be taking good hiking backpack out a lot, you definitely want to make sure you get a high quality pack that will last you. 
Will you be hiking for just a few hours? A few days? If you'll be hiking for longer than a few days, it might be a good idea to spring for a little bit more expensive bag like the TETON Sports Explorer 4000, but in any case, there are still great cheap backpacks out there for any kind of experience.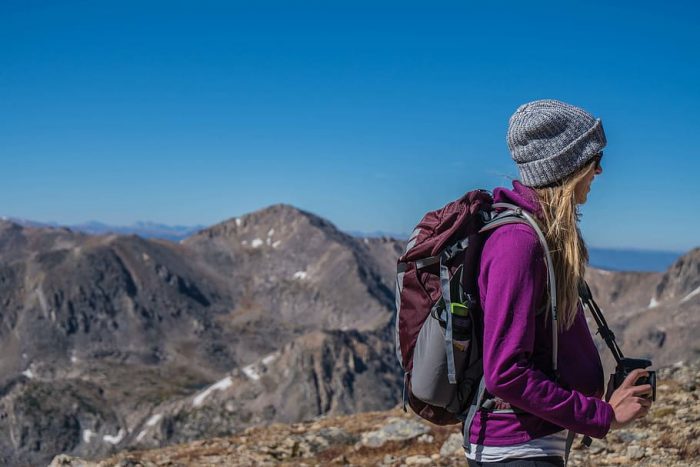 Source: pexels.com
Best Hiking Backpacks Volume
The first factor we'd suggest considering is the size of durable backpack you want. Usually lighter packs are measured in volume and can range from 15 liters to 80 liters or more. Generally, 15-25 liters is plenty for a day hike, while anywhere from 40 liters to 80 liters or more is adequate for overnight hikes, depending on what kind of gear you'll need. The largest one on our list below is the TETON Sports Explorer 4000 at 65L capacity.
Items like sleeping bags and pads, tents, cooking supplies, food and water can begin to take up a lot of room, so if you'll need to carry a lot, you'll need to look for a big bag. But, don't forget, a solid backpack tends to be heavier, so keep in mind how much your body can handle.
You'll also want to check how the bag is formatted in terms of space. There will be multiple compartments so check the space of each of them. Look at how big the main compartment is. Also, look at the size of the side mesh pockets where you'll be keeping things you want handy. If you like to do overnight hikes, you need to check out the sleeping bag compartment, as well. Some packs come with attached daypacks or "brains" (smaller, often detachable pouches on the top of the bag). It's a good idea to double check if the volume measurement includes those additional spaces or not (it usually does).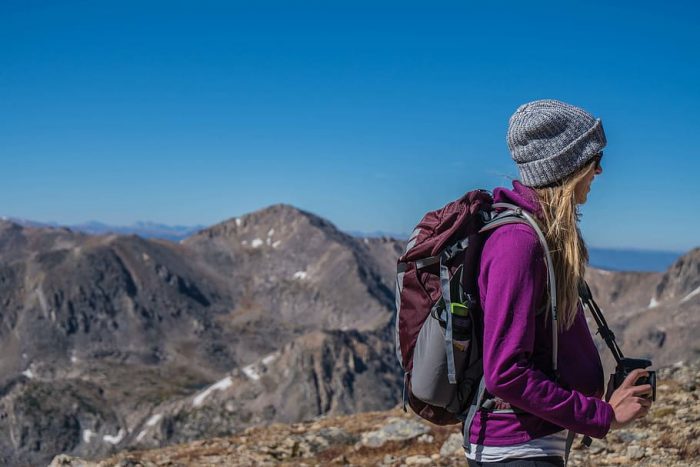 Hiking Backpacks Durability
The best hiking backpack under 100 is durable. There's no way around that. When you hike, you're often exposed to the elements. There's a lot of rugged terrain. Most hiking backpacks need to be able to stand up to the exposures they're going to have on all of your trips. If you're a serious backpacker and hiker, you may not want to settle on even the best budget hiking backpacks because the durability just won't be there for what you need. But, even occasional hikers need a durable hiking backpack that can protect their gear from the outdoor exposures.
That might range from simple brushes with nature, like a stick scraping the side of your bag when you hike through a wooded area and dirt when you set your bag down, to more intense encounters, like rain or hailstorms. A good durable material will be abrasion resistant so you don't have to deal with tears in your hiking backpack.
In any case, you bag needs to be made of strong enough materials that are abrasion resistant to hold up through those kinds of conditions, since a broken bag that you can't carry or that might cause you to lose supplies can be devastating to your safety.
Waterproof/Resistance
As a subset of durability, water resistance is very important to a bag because you never know when you might get caught in the rain, especially if you move through different altitudes and terrains.
While the right ones are fully waterproof, a cheap backpack may not be. You can always consider a rain cover for your bag or a bag liner (which can be as simple as a huge trash bag) for an extra layer of protection from moisture, if needed. Even if your hiking backpack is water resistant, it is still a good idea to keep a rain cover with you, too. The rain cover will keep your bag extra protected from rain and other precipitation.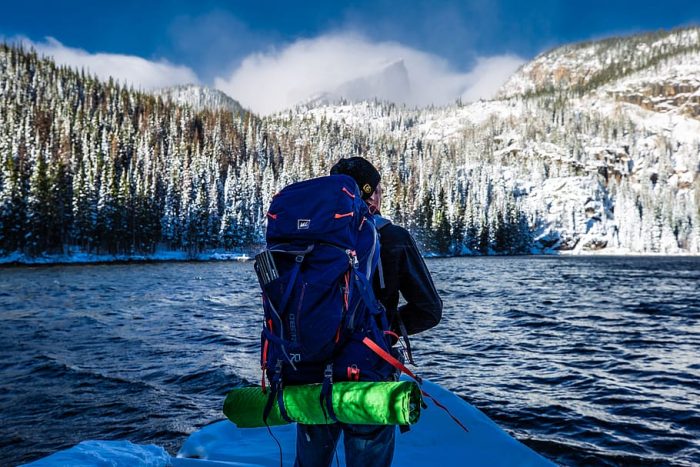 Hiking Backpacks Pockets
The placement and availability of different pockets might not seem so important but having easy accessibility to essential equipment in a pinch can make a big difference in comfort and safety.
The best hiking backpacks will give you easy access to not only your water source (whether that's a bottle in a side pocket or a bladder with a straw close to your face), but also a place to store equipment in case of an emergency that you can easily get to. Many hiking backpacks have a hydration bladder included, or in the very least a pocket for inserting a hydration bladder. If the one you're considering doesn't, then make sure there is an easy to reach water bottle sleeve alongside the side pockets so you can get to your water quickly.
The sleeping bag compartment is another pocket that is super important if you're going to be doing overnight hiking trips. If you're hiking where it gets really cold at night, you're going to need a good, thick sleeping bag with you for staying warm at night. That means the sleeping bag compartment needs to be able to accommodate it. You also definitely want the sleeping bag compartment to be water resistant.
It might sound silly, but you want to make sure there are some pockets that are sealable with zippers. Side pockets won't always be sealable. Somewhere on your hiking backpack, you need to have some zippered pockets, such as side pockets or front pockets. That gives you somewhere to store your personal items where they won't fall out.
The main compartment of the hiking backpack isn't technically a pocket, but you use it in the same way. Look at how the main compartment is laid out. Does it have separation between areas so you can organize your hiking gear? Are there any zippered pockets within the main compartment? What security features are there for the main compartment of the hiking backpack? There's a lot to consider when you're looking at the pockets of a hiking backpack.
Hiking Backpacks Strap Design
A good strap design can make a big difference in how your body feels after a long day of hiking. The shift weight from your shoulders to distribute it around your body, most notably through strong hip straps. 
You should look for a bag with well-padded, thick shoulder strap with chest support, and if you're considering a larger bag, you should also look for one with comfortable and adjustable hip straps.
Even if you're only going hiking for the day, having good padded shoulder straps should definitely be on your list of wants for your hiking backpack. But, for those who are going to be doing some serious hiking with their pack, you should look for a bag with compression hip and chest straps. Compression straps are along the side of the hiking backpack in a criss cross pattern and they compress the contents of the pack close to your body so that the weight distribution is better for your comfort. Compression straps are pretty common on many hiking backpacks, but you won't find them on all of them. 
Make sure, too, that the shoulder straps are easily adjustable straps and that the padded hip belt is made of adjustable straps.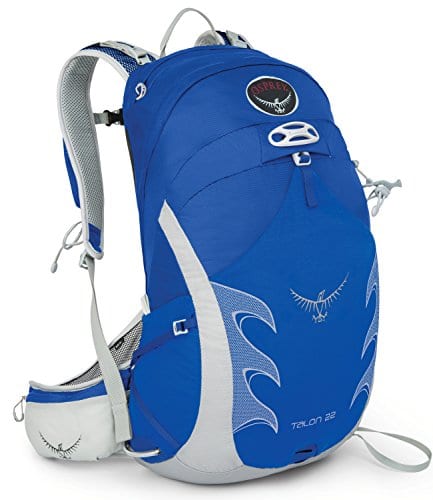 Hiking Backpacks Internal Frame
One of the biggest features that sets a hiking backpack apart from a regular one is the frame. You can have hiking backpacks with sturdy internal frame or an external frame. An internal frame is what gives a hiking backpack its shape and allows it to keep that shape even when there's nothing in it. It's basically the bone structure of the pack. When you search for hiking backpacks online, it's most likely that the results you get will include many options for an internal frame hiking backpack.
An internal frame backpack is meant for carrying 15 lbs. or more of hiking gear. The difference between an internal frame backpack and an external frame is the internal frame keeps the bag narrower and more cinched in toward the body. That makes an internal frame backpack better for hiking that could also include things like climbing, skiing, or trekking through thick foliage. One to check out for this is the TETON Sports Explorer 4000. 
The internal frame redistributes the weight of your hiking gear to your hip area. That's the part of your body that can handle the most weight bearing. So, along with the internal frame, you also want to make sure it has padded shoulder straps, compression straps, and a good hip belt.
The Best Hiking Backpacks Under $100
Now, let's take a look at the good ones we could find that do well at all of the features we've mentioned above and fit into your potential price range.
Best Day Bag: The Osprey Talon 22 combines comfort and practicality. It's one of the only day packs that offers hip straps, making it one of the most supportive daypacks out there. It also has padded shoulder straps that are adjustable, two zippered side pockets, and is compatible with an external hydration sleeve. Be aware, this one is not water resistant so you're going to need to pack a rain cover with you.
Best Day Bag with Water Bladder: If we had to sum up the Osprey Daylite Daypack in three words, they would be: Simple, comfortable and durable. Plus, you can thread a water bladder through it, so it really doesn't get much better than this. Inside, there is a sleeve that can be used for water bladder or a tablet. There are hip belt pockets to give you better support, adjustable shoulder straps, and even compression straps to cinch everything in tight. Osprey added breathable mesh and breathable molded foam to the back panel to help with the ventilation for keeping you cool.
Best Budget Bag: At just $35, the Ozark Trail 40L Hiking Backpack Eagle is one of the best cheap backpack deals out there with a relatively large capacity and comfortable straps. It has room for days worth of hiking gear, comes with a sewn-in rain fly that is stored in the bottom of the pack, is compatible with a water bladder, and has plenty of zippered pockets and side pockets for easy access to essential items.
Best 40L Bag: The FENGDONG 40L Waterproof Hiking Backpack is well-designed to accommodate many different kinds of equipment from trekking poles to a bed roll, and has great side pouches, making it a great 40L choice. This is a water resistant backpack with a main compartment that has slots and pockets for organizing all of your hiking gear. The hip belt helps redistribute the weight of the pack and give you more support and also has convenient side pockets with zippers for keeping items safe.
Best 50L Bag: We love that the Esup 50L Hiking Backpack comes with a rain cover and convenient pouches on the hip straps, making it an extremely practical budget choice for this size hiking backpack. The polyester and nylon materials the pack is made of are water resistant, but it also comes with a rain cover for added protection. The pack is abrasion resistant, as well. Between the should straps, the hip belt, and the compression straps, you'll stay comfortable for your hike. There is a separate sleeping bag compartment, a huge main compartment, and plenty of other pockets for storing all of your hiking gear.
Best 60+L Bag: Outlife's 60L pack is big enough to fit everything you need for multi-day hiking backpacks and uses a lightweight frame design to minimize any extra weight you might find, making it a great choice for new backpackers. The internal frame keeps everything cinched close to your body but doesn't add much weight to your load. The nylon the pack is made of is water resistant, but there's plenty of space for a rain cover, too, in case of heavy rain. Your sleeping bag can easily be placed in the large main compartment, along with all of your other hiking gear. 
Best High Performance Bag: TETON Sports Explorer 4000 Internal Frame Backpack is a most sturdy hiking backpack that has a sleeping bag compartment, a 65L capacity, an adjustable torso length, an integrated rain cover, and room for everything you can think of packing for your trip. The TETON Sports Explorer 4000 Internal Frame Backpack gives you tons of pockets for organizing everything and making things easily accessible. You'll hae multi-directional compression straps, and many ways to adjust the bag so you can feel the most comfortable. The TETON Sports Explorer Internal Frame pack is a top seller on Amazon and has a near perfect 5-star rating. If you're looking for a highly durable, high performance hiking pack that's under $100, then the TETON Sports Explorer 4000 is the way to go.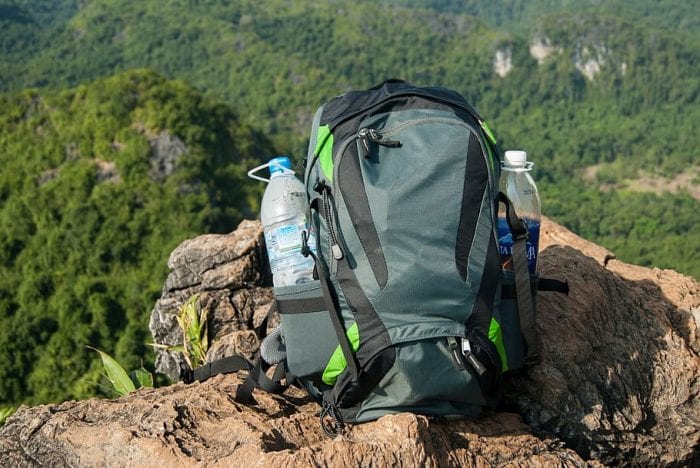 Now you've seen some of the other best hiking backpacks under $100 for many different needs. Consider what you'll be using the bag for and choose the one that best suits your hiking trips.                                 
Best Hiking Backpack Under 100 Frequently Asked Questions:
Should I get an internal frame hiking backpack?
If you are only going to be hiking around your area now and again, and only for a half day or so, you probably don't need to get an internal frame backpack. However, if you'll be doing full day hikes or overnight hikes, then a hiking pack like the REI Co-op or the TETON Sports Explorer 4000 Internal Frame backpack is a good choice.
Do I need a rain cover to go over my hiking backpack?
Rain cover won't take up much space in your pack.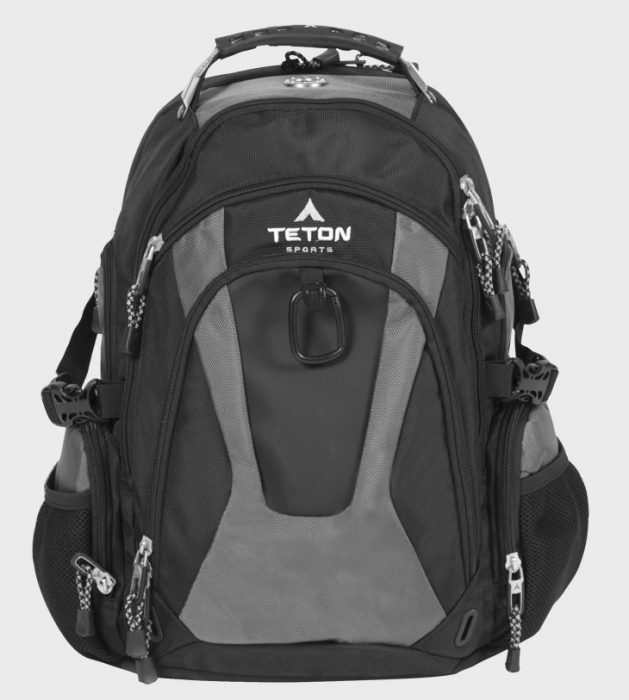 It's worth it to have one on hand, just in case. Especially, if you do your hiking trips in the mountains where the weather can change in an instant, then having a rain cover with you is a good idea. Some hiking packs have a rain cover integrated into their design. This is the case for the TETON Sports Explorer 4000 backpack. The TETON Sports backpack has a rain cover that is attached inside a bottom compartment where you can just tuck it back in when it's not in use.
How much is the TETON Sports Explorer 4000?
The TETON Sports Explorer 4000 will run you between about $72 and $88. It's a really good deal for a hiking backpack that has so much to offer and amazing ratings on Amazon. It has everything from the integrated rain cover, to multiple compression straps, lots of handy pockets, a lightweight internal frame, and so much more. 
Is A 40L Backpack Too Big For A Day Hike?
Should I Buy A 20L Or 30L Backpack For Hiking?
Is 50L Backpack Big Enough For Hiking?
Which Is Best Quality Backpack?
Which Brand Is Famous For Backpacks?
Last Updated on April 12, 2023 by Eunice Barbosa
DISCLAIMER
(IMPORTANT)
: This information (including all text, images, audio, or other formats on FamilyHype.com) is not intended to be a substitute for informed professional advice, diagnosis, endorsement or treatment. You should not take any action or avoid taking action without consulting a qualified professional. Always seek the advice of your physician or other qualified health provider with any questions about medical conditions. Do not disregard professional medical advice or delay seeking advice or treatment because of something you have read here a FamilyHype.com.