Duffel bags are suitable for children, especially if they are active or they need a bag for kids travel bag. That's because the bags are usually helpful in keeping everything together. It can be used not just for sports, but also to help keep everything toted, whether it be for the soccer practice, or even for the sleepover at their friends' houses. But, what should you look for in kids duffel bags? Well, read on to find out what features are important in a duffel bag for kids and which ones are the best kids duffel bags.
Size Does Matter
The size of a kids duffel does matter. You should get a duffle bag that's small enough for a child to carry, but large enough to accommodate the things they'll need. While they aren't going to have to worry about it being bigger than them if they are older kids, for most kids, you want to give them something that they want to carry, and something that feels good in their hands. If it's too big, they're liable to trip over themselves, and that's not fun at all. You don't want them to have one that's too big either since they're liable to step on it, and that can ruin the stitching. 
The size of duffel bag they need will be determined, in part, by what they're going to use the kids duffel bag for. A kids small duffel bag can easily be used as a travel bag, a gym bag, a dance bag, or a cheer duffel bag. Sometimes a travel duffel bag for luggage that's storing items for a long trip will need to be larger. For that kind of use, you could look into a duffle bag for kids that has wheels and a handle to pull it with.
So choosing one that's made of a high-quality material that fits their bodies is integral. If you don't know whether it will fit their body or not, take them with you to the sporting goods store and you can from there try out different bags and get one that fits.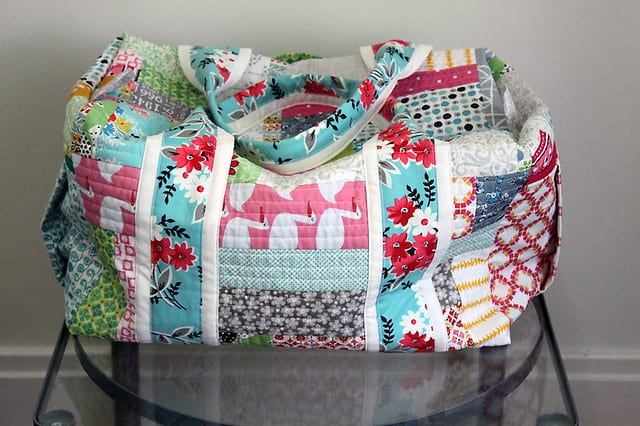 Carrying Handles Help
Some people like carrying handles, and I feel that everyone that uses a duffle bag should have them. If your child likes that better than the shoulder strap, get them one with handles, specifically the one where you can velcro them together in the middle. This allows them to carry it in their smaller hands, and it as well as a good way for them to get used to carrying items. It's that simple and very effective. It does make a difference, especially if they're carrying this around from practice to practice. You'll find that most of the small duffel bags do have handles. You can also get them with an optional body or shoulder strap.
One place where the handles really come in handy are with a duffel bag as kids travel bag scenario. If they travel a lot and will be flying to different places, it's hard to get down the aisle of an airplane with a duffel bag around your body. The handles allow your child to keep the bag in front of them as they maneuver to their seat.
The More Compartments, The Better
Compartments are something people who use duffel bags should look into. If it's only carrying a few big items, you may not need as much, but the Adidas bags now contain a lot more compartments than others have before, including small compartments in the front and sides. This means they can put snacks and food for after practice, their electronics, if you do have a phone for them or other items that are important for where they're going into there. If they're using it for the weekend, they can put their toothbrush, toothpaste, and hairbrush in there. So yes, the more compartments these have, the better, and you'll be able to, with the right duffel bag, put everything in there in a way that's neat and organized. Something that you should look into when you're choosing a duffle bag for your child, especially since it can play a part in the way that the child carries everything.
Sometimes, the duffel bag you're choosing is meant specifically for an activity. For instance, a dance bag often has specialized compartments in the end for storing dance shoes in. Travel bags may have more small compartments so kids can keep items in easily accessible areas. You definitely want to make sure a duffel bag kids travel bag has zippered pockets on the outside, too, so they don't lose their stuff. A gym bag, much like the dance bag, will also have a separate compartment for shoes to keep them away from clothing or food.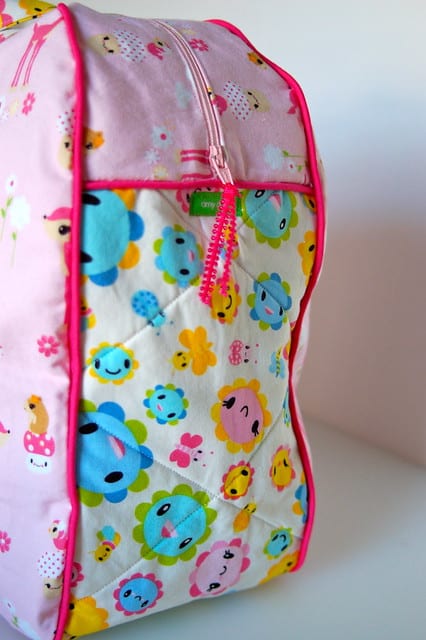 Cool Designs They'll Like
While this is a bit of a moot point, you should make sure that it contains a design that they love. For example, will they use a duffle bag later on that has princesses and unicorns all over it? Or, what about a duffel bag with Disney Mickey Mouse faces covering the outside. Chances are, they won't, and they'll think they're "too old" for that. 
Well, if you want to save some cash, you should get them a design that they like, that they know they'll continue to use and grow into, and something that makes them happy. There are a lot of cool designs these days for these types of bags, so it's worth checking out, especially if you want to get something that they'll use. Maybe choose a quilted duffle bag for kids with a polka dot pattern rather than a character they're into so they'll want to use if for longer.
Personalize It
If you're looking for impressive gifts for kids and you're looking at a kids duffel bag as an option, look into personalizing it. You can get a monogrammed kids duffle bag with a hand picked design they'll like that will be useful and something they love. Isn't this a better idea than stuffing gift cards in an envelope? A monogrammed kids duffel bag will make the child in your life feel special and they'll be excited about using it for whatever they want. You can turn a kids duffle bag into a sentimental gift from the heart by giving a monogrammed kids duffel.
Moisture Resistance 
This one is especially important if they're using it as a gym bag or a dance bag. A duffel bag that isn't moisture-resistant is subject to rain if it does rain during practice, and if a water bottle spills in there (which happens more often than you'd think), it can be a nightmare to clean up. It makes the bag feel heavy and gross, and if you don't want to have to deal with washing a duffel bag regularly, you should consider moisture-resistant options if you know that they'll be dealing with that. They usually aren't that much more expensive than the other options, so it's not like you'll be losing out on money or anything with these, so it's something that you should keep in mind as well. 
Ultimately, even a duffel bag kids travel bag should be water resistant. When we travel, we encounter many situations where a duffel bag could get wet. For most instances, you should look for a kids duffel bag that is moisture resistant.
A Shoulder Strap 
Finally, a shoulder strap. These are great for children, especially if they prefer to carry it on their shoulders than on their hands. But, you should make sure that the shoulder strap has an ergonomic design, and feels good against their shoulders. There's been a lot of instances where a child will use it because it has a shoulder strap, but then, it feels awkward in their shoulders, so they won't want to use it. A kids duffel shoulder strap should feel good, and not dig into their skin, so when you're choosing a strap, you should choose one that feels good against the body, and one that your child will enjoy. You can have them come with you, and from there, try a duffle bag on. If they like the feeling, then you should be good to go. If they don't, get them another one or get a shoulder strap attachment that they want. The removable ones are great options.
A shoulder strap is good as an option on any type of duffel bag. It doesn't matter if it will be a travel bag, a gym bag, or an overnight bag, shoulder straps can make things easier to carry. You should look for a duffle bag for kids that has both the shoulder strap and carrier handles so your child can choose how they want to carry their bag. A kids duffel bag or kids travel bag will be carried for long periods of time, sometimes, so it's best if children can lay a shoulder strap across their bodies.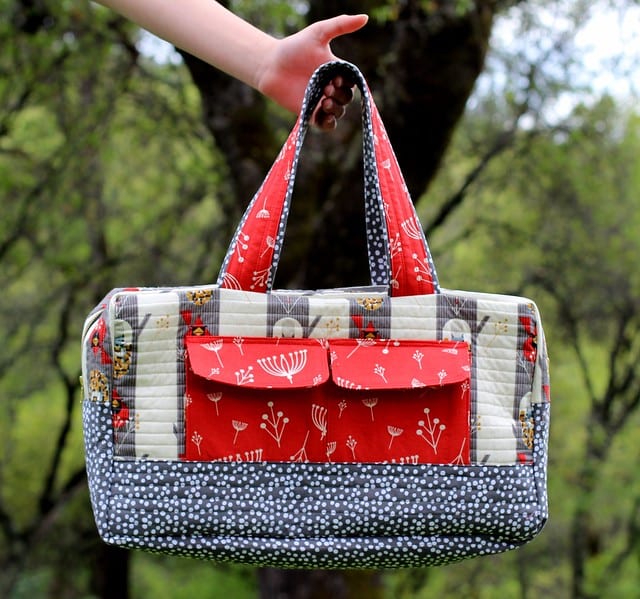 Kids Duffle Bags Conclusion
With duffel bags, choosing the right one can be helpful for kids, especially if they are going to be in a lot of sports and using it often. As a parent, choosing the right one means that they'll be able to use this again and again for sports practices, which can be quite helpful for lots of people, and children will enjoy this since they'll want to use the bag again and again. Duffel bags are great assets for a child, especially if they visit friends, and you should get them one that fits this. Your child can use kids duffle bag as a gym bag, a travel bag, a school bag, and so much more.
Kids Duffle Bags FAQs
Which bags have a hard or solid bottom or base?
The Rockland Tote is the only bag that has a hard bottom or base. The others have a flexible base, which only follows the shape of its contents.
How do you clean these bags? Can they be washed in the washer and dried in the dryer?
These bags can be cleaned by hand wash or by wiping it clean for longevity. Only the BeeGreen Party Bags and the Patchwork Duffle are suitable for machine wash.
Are the kids duffle bags versatile for any type of content? Can they be used for school, play, and trips?
Yes, these bags are very versatile. You can put whatever you want in it. You can use it at school, in the gym or for traveling. Sometimes a gym bag kids duffle will have a special shoe compartment or a separate space for dirty clothes, but it could still be used as a travel bag for kids or for other purposes. Check for a variety of options here.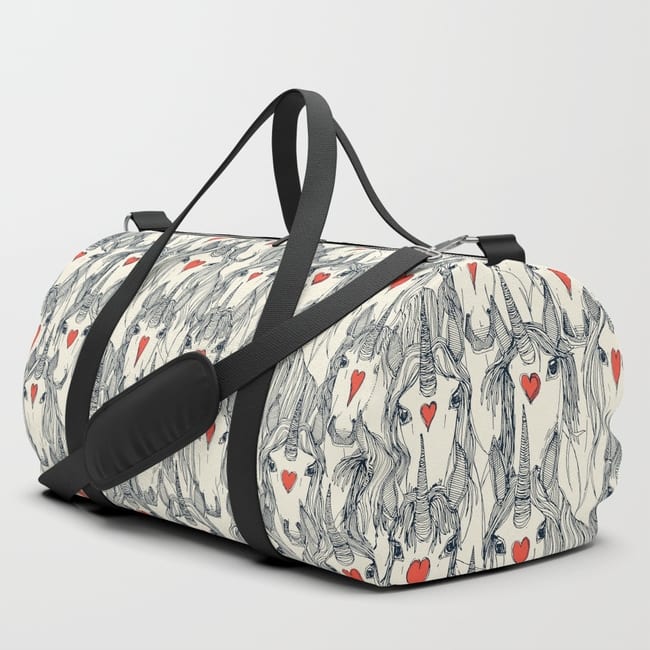 I want a bag with a lot of pockets. Which ones have the most pockets?
The bags with the most pockets are the Patchwork Duffle, the Dance Bag, and the Rockland Tote. These are handy bags for whatever purpose you have in mind.
Which bags would be suitable for a small child to carry?
Kids would surely love the Girls Dance Bag, the Party Favor Bags, and the Wildkin Duffle. These kids duffle bags are lightweight and easy to carry for small children.
Pottery Barn Kids has a monogrammed kids duffel bag that even glows in the dark. These make great gifts for kids. Personalized kids duffel bags are good for travel bags, overnight bags, and a gym bag. One in particular is the Mackenzie Aqua Soccer Glow-in-the-Dark Large Duffle Bag that can be monogrammed for kids. It's a barrel duffel bag kids travel bag that will thrill most small children.
Which bags can fold flat or fold to be put in other bags when they are empty?
When empty, all of the bags can be folded flat except for the Patchwork Duffle Bag. These are great bags because they can easily be stored and can be placed in other bags when empty.
One thing you can do is get a foldable travel bag for kids if they need something that will fold flat and they will be traveling a lot. A teenager on a traveling sports team or a kid who's going to college soon can benefit from these. The Gonex 100L Foldable Travel Duffle Bag is a good option.
Do all of the bags featured have a zippered top opening? Are any of them open on the top without a closure like a simple tote bag?
Almost all of the bags have a zippered compartment. The only exceptions are the Colorful Mesh Bags, which do not have a closure at the top part and the FunFitness Mesh Bag, which is a drawstring bag. 
Keep in mind that if you are getting a duffel bag for a kids travel bag, you want something that has zippered compartments so their stuff doesn't end up falling out. A travel duffel bag needs to be sealed for transport.
Are any of these a set of duffle bags, such as for luggage or travel purposes?
No, these duffle bags do not come in the set, just like other traveling bags. The Party Favor Bags though, comes in a ten pack in the same size with different designs for kids.
Are there duffel bags backpacks?
No there aren't. An option for someone who wants something like this is to get a travel duffel bag with wheels so kids can pull their duffel bag kids travel bag behind them.
Do kids duffel bags make good gifts for kids?
A duffel bag or gym bag can be great gifts for kids because all kinds of kids have a need for a duffel bag. You can make it a personalized kids gift even by finding a monogrammed kids small duffle bag. Look for a pattern and colors they'll like and steer clear of characters like Mickey Mouse so they won't outgrow it. This is especially important if you are going to get the monogrammed kids duffel bag because that's a gift they'll likely want to keep forever.
What kind of bag for kids travel bag is best?
Here are some different options for bags that children can travel with.
Backpack – A traditional backpack is good for putting a few things in to keep kids busy while traveling. This bag isn't the best for overnight packing, though. It's nice because they can wear it on their back and adjust the straps for a good fit. You can also get these with wheels and a handle.

Suitcase – Kids can travel with a suitcase. It will just have to be small and it's best if it has wheels and a handle, also.

Kids duffel bag – A kids duffle bag for kids travel bag is good because it will have plenty of space. You can find them with zippered pockets on the outside. They can carry it by the handle or with the shoulder strap. And you can also get these with wheels and a pull handle.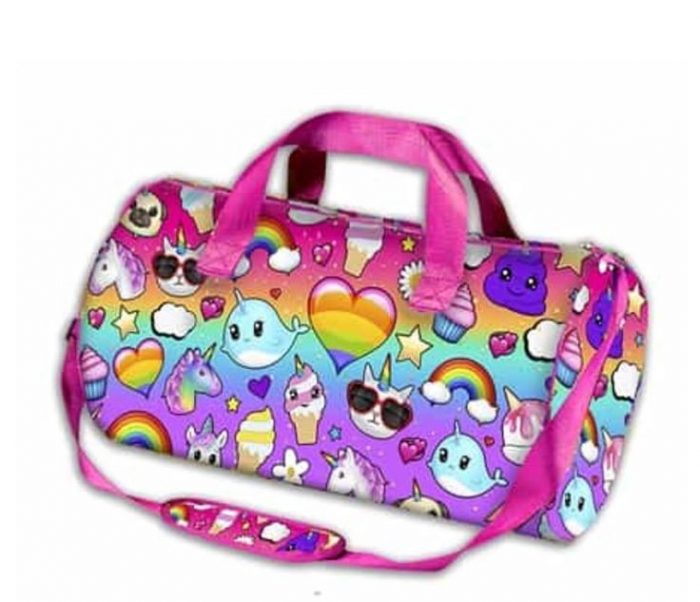 For us, the duffel bag kids travel bag is the best option because of its versatility. A travel duffel bag can be used for travel, but also for the gym, for sports, for dance, or for an overnight bag. The shape and size of a kids duffle bag make it easy to pack and easy to carry for any type of activity.
Where can I get monogrammed kids duffel bags?
There are several places to get monogrammed kids duffels. Pottery Barn Kids is known for their monogrammed kids items. You can also find them at Etsy, Simply Bags, and on Amazon.
Last Updated on January 31, 2023 by Mary Cimeni
DISCLAIMER
(IMPORTANT)
: This information (including all text, images, audio, or other formats on FamilyHype.com) is not intended to be a substitute for informed professional advice, diagnosis, endorsement or treatment. You should not take any action or avoid taking action without consulting a qualified professional. Always seek the advice of your physician or other qualified health provider with any questions about medical conditions. Do not disregard professional medical advice or delay seeking advice or treatment because of something you have read here a FamilyHype.com.