Gaming is fun. And depending on the equipment you have, it can be pretty immersive. One way to make it more fun, more comfortable, and more immersive is by choosing to get one of the best gaming chairs.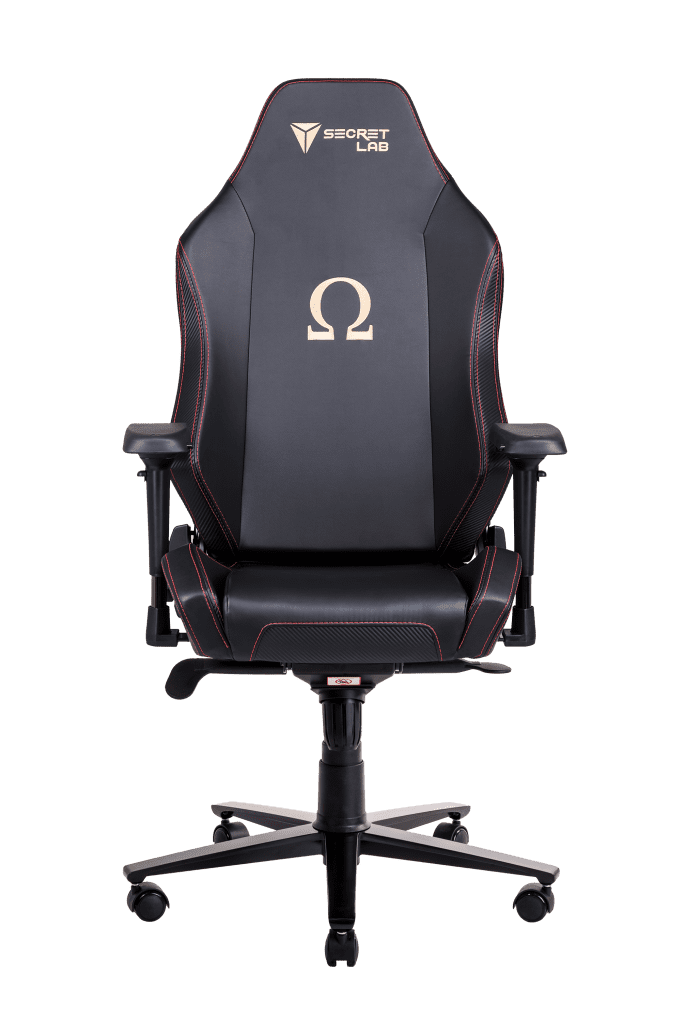 What are the best gaming chairs and why should you consider one? These chairs can make you much more comfortable when you're sitting for those long gaming sessions. They give support where you need it and help your body maintain a better, more healthy posture while you game. 
You can also get a gaming chair to match the style of gaming you like to play. For instance, if you like racing games, you can get a racing chair. The best gaming chairs have other features like speakers, pillows, and even ultra adjustable support pieces. 
Before we look at the best gaming chairs on the market, let's talk a little more about why you may want to consider one.
Are Gamer Chairs Worth It?
Gamer chairs are worth it for people who sit for long periods of time gaming. If you're sitting in an office chair, on a beanbag chair, or even on the couch for a long time playing PC or console video games, you tend to slouch a lot or sit with extremely bad posture. That can wreak havoc on your spine, neck, and the joints of your body. You can end up with some very serious health issues. 
Gaming chairs actually teach your body how to sit with correct posture. They help keep your spine in alignment and will give you a noticeable difference in the amount of aches and pains you have after your long gaming sessions. 
Asking the question "Are gamer chairs worth it," is basically like asking "Is your health worth it?" Serious or even semi-serious gamers should always answer "Yes!"
Features Of A Gaming Chair
The most important features of gaming chairs are what goes into their ergonomic design. Manufacturers use ergonomics to design chairs based on what the physical body and the mental state of a gamer needs. Most of these chairs will have headrests, armrests that are adjustable, and lots of lumbar support in the form of a pillow. 
One thing to look for is armrests that have directional designations. You'll see it mentioned as 1D, 2D, or 4D in the chairs' specs. What this means is that you can adjust the armrests up and down, but you can also adjust them in different directions. That's so you can get the kind of support you are most comfortable with.
Many of the best gaming chairs come with pillows. You'll mostly find them for the head and neck area and the lower back. These can help relieve pressure on those parts of the body and promote better circulation.
The material your chair is made of can make a big difference in how it looks and its durability. Leather is one of the most popular materials for gaming chairs. However, there are far more of these chairs that are covered in synthetic leather, such as PU (polyurethane coating) or PVC (polyvinyl chloride). PU and PVC will both be more likely to crack than genuine leather. There will be a cost savings with the synthetic leather chairs, though. Other materials you'll find on gaming chairs are fabric and mesh.
Size is something you can choose from, too. If you're smaller than average, there are small chairs to fit your body type. You can also choose from options in the big and tall category. 
Here are a few of the best gaming chairs for you to check out. There are chairs in many different price ranges so you can stick to your personal budget.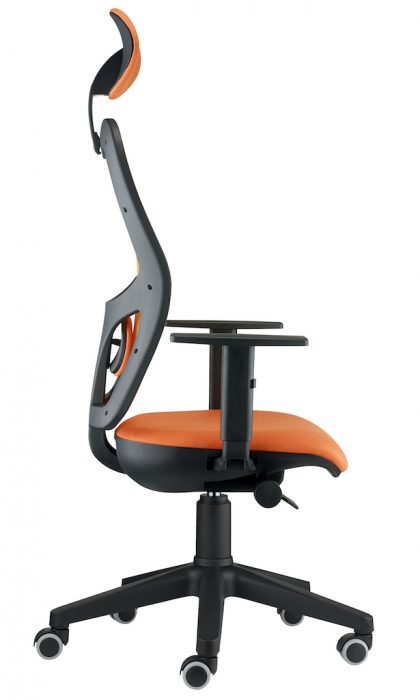 Best Gaming Chairs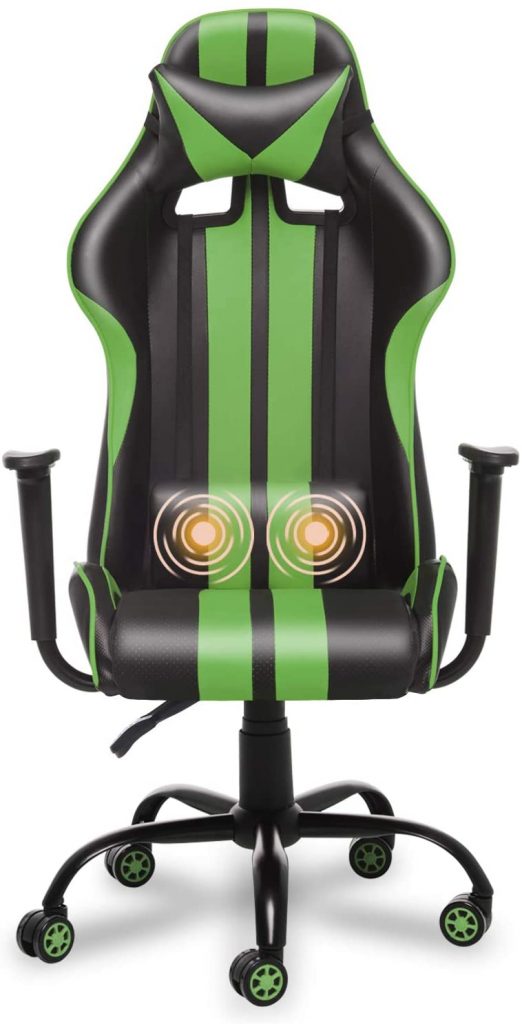 This has a racing chair style. It comes in 10 different color options so teens will love this chair. This gaming chair is made of PU leather that is waterproof and easy to clean. The weight limit for the chair is up to around 300 lbs. so it's a strong and steady option. The backrest reclines and you can adjust the seat height, the headrest pillow, and the lumbar cushion. It's on wheels that can swivel in any direction, too, so moving around is quite easy. And the best part of all is the vibration massage feature. There is vibrating lumbar massage that comes with this chair.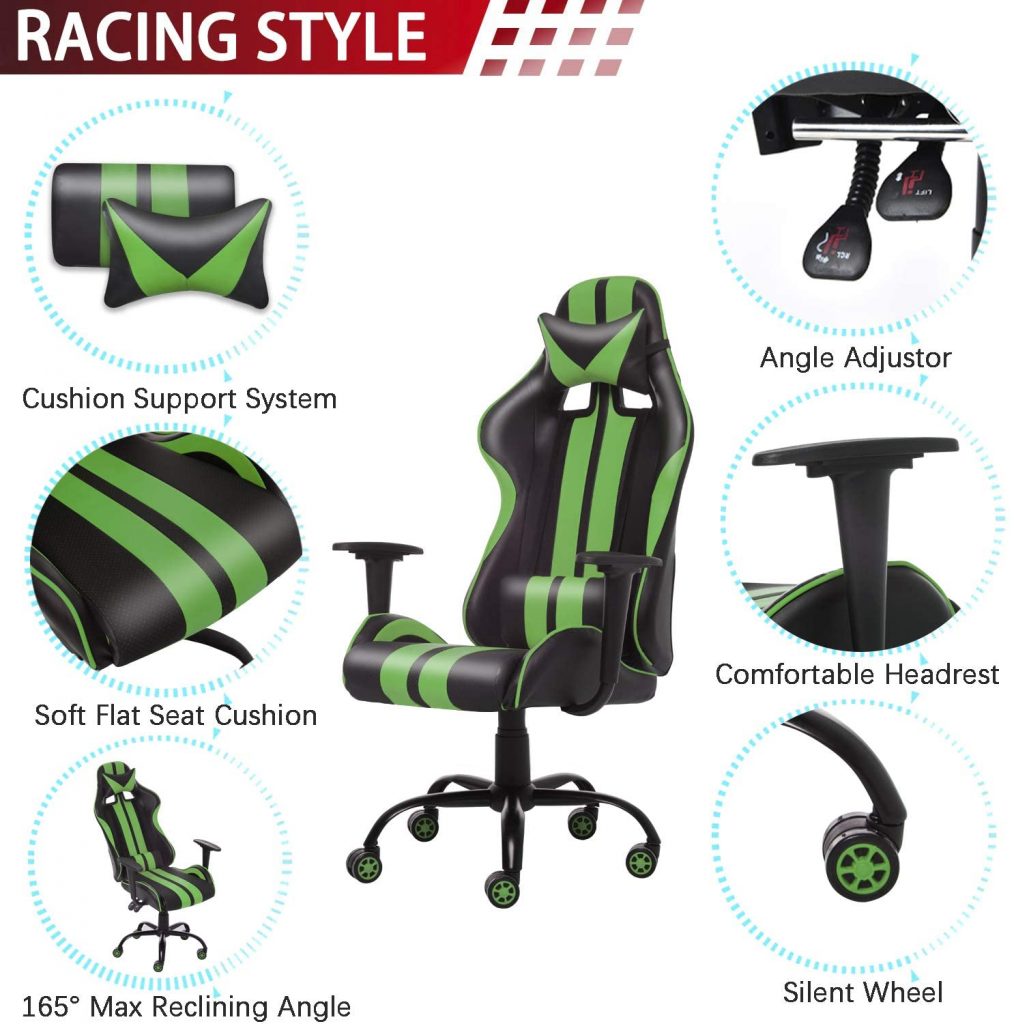 Pros:
High maximum weight limit
Easy to maneuver
Many color options
Extreme version available
Can adjust to individual preference
Affordable
Cons:
Tools confusing for assembly
No padding on armrests
Chair doesn't always stay at recline set at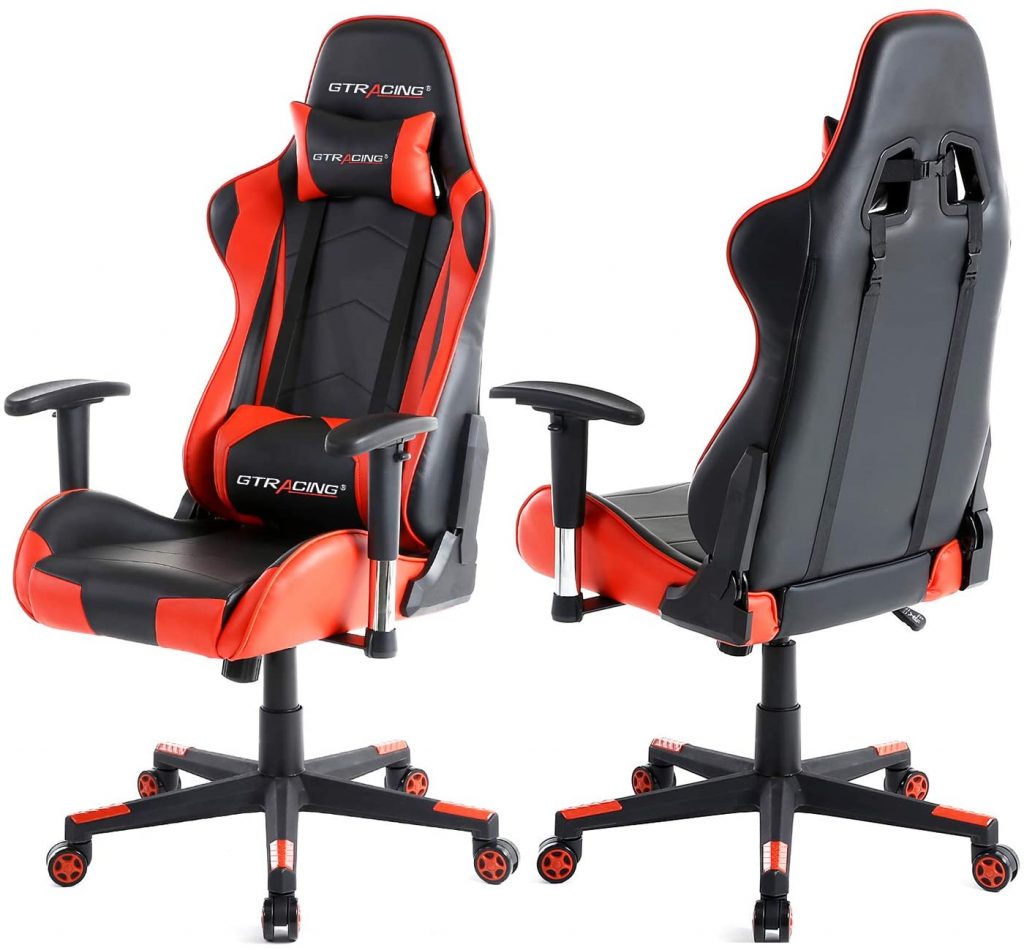 This chair looks cool so most gamers will like it regardless of the style of gaming. It's made of high quality PU leather so it's definitely easy to clean and water resistant. It's a racing chair style that comes in 5 colors you can choose from. There are adjustable armrests, as well as a seat height adjuster. You can also rock or recline in the chair. The chair swivels all the way around if you need it to, as well. It's designed to be extra comfortable with lots of padding, a headrest pillow, and a lumbar pillow included.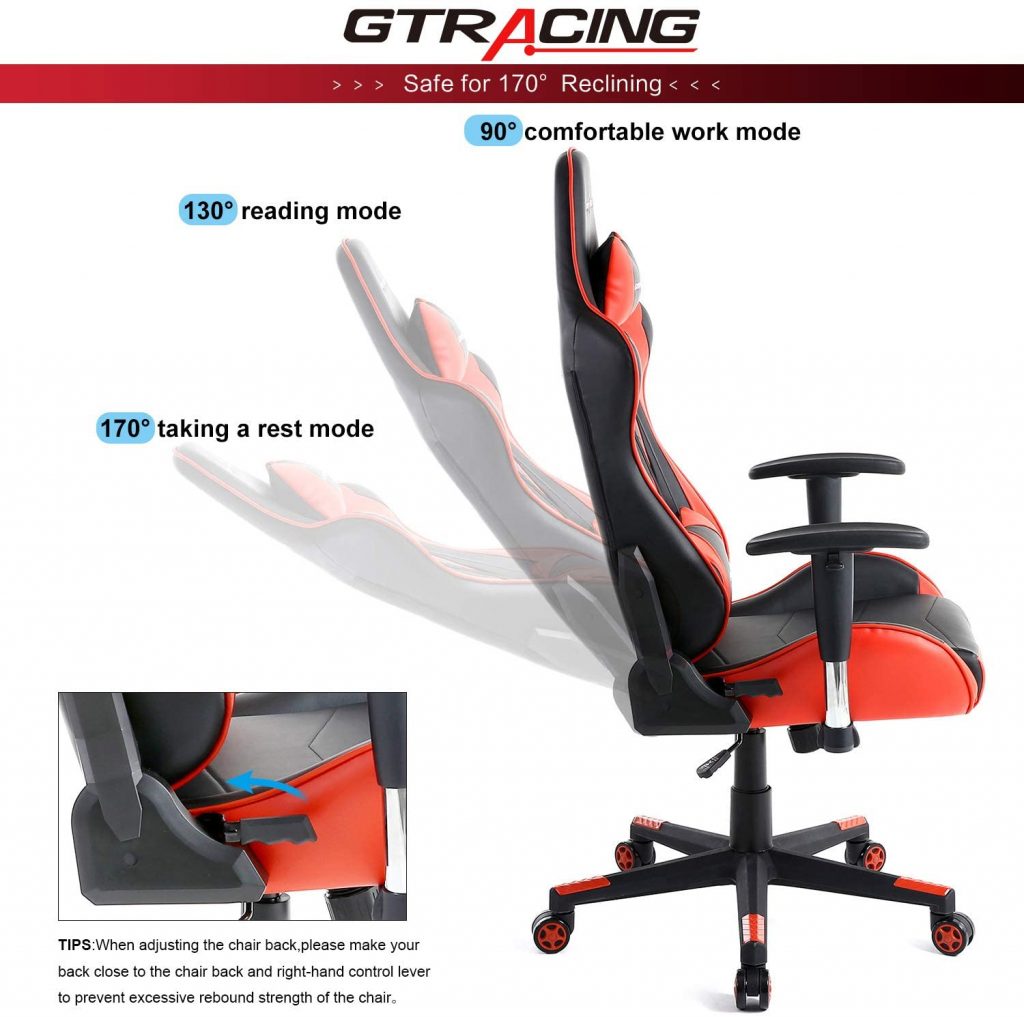 Pros:
Versatile enough to be an office chair
Durable PU leather
Recline goes all the way to 170°
Ergonomic metal frame
Variety of color options
Cons:
Slightly on the heavy side
Arm rests move too easily
May not adjust enough for taller gamers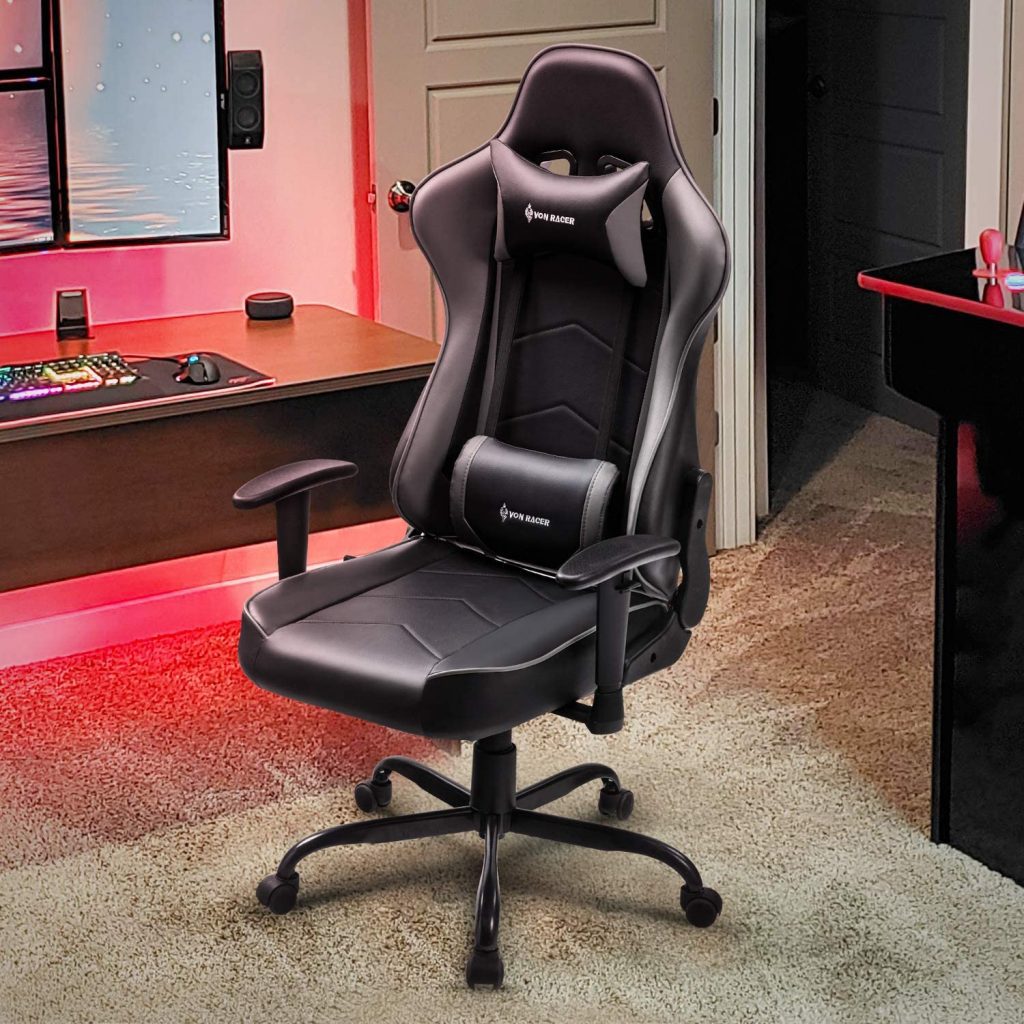 The VON RACER Massage Gaming Chair is another racing chair style but in a much more subtle fashion. It comes with a headrest pillow and a lumbar pillow that has massage vibrators to help with the muscle aches and stiffness experienced from long gaming sessions or sitting in the office. The seat is wide and flat with padding that is soft and covered with PU leather. The material is easy to clean and resistant to fading. You'll have full swivel, locking recline, and adjustable armrests, headrest, and lumbar support.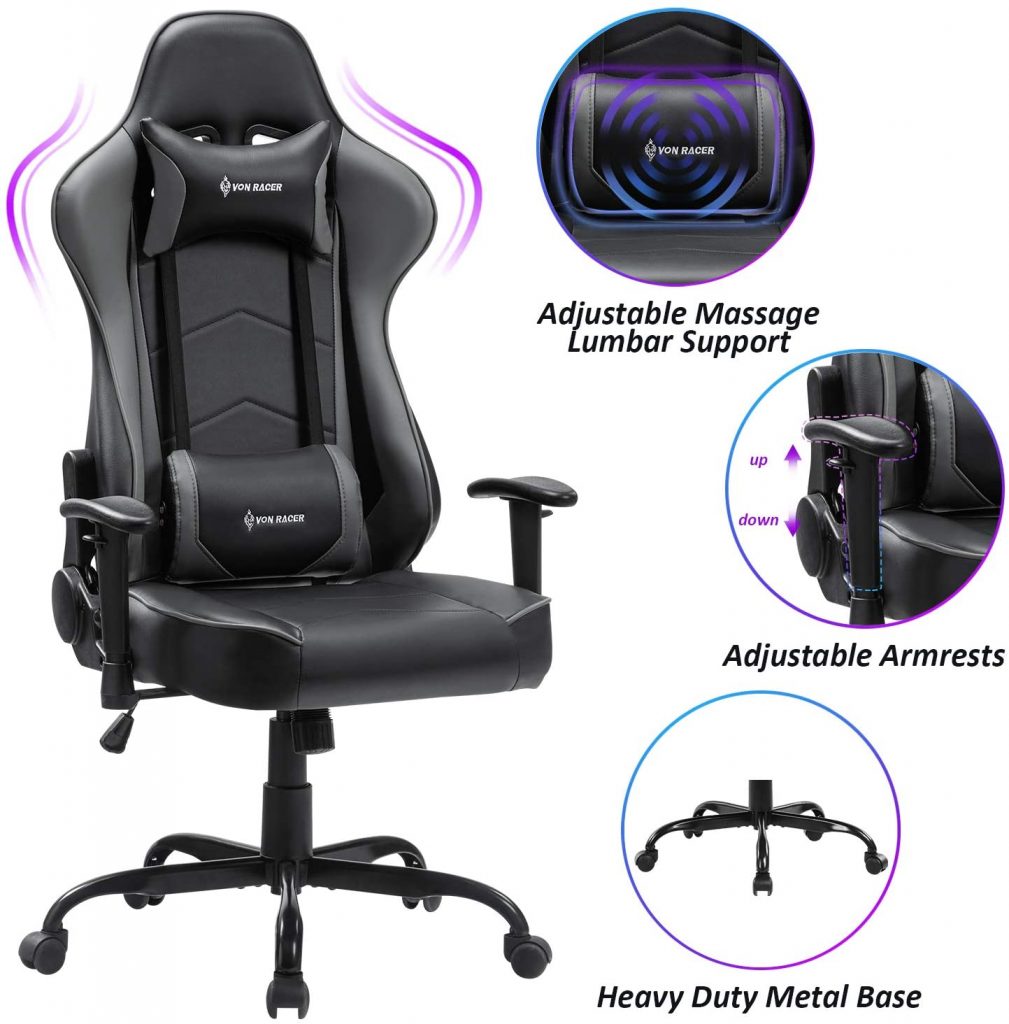 Pros:
Subtle design makes it more appropriate for use anywhere
6 color choices
Lumbar massage
Locking recline
Wide, flat seat cushion
Cons:
Cushions are a little stiff
Uncomfortable for long periods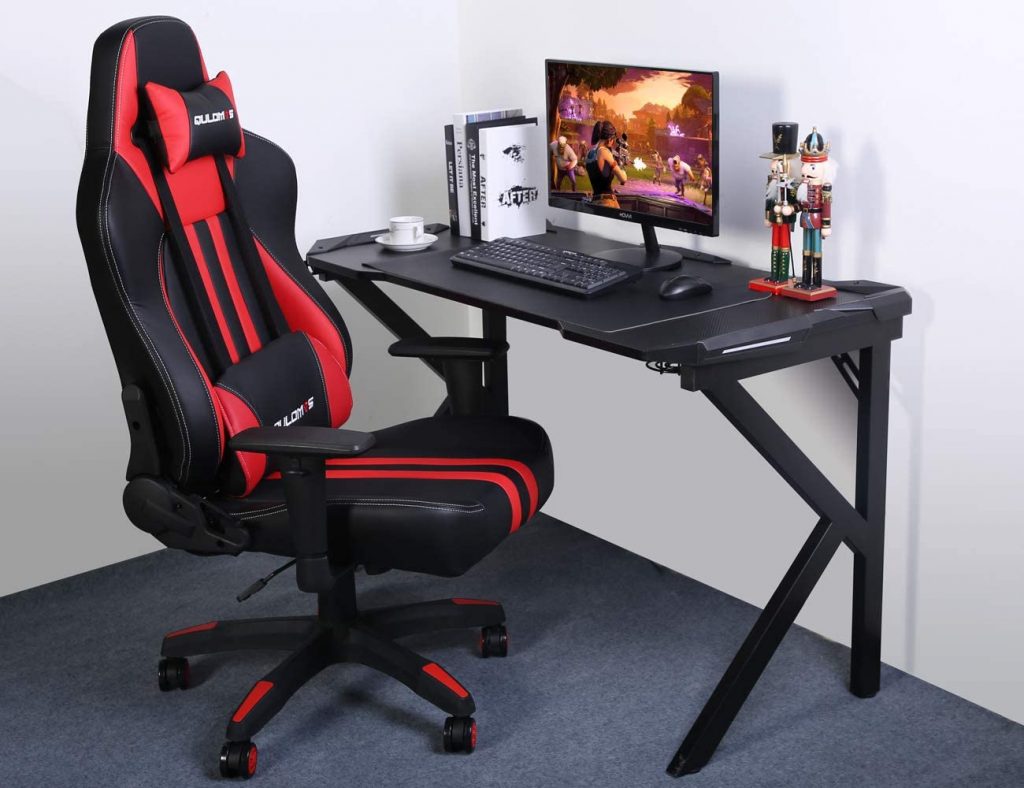 The racing chair style of this chair is attractive to look at. There are 4 color choices for buyers. This chair has a broad recline range that goes all the way back to 180°. This is a big and tall gaming chair so it can accommodate someone up to 400 lbs. and has a wider range of adjustability on the height setting. The armrests are 3D adjustable, too. You can free rock in the chair and swivel all the way around. You also get the added bonus of the lumbar massage function. The chair is made with highly durable PU leather that is easy to keep clean and resistant to water.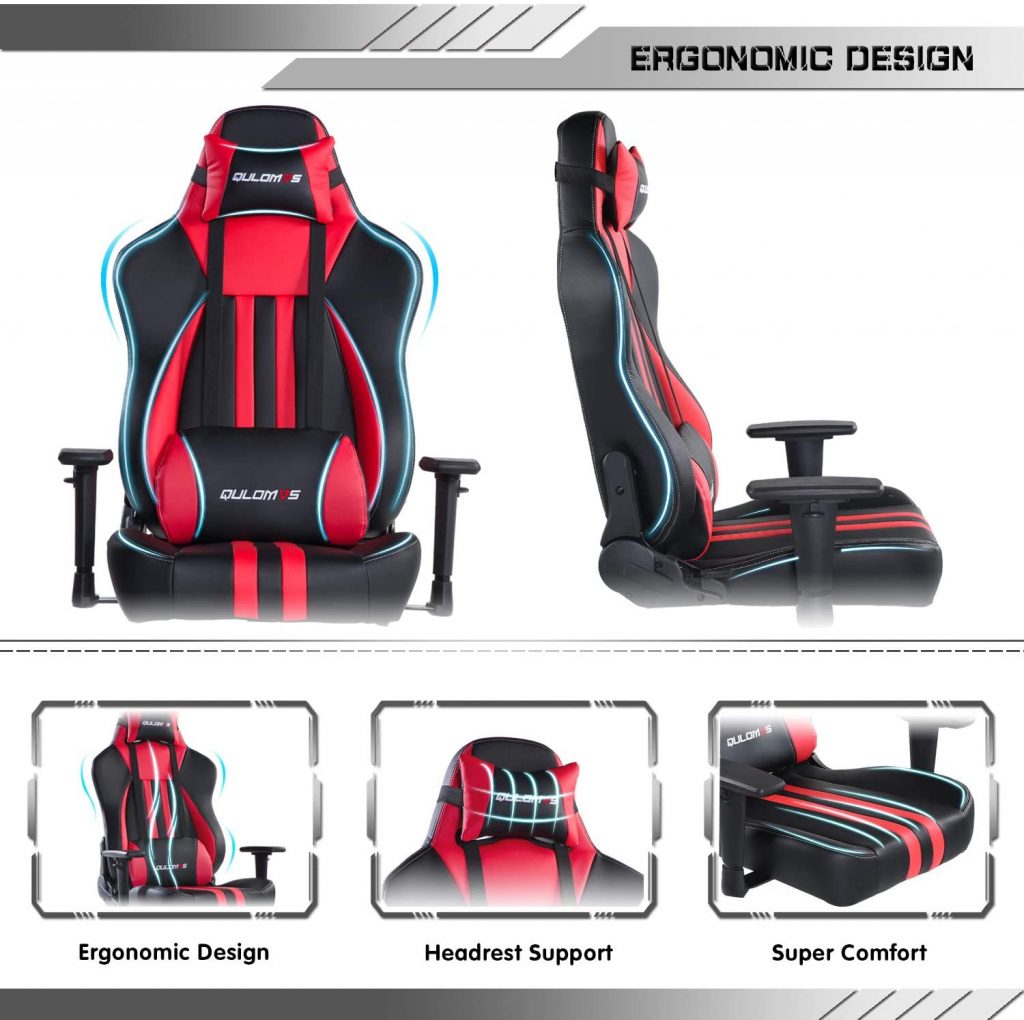 Pros:
Lumbar massage function
Higher maximum weight limit
Free rock and broad recline
Durable materials
Comfortable
Cons:
Some squeaking can develop
Massage not strong enough for some tastes
A little confusing on assembly
Conclusion
The best gaming chairs can be used as an office chair or for any style of gaming. The point is to make gamers or people who have to sit at a desk for long periods of time more comfortable and sit with better posture. Long gaming or working sessions where you're sitting for hours and hours can lead to serious health issues. The best gaming chairs are designed through ergonomics so they can provide the support and alignment your body needs while you're sitting. 
FAQs:
What is the best chair for gaming?
The very best chair for gaming is the Vertagear Triigger 350. This is a high end luxury chair that can easily double as an office chair because of its aesthetics. It's mesh so it breathes well and is highly durable.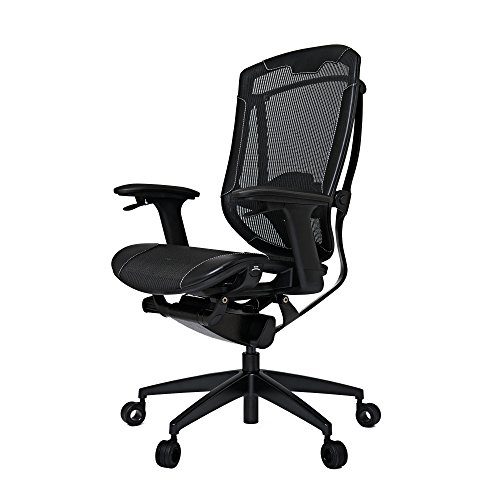 What is the most comfortable gaming chair?
The most comfortable gaming chair for 2020 was the Herman Miller Embody. This one looks more like an office chair than a gaming chair because it doesn't have that racing chair style to it. It's ideal for any style of gaming and is extremely comfortable.
What gaming chair does PewDiePie use?
He uses the Throttle Series PewDiePie Edition chair by Clutch Chairz.
Are gaming chairs bad for your back?
A true gaming chair will be better for your back than any office chair or other type of seat. They're designed through ergonomics to enhance and correct your posture while you're sitting for long periods of time.
What gaming chairs do pros use?
The pros use a number of different gaming chairs. Tyler Blevins uses the MAXNOMIC Dominator Gaming Office & Esports Chair. Shroud (Michael Grzesiek) uses the Herman Miller Aeron Task Chair. And PewDiePie uses Clutch Chairz.
What is the best chair for sitting all day?
You should go with the Herman Miller Embody for office or gaming use. However, there are plenty of good quality gaming chairs like the ones mentioned in this article that will make sitting all day more comfortable.
What should I look for when buying a gaming chair?
Look for how adjustable it is so you can set it to what's right for your body type. Look for how much padding and support there is in the head and neck area, the lumbar area, and the rear area. You'll also want to look for materials that are easy to clean and maintain, which are also durable.
Who makes good gaming chairs?
Secretlab 
Noblechairs
DXRacer
Herman Miller
Ferghana
GTRacing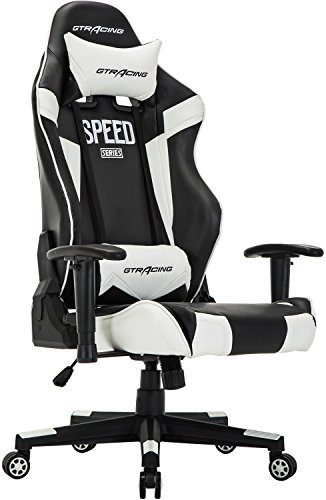 What are gaming chairs bad?
One reason they can be bad is if you use them without their lumbar pillows. The chairs themselves are built without the lumbar support found in office chairs. The pillows that come with gaming chairs usually have straps to hold them in place that can slip and cause you not to get the support you need for your lower back.
Other complaints are shoddy construction, paying more for the look than the function, and they're too narrow. Many of them come with a bucket seat design, too, which is not very comfortable.
Disclaimer: FamilyHype.com (Family Hype & FamilyHype) is a participant in the Amazon Services LLC Associates Program, an affiliate advertising program designed to provide a means for sites to earn advertising fees by advertising and linking to Amazon.com.
Last Updated on January 27, 2021 by Marie Miguel
DISCLAIMER
(IMPORTANT)
: This information (including all text, images, audio, or other formats on FamilyHype.com) is not intended to be a substitute for informed professional advice, diagnosis, endorsement or treatment. You should not take any action or avoid taking action without consulting a qualified professional. Always seek the advice of your physician or other qualified health provider with any questions about medical conditions. Do not disregard professional medical advice or delay seeking advice or treatment because of something you have read here a FamilyHype.com.