We're entering the time of year when we start thinking about staying warm. Those of us who live in climates where the weather changes may be pulling out our sweaters, scarves, hats, and coats. Then, we may find we need a new winter coat. One of the warmest types is the down coat.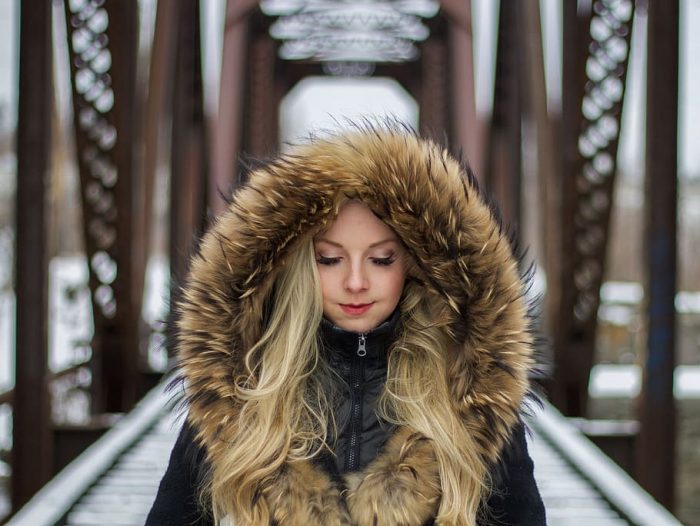 Here are some factors to consider when choosing the best down coat. Determine how much insulation you need. Think about how you will use your down jacket—as an everyday winter coat or an insulation layer? Look for the fill power and fill weight you want. Consider the weather protection each winter coat has. Get the features you want, such as zipper pockets, a hood, or vents. Also, the best winter coats are durable and made with fill that's certified as responsible down standard.
Let's start by looking at some down coats on Amazon. These all have good overall reviews from customers. They're considered some of the best winter jackets and coats on the market. Then, we'll look deeper into the factors we just mentioned to help you decide what type of down winter coat works best for you. Keep reading to learn how to choose your best down coat.
Best Down Coat Options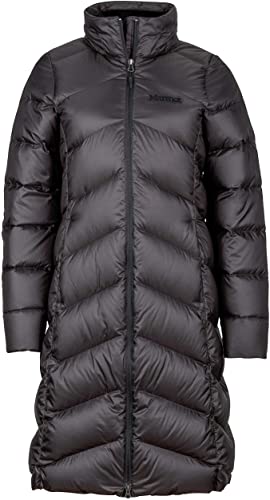 This full-length puffer coat comes in three colors—jet black, berry wine, and arctic navy. It's crafted of 100% polyester sweater knit material. It's machine washable, so it's a good option for an everyday winter coat. The shell is treated with Down Defender for moisture resistance. The coat has a 700-fill power level. The coat has a hood that zips off if you like. The hood also has a faux fur ruff you can take off if you want. Two interior pockets are included. One is zippered while the other is a drop-in pocket.
Pros:
Lined handwarmer pockets
Keeps you warm and dry
Customizable hood and ruff
Full-body insulation
Lightweight
Easy to clean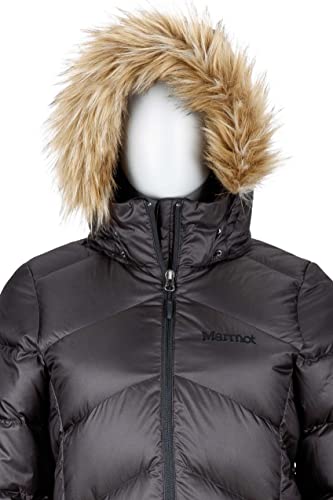 Cons:
Sizing is off
Zipper seems lower quality than coat
Fill is uneven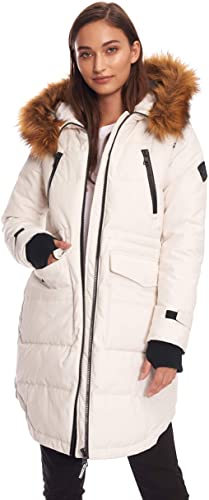 The Alpine North Winter Parka is full-length and machine washable. It's another good option for an everyday winter coat. The shell is made of 82% polyester and 18% cotton. This winter coat is filled with down alternative. Rather than using goose or duck down, the coat is filled with 100% polyester down alternative. It's eco-friendly and animal friendly. This coat is rated for temperatures as low as -22º F. The shell is water-repellent, also, so you stay dry. The coat is lightweight with a faux fur trim around the top that can even be removed.
Pros:
Affordable
Lightweight and slim
Four color choices
Filled with down alternative
Flapped pockets on exterior, zipper pockets
Easy to clean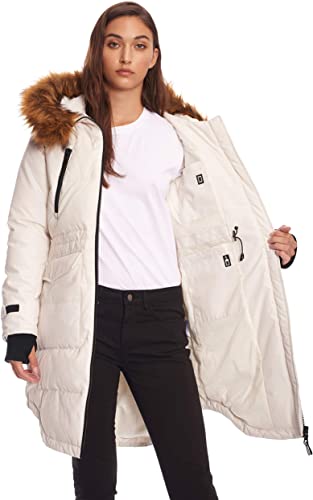 Cons:
Pockets rip off easily
Waist-level drawstring doesn't extend all the way around
Not a good option for those under 5 feet

The Orolay puffer coat is one of the best winter jackets for women looking to be warm over their whole bodies. This is a maxi-length winter coat, meaning it comes down to about mid-shin level. The shell is made of 100% polyester that is windproof and water-resistant. It's machine washable and has a zipper closure on the front. The fill is made of 90% white duck down and 10% feathers. The coat is hooded and has snap-up pockets. It's stylish and fitted, as well.
Pros:
Highly affordable
Warm and keeps wind out
Easy to clean
Interior cuffs trap in heat
Fitted to body shape

Cons:
Glitchy zipper
Sizes run big
Hood may be too large
Are Down Jackets Worth The Money?
If you like to stay warm when it's cold, then a down jacket is worth the money. Down is a great insulator. Choosing the right down coat should start with considering how you'll be using it. Are you going to wear it as an everyday winter coat, or will it be used for a specific activity? Down jackets for layering under other coats should be chosen for different features than those for everyday use. 
Your chosen down jacket is more worth it when you stay within your financial means. Set a budget for your down coat up front. When we overspend for items, the value they hold is decreased.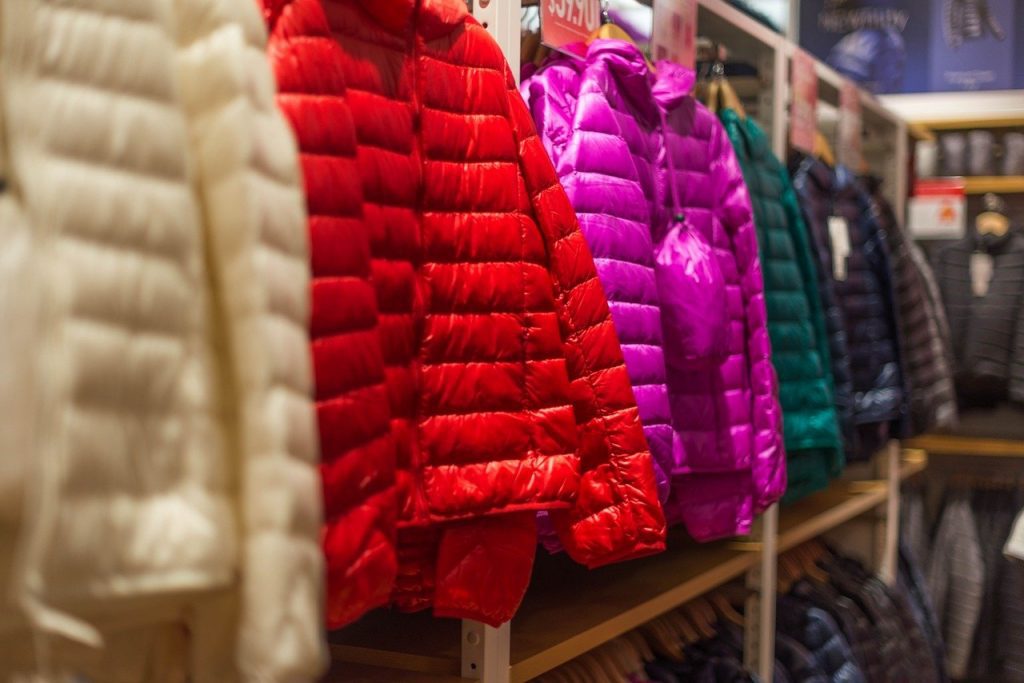 How Much Insulation Do You Need?
Down coats come with various levels of insulation. They provide greater or lesser warmth. If you want something lightweight for cool climates or for layering, you'll look for a jacket that's slim and rated for temps down to around freezing.
The next level is midweight. These jackets won't weigh as much as a heavy one but have high fill numbers and fill weights. Most are rated for below freezing.
Heavyweight down coats are ideal for cold, wintery climates. They'll keep you warm when the snow is blowing around and the temperatures are freezing. Most of these have weather-resistant shells, too. These have high fill power numbers and fill weights. Sometimes, the down is of lesser quality, though. 
What Is Fill Power And Fill Weight?
These two numbers essentially indicate how warm the coat will be. One measures the amount of space the down takes up, while the other measures the ounces of down in the coat.
Fill power – This tells you how much fluff the down has. How much space does an ounce of down occupy within the coat? It speaks to the fluffiness of the down coat.
Fill weight – This tells you how many ounces of down are in the coat. The fill weight is the true indicator of how warm the coat will be. You can have a high fill power number but low fill weight, and the coat won't be as warm as one with a larger fill weight. 
Weather Protection
Down coats aren't the best when they're wet. Down that gets saturated starts to clump. That makes for a lumpy, uncomfortable coat that won't keep you warm. 
This means you should look for a down coat with a shell that is weather protected. You want something with a wind-proof and moisture-resistant shell. Many down jackets are treated on the outside with durable water repellant. It causes any moisture to bead and drip away. A new trend towards treating the down inside the jacket is helping to keep moisture from collecting in the filling.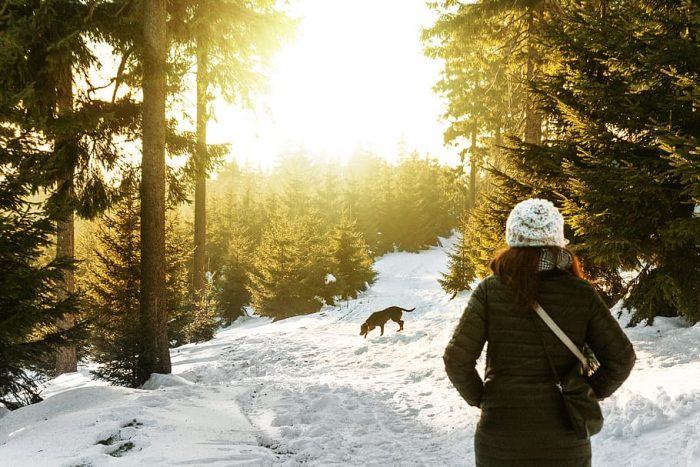 Down Winter Coat Features
Hoods are important features for some people. Wearing a down coat with a hood in winter weather conditions keeps the wind and snow off your neck and head. Many hoods are removable. You may want to look for one with a removable hood if you'll only need it for certain times. 
Pockets are important to consider, too. Make sure there's a zippered pocket somewhere for storing your personal items. It's good to have two exterior pockets with lining to keep your hands warm. 
Other features you can look for include drawstrings, cuffs, two-way zippers, air vents, and removable trimming. 
Responsible Down Standard
We encourage you to look for a down coat that's been RDS Certified. This stands for Responsible Down Standard. It means that the animals used to source the down and feathers are not unnecessarily harmed to make consumer products. If eco-friendly and humane practices are important to you, look for this certification on down coats.
Final Thoughts
Choosing the best down coat comes down to some specific factors. You'll look at how you're going to use the coat, first. Decide how warm you need it to be. That will help you choose the fill power and fill weight you want. Choose features that provide the coverage you want and the security. You can look at the style and customizability of coats, too. The best down coats keep you warm no matter the weather with the look and price you prefer.
FAQs:
Which down jacket is warmest?
The warmest down jacket has a high fill power number and higher fill weight. One of the warmest is the Rab Neutrino Pro. It has 800-fill-power down and an 8 oz. fill weight.
What is the best down coat brand?
Patagonia is one of the leaders in the industry.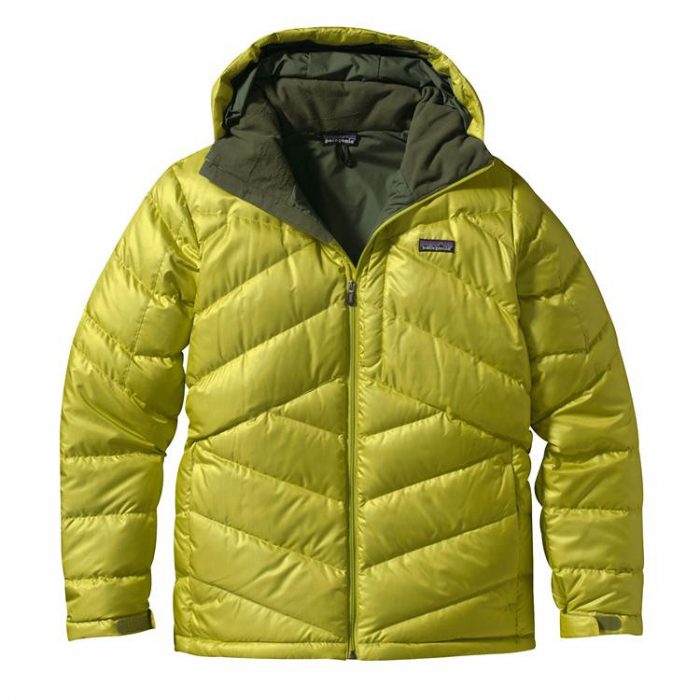 What is the best lightweight down jacket?
The Mountain Hardware Ghost Whisperer/2 Hoody is the best in the lightweight category of down jackets.
Which is better, a down or synthetic jacket?
Authentic down is better for keeping warm. It's lighter and isn't as easily compressed as synthetic fill.
At what temperature do you wear a down jacket?
Down jackets are rated for the temps they are intended for. You should wear one for temperatures below 40º F. Choose your down jacket by the rating. Some are rated for temps well below freezing.
Which fill down is the warmest?
900-fill down from a goose is the warmest.
Is Canada Goose warmer than North Face?
These are both warm coats. Canada Goose is better at keeping you warm in frigid temperatures. However, if there's moisture along with the cold temps, you're in trouble. North Face coats are more water-resistant while still being warm.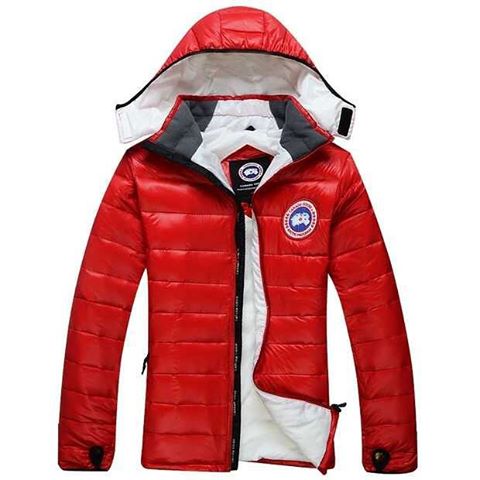 Is Moncler better than Canada Goose?
Canada Goose is the better of these two. It's warmer, more weatherproof, and more durable than the Moncler brand.
What brand of coat is the warmest?
The warmest coats are made by Canada Goose, The North Face, and Marmot.
Disclaimer: FamilyHype.com (Family Hype & FamilyHype) is a participant in the Amazon Services LLC Associates Program, an affiliate advertising program designed to provide a means for sites to earn advertising fees by advertising and linking to Amazon.com.
DISCLAIMER
(IMPORTANT)
: This information (including all text, images, audio, or other formats on FamilyHype.com) is not intended to be a substitute for informed professional advice, diagnosis, endorsement or treatment. You should not take any action or avoid taking action without consulting a qualified professional. Always seek the advice of your physician or other qualified health provider with any questions about medical conditions. Do not disregard professional medical advice or delay seeking advice or treatment because of something you have read here a FamilyHype.com.