Apartment living is convenient for a lot of reasons. In some cases, a lack of in-unit laundry machines makes for the inconvenience. And some apartments don't have the space for a washer and dryer. But the best apartment washer and dryer gives you the convenience without taking up too much space.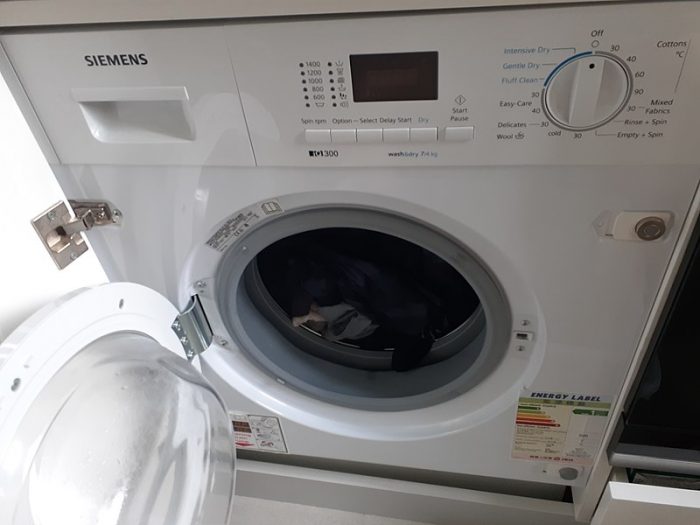 Follow these tips for picking the best apartment washer and dryer:
Measure the washer and dryer space.
Decide on stacked, side-by-side, or all-in-one.
Find out if you need a vented or ventless dryer.
Check out the noise level of each machine.
Choose the right capacity.
Before you start shopping, make sure you set a budget for yourself, too.
We're going to dive into the tips just mentioned a little deeper before looking at some good options of apartment washers and dryers for sale on Amazon. We'll help you with knowing what to look for when you're shopping for yours. Keep reading to find out more about choosing the best compact washer and dryer.
Measure The Washer And Dryer Space
This is the most important tip we can give you. You must measure correctly for your new washer and dryer. If you skip this step and decide to try to eyeball it, you could cause yourself a lot of extra effort. 
You need three measurements before you start shopping. First, measure the width of the spot you have. Next, measure the depth of it. Start from the wall in the rear and measure out to where you have available space. Finally, the height must be measured properly. Start at the floor and measure up to the bottom of anything that's above the space. 
Make sure you consider the doors to the washer and dryer. If you're going with a top load washer, you'll want an extra 20 inches of space beyond the top of the machine. If you're opting for a front loader, consider the space you'll need in front of the machines.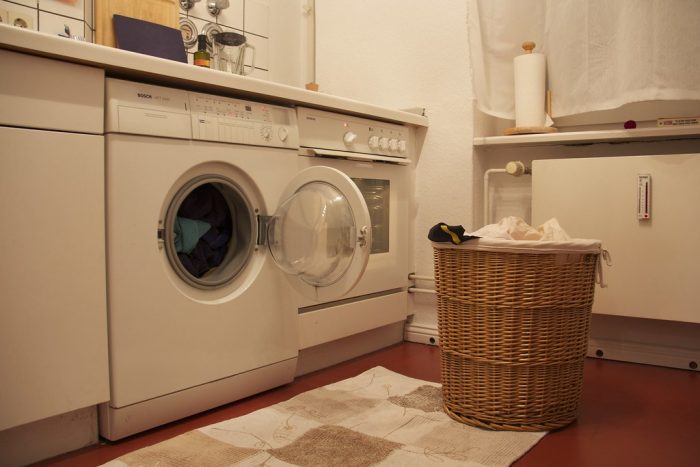 Decide On Stacked, Side-by-Side, Or All-in-One
You get to choose the layout of machines you want, as well. You may need an extremely compact washer dryer combo. You might only have space for a stacked set of machines. Here's a look at the benefits of each type:
Stacked – These come in a range of sizes. You can opt for a compact washer and dryer or go with full-size units. You can also go with different combinations of these. Mix a top load washer with a front load dryer. Or go with front loader washers and dryers. Stacked washers and dryers use space more efficiently. Generally, we don't use the space above our laundry machines. This scenario allows you to use it effectively.
Side-by-Side – People like side-by-side washer and dryer setups because it's the most versatile. The machines are easier to reach for everyone. There's no reaching up and trying to get the clothes out of the back of the dryer where you may not be tall enough to reach. A side-by-side washer dryer setup may include a compact washer or one that's high capacity. You can also opt for a front loader washer or a top loader.
All-in-One – The all-in-one washer dryer combo is the ultimate space-saving machine. This type is ideal for small apartments that may not have a dedicated space for laundry machines. You wash your clothes in it, then leave them in there for the dry cycle. The downside to it is the long cycle time. You can't wash another load while the previous load is drying.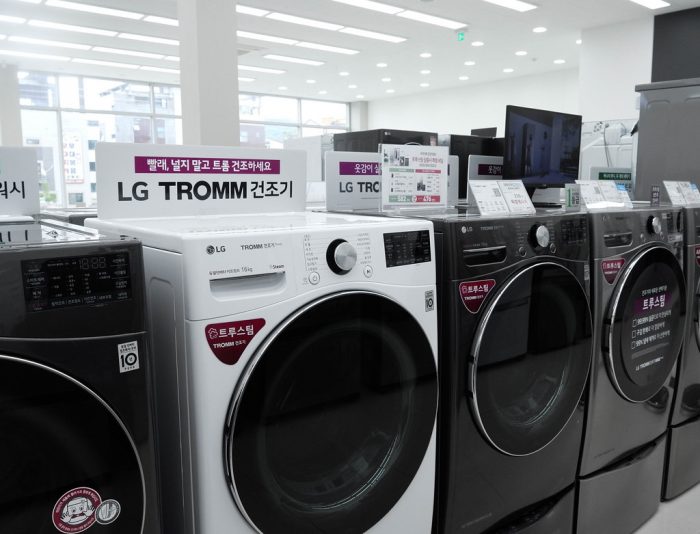 Find Out if You Need A Vented Or Ventless Dryer
Make sure you find out if you can install a vented dryer in your apartment. There must be a duct leading to the outside of the building for the humid air to escape through. If there isn't one, you'll need to go with a ventless dryer.
What Is A Ventless Dryer?
Ventless dryers take the hot, humid air created during the drying process and recycle it through the machine after extracting some of the moisture. Generally, ventless dryers have reservoirs where the water drains to. 
Ventless dryers are good options for those living in apartments that aren't vented. They do tend to take longer to get clothes dry and have decreased capacities. 
Check Out the Noise Level of Each Machine
Washer dryer units run at different levels of noise. In some cases, the machines may be close to bedrooms or busy living spaces. You should be able to find the decibel level in the description somewhere. Choose wisely for the location of your laundry space.
On average, washing machines run at between 74 to 77 decibels. If you want one that's super quiet, look for 50 or below.
Choose The Right Capacity
Some apartments leave no room for choosing the capacity you want. You may only have room for a compact washer. But if you have the space to accommodate larger washer dryer units, choose a capacity that allows you to wash the amount of clothes you'd like to. Cutting down on the number of loads you must do can save on energy and ultimately money. It's more efficient. 
A compact washer has around 2.3 to 2.45 cubic feet inside. Average sized washers have about 3.1 to 4 cubic feet. 4.2 to 4.5 cubic feet is considered large capacity.
Best Apartment Washer and Dryer Options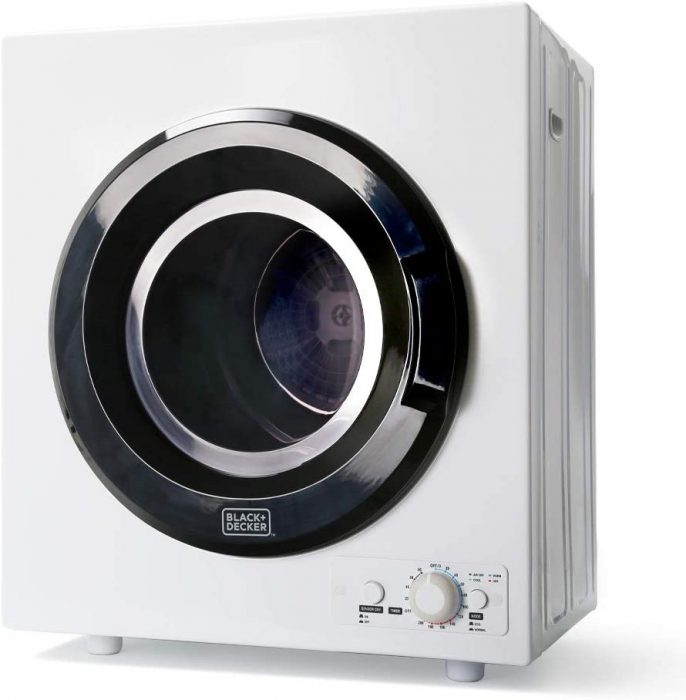 This dryer has an impressive capacity of 3.5 cubic feet. It has four different drying modes. It's transportable so you can easily move it around where you need to. It's equipped with 1500 watts of power and overheat protection. Some modes get your clothes dry in about 30 minutes. It's a frontload dryer with a stainless-steel drum. It has an ECO mode, too, that helps keep your power bill down. 
Pros:
Space-saving design
Dries well and quick
Lightweight
Large capacity drum
Easy installation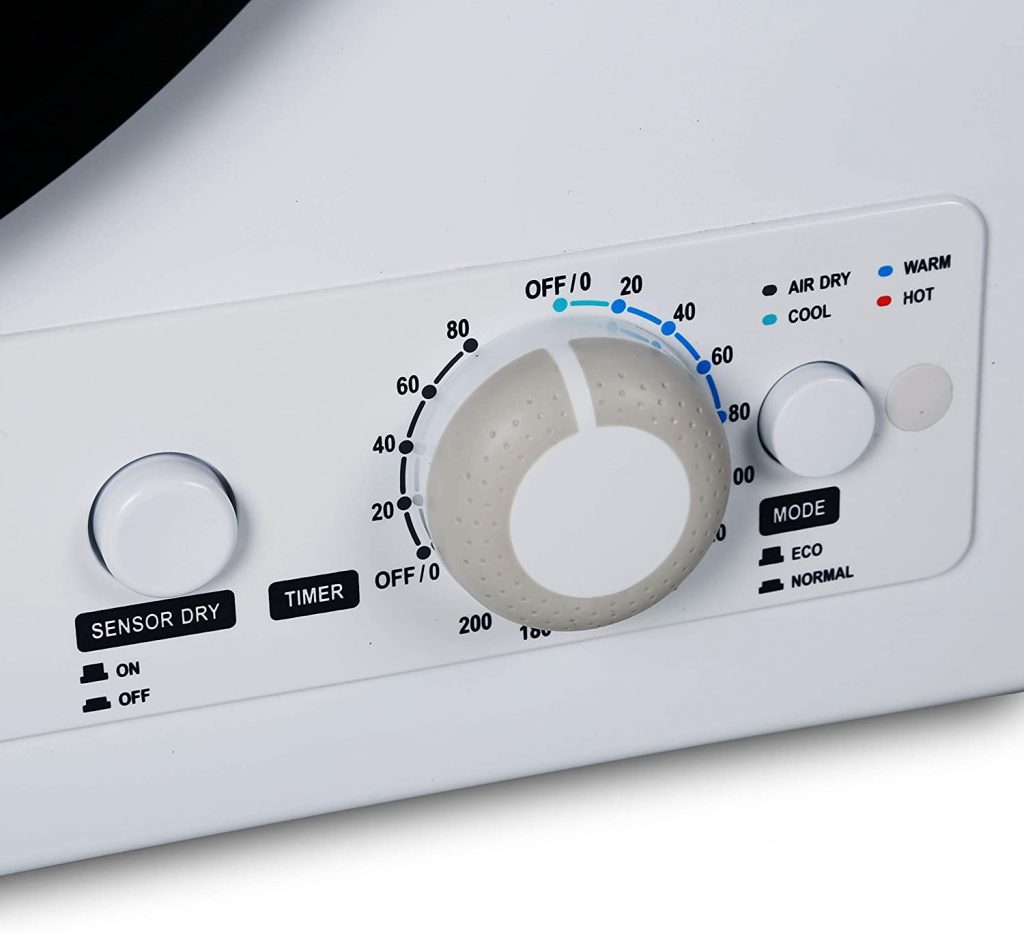 Cons:
Pricey
Control placement down low is hard to see
No exhaust hose included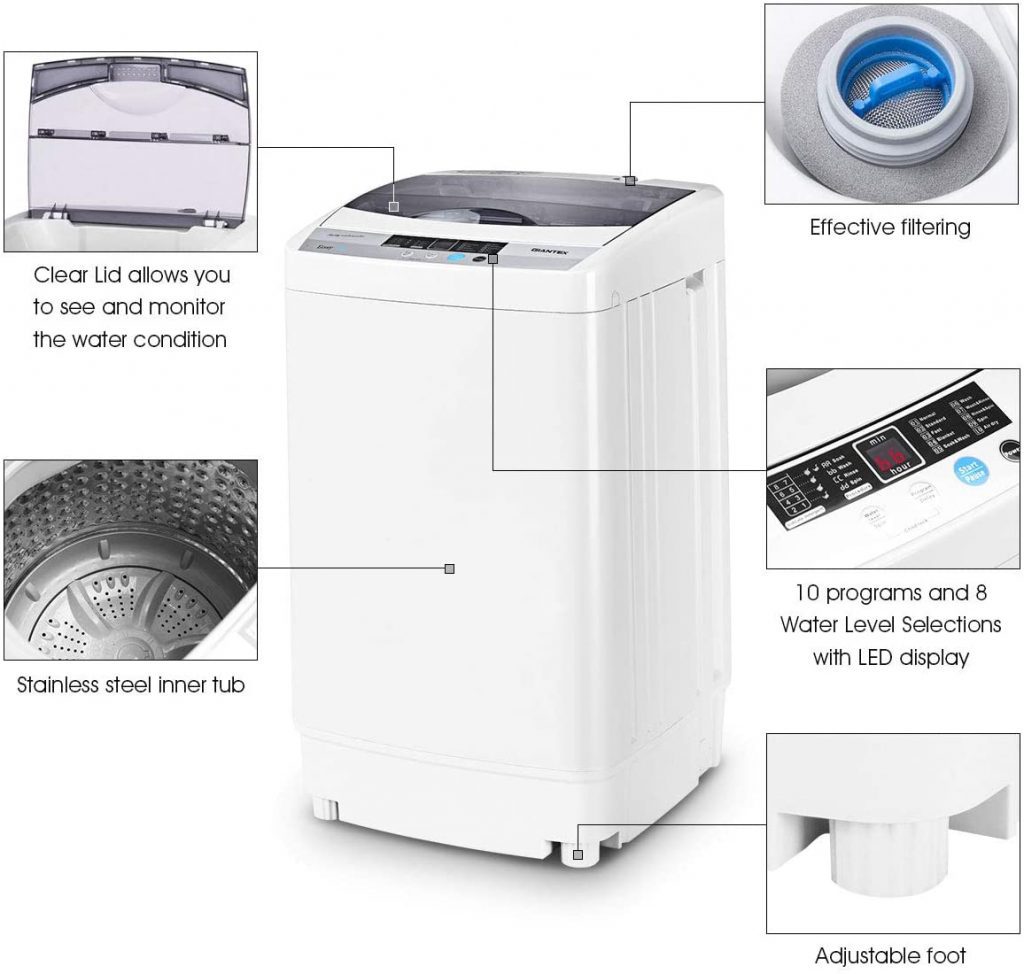 This little washing machine will fit almost anywhere. It's ideal for apartments and dorms. It has 10 preset programs to choose from. You'll also have 8 water level selections. The compact washer has an easy-to-read LED display. There's a timer control. The lid is transparent so you can see the load inside. It's easy to install and easy to use. It includes a built-in drain pump and a built-in drainpipe that makes it convenient for draining out all used water.
Pros:
Slim design fits most places
Only 51 lbs.
Budget-friendly
Easy to use
Installed drain makes emptying easy
Cons:
No wheels
Only one water-in hookup
Small capacity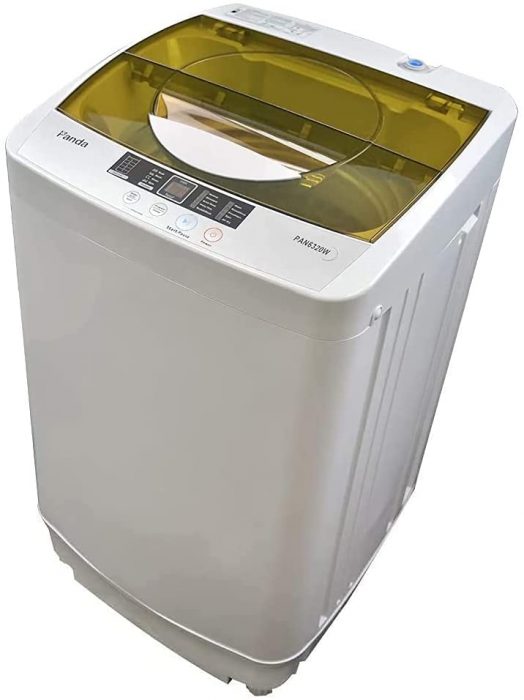 This is a compact washer with a 1.34 cubic feet capacity. It has electronic controls and an LED display that's easy to read. It comes with a quick connect adapter kit that allows you to attach the hose directly to your faucet. The space-saving design of this machine makes it an ideal choice for small apartments, dorm rooms, and even RVs. It has a regular three-prong power connection, so you can plug it in anywhere. 
Pros:
Affordable
Lightweight
On wheels
Average noise level of 74 decibels
Rated for 110 volts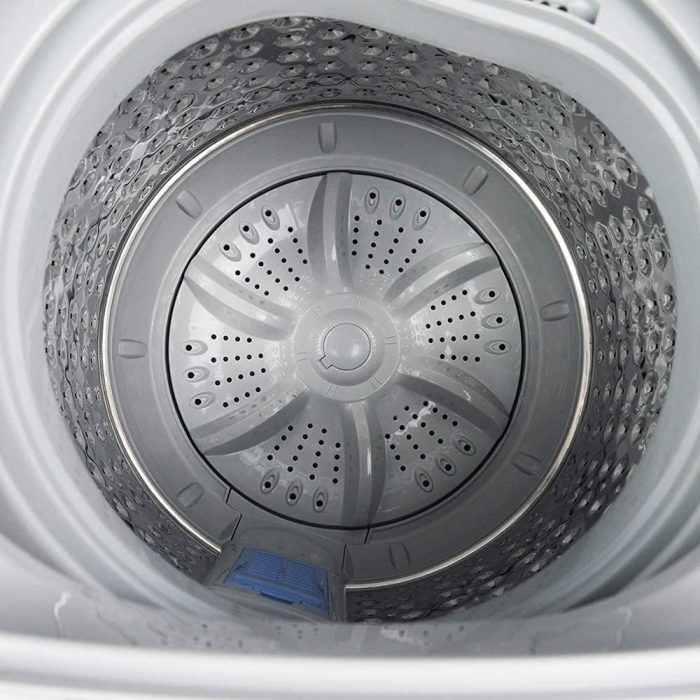 Cons:
Doesn't rinse well
Water temperature must be adjusted manually
Needs clearer instructions
Should I Buy A Washer And Dryer For My Apartment?
You can look at a couple of things to determine whether you should buy your own washer and dryer for your apartment. One is the rent for an apartment with washer and dryer hookups versus the rent for an apartment with an onsite laundry facility. Sometimes you'll pay a large premium in rent due to the in-unit laundry feature.
Also, think about how much laundry you do. If you do laundry frequently, it's worth it to buy your own machines. 
Final Thoughts
The best washer and dryer for many apartment dwellers have space-saving designs. A compact washer or dryer can fit anywhere. Many are portable, as well. You'll want to investigate factors like capacity, space needed, noise level, and structure. Check out the prices, too. With a little effort, you can find a good fit for your apartment at a nice price for your wallet.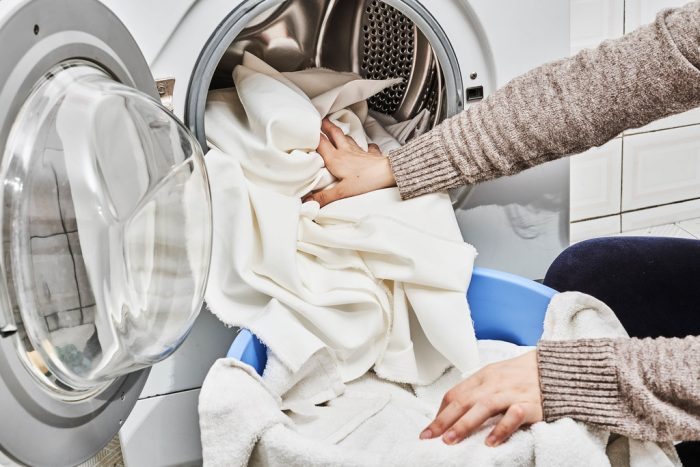 FAQs:
What is the most reliable brand of washer and dryer?
Most review sites rate Samsung, LG, and Whirlpool highly.
What is an apartment size washer and dryer?
Washers and dryers that are 33 to 36 inches tall, 24 inches wide, and 24 to 26 inches deep are considered apartment size. When it's a compact dryer stacked on a compact washer, they measure about 66 to 72 inches tall.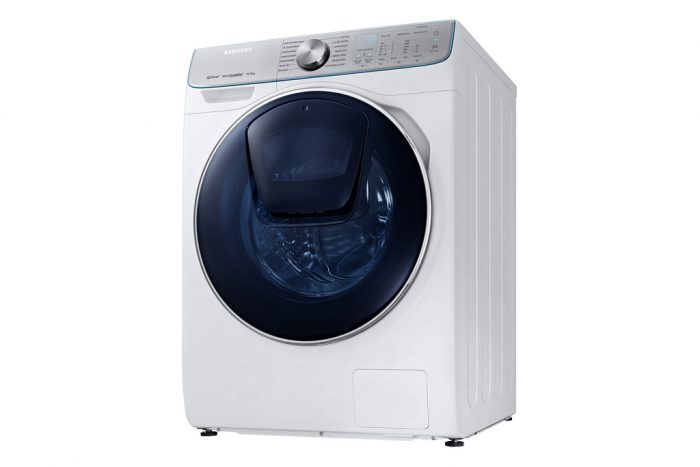 Are portable washer and dryers worth it?
Portable washers aren't appropriate for many types of households. They are good for singles living in small spaces or in dorm rooms. They don't clean as well and have small capacities. However, they're a good solution for those in the right situation.
Are portable washers allowed in apartments?
Some apartment complexes allow them while others do not.
Should I rent or buy appliances?
Renting appliances allows you to make payments over time. The downside to this is you pay a lot in interest. The upside is you don't have to make a large payment up front, and you get repairs included with your rental. Buying appliances means no interest and you may upgrade them however you see fit.
What is the #1 rated washing machine?
The GE Appliances UltraFresh Front Loader Washer with OdorBlock is at the top of the list.
What are the worst washing machines to buy?
The Whirlpool top load washing machine is rated poorly for its noise level, bad performance, and long wash cycles.
What is the highest rated washing machine by Consumer Reports?
One of the highest rated is the Samsung front-load washer.
Is it OK to put a dryer on top of a washing machine?
Yes, it is. You cannot put a washing machine on top of a dryer, though.
Disclaimer: FamilyHype.com (Family Hype & FamilyHype) is a participant in the Amazon Services LLC Associates Program, an affiliate advertising program designed to provide a means for sites to earn advertising fees by advertising and linking to Amazon.com.
Last Updated on June 25, 2022 by Jejomar Contawe
DISCLAIMER
(IMPORTANT)
: This information (including all text, images, audio, or other formats on FamilyHype.com) is not intended to be a substitute for informed professional advice, diagnosis, endorsement or treatment. You should not take any action or avoid taking action without consulting a qualified professional. Always seek the advice of your physician or other qualified health provider with any questions about medical conditions. Do not disregard professional medical advice or delay seeking advice or treatment because of something you have read here a FamilyHype.com.