Whether you are in the market for a new convection or toaster oven, you may be thinking if the Vortex Air Fryer is the best choice for you. If this is your situation, continue reading. In the following analysis, we will investigate all the capabilities that this air fryer has in terms of cooking, as well as examine how this air fryer stacks up against other models now available on the market. Know how it works multiple ways – as a toaster oven, convection oven, and more. In addition to that, we will talk about how well it did during the testing procedure. This review will help you decide whether to purchase the Vortex Air Fryer if you are currently debating whether to do so.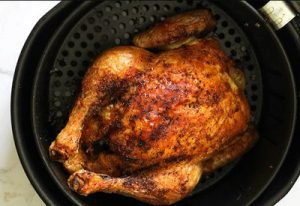 Vortex Pro
Top Characteristics
A lot of people now love to air fry, and most of them agree that when they are cooking through air fry, they know that food is healthier. Do you love to air fry your food? Do you wonder if you can use it to cook normally, bake, broil, or roast? Let's learn how well this product can air fry and how it meets our expectations as a toaster oven and more. This air fryer oven lessens the cooking time to 50%, so let's see why.
The Vortex Pro is a high-end convection oven or air fryer that comes with a variety of functions that are designed to air fry and assist you in preparing meals to the highest possible standard. In addition to an automatic shut-off function, it includes a cooking basket that is ceramic-coated, making it non-stick as well as suitable for the dishwasher. The temperature may be changed anywhere from 175 degrees Fahrenheit all the way up to 400 degrees Fahrenheit on the digital display, which is simple to read. In addition to that, there is a timer that may be set for sixty minutes of air fry and then left alone. In addition, the Vortex Pro comes with a recipe book for cooking in different styles, allowing you to begin your culinary adventures right now. You may also try the air fry celery snack recipe at Vortex Pro and witness air frying and cooking at its best.
What we have seen so far of the Vortex Pro has left us with a positive impression. This air fryer is quite simple to use when cooking ( you can bake, broil, roast, or cook normally with less oil), and it comes with all of the functions that one would anticipate seeing on a high-end air fryer.
There's another favorite, the instant pot, that you can use to air fry when you buy the Instant Pot Air Fryer lid.
How Effectively Air Fryer Operates, Considering Both Its Advantages And Its Disadvantages
We put the Vortex Pro through its paces by air frying a selection of items, including a frozen pizza, chicken, and french fries, among other things. The dinner came out perfectly prepared, which was a pleasant surprise for us. The air fryer chicken wings had a crunchy exterior and a juicy inside, and the best air fryer french fries were cooked to a lovely golden-brown color. What's more, you can actually cook rotisserie chicken on this air fryer! Just use the rotisserie basket instead of the rotating basket, as the rotisserie basket is more appropriate to use for this chicken recipe.
Additionally, the frozen pizza was cooked uniformly all the way through. Although the time it took air frying using the Vortex Pro to cook food was longer than the time it took for some of the other convection ovens we tested, we still consider it to be within the range of acceptable times. In general, the performance of this convection oven exceeded our expectations, and we are quite happy with that. Air frying using this air fryer oven is convenient and easy.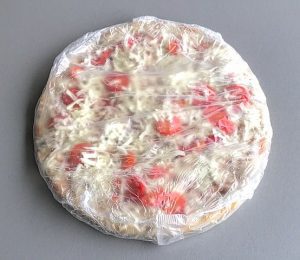 Provide Your Opinion On Whether Or Not It Is Worthwhile To Buy Based On The Aforementioned Benefits And Drawbacks
Consider purchasing the Vortex Pro if you are interested in purchasing an advanced convection oven or air fryer oven that comes with a wide variety of functions. It cooked all our meals to perfection and the ease with which it could be used as a source of great admiration for us. The one and only drawback is that this air fryer oven is quite a bit more costly than some of the other convection ovens that are now available on the market for the purpose of air frying or baking. If, on the other hand, you are prepared to spend a little bit more money on quality, then the Vortex Pro is a great air fryer option you should think about! We appreciate you taking the time to read this review, and we hope that it was helpful in determining whether the Vortex Pro is the best option for you when it comes to air frying.
A Recipe That Calls For The Use Of Vortex Pro
The following is an excellent recipe for chicken wings cooked in a convection oven.
Ingredients:
12 chicken wings
½ cup all-purpose flour
½ teaspoon garlic powder
¼ teaspoon paprika
¼ teaspoon salt
⅛ teaspoon black pepper
Cooking spray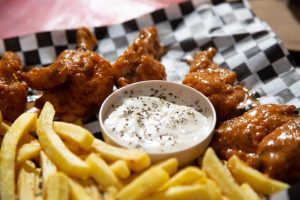 Serve with the following (optional) buffalo sauce:
ranch dressing, for serving (optional)
blue cheese crumbles
celery sticks
carrot sticks
cucumber slices
Instructions:
Preheat the convection oven to 400°F. Flour, garlic powder, paprika, salt, and black pepper should all be mixed together in a big bag that may be sealed. Place the chicken wings into the bag, then shake it until the wings are evenly covered in the flour mixture.
Apply some cooking spray to the inside of the convection oven basket. Place the chicken wings in the basket in a single layer and cook them in the oven for 18 minutes (usually half the time it takes for you to cook normally on a pan), turning them once halfway through the cooking process, or until they are golden brown and fully cooked.
To serve, accompany buffalo sauce, ranch dressing, blue cheese crumbles, celery sticks, carrot sticks, cucumber slices, and/or any other dipping sauces and veggies of your choosing.
Air Fryer:
Frequently Asked Questions (FAQs)
Which country made vortex air fryer?
Can you put oil in a vortex air fryer?
Is it OK to use foil in Instant Vortex Air Fryer?
Is Vortex made in the Philippines?
Last Updated on April 13, 2023 by Allen Laconsay
DISCLAIMER
(IMPORTANT)
: This information (including all text, images, audio, or other formats on FamilyHype.com) is not intended to be a substitute for informed professional advice, diagnosis, endorsement or treatment. You should not take any action or avoid taking action without consulting a qualified professional. Always seek the advice of your physician or other qualified health provider with any questions about medical conditions. Do not disregard professional medical advice or delay seeking advice or treatment because of something you have read here a FamilyHype.com.