The Instant Vortex is a kitchen appliance that has been designed to increase the speed, efficiency, and the overall quality of cooking. The small air fryer is also easy to clean up after use, especially if you already know how to wash an air fryer.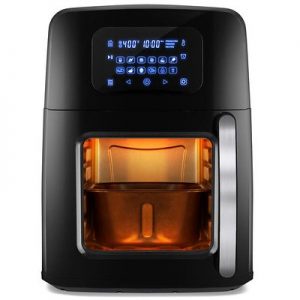 This air fryer is a device that can quickly cook food in the air with little to no oil. It is a great alternative for people who are trying to eat healthily or looking for a way to reduce their oil use. Is air frying healthy? When you air fry foods, you still get to enjoy the taste and crispiness of deep-fried foods without worrying about saturated fat.
What Is Instant Vortex?
The most recent addition to Instant Pot's family of air fryers is the Instant Vortex airfryer, which in the United States is known as the 6 Quart one and in the United Kingdom as the 4-in-1 appliance. This unique pot is best recognized for its combination of cooking appliances. This appliance is a large kitchen device with a capacity of 5.7 liters, and it is meant to offer incredibly crispy and juicy food in a fraction of the time it would take in a traditional oven.
When you air fry, you can wave farewell to messy oil and persisting frying smells. Say hello to healthier and safer cooking methods with the brand's air fryers. You can use and adjust the brand's Smart Programs in just one touch to rotate, bake, air-fry, roast, and reheat in just a snap.
This is now available for purchase on the brand's website and from Amazon and other stores, with a recommended retail price of £99.99 (or $119.99). Be sure to read the instructions that go along with it.
Once cooking has begun in a normal oven, especially at high temperatures, it is difficult to keep an eye on the meal without reducing the oven's temperature, which increases the cooking time. Since this unique pot has a smaller appliance, there is less room to heat; this made it much simpler to monitor the device's internal temperature and cooking time through the air fryer oven door. We never had to compensate for temperature swings by increasing the cooking time.
Many people are put off by the idea of using a air fryer because of the noise it makes. Still, the whirring sound during the operation of this small air fryer is comparable to that of an extractor fan, and cooking periods seldom exceed 20-30 minutes.
Reasons to Buy This Pot 
Why would you purchase this amazing pot? You can quickly cook your meal in the Vortex 6 for around 15 or 20 minutes, and there is no need to watch the cooking process at any point. This cooking method is called "set it and forget it." If you've ever had deep-fried food in an open pan or had to keep an eye on food while it was cooking at high temperatures in the oven, you'll find that using the small air fryer makes cooking much less stressful.
It can cook easy family meals. 
Because of its square design and the high speed at which it cooks, the one-pot appliance makes it incredibly easy to taste and air fry meals for four to five people. Just pinch some salt and seasonings and turn on the appliance. Expect your cooking to be secure. Even though it is not designed for large-scale cooking, using the one-pot appliance to prepare evening dinners will significantly reduce the time spent in the kitchen. With this small convection oven, you will be able to discover amazing recipes that your family can enjoy. You can also download the free pot app to get fast, delicious, and easy recipes.
The small size of the rotisserie basket is a common complaint about other air fryers. Few people can eat more than two pieces of chicken or four fries at a time. The one-pot appliance can hold twice as much as its advertised capacity of 6 quarts. In contrast to most other fryers, the air fryer allowed us to cook one pound of chicken.
As a result, you'll spend less time in the kitchen when you air fry and have dinner ready sooner.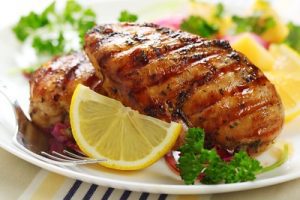 It is also easy to operate.

 
Like the Instant Pot's seven settings, this small convection oven has four options to air fry, bake, roast, and reheat food. Only four of such programs are available on the Vortex's eight buttons, including Start, Time, Cancel, and Temperature.
The writing is large and simple to see, and the dial in the display screen's middle makes adjusting the temperature in 5-degree increments a breeze.  
It has a unique and modern design. 
We place a high value on aesthetics, and this convection oven exudes a contemporary and streamlined design that we wouldn't mind keeping in plain view on our kitchen countertop. You will love its sleek black finish. This convection oven perfectly combines function and modern design. 
This convection oven is significantly less expensive than many other models on the market with the same capacity and functions, coming in at just $99. If you're using the air fryer once a week, the net cost for the entire year will be less than $2 per week.  
It has high cooking power. 
The impressive level of cooking power was the first item that caught our attention. The food cooked in the 6-Quart 4-in-1 air fryer was crispier and golden than in most of the other air fryers we tested. Both sets of handmade and  store-bought frozen French fries cooked uniformly finished cooking in a short amount of time and became exceptionally crunchy with very little effort. Some noise is to be expected at this level of power. However, when turned on, this small convection oven does generate a discernible whirring sound; however, the volume is not significantly higher than that of a microwave.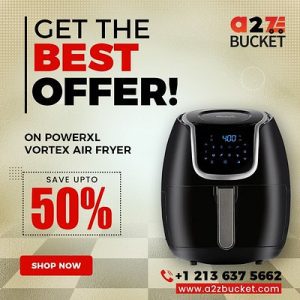 Instant Vortex Plus
The dehydrator is the most noteworthy component of the Instant Vortex Plus, even though it is extremely comparable to the 4-in-1 convection oven. This one, from the makers of the same product, is the ideal appliance for you if you need a dependable convection oven to produce flawlessly dry fruits, potatoes, and vegetables. The built in safety features of the one-pot appliance includes Overheat Protection and auto-off. The nonstick coating of the Plus's capacious 6-quart basket makes for quick and simple cleanup, just like the basket on the 4-in-1. The interface is designed to be extremely user-friendly, as it comes with a set of pre-settings and a dial for adjusting the temperature. The main drawback of this Instant Vortex Plus is that the broiler feature, which is pre-set to work for two minutes at a temperature of 400 degrees Fahrenheit and for that time, did not perform well.
What do you think of the product and recipes we discussed in this review, including those related to the best microwave? Get and download the latest appliance review and recipe from Family Hype right at your very app today! Join us!
Frequently Asked Questions
The Ninja Foodi Dual Zone Air Fryer and Instant Vortex AirFryer (from Instant Pot offshoot Instant Vortex) are both excellent convection ovens. Both are versatile and come with other settings. Both convection ovens are from respected brands. The Ninja is known for its kitchen appliances while the Instant is famous for the Instant pot range. Both models are efficient. They each have presets and pre-programmable cooking options. Both can be used with manual settings too. When it comes to price, however, the cost of this one-pot appliance is half that of the Ninja Foodi Dual Zone's version.
Yes, you can use aluminum foil in this appliance. However, some guidelines should be followed when you air fry with aluminum foil.
It can cook a variety of foods for breakfast, lunch, and dinner. You can also make different recipes with very little time and effort. From basic French fries to air fry chicken wings, fried chicken, air-fried chicken thighs, and many other recipes; this convection oven is amazing. It can produce air-fried foods with amazing deep fried taste. The convection oven can create gourmet meals for you to enjoy.  You can also cook desserts in the convection oven. Air fry your favorite desserts like cake, fluffy cinnamon rolls, or cupcakes in the convection oven. Frozen food is not an issue in this convection oven. Just toss and air fry. After a few minutes, the convection oven will be able to prepare delicious meals for you.
It makes use of rapid circulation in cooking food. Little or no oil is needed to give your meals a crispy rich flavor similar to that of deep-frying foods.
The

one-pot appliance

is lighter. It is less than a half-pound lighter.
The

one-pot appliance

possesses stainless steel accents on the exterior.
The

one-pot appliance

is cheaper. Given the added cooking features, the Instant Vortex Plus air fryer is higher than the Vortex air fryer.
The best overall is the Instant Vortex 6-Quart air fryer. We all love the Instant pot, so it's no surprise that this convection oven is an excellent product as well. This convection oven delivers crispy, evenly cooked every time– from crispy fries to other air-fried recipes. Another option is the Instant Vortex Plus 6-Quart air fryer. Like the Instant Vortex 6-Quart air fryer, the Instant Vortex Plus also comes with a safe air fryer basket and a sleek exterior. The Instant Vortex Plus air fryer has EvenCrisp that produces perfect golden foods and crispy, tender results every time.
What is the easiest convection oven to clean?
If you are looking for an air fryer that is easy to clean, the following are our top 5:
COSORI air fryer Max XL
CHEFMAN Large air fryer XL
DASH Tasti Crisp Electric air fryer
Instant Vortex Pro 10-Quart air fryer
Ninja Foodi 10-in-1 pressure cooker and air fryer
It is very safe to cook raw meat in a one-pot appliance. Some frozen foods, like chicken tenders or frozen fries, are safe to air fry directly in the one-pot appliance without thawing. However, with raw meat, it is safe to be in the one-pot appliance if it is fully thawed, seasoned, and monitored. The full defrosting of raw meat before tossing it in the convection oven ensures even cooking and a tastier finished product.
Last Updated on April 13, 2023 by Jeanne Meets
DISCLAIMER
(IMPORTANT)
: This information (including all text, images, audio, or other formats on FamilyHype.com) is not intended to be a substitute for informed professional advice, diagnosis, endorsement or treatment. You should not take any action or avoid taking action without consulting a qualified professional. Always seek the advice of your physician or other qualified health provider with any questions about medical conditions. Do not disregard professional medical advice or delay seeking advice or treatment because of something you have read here a FamilyHype.com.