Many consumers are using the air fryer toaster oven to cook foods that are healthy while still tasting delicious. Using the air fryer toaster oven makes you cook those fried favorites without all the grease, and the air fryer toaster oven reduces calories by up to 80%.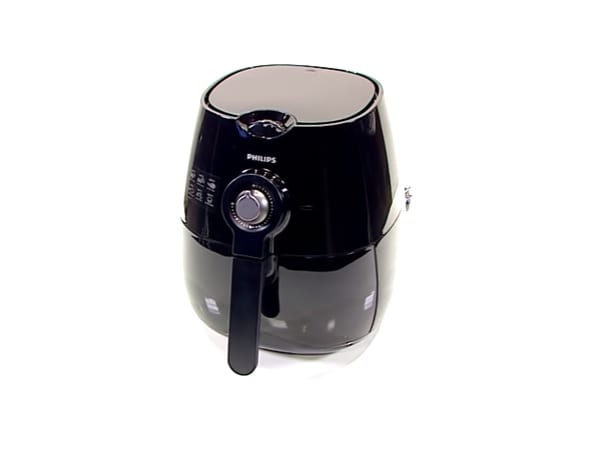 Air Fryer Toaster Oven
So, what are the best air fryer toaster ovens on the market? Different types of air fryers exist. Decide what you'll use yours for and how big you need it to be. Look into the preset options for each air fryer. Check out additional features of machines you're considering. Finally, choose the look that matches your kitchen the most.
Air fryers haven't been around for very long. They have been around long enough for plenty of manufacturers to jump on the air fryer bandwagon, though. It's tough to know what to look for sometimes. This article is about how to shop for the best air fryer on the market for your household. Keep reading for more tips!
How Does It Work?
These countertop appliances work just like a convection oven. A heating element and a fan work together to circulate hot air throughout the air fryer quickly. The food cooks fast and crisps on the outside. No oil needed. 
The design inside air fryers allows the circulating hot air to make more contact with the food than other types of cooking appliances. The space is small, and the food sits in a perforated basket. The air contacts the food from all sides. Food isn't fried, just given a fried texture.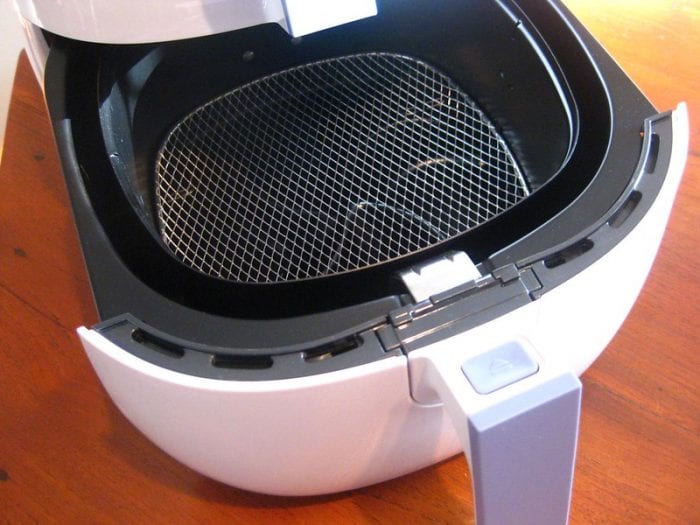 Types Of Air Fryers
Start your search by choosing the type of air fryer you want. Three common types exist—the air fryer, the air fryer oven, and the air fryer toaster ovens. Let's look at each kind.
Air fryer – The plain air fryer is ideal for small households where you don't need to cook for many people. Their capacity doesn't typically go any larger than four servings. They're easy to use, have a small footprint, and easy to clean. 
Air fryer oven – These air fryers require more space on your counter. They're better suited for larger households with more people to feed. You can use them to cook whole chickens, bake cakes and brownies, or a couple pounds of French fries. These do more than air frying, they also broil, bake, roast, dehydrate, and cook rotisserie.
Air fryer toaster ovens – This is, essentially, a toaster oven and an air fryer combined. It looks like a toaster oven. It comes with the air fryer perforated basket tray for when you're air frying. Most of these will allow you to dehydrate, roast, and broil food, too.
Preset Options
Most of us are familiar with preset options on our microwaves. You may, or may not, use yours. Preset cooking programs are convenient for those who do use them. 
Air fryers often have cooking presets for common air fried food items. Check out what is programmed into the options you're considering. Some of the most popular options are French fries, chicken, fish, vegetables, cake, and wings. All you must do is place the food in the air fryer, push a button, and wait.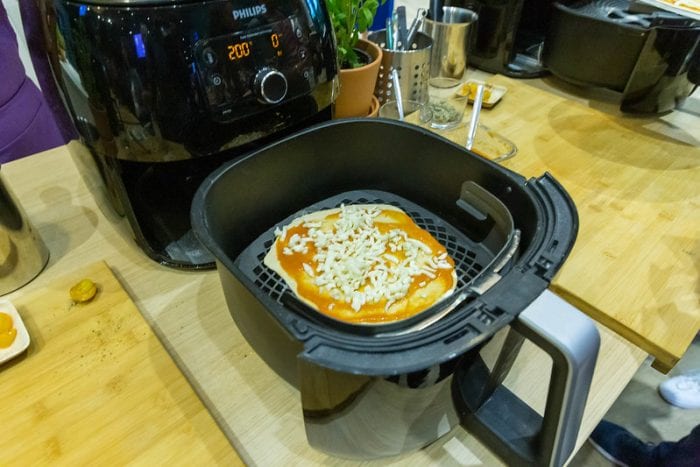 Other Features To Look For
Air fryers, like so many other appliances, come with various extra features to make cooking easier and more convenient. Some of these include:
Indicator lights

Accessories and attachments

Smart technology

Automatic shutoff

Ready alarm

Upgraded displays
Pick Your Style
Air fryer toaster ovens don't all look the same. They come in different colors, and different shapes, and are made with various materials. Choose the look that appeals to you. 
If your air fryer toaster oven will be left out on the counter, make sure it fits in with your kitchen's décor. Smaller air fryers can be put away after each use but can still be chosen to match your style.
Best Options With Reviews And Features
Kalorik 26 QT Digital Maxx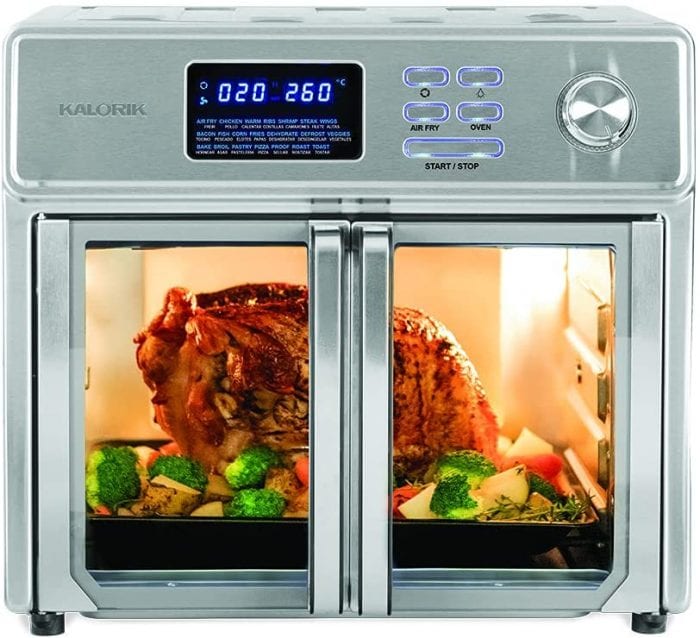 This air fryer toaster oven is a large capacity air fryer oven big enough to roast a whole chicken. It has functions for cooking with 10 different methods. There is a large LED display on the front that's easy to read. You'll have 21 preset programs for cooking common foods. The oven cooks faster than conventional ovens with 1700 watts of power. Accessories included are a bacon tray, rack handle, fry basket, crumb tray, rotisserie spit, baking pan, and a steak tray.
Pros:
Accessories included to facilitate 10 cooking methods

Glass doors on front with well-lit interior allow for easy visual of food

Powerful oven heats up to 500°F

Appealing design

Quiet operation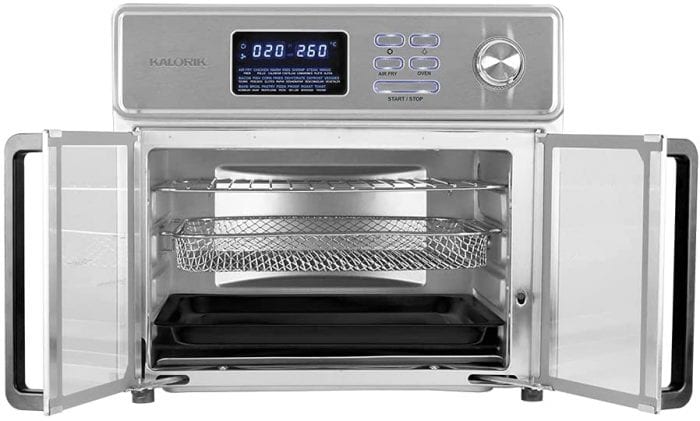 Cons:
Large footprint

Buttons can get wobbly

Cooldown takes a long time
COSORI Air Fryer XL(100 Recipes) Digital Hot Oven Toaster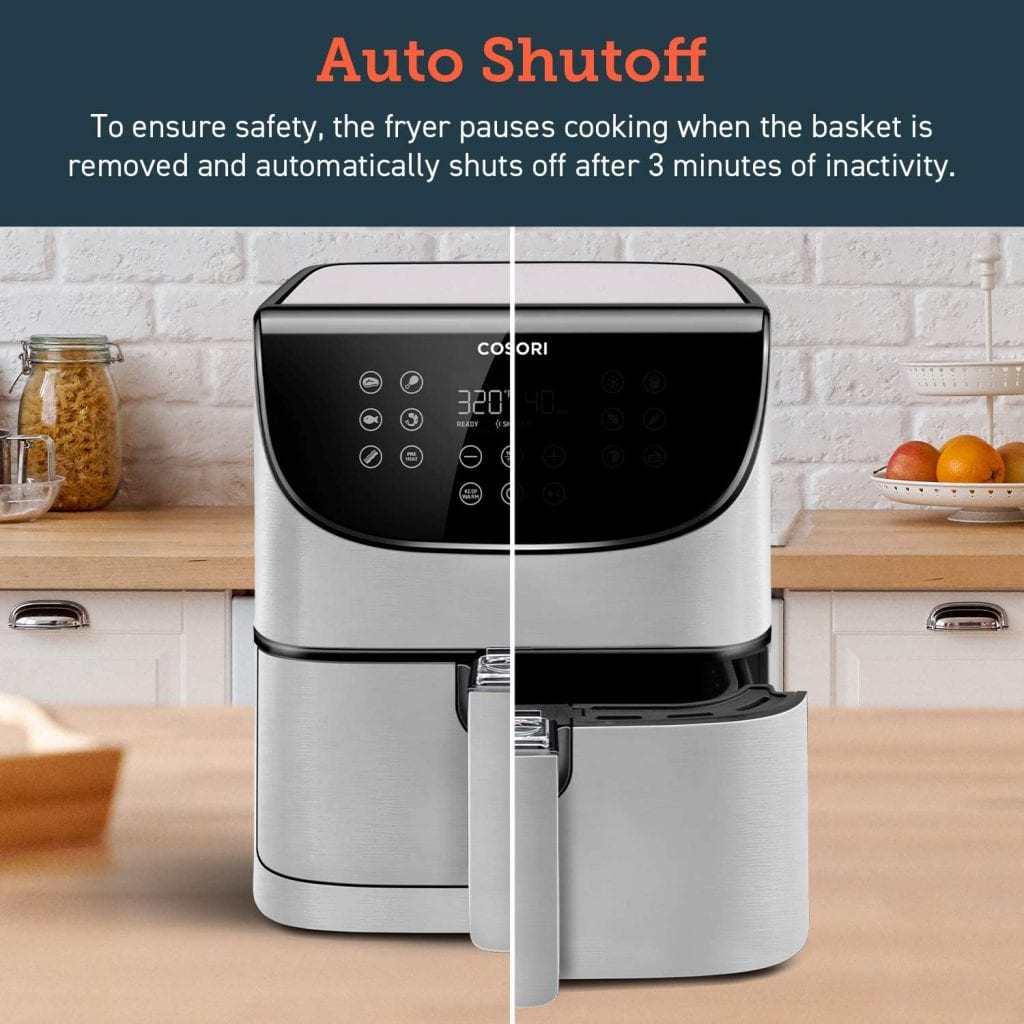 This is 5.8 QT air fryer toaster oven that comes in three color choices. It has 13 cooking functions that can be chosen on a one-touch screen with display. There's a handle on the front for easy shaking once food is ready. It's a budget-friendly option with a small footprint. It's easy to use and easy to clean. The baskets are non-stick and can be put in the dishwasher.
Pros:
Affordable option

Easy-to-clean

Square design optimizes cooking space

Small and easy to store

Includes 100 recipes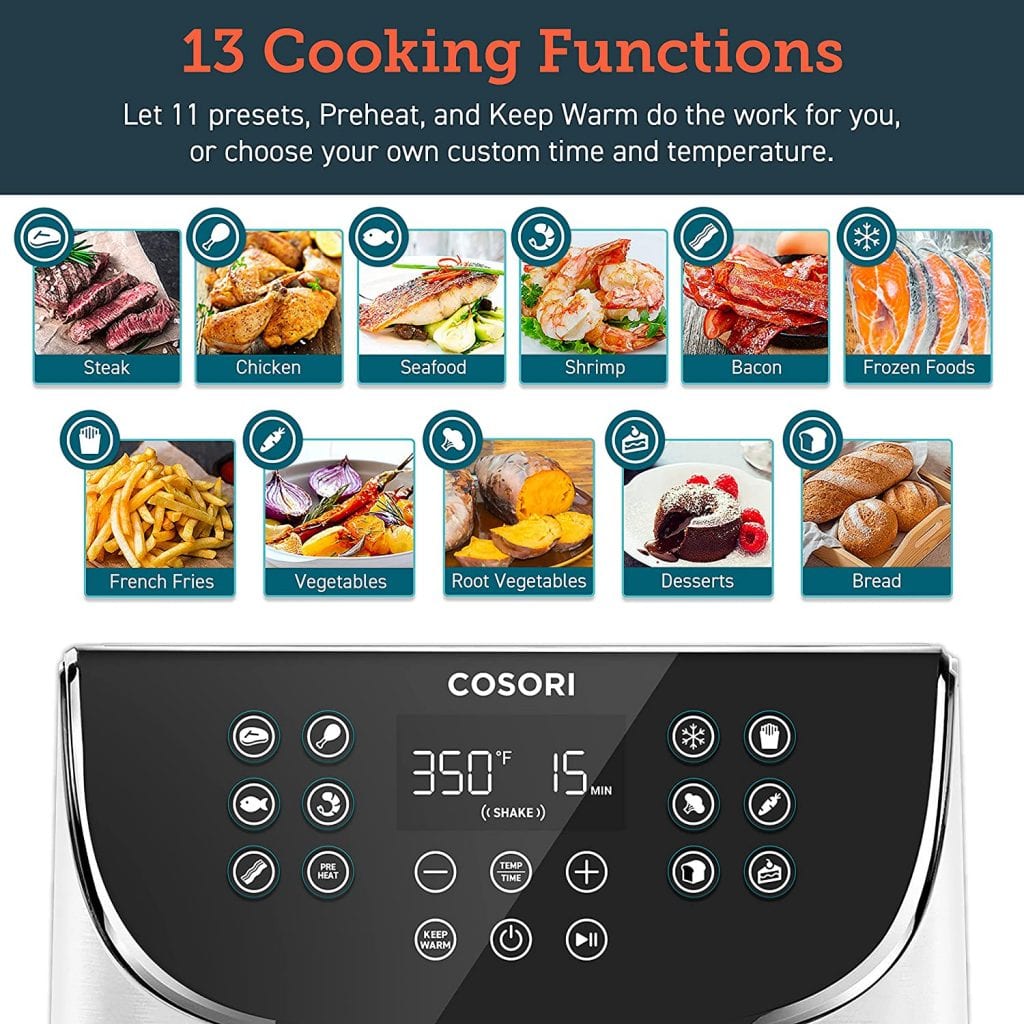 Cons:
No memory of last temp and time used

Release button sticks sometimes
Instant Pot Vortex Pro 9-in-1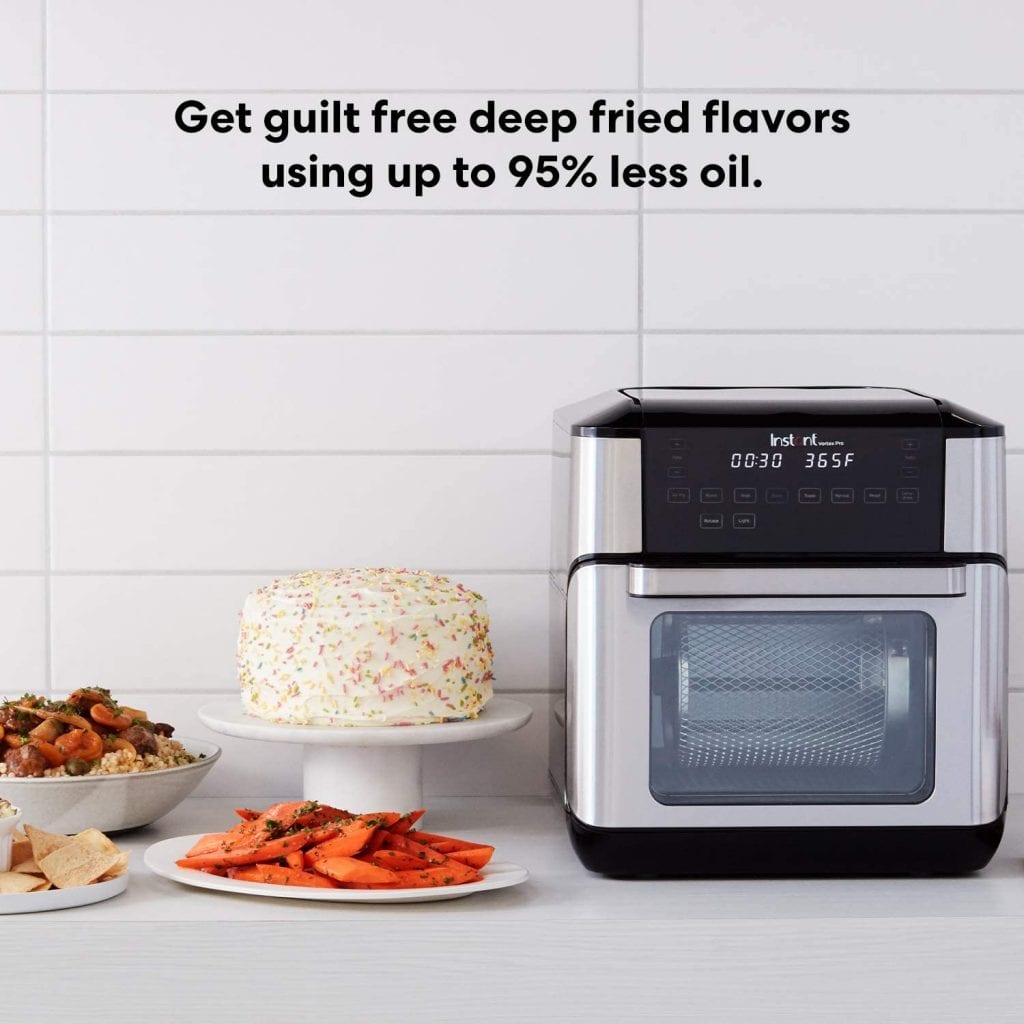 The air fryer toaster ovens have a large capacity and can replace several other appliances. This machine heats up quickly. There's virtually no preheat time needed. You'll also have several preset options to choose from. It comes with accessories needed to make rotisserie items and to air fry. All parts are dishwasher safe. The display is easy to read and easy to use, too.
Pros:
Easy-to-clean

Large capacity with relatively small footprint

9 different cooking methods

Value-priced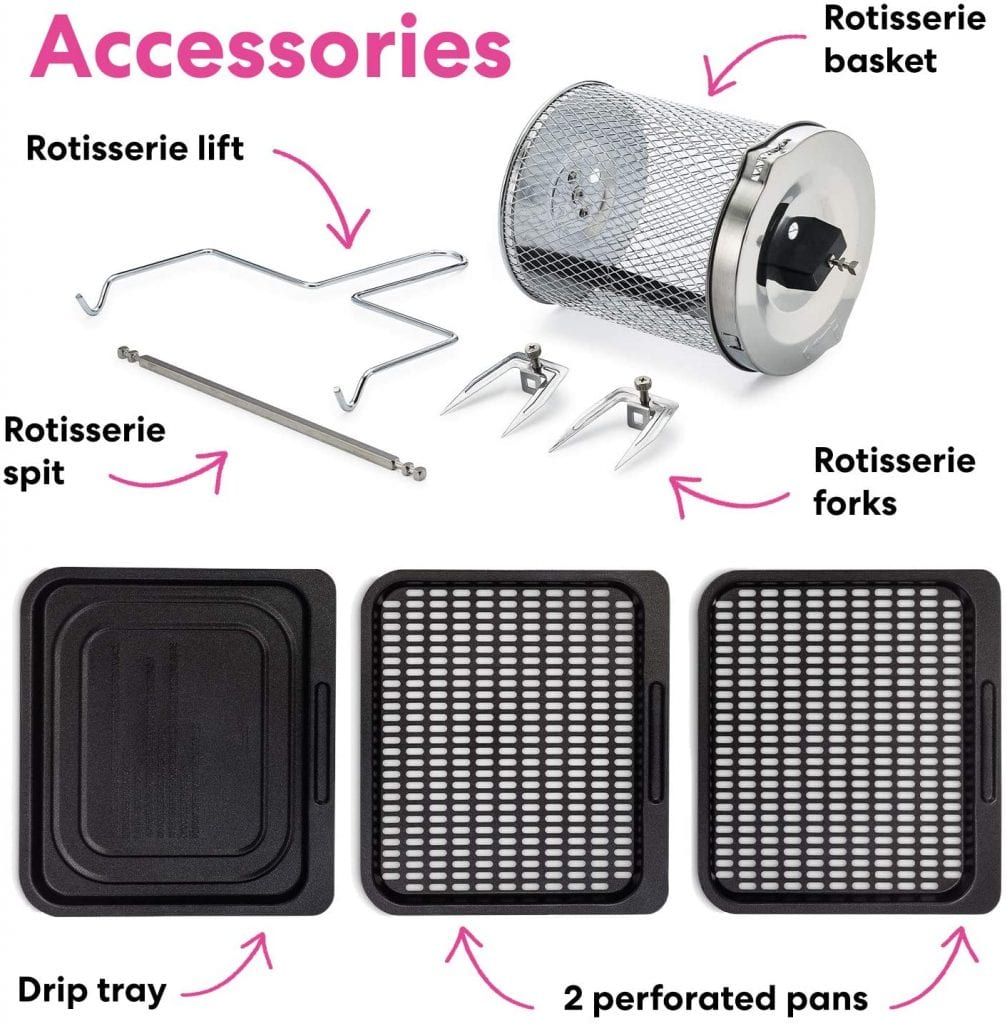 Cons:
More instructions needed

Trays don't cook evenly when both inserted

Door handle breaks easily
GoWISE USA Gw44800-O Deluxe 12.7 -Quarts 15-in-1 Electric Oven Toaster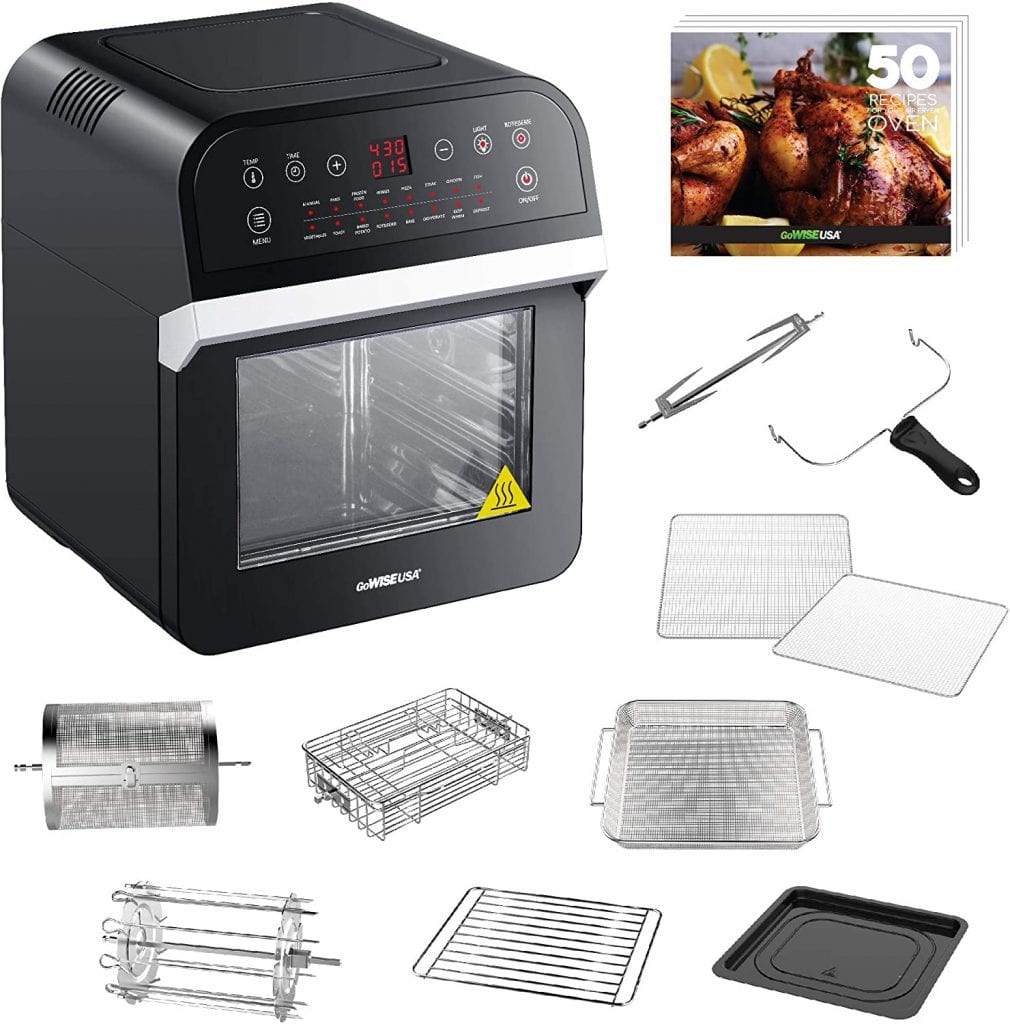 This air fryer toaster oven is fit to serve a large family while only needing a small space on the counter. The toaster oven includes the accessories needed to facilitate 15 different methods of cooking. This air fryer cooks fast, is easy to use, and has an interface that's easy to understand. There are 50 recipes to try that are included with your purchase. The price of this air fryer toaster oven is affordable and there are a few color options to choose from.
Pros:
Heats up to 600°F

Small footprint

Touchscreen

16 presets for one-touch cooking

Accessories included to replace several other appliances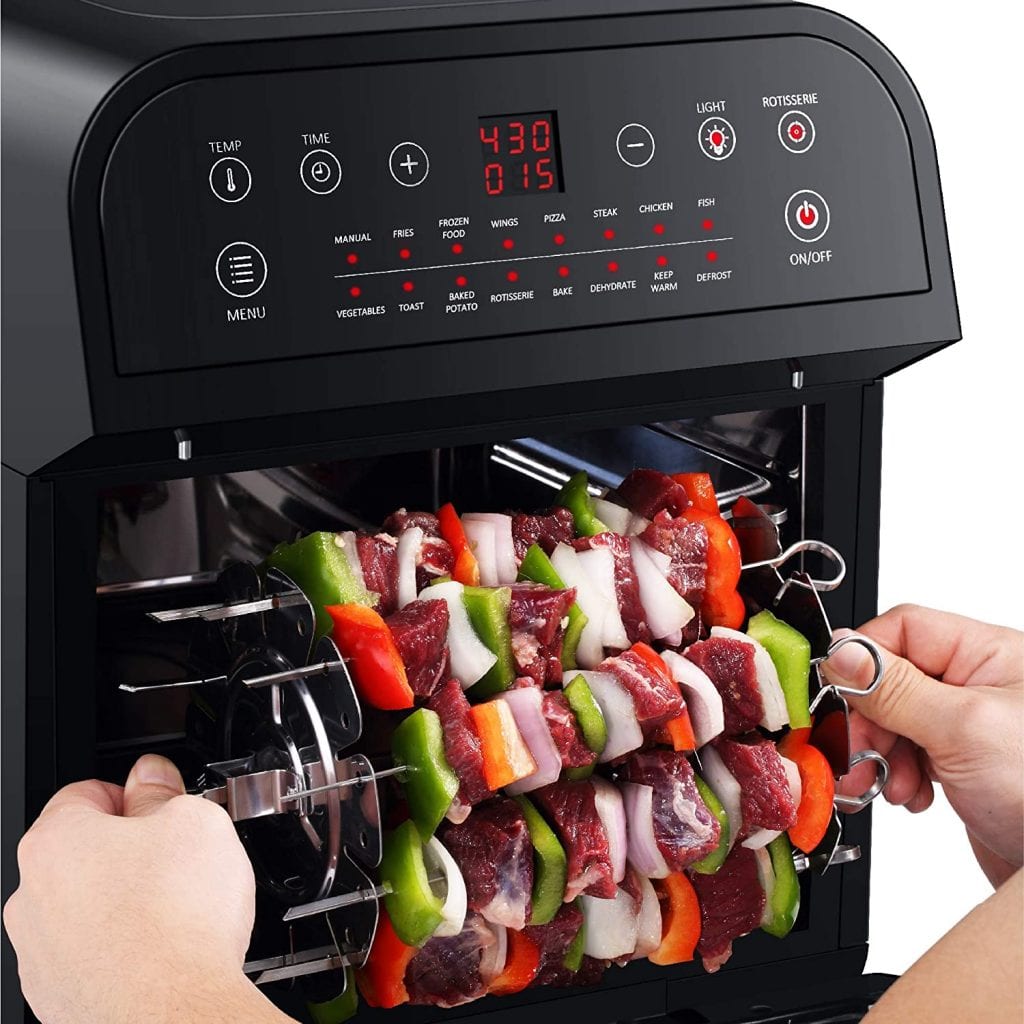 Cons:
Shelves drop down during cooking sometimes

Presets require scrolling through to find desired option

Needs more power
Conclusion
The best air fryer toaster ovens can take foods you love and make them healthier. With so many options, it's tough to know which is the right one for your home without knowing what to look for. Choose the type and size that's right for your family. Look for the bonus features and accessories you'll use and choose an air fryer with the style you like. Healthy eating is much tastier with an air fryer toaster oven.
Frequently Asked Questions (FAQs):
Which is better, air fryer or air fryer oven?
You can do more with an air fryer oven. However, air fryer ovens are usually larger, so you'll need more room to store them.
What is the best air fryer 2020?
The Chefman TurboFry 3.6-Quart Air Fryer Oven and the Dash Compact Air Fryer Oven Cooker were the best two for 2020.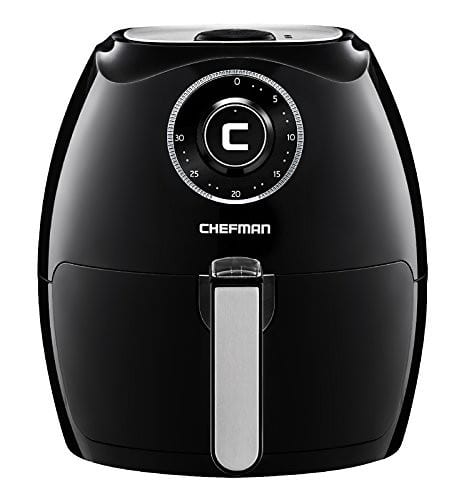 What are the top 3 air fryers?
Instant Vortex 4-in-1 Air Fryer

Instant Vortex Plus 6-in-1 Air Fryer

Ninja Air Fryer
What are the disadvantages of an air fryer?
Some are hard to clean. They often have high price tags. They can also be loud and bulky.
Is it worth buying?
Air fryers are especially worth it if you choose one term that has other functions, such as toaster oven settings, rotisserie, and baking. They give you a way to make delicious food that's healthier for you. 
How do I choose one?
Pick what type you want first, air fryer, air fryer oven, or air fryer toaster ovens. Select the appropriate size. Choose the extra features you want. And find a style and price that you like on their web page.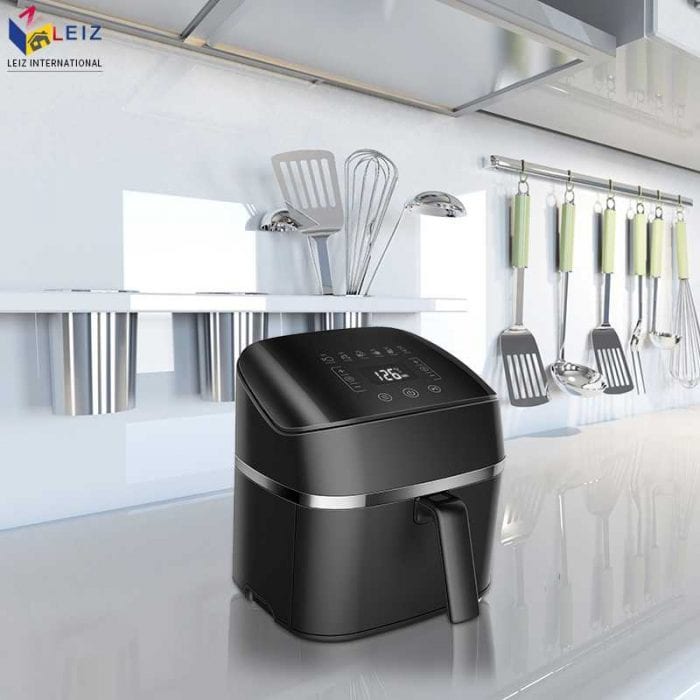 Do I really need one?
You don't need an air fryer. You probably do want one, though. It makes cooking healthy easier. You can also replace other appliances you have, such as a rotisserie machine or toaster oven. It's easy to use and easy to clean.
What can you not cook in an air fryer?
Don't cook anything with wet batter. Cheese can create a huge mess. Don't cook rice or anything else needing a lot of water. Some vegetables like broccoli don't do well in an air fryer.
Which air fryer is easiest to clean?
This goes to the Chefman Turbo Fry 3.6 Quart Air Fryer. Generally, you want one with components that can go in the dishwasher.
Last Updated on April 13, 2023 by Mary Cimeni
DISCLAIMER
(IMPORTANT)
: This information (including all text, images, audio, or other formats on FamilyHype.com) is not intended to be a substitute for informed professional advice, diagnosis, endorsement or treatment. You should not take any action or avoid taking action without consulting a qualified professional. Always seek the advice of your physician or other qualified health provider with any questions about medical conditions. Do not disregard professional medical advice or delay seeking advice or treatment because of something you have read here a FamilyHype.com.