Mattresses have changed a lot over recent decades. One major change has been the move toward just a mattress on a platform bed frame rather than on top of a box spring. A good mattress is crucial for getting quality sleep. But a good mattress needs good support from the best platform bed frames, also.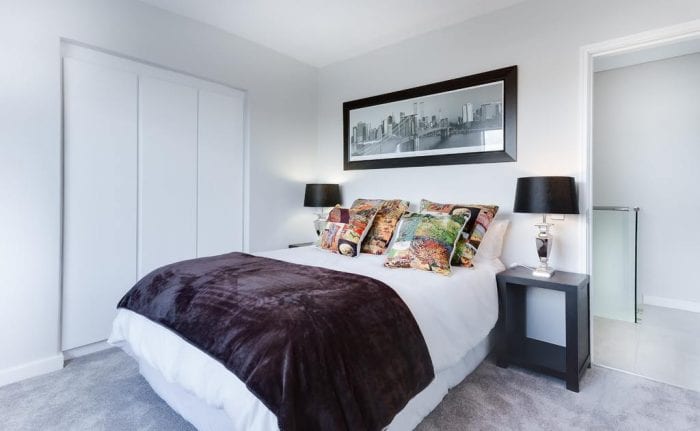 Shopping for the best platform bed frame should start with choosing the material you want. You'll also need to choose between solid platform beds and those that have slats. Decide if you want built-in storage in the bottom of the bed or if you'd rather have your bed sit closer to the floor. You'll have a choice between just a basic platform and bed frames with headboards and footboards, too. 
We're going to show you some of the options available on Amazon further down in this article. Keep reading, though, to learn our tips for choosing the best platform bed frames. 
Choose Your Material
Choose your material based on how the platform beds look. We all have our preferences for the way our furniture looks. The three common materials you'll find platform bed frames to be made of are metal, wood, and upholstered wood. Here's what you should know: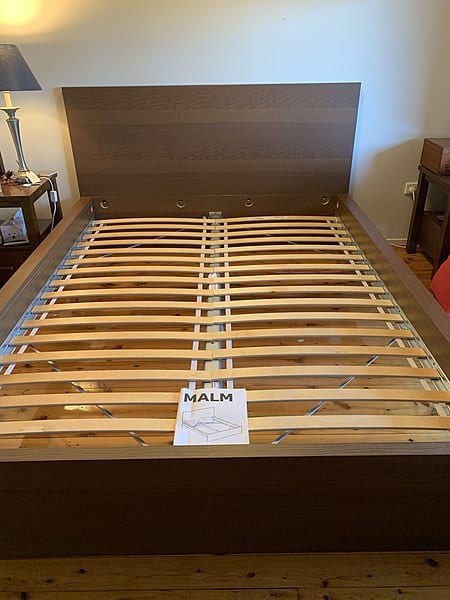 Metal platform bed frames – You'll find these made of iron, steel, or aluminum. Try to stick with iron or steel for better quality and durability. These typically look more vintage. They will have slats made of metal or wood to help support your mattress. Keep in mind that these are prone to squeaking.
Wood platform bed frames – Wood platform beds can have all sorts of looks from rustic to contemporary, and even high-end. It comes down to how the manufacturer finished the wood and the type of wood used. These are generally more expensive and heavier than other types of bed frames.
Upholstered platform bed frames – Upholstered frames have wood underneath padding and fabric. The wood inside will be something low-end since it's being covered. These come covered in all sorts of various fabrics so you can find one that suits your style and color preference easily.
Solid Or Slats?
You'll have to choose between solid platform beds and slatted platform beds. Each of these has their pros and cons. 
Solid platform beds are necessary for supporting memory foam mattresses. The nature of memory foam means those mattresses will conform to the slats of a bed frame. That will cause issues for the sleeper because there won't be enough support for the mattress. The downsides of the solid frames are they don't allow for airflow underneath, they're heavy, and they usually cost more.
Slatted platform beds are much better at allowing heat to escape, as well as moisture. They're also better for allergy sufferers. Though they aren't good to use with memory foam mattresses, they do allow you to set the level of support for your mattress to what you want it to be. You can add or remove slats with many of these bed frames for this purpose.
Need Extra Storage Space?
There are platform bed frames with storage drawers underneath for those who might like a little more space for clothes and other items. They may be under the sides of the bed or under the foot of the bed. This may be a good option for those living in smaller spaces.
What About The Height Of The Bed?
Many consumers are concerned about the height of their beds. Beds that are too tall pose a problem for some people when they're trying to get into bed. If you struggle with getting into tall beds, a platform bed may be exactly what you need.
You can skip the under-bed storage space and go with a platform bed frame that's low to the floor. Many platform bed frames sit only inches off the floor. Others may be higher but have a ledge designed for stepping on when you're climbing into bed. Platform bed frames offer good options for people who experience challenges getting into taller beds. 
Choose Your Design
The basic platform bed is only a platform to put a mattress on. However, there are multiple designs now that look more like traditional beds. You can choose a platform bed with a headboard and/or a footboard. These can be selected with colors and designs that match the style of other furniture already in your bedroom.
Best Platform Bed Frame Options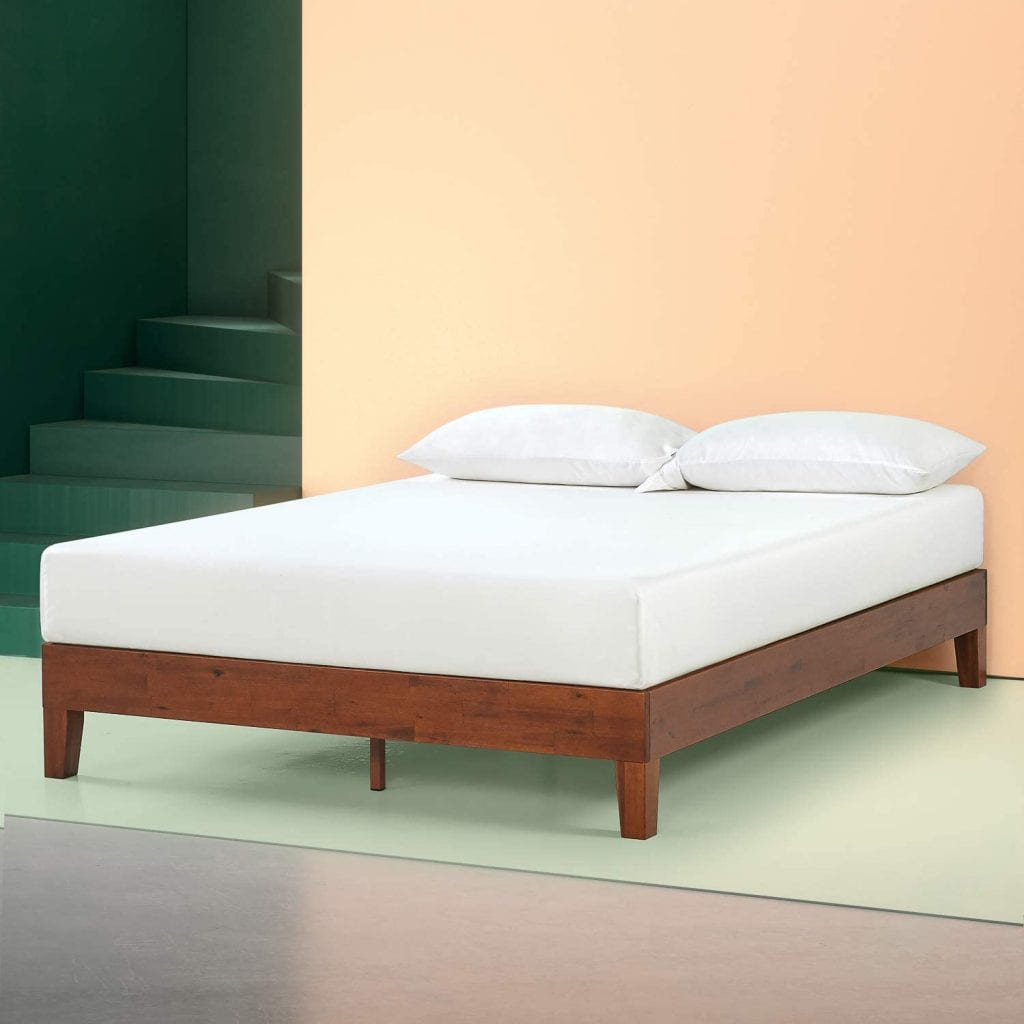 This is a highly affordable option from Zinus. The frame is made of solid wood with wood slat supports for your mattress. You can choose this bed frame in a few different colors. You also have the option of adding a headboard. The frame without the headboard weighs just over 60 lbs. and is easy to assemble. There is a solid steel interior support system within the wood, so you get extra durability.
Pros:
Budget-friendly
Solid wood construction
Nice looking
Easy to assemble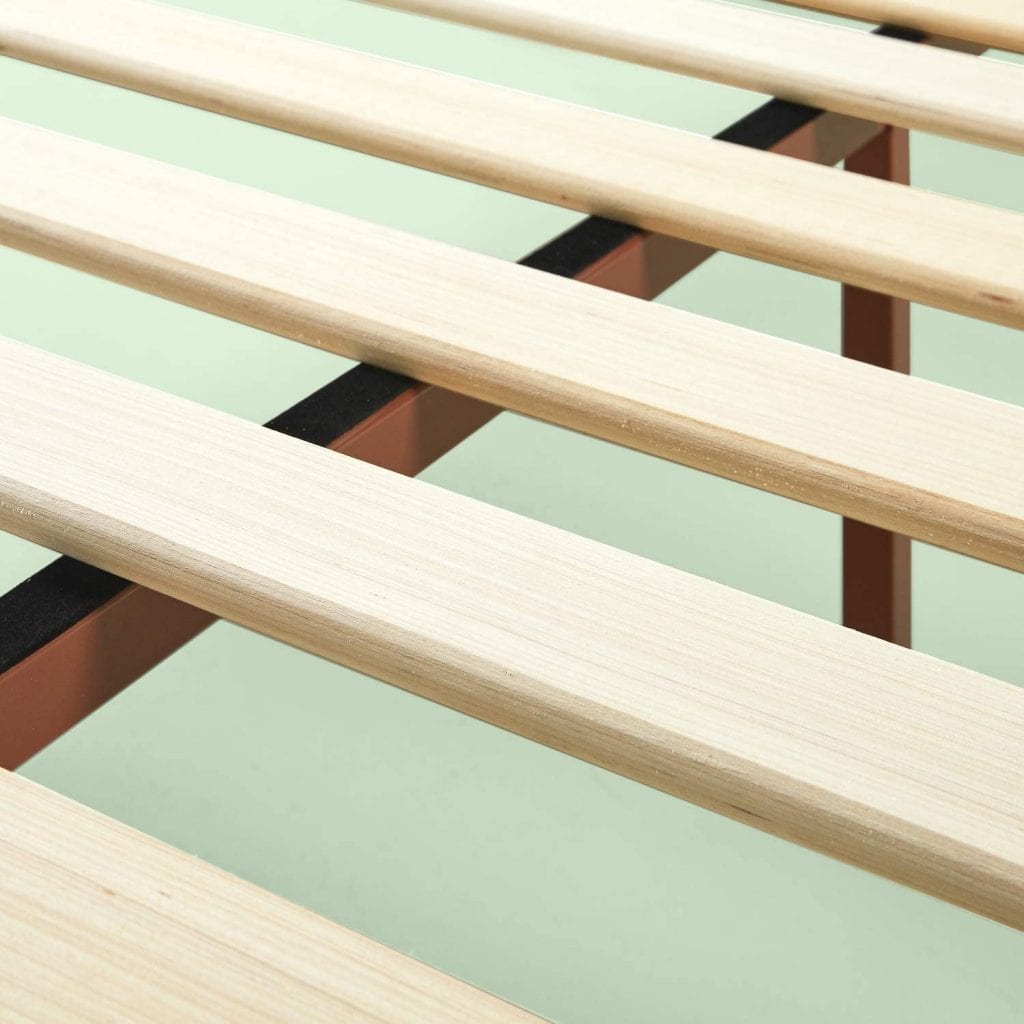 Cons:
Frame is so light it moves if you sit leaned against the wall
Bed legs bend sometimes
No lip around edge to hold mattress in place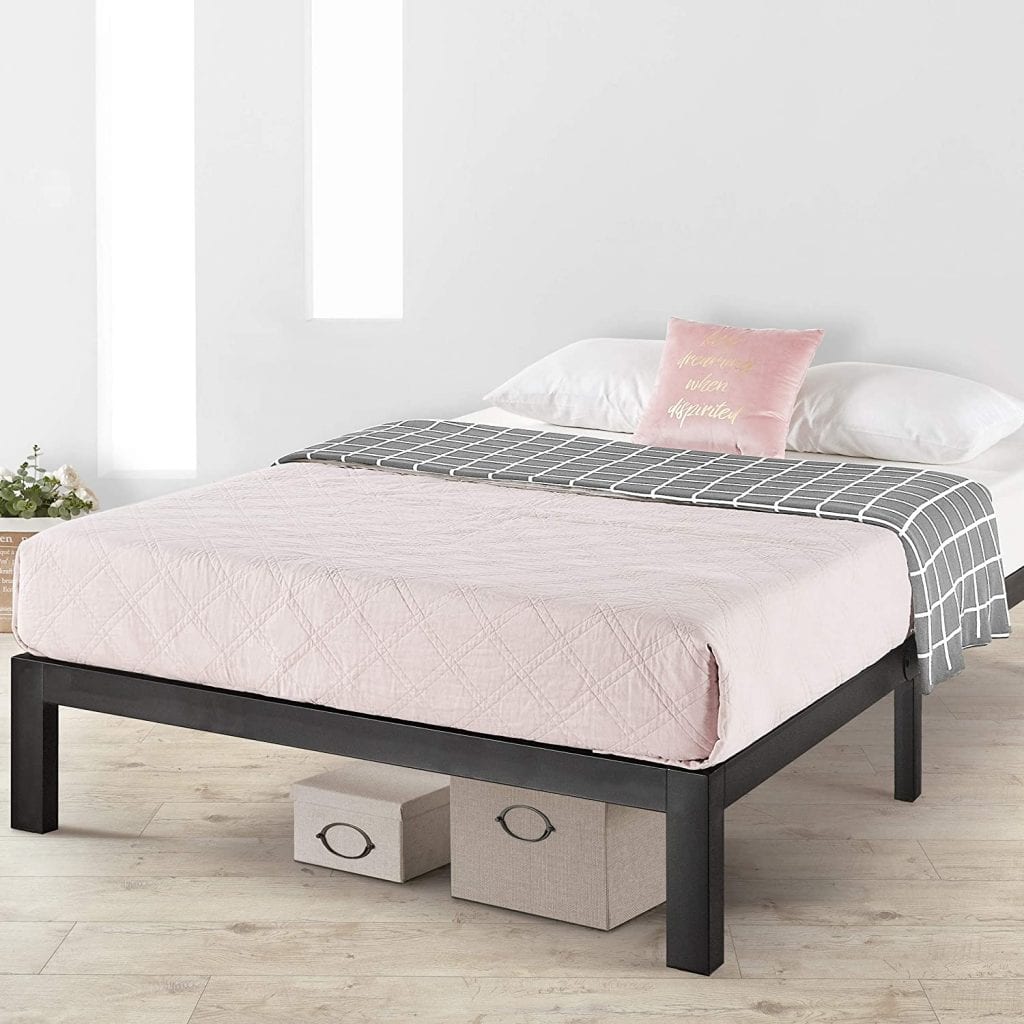 The Mellow Rocky Base is made of durable heavy-duty steel that's coated in black paint. The slats are steel as well. It's easy to assemble and even comes with all the necessary tools to put it together. It sits about 11 inches off the floor. The bed design will fit with most room décor. You also get a 5-year warranty from the manufacturer.
Pros:
Extra support from steel slats
Storage space available under bed
One-person assembly
No extra tools needed for setup
Highly affordable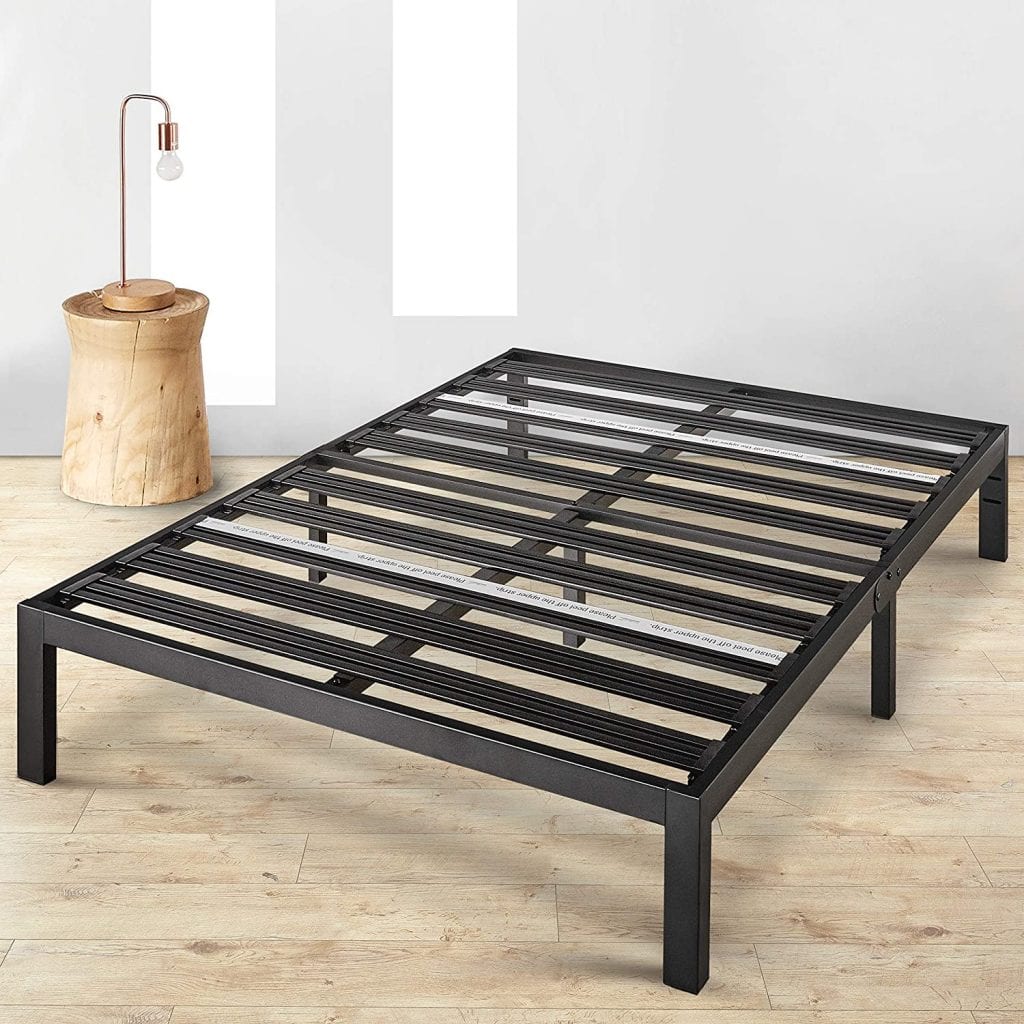 Cons:
Mattress slides around on slats
Slats are thin
Legs are prone to toe kicking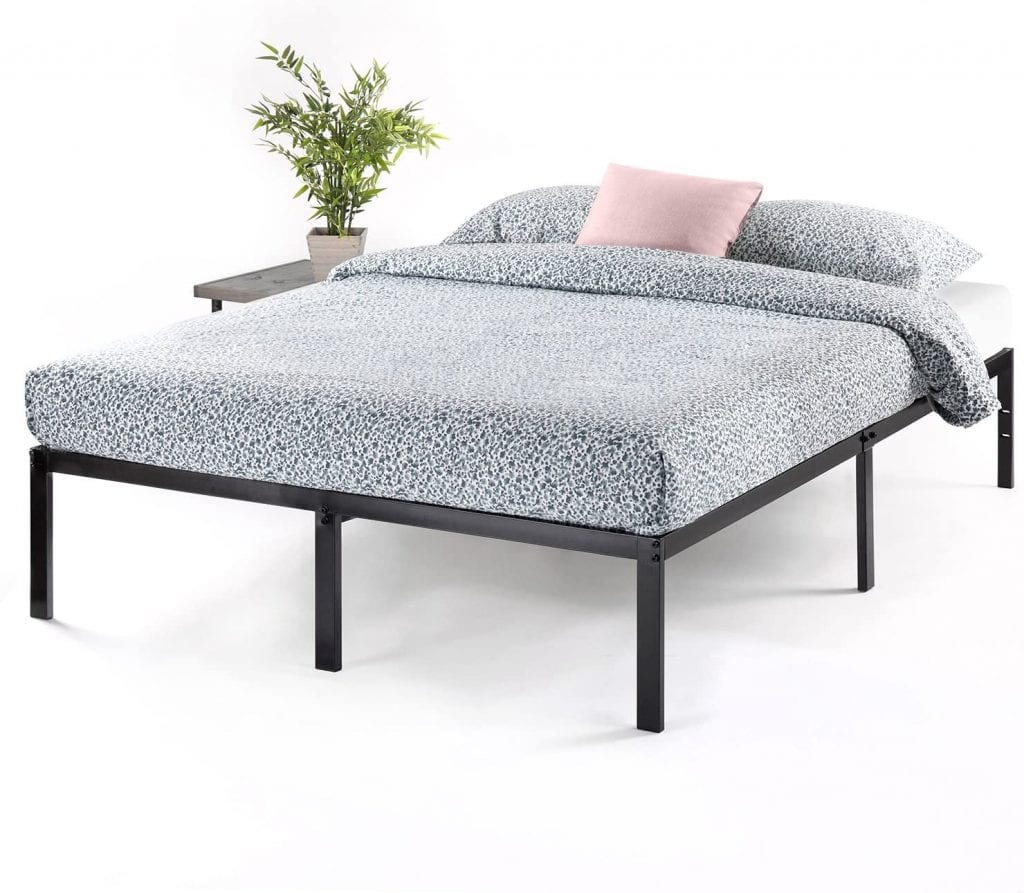 This platform bed frame sits higher than the two above at 14 inches. There is a lot of space for storage bins or other items under the bed. The slats are made of steel, too, so the mattress will have plenty of support. There are no tools required for assembly. You can put the frame together by yourself in no time. There is also a center support for the king size bed so it can support the extra weight. 
Pros:
Heavy duty materials for sturdy bed frame
Choose from all the common bed sizes
Lightweight frame at only 40 lbs. 
Highly affordable
Can attach a headboard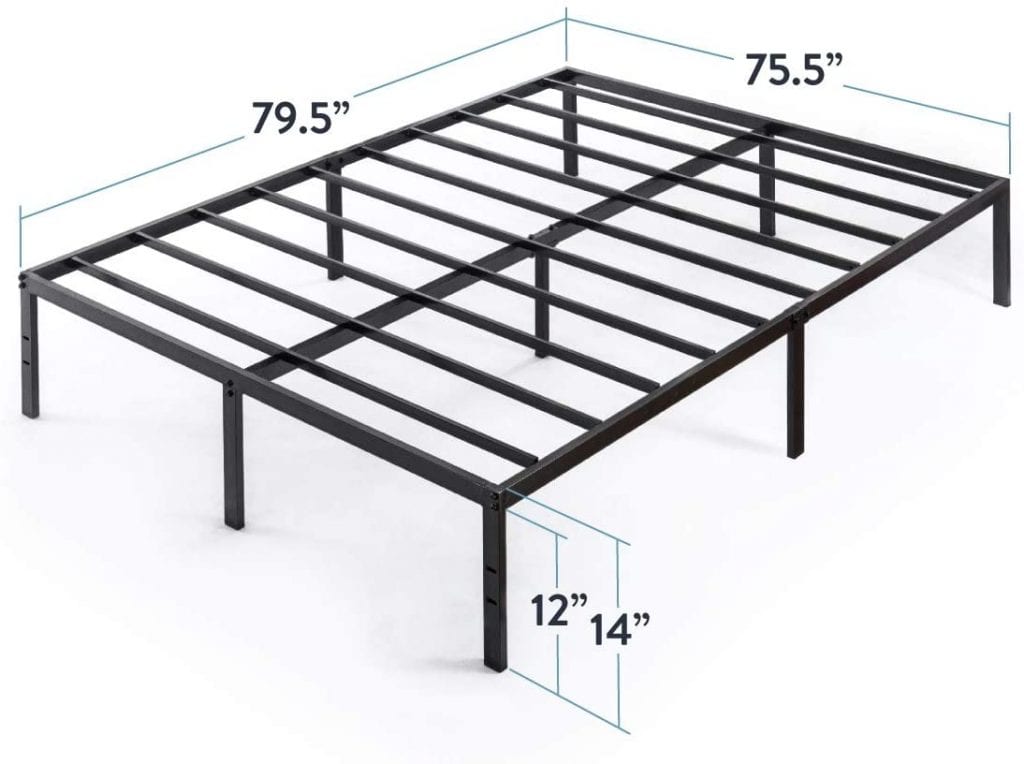 Cons:
Bed frame can get squeaky after time
Legs stick out causing toe kicks
Slats are set too far apart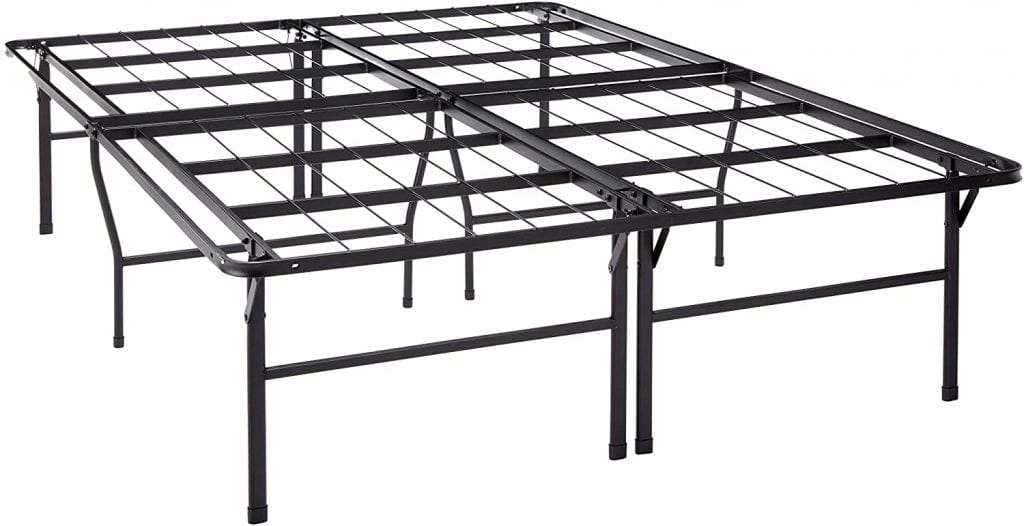 This metal platform bed frame is priced well for bargain-shoppers. The setup is a little different than some other bed frames in that it folds out from the center. You can unfold and fold up this bed frame for easy transport to anywhere you want to use it. There's a ton of room underneath for storage, also. The frame doesn't even weigh 40 lbs. and can be folded down small enough to be slid between or behind many items in your home. 
Pros:
Stable enough to support 600 lbs. plus
Very easy to setup
Folds down for easy storage
Very inexpensive
Tons of storage space underneath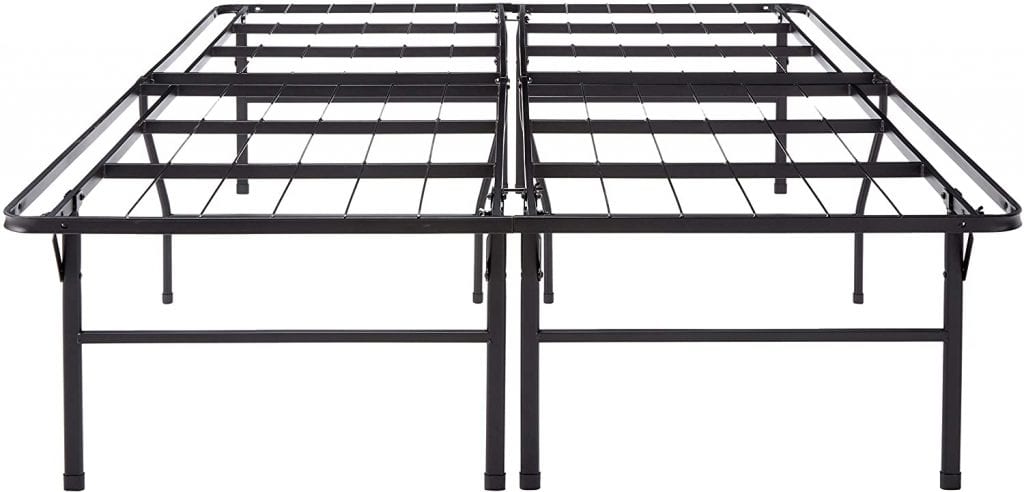 Cons:
Mattress slips across frame
May be too high for some people
Some of the connecting parts are hard to get in place
Conclusion
Platform bed frames make it where you don't have to use a box spring under your mattress for support. You can use more of your budget for a high-end top mattress to place on the platform bed frame of your choice. You'll select the material you like, whether you want a solid platform or slats, and how tall it will be. You can also choose bed frames with drawers built into the bottom. Go with a frame that allows for headboards and footboards to be attached if you want something more traditional looking. Set yourself up for a great night's sleep with the best platform bed frame for your mattress.
FAQs:
What is the best platform bed frame?
This needs to be tailored to your needs. One that tops the list for best platform bed frames, though, is the Amerisleep Platform Bed.
Is a platform bed as good as a box spring?
The platform bed is as good as a box spring. You need to choose one that can support the type of mattress you have and the amount of weight that will be in the bed.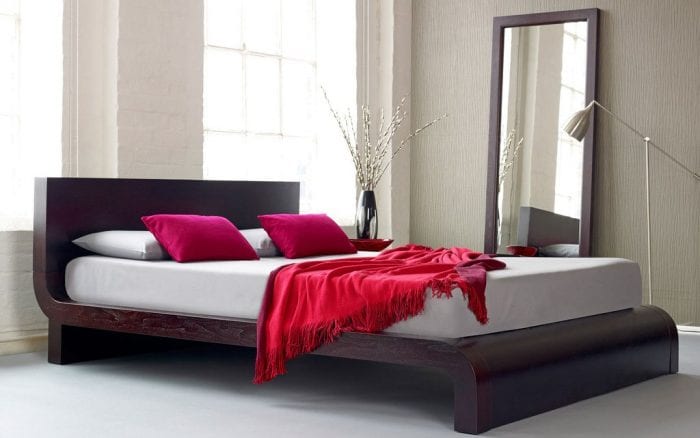 Are platform bed frames good?
These beds are good for support, value, added storage, and compatibility.
How do I choose a platform bed frame?
Look for the material you like. Make sure you get the right foundation for the type of mattress you have. Assess the assembly difficulty. Make sure to set a budget for yourself before you shop.
Why are platform beds so popular?
They're compatible with most mattresses. They are usually quite affordable. Many of them have very modern looks.
Can I put a box spring on a platform bed?
You can put a box spring on it; however, you don't need to. You also need to consider the height if you're going to do this.
Why are box springs no longer used?
Box springs are still used. They just aren't meant to be used with some of the types of mattress materials that are popular now, such as memory foam and latex.
Are box springs obsolete?
Box springs are still around, they're just not nearly as popular as they once were.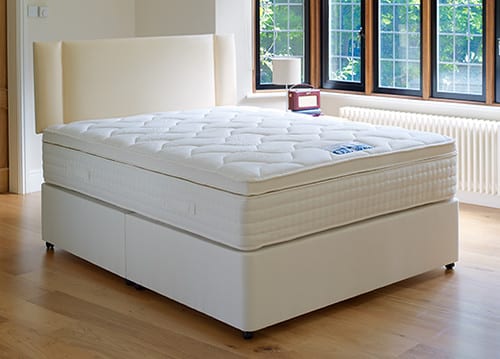 Are box springs better than slats?
Slats are better than box springs if you get them where they're placed appropriately distanced from each other. You can sometimes even adjust the level of support for your mattress by removing or adding slats.
What are the pros and cons of a platform bed?
The pros include affordability, compatibility with mattress types, the look of them, and their storage capacities. The cons are they're sometimes very low to the ground, they're hard to move once in place, and they can sometimes be too firm.
Disclaimer: FamilyHype.com (Family Hype & FamilyHype) is a participant in the Amazon Services LLC Associates Program, an affiliate advertising program designed to provide a means for sites to earn advertising fees by advertising and linking to Amazon.com.
Last Updated on May 26, 2021 by Marie Miguel
DISCLAIMER
(IMPORTANT)
: This information (including all text, images, audio, or other formats on FamilyHype.com) is not intended to be a substitute for informed professional advice, diagnosis, endorsement or treatment. You should not take any action or avoid taking action without consulting a qualified professional. Always seek the advice of your physician or other qualified health provider with any questions about medical conditions. Do not disregard professional medical advice or delay seeking advice or treatment because of something you have read here a FamilyHype.com.