We all love our small kitchen appliances. One that is underrated at times is the toaster oven. These little machines have come a long way in their designs with some models being quite sophisticated. You'll find that the best toaster ovens actually do a lot more than simply toast things. You can pretty much cook full meals in them, much like you can with your full size oven.
But, how do you find the best toaster ovens to buy? You'll need to choose between an on-the-counter design and an under-cabinet design. Look for what accessories come with the models you're considering. The temperature range and adjustability of temps while you're cooking are important. Assess the display and interface, as well as any smart technology that's integrated in. Other considerations could include safety features, cleaning methods, and timers or programs.
In this article we're going to look at some specific models of toaster oven options. First, let's talk about what the features are that could make for the best toaster ovens so you can make a better decision for what's right in your home.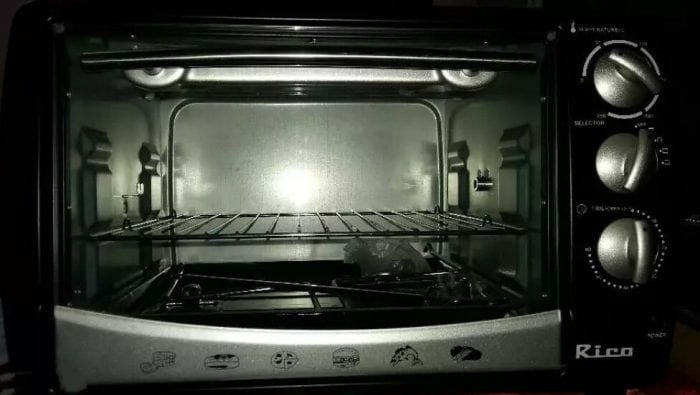 What Should I Look For When Buying A Toaster Oven?
The biggest consideration when you're looking for a toaster oven to buy is how you intend to use it. There are different kinds of toaster ovens that cook with more advanced heating elements, such as convection cookers. There are also interactive heating elements or those that are quick-heat. If you'll be using your toaster oven to do more than just brown foods, you may want to look for something more advanced.
The temperature range your toaster oven has or doesn't have can either open up your cooking abilities or limit them. Definitely take a look at the low and high temperatures. Also, look for adjustability during the cooking period. You can have more control that way and be able to brown your food to the exact level that you prefer.
Safety features can be especially important in homes where there are small children. These appliances often get very hot to the touch. You can look for models that have robust safety features to protect children and others from burns.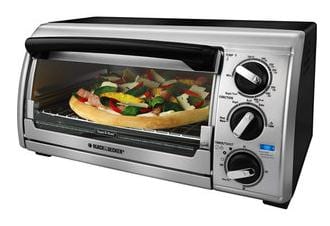 The nature of a toaster oven is to heat things and melt things so they're prone to getting dirty. You want a model that is easy to clean. Some of the best toaster ovens built-in cleaning features that are designed to make cleaning them easier.
You'll also want to look at the display and the controls any toaster oven has. If you're wanting something that's simple and easy to use, look for the controls that you find easy to understand. 
Finally, you want to look at the price and what you get for your money. Are you going to get accessories included with your purchase? Do you get more than one type of cooking with your chosen model? The price is important because you don't want to pay more than you need to or more than you can afford.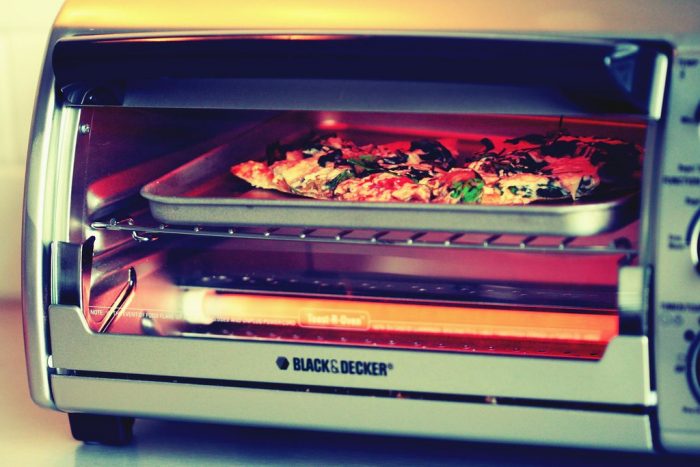 Is A Toaster Oven And A Smart Oven The Same Thing?
Ultimately, no these are not exactly the same. While toaster ovens do a lot more than they used to, they're not the same thing as a smart oven. In other words, a toaster oven is not a smart oven, however, a smart oven can function as a toaster oven, as well as many other kinds of cookers.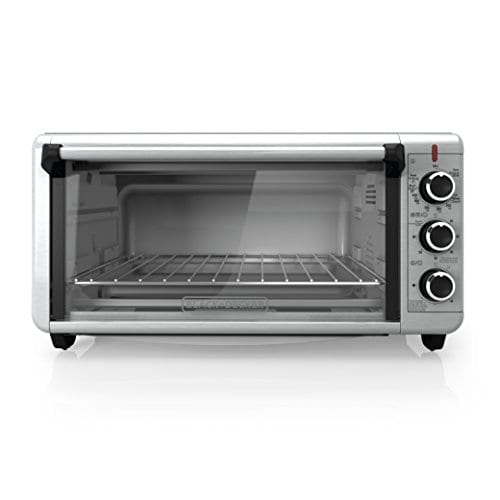 A smart oven can cook in methods that a traditional toaster oven cannot. It can full-on bake, cook rotisserie, broil, and air fry, even. They're very intuitive, enough so that you can essentially just put in the raw ingredients and do nothing more. 
If you find that a smart oven makes more sense for you, just know that you'll likely be spending a bit more money. That being said, you'll be getting a lot more for that money, too. Essentially, you'll get many other small appliances all packed into one little machine.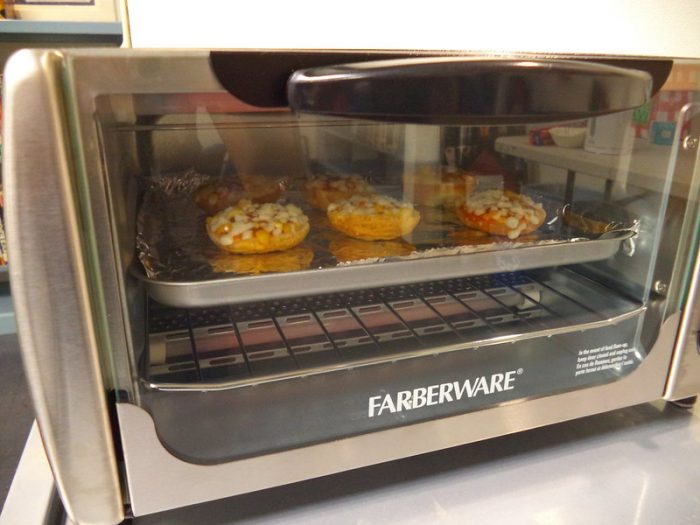 What Toaster Oven Is The Best In The Market?
As it turns out, the best one on the market is not a traditional model. The best overall toaster oven is a function of the Breville Compact Smart Oven. You can also check out the best budget toaster oven, the Hamilton Beach Sure-Crisp Toaster Oven. Then, there's the Cuisinart Chef's Convection Oven that wins for the most versatile toaster oven.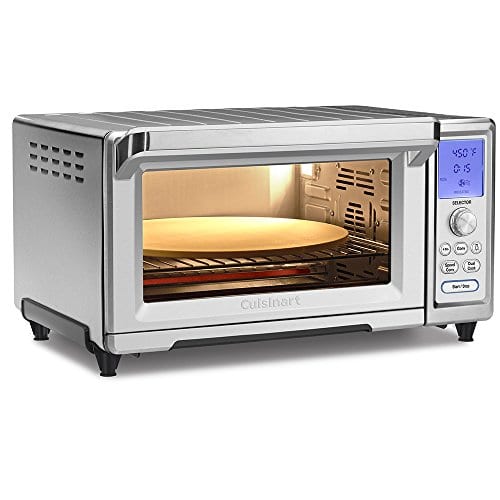 Best Toaster Ovens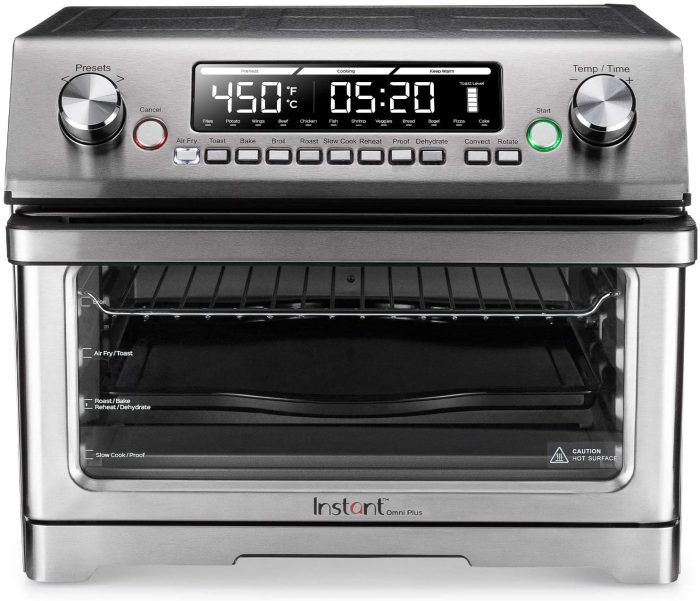 The Instant Omni has a very large capacity and a lot of versatility. You can bake a cake, cook a 12" pizza, and even roast an entire chicken. It has 11 different cooking methods to choose from. This one appliance can be the best broiler, oven, roaster, or even the best air fryer. That means you can save space on your counter because you only need one appliance to replace all of those others. The operation is super easy and you'll be ready to start cooking as soon as you take the oven out of its box. You even get plenty of accessories, including a rack, air fryer basket, cooking pan, rotisserie spits, forks, and a lift.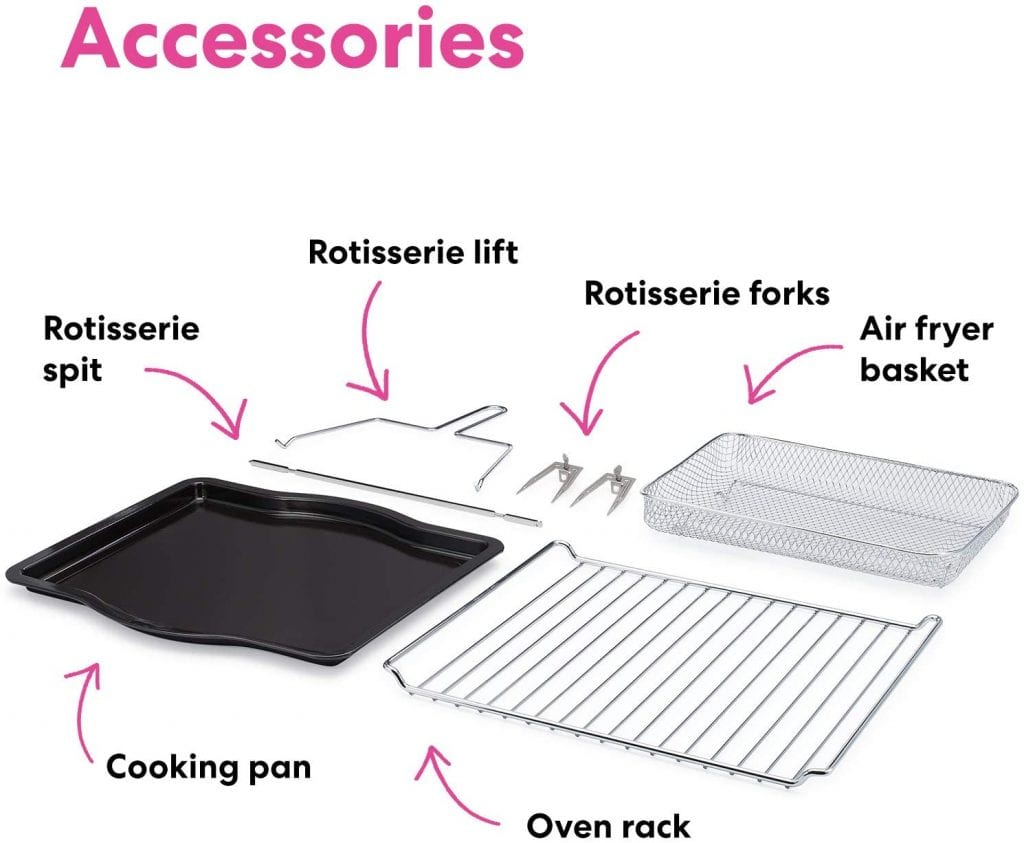 Pros
Frees up space on your counters
Easy to clean
Super versatile with 11 cooking methods
Very large capacity
Good visibility on food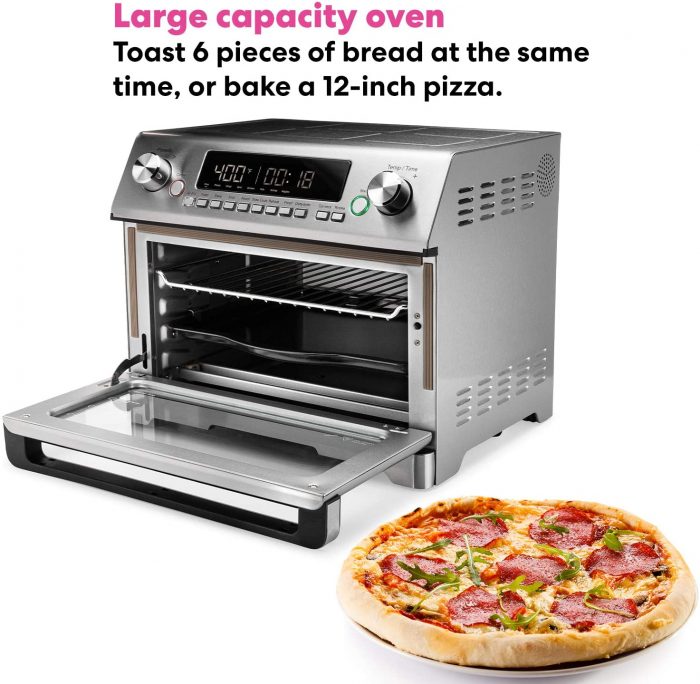 Cons
Does not come with recipes
Burning plastic smell during first uses
Power cord is very short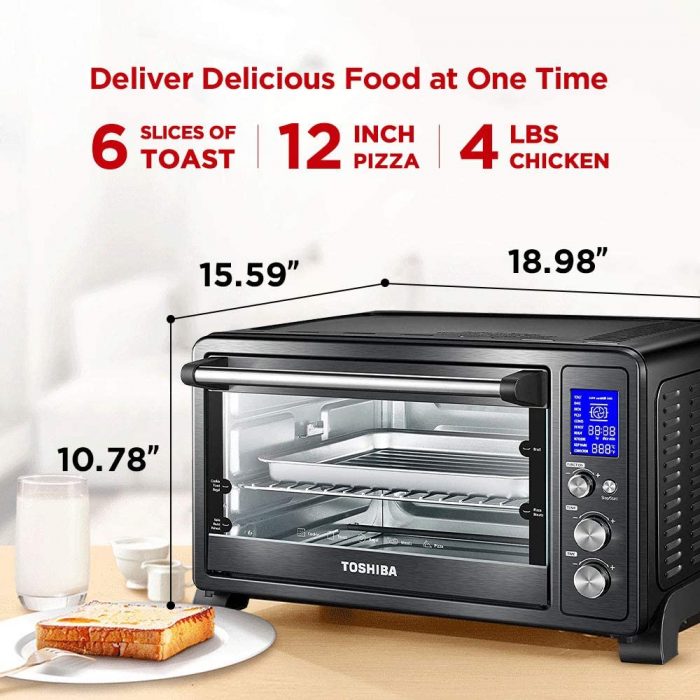 You can make just about anything in this digital toaster oven by Toshiba. It uses 1500 watts of power so you can get enough to push even convection cooking. You can use it to roast, cook rotisserie, bake, broil, and more. It's large enough to accommodate 6 slices of bread, a 12" pizza, a 4 lb. chicken, and entire casseroles. The display is bright and easy to read and it's easy to set this toaster oven with dials to change the settings. The dials are adjustable throughout the cooking process, too.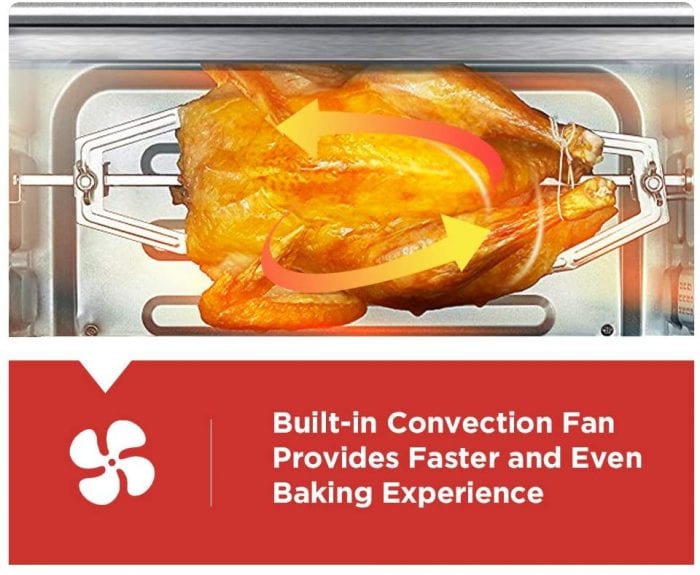 Pros:
Broad temperature range from 150° to 450°
Very affordable
10 cooking functions for versatility
Easy to clean
Extra large capacity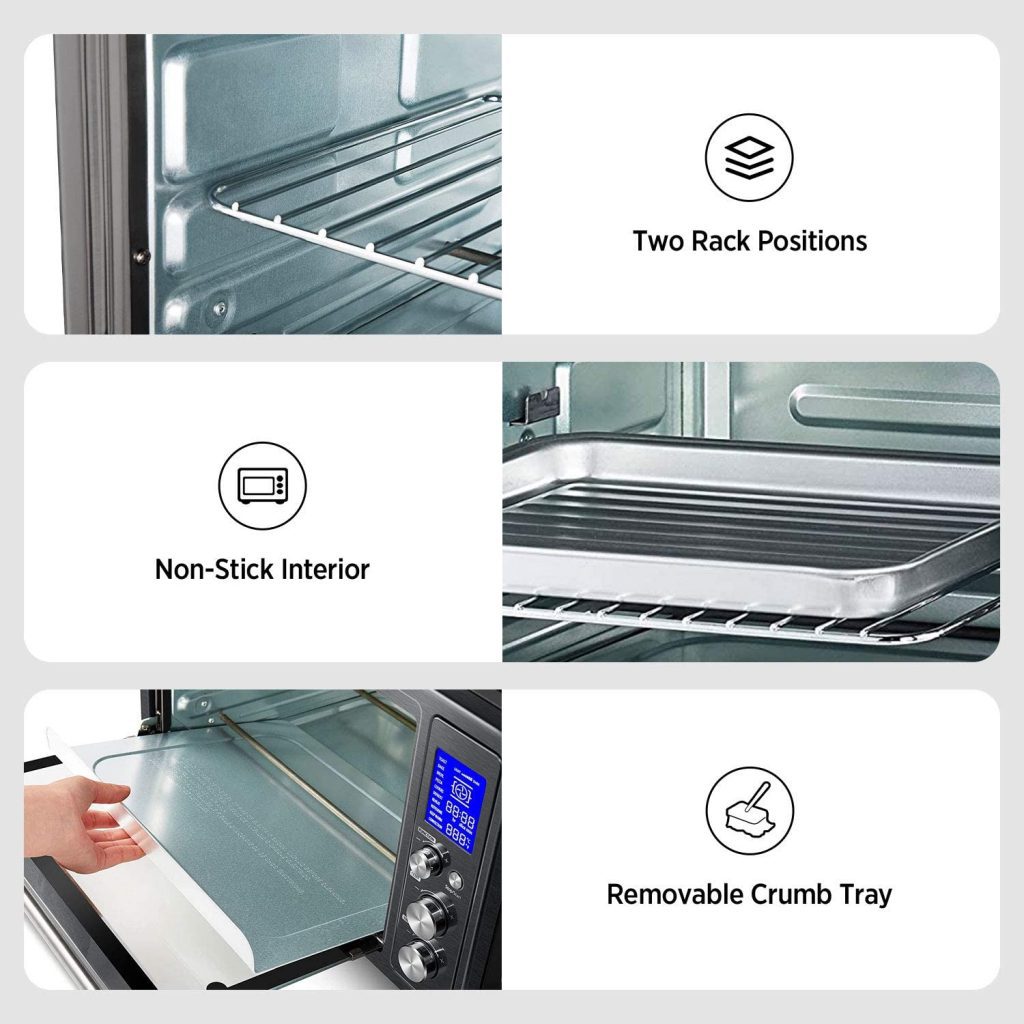 Cons:
No interior light
Short power cord
No manual cooking option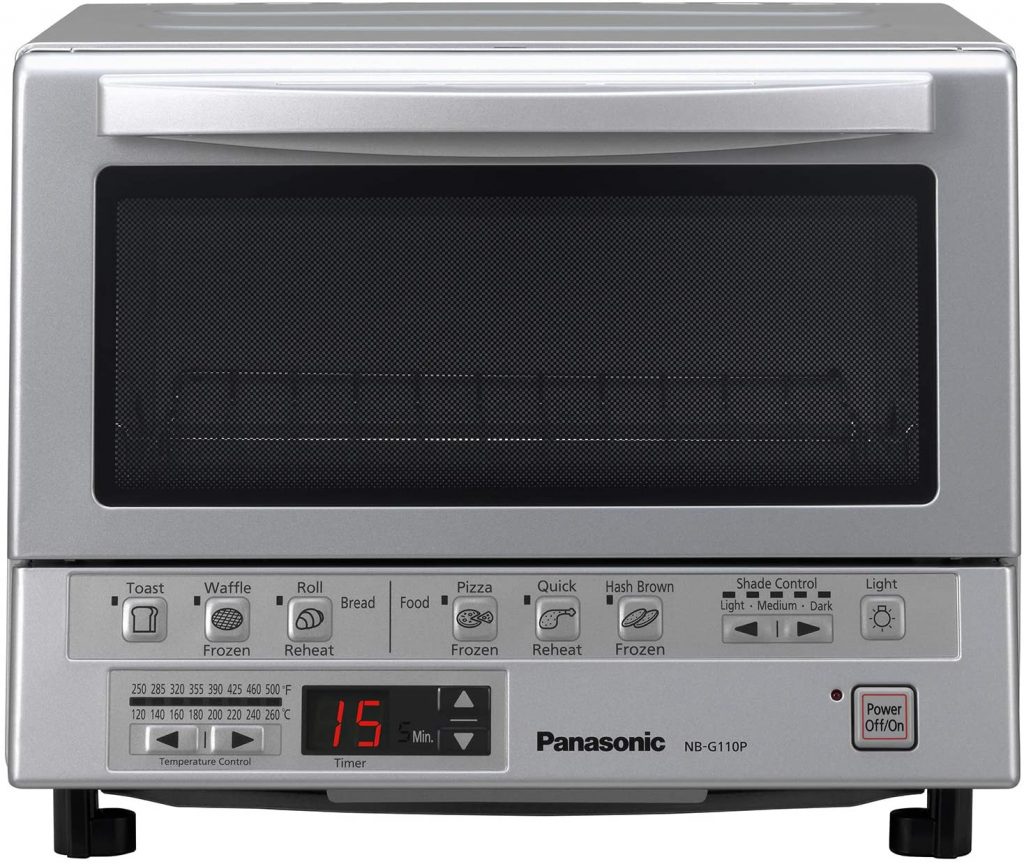 This is a powerful little toaster oven that comes in three color choices. It uses 1300 watts of power to cook for 6 different programmed methods. You'll be able to see your food clearly through the appliance door and there's an interior light to make it easier. It has the capacity to cook 4 pieces of bread at once. It doesn't have all of the functions some of the smart oven models have, but it's great at what it does for evenly cooking the items you want browned, toasted, or heated. It's very lightweight and doesn't need much space on your counter.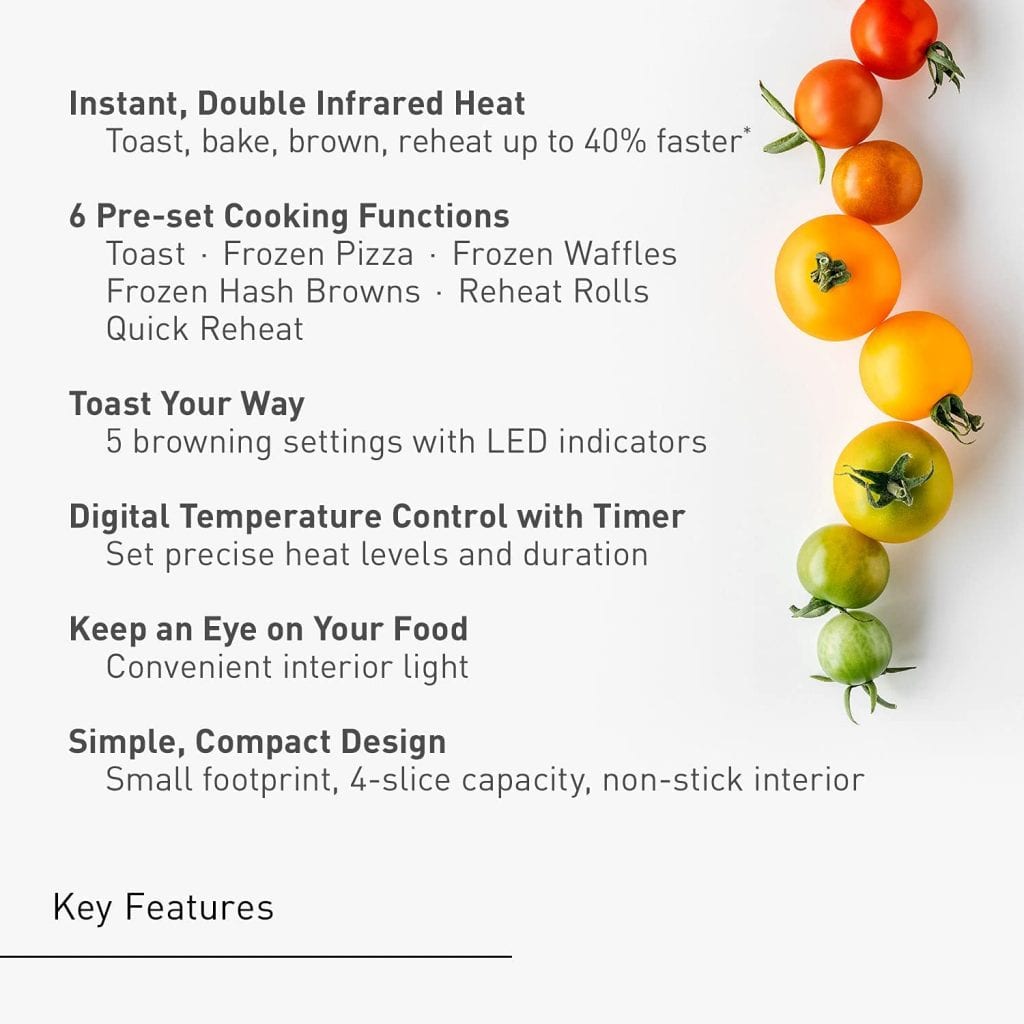 Pros:
No preheat necessary
Toasts evenly
Spring loaded door
Super fast cooking
Small footprint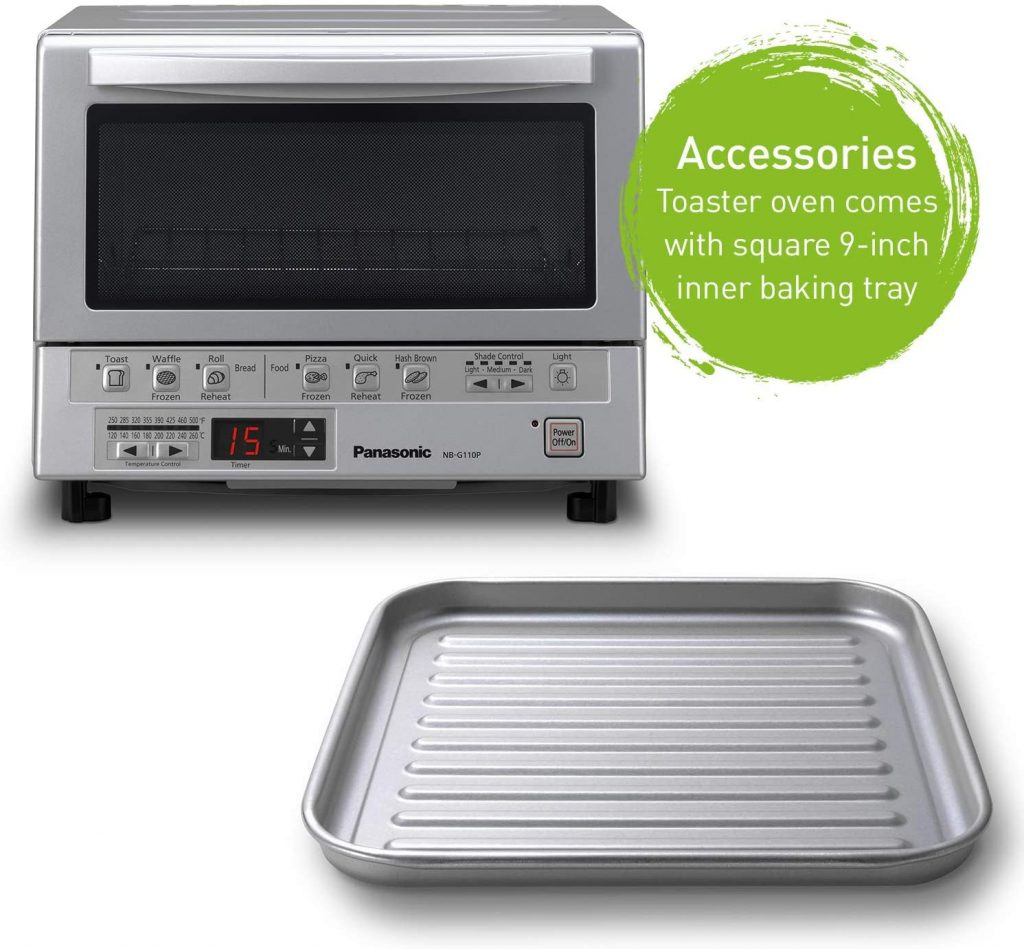 Cons:
Small capacity
Limited 25 minute cook cycle
Interior tray isn't nonstick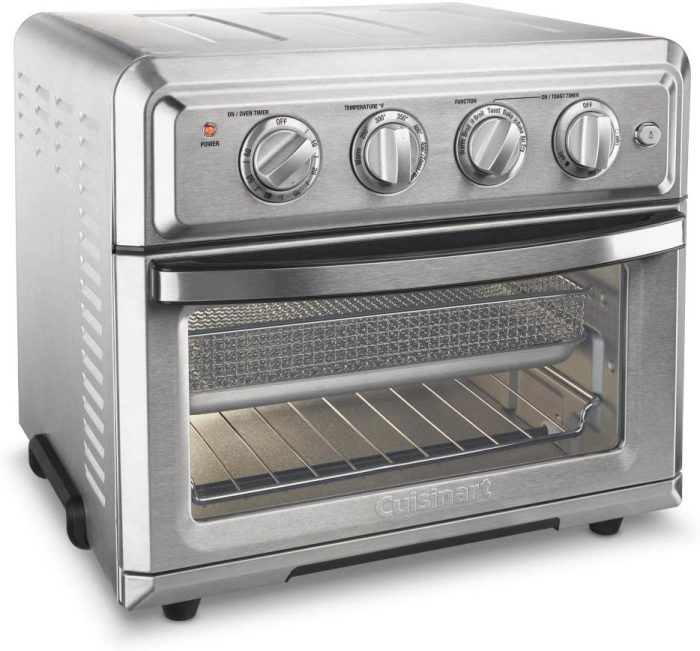 This is the most powerful toaster oven on our list and the one with the best air fryer method included. It cooks with 1800 watts of power behind it. There are 7 different functions that include convection for baking and broiling, traditional baking and broiling, warming, toasting and air frying. It's a large capacity toaster smart oven that can accommodate a 12" pizza. There is a 60 minute timer integrated into the design and an auto shut off. You can manually adjust the thermostat if you want to. The interior is nonstick and there is a light inside so you can clearly see your food.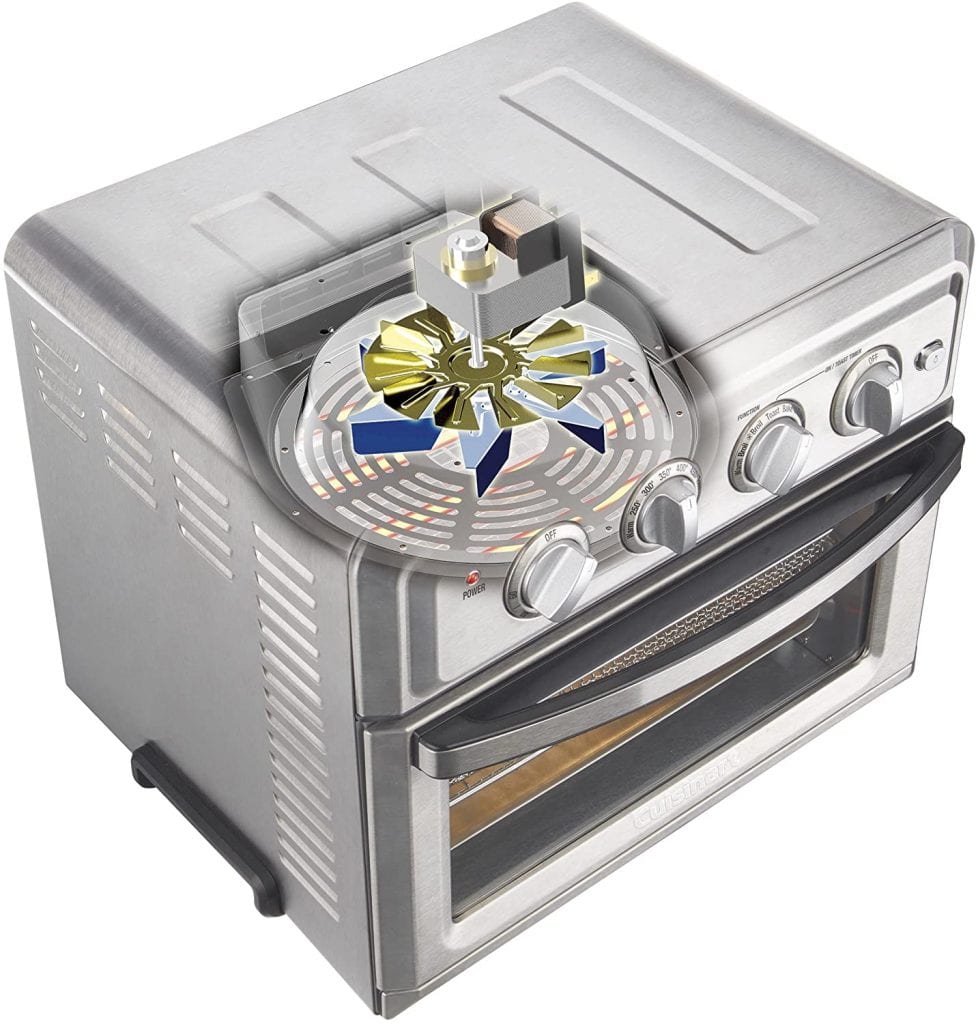 Pros:
Extra large capacity
Best air fryer option
Easy to clean
Good visibility of food
Cooks very fast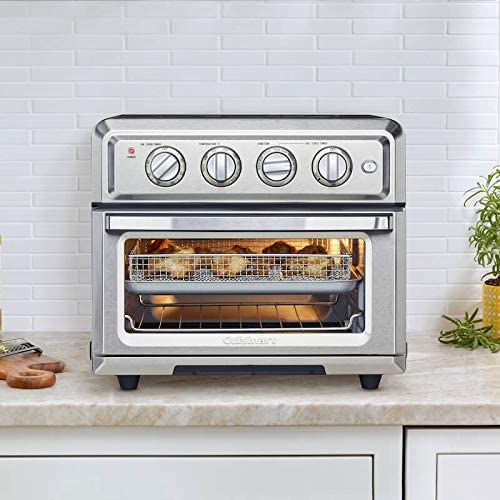 Cons:
Pricey
Lacking reheat or defrost presets
Difficult to set a precise time with dial
Conclusion On The Best Toaster Ovens
The right toaster oven for your home could be simple and small so you can use it instead of a traditional toaster. It could also be a smart oven that provides you with many different cooking methods such as convection, air frying, and others. You can choose a large capacity toaster oven that can fit a whole large pizza for baking, or go with something with a very small footprint. If you want to free up your counter space, you can even get one that mounts under your upper cabinets. Choose your toaster oven to fit your intended use and the capacity you need for your household.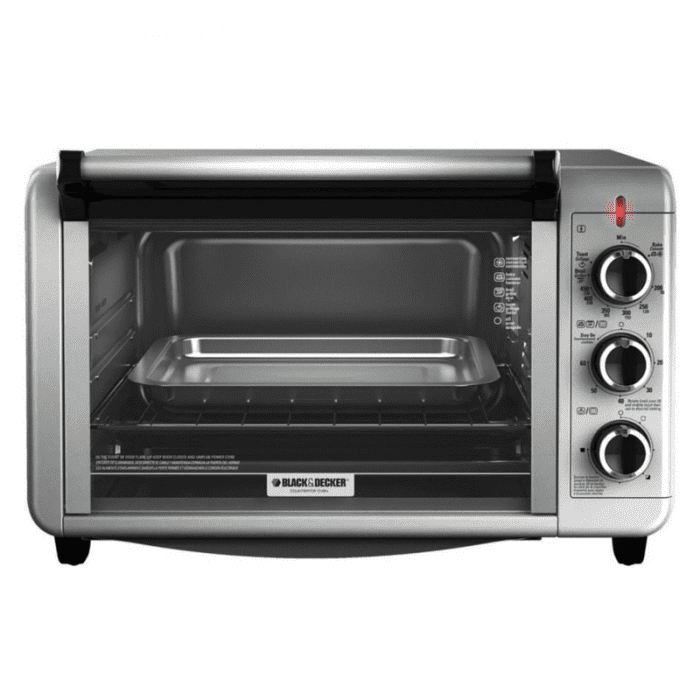 FAQs On Best Toaster Ovens:
What is the best countertop oven to buy?
The best overall countertop oven is the Panasonic FlashXpress Compact Toaster Oven.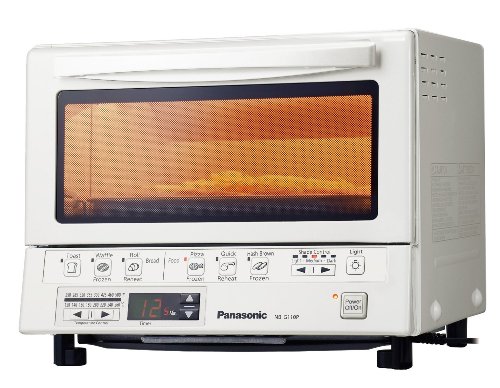 What is the best inexpensive toaster oven?
The best budget model is the Black + Decker 4-slice Convection Toaster Oven.
Are convection toaster ovens worth it?
A convection toaster oven can cook your food more quickly, as well as more evenly. You still want to stay within your budget, but even some of the more economical options have convection cooking fans integrated into their designs. 
What is the safest toaster oven?
The safest is the Westinghouse 6 Slice Toaster Oven. It has a large capacity, a cool touch handle, and is easy to clean.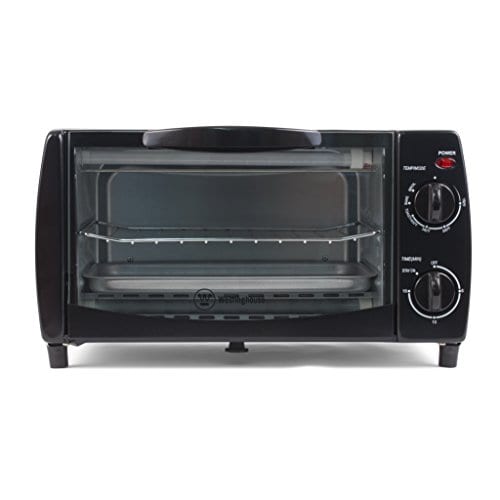 Do toaster ovens cause cancer?
The concern here is when foods like bread and potatoes get too toasted or too browned. They can create something called acrylamide that has been known to cause cancer in large quantities. You can avoid this altogether, though, by cooking your carbs differently.
What is the difference between a toaster oven and a countertop oven?
A toaster oven simply browns food items, heats them, or bakes certain things. A countertop oven is capable of more, like roasting, broiling, or even air frying.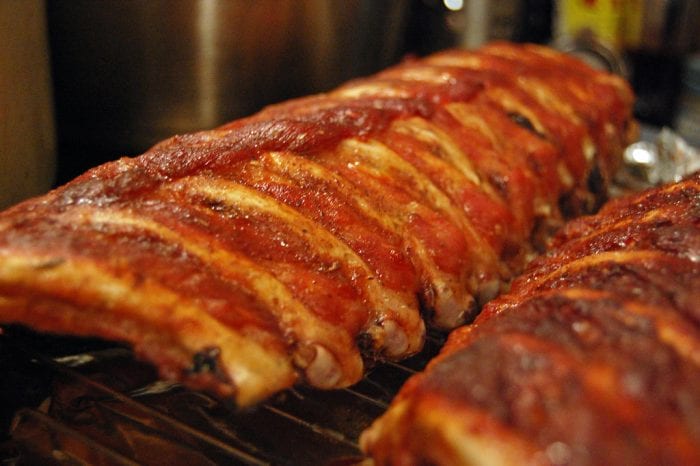 Can I bake a cake in a toaster oven?
Yes you can. Most toaster ovens will only accommodate a small cake, though.
Who makes the best toaster convection oven?
This designation goes to Breville for their Smart Oven Air Convection.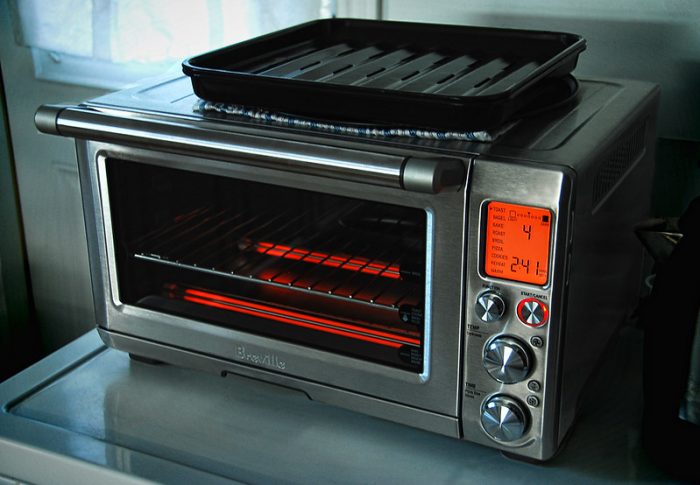 Disclaimer: FamilyHype.com (Family Hype & FamilyHype) is a participant in the Amazon Services LLC Associates Program, an affiliate advertising program designed to provide a means for sites to earn advertising fees by advertising and linking to Amazon.com.
Last Updated on July 20, 2021 by Marie Miguel
DISCLAIMER
(IMPORTANT)
: This information (including all text, images, audio, or other formats on FamilyHype.com) is not intended to be a substitute for informed professional advice, diagnosis, endorsement or treatment. You should not take any action or avoid taking action without consulting a qualified professional. Always seek the advice of your physician or other qualified health provider with any questions about medical conditions. Do not disregard professional medical advice or delay seeking advice or treatment because of something you have read here a FamilyHype.com.