Do you live in a super dry climate? Have a tough time getting through the day or night without lotion and chapstick? Maybe you have bad seasonal allergies and are prone to getting colds. If any of this sounds familiar to you, then finding the best humidifiers to use in your home might just sound like a great idea. What should you know about them, though?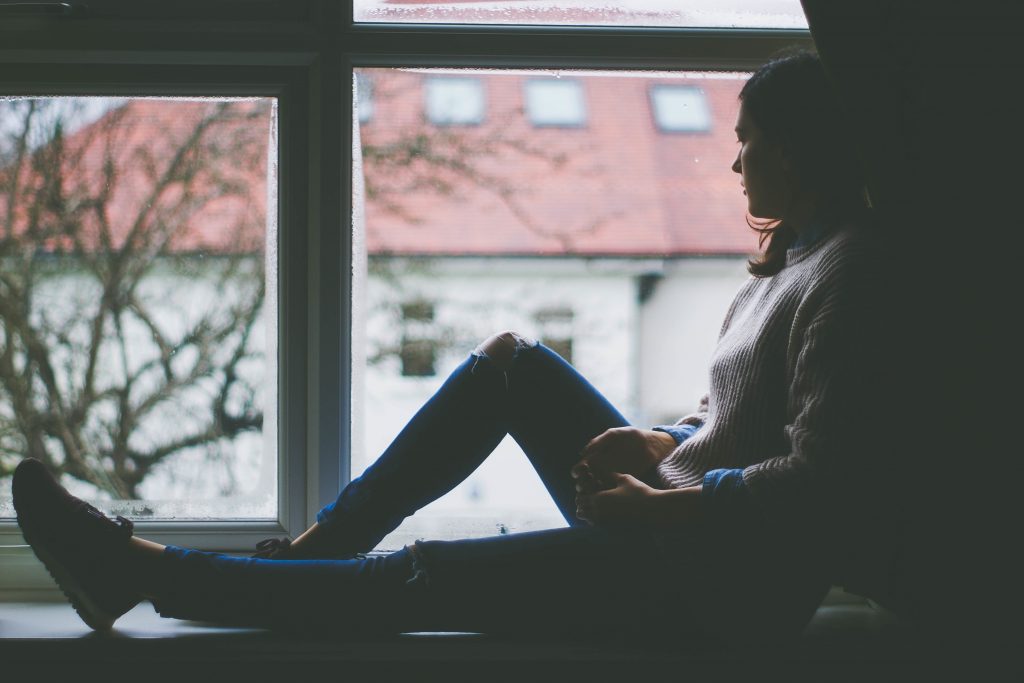 When you're shopping for the best humidifier, you have to choose either a warm mist humidifier or a cool mist humidifier. You'll need to consider the space you'll be using it in as the best humidifiers have a range for which they can add moisture into the air. The size of the water tank needs to be taken into consideration. You'll also want to look at extras like timers and programs. Finally, make sure you see what type of maintenance and cleaning is required to keep the unit in good working order and free of bacteria.
The best humidifiers have some features you'll be deciding on. Let's look at those details first, then we can discuss a few of our top picks from what's currently on the market.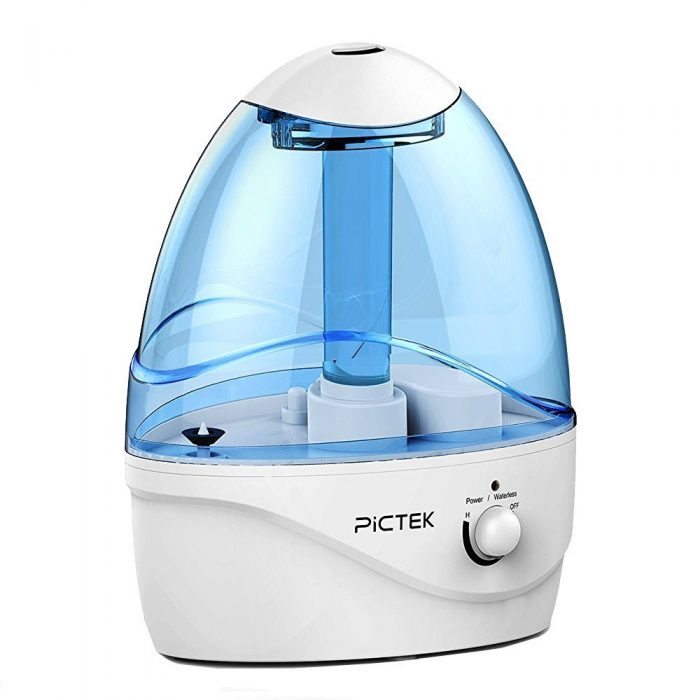 Which Is Better, Cool Mist Or Warm Mist Humidifier?
A cool mist humidifier doesn't have to warm water up before emitting it into the air in your home. It will work through either evaporative technology or ultrasonic technology. The evaporative cool mist humidifier has a wick inside that draws up the water. Then a fan blows through the wick and causes that absorbed water to evaporate and disperse into your space. An ultrasonic humidifier uses vibration to release cool mist into your space.
Warm mist humidifiers boil the water inside the unit first with a heating element and then emit warm mist into the air. The mist will not be visible and there is no fan for blowing it into the room. 
The evaporative cool mist humidifier and the ultrasonic humidifier don't usually use as much electricity because they don't heat anything. They're also considered to be safer by parents because they don't have boiling water inside. Their downsides are they can be noisy because of the fan and they can make the room feel colder.
Warm mist humidifiers actually make your air healthier because the boiling of the water first can help to eliminate bacteria and mold present in the water. They're also usually quieter because they don't require a fan. They're not as good for larger spaces, though, and they typically cost more than a cool mist humidifier.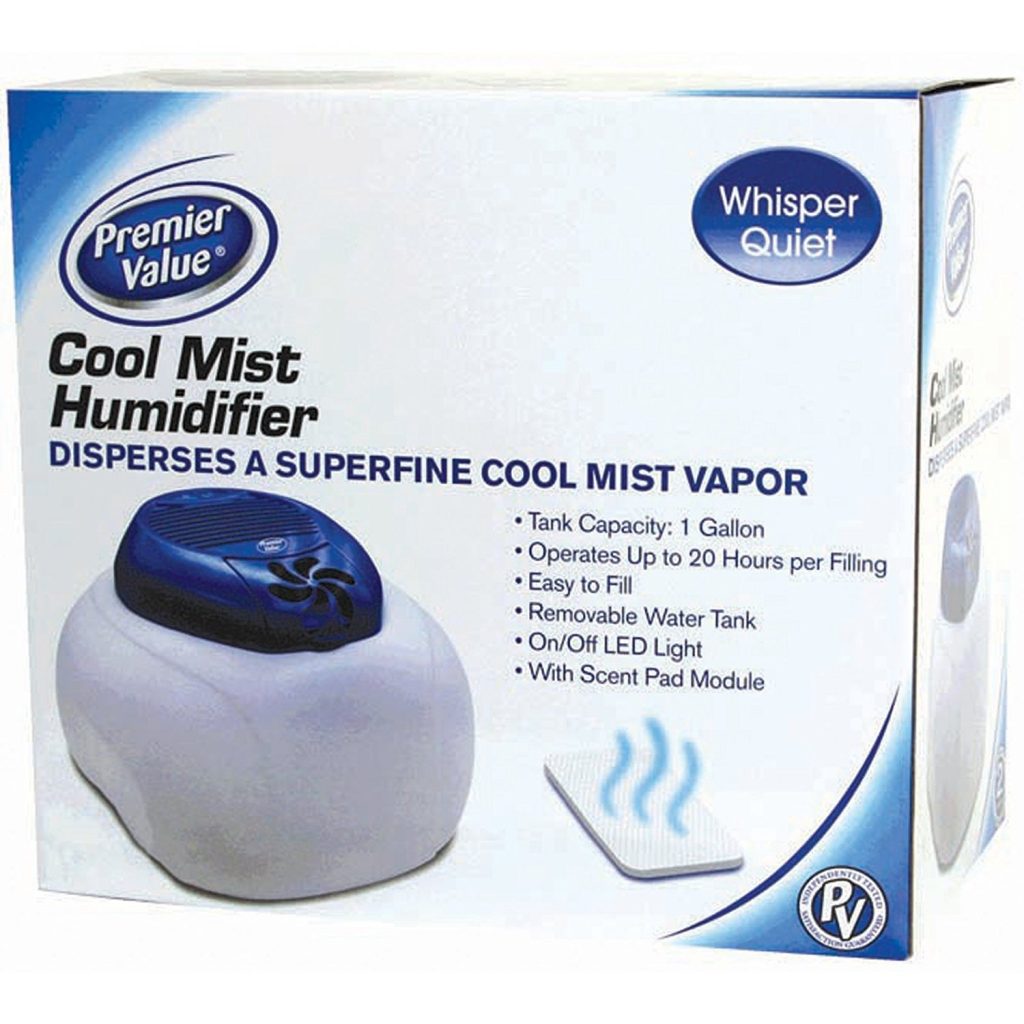 Features Of The Best Humidifiers
Humidifiers come in all sorts of sizes. If you have a lot of space in the room you'll be housing yours in, it won't matter much how large it is. However, many of us are limited on our available space. We won't want to go with a unit that has a large footprint. Make sure you look at the specs of the humidifiers you're considering.
The capacity of the water tank could be important to look at, as well. If you know you'll be using your unit every day, you will likely want to go with an option that has a large water tank which doesn't need to be filled every day.
Whether you choose an evaporative cool mist humidifier, an ultrasonic humidifier, or one of the warm mist humidifiers, there are varying levels of control afforded to you with different models. Some are very basic and offer you a few programmed levels to choose from. Others give you complete and precise control over how much moisture will be released into the air. 
All humidifiers will require some level of maintenance. You'll want to look into just how much you'll have to be doing to keep your unit running well. If you don't clean and maintain your humidifier properly, you could be allowing harmful bacteria, mold, and germs into the air that you and your family are breathing inside your home. 
A cool mist humidifier uses a fan to disperse the moisture into the air. That means this type can be noisier than an ultrasonic humidifier or warm mist humidifiers. You should consider the noise level you're comfortable with before making a choice from the best humidifiers.
The safety features included with different models are important, too. You definitely want a unit with an automatic shut off for when the water tank is empty. You can prevent over-saturation of your air with a built-in hygrometer. Mold is more likely to grow in over-saturated air. Other safety features include UV lights within the water tanks that can kill bacteria, as well as an integrated nightlight. 
Now it's time to look at our picks for the best humidifiers.
Best Humidifier Options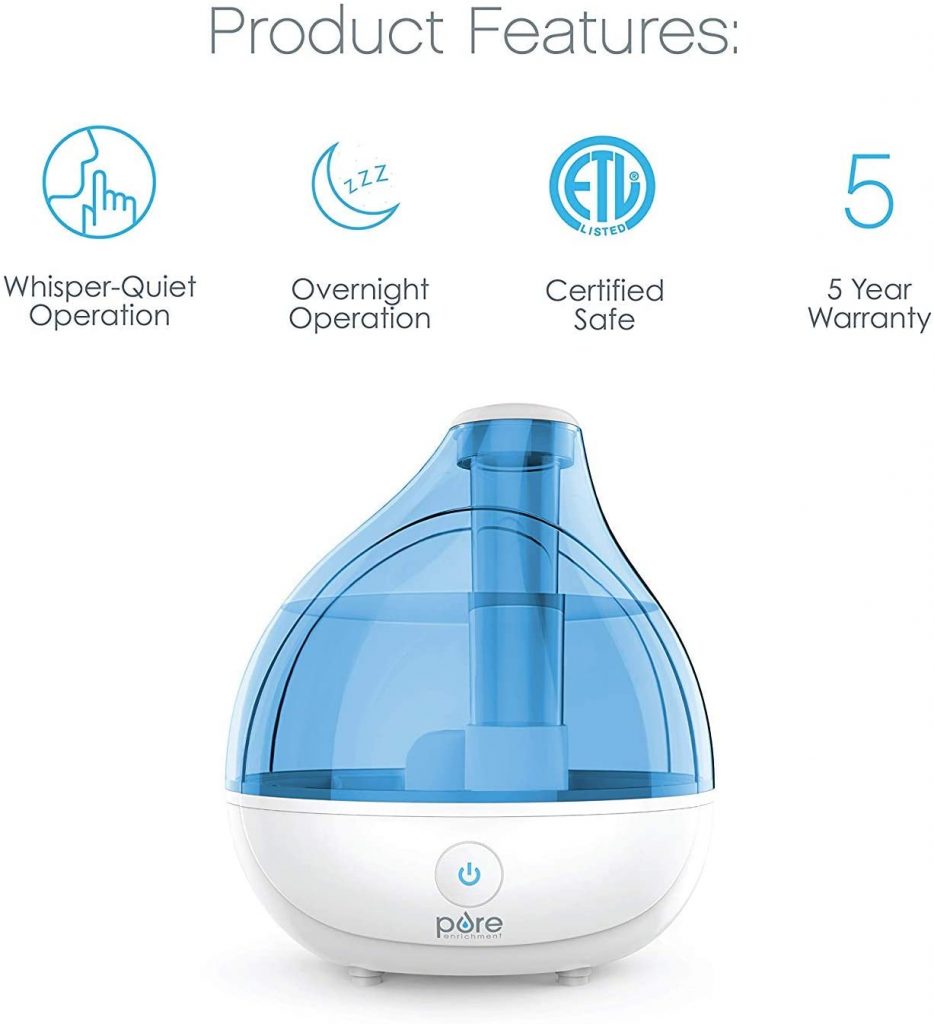 This ultrasonic humidifier operates at a whisper quiet sound level. It comes with an automatic shut off option and provides a soothing nightlight, as well. The 1.5 L water tank can give you comfortable moistened air for up to 16 hours. You'll have the option to set the unit at high or low with an easy to use adjuster. Your purchase comes with the unit, an AC power adapter, a 5 year warranty, a disk cleaning brush, and a user manual. It has a small footprint so you can place it anywhere in the room and easily move it from one room to another.
Pros:
Super affordable
Long operation time
Easy to setup and use
Very lightweight
Industry-leading warranty coverage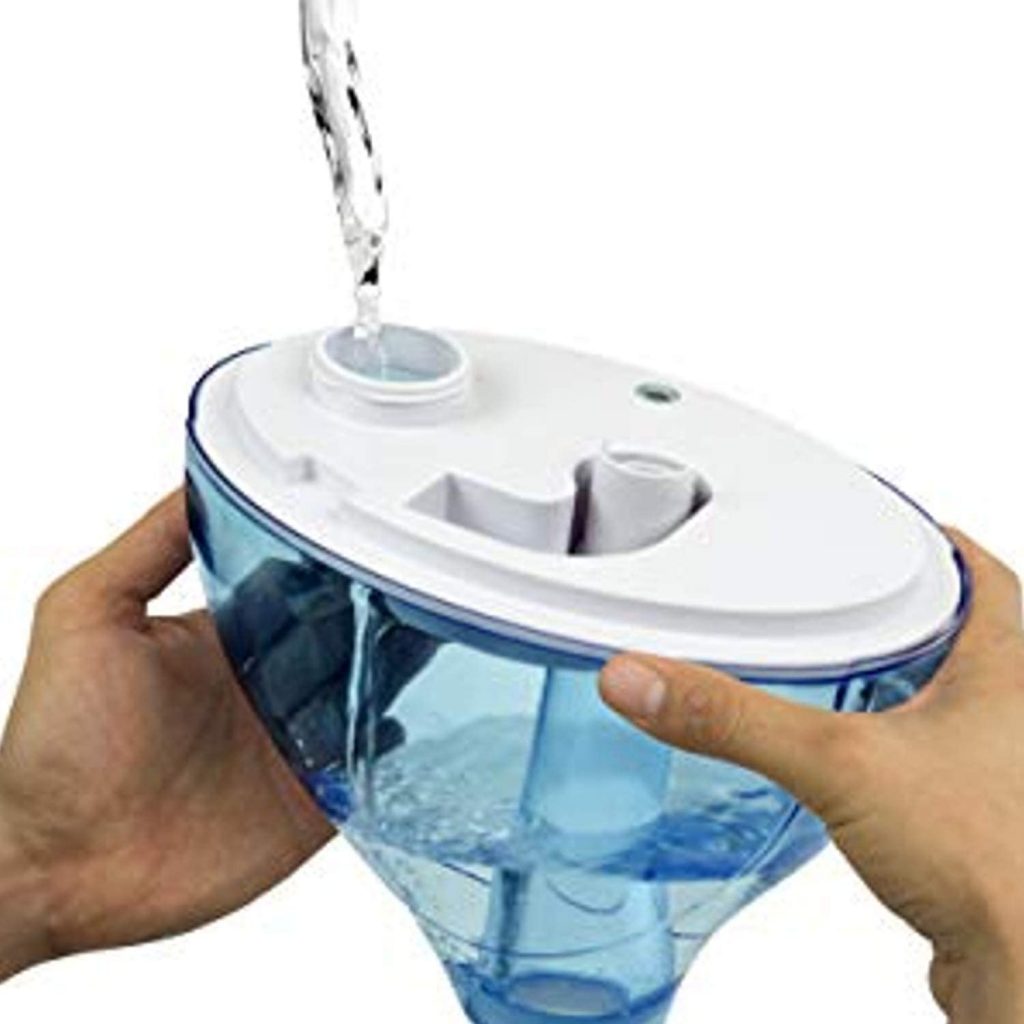 Cons:
Small water tank
LED in button is very bright
Quick mold accumulation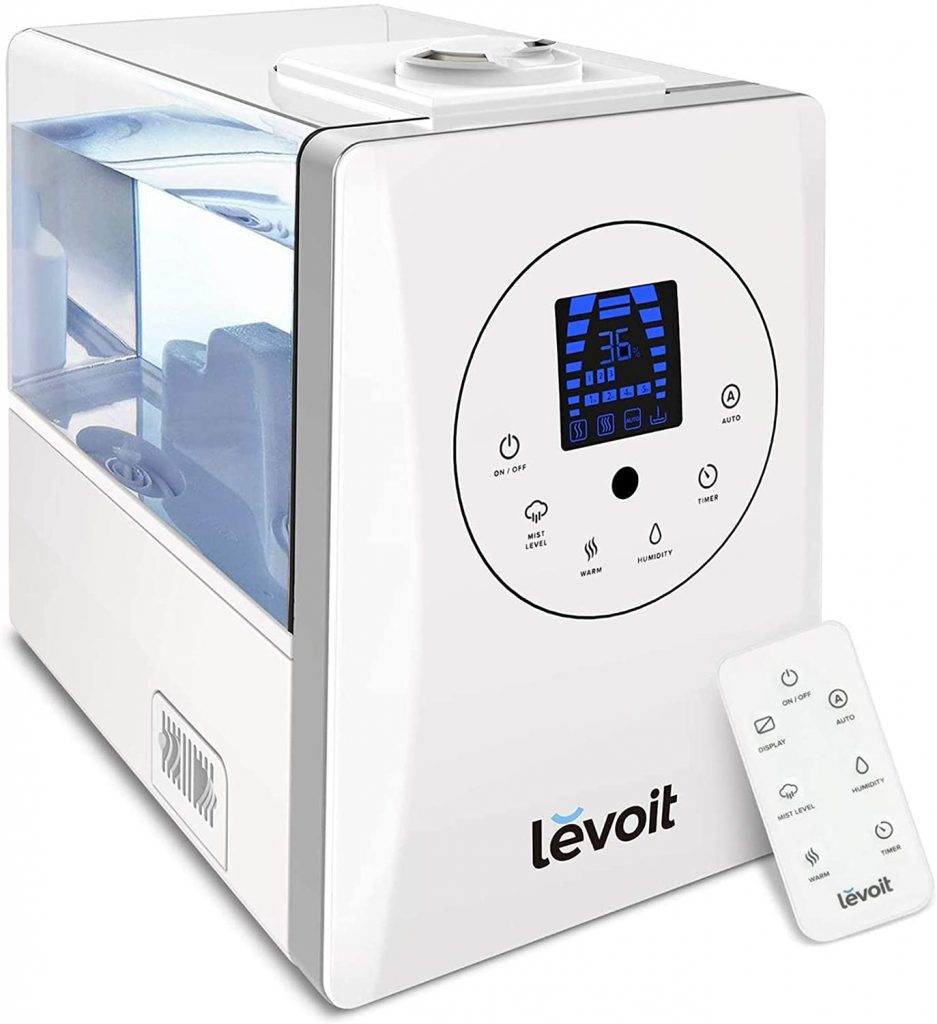 You get a lot for your money with this LEVOIT humidifier. It functions as a cool mist ultrasonic humidifier. These units can also be used as warm mist humidifiers, though. You can customize the type of humidity, as well as the level of moisture in the air. It's a super quiet unit with a large capacity tank that holds up to 6 L of water. You'll have a convenient remote control for all of your operations and settings, and all for less than $100 on Amazon. The humidifier and the water tank are both easy to clean. And as an added bonus, you can use essential oils in the unit to be dispersed for aromatherapy.
Pros:
Versatile functioning as cool mist humidifier or warm mist humidifiers
Very quiet operation
Great value for money
Remote controlled
Large tank capacity
Precision settings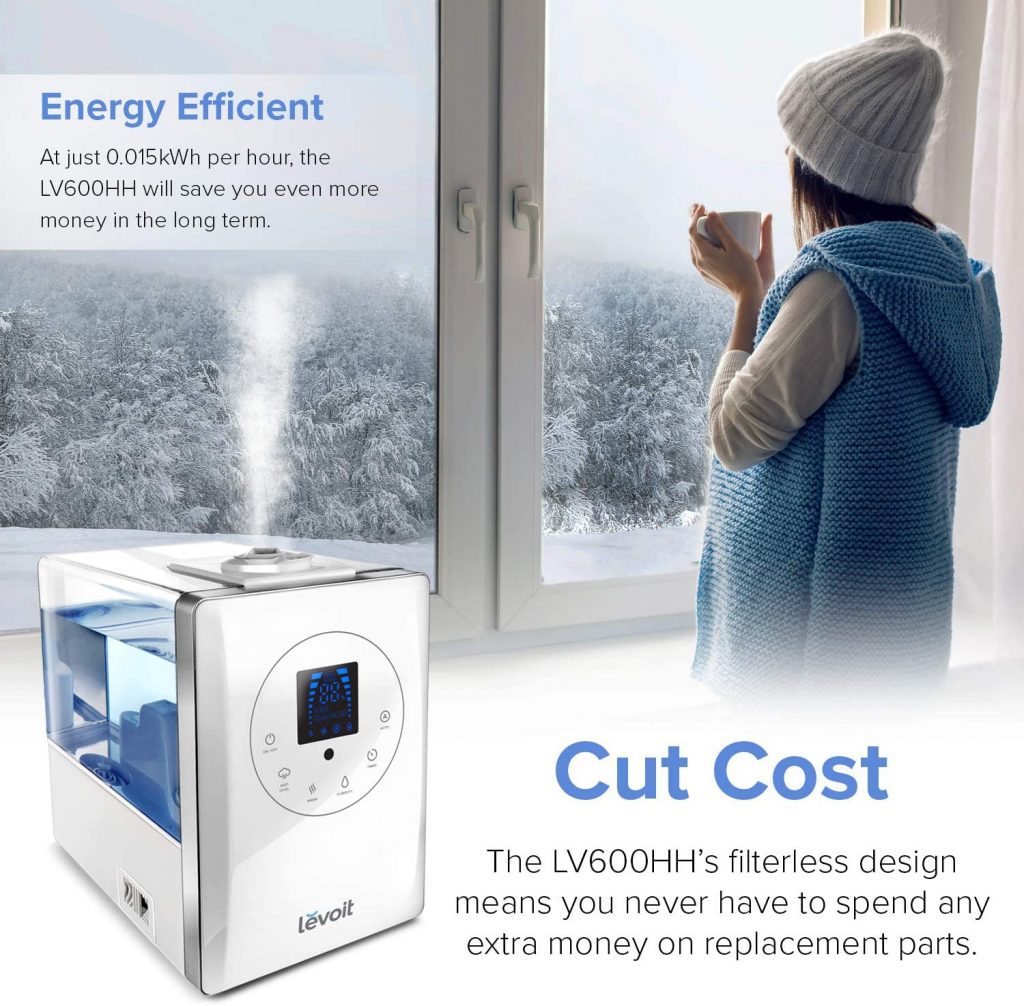 Cons:
Large footprint
May be too complex for some users
Lights aren't dimmable
The Homech Top Fill Cool Mist Humidifier has a large capacity water tank that can give you up to 40 hours of operating time. You'll be able to choose from three levels of humidity and you can program the unit on a timer of up to 12 hours. The ultrasonic humidifier technology means this unit functions at a whisper quiet noise level. The design of the ultrasonic humidifier gives it a very small footprint so you can fit this unit almost anywhere. It's also easy to move it from room to room, if you'd like.
Pros:
Inexpensive 
Large capacity water tank
Top fill design makes it easy to refill
Super quiet operation
Smart humidifier adjusts humidity level automatically
Many safety features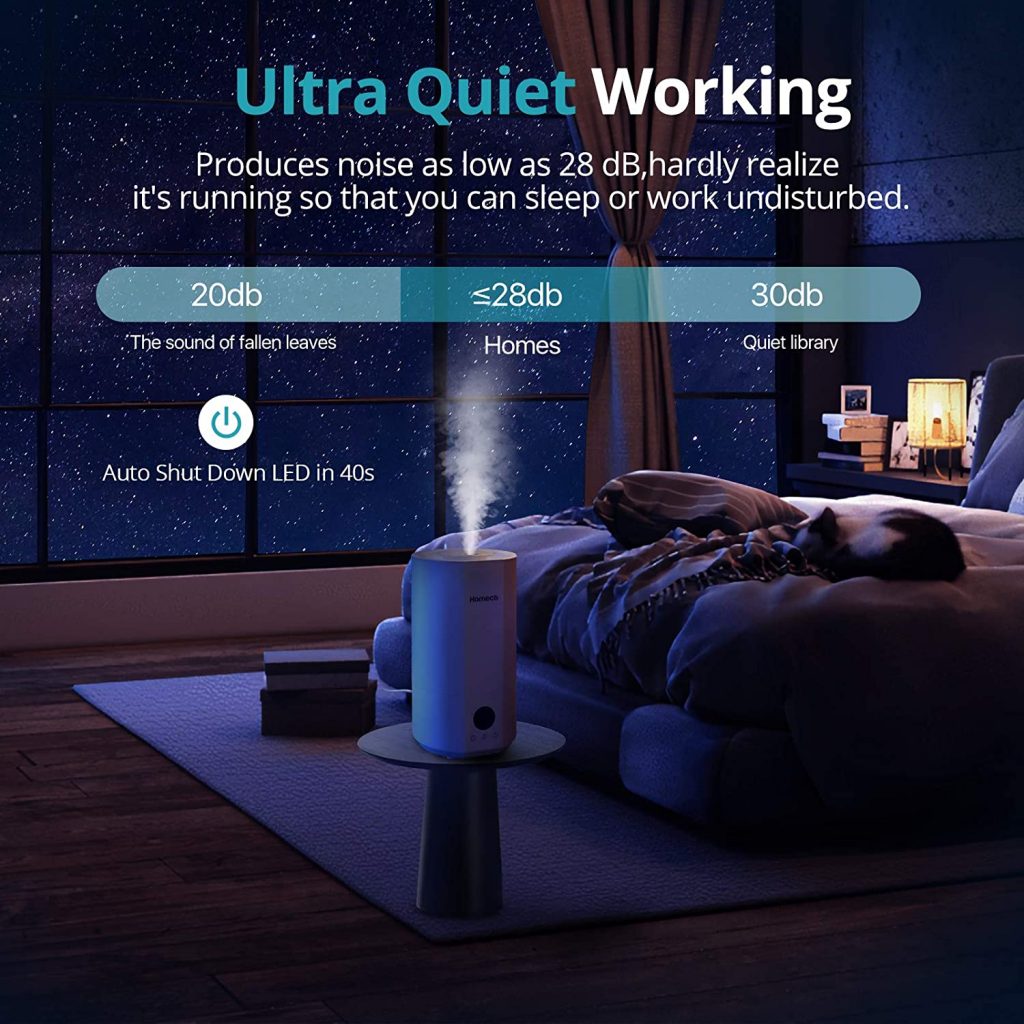 Cons:
Doesn't allow for precision settings
Lid doesn't seal in any way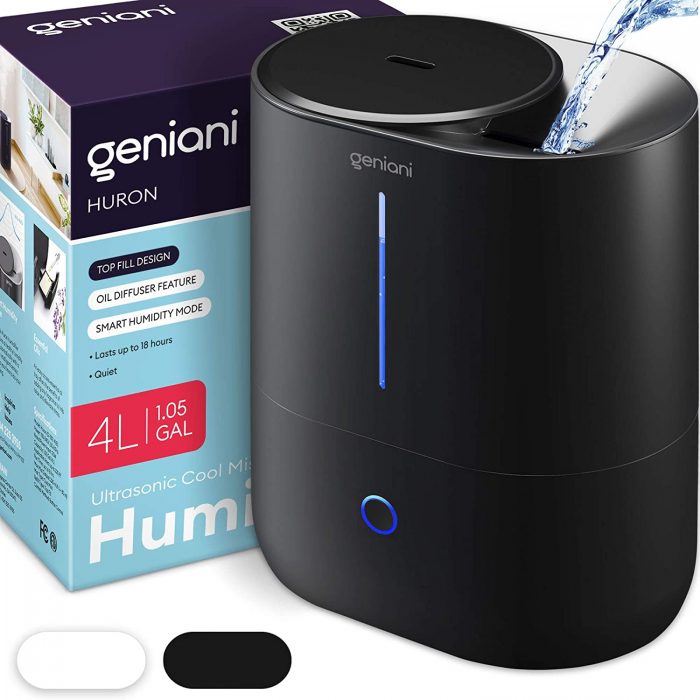 This is another top fill unit so it's easy to refill your tank. The water tank has a large capacity, though, at 4 liters. The tank is super easy to clean by removing the top. There is a built-in sensor that keeps the moisture at preset levels based on your choice of low, medium, or high humidity. You can diffuse essential oils of your choice into any room, too, for a little healthy aromatherapy. This is an ultrasonic humidifier that operates at a very low noise level that's good for babies' rooms and for those who like quiet sleep. 
Pros:
Large capacity tank
Easy to refill and clean through the top
Very quiet unit
Easy to use essential oil tray
Night light that can be turned on or off
Up to 18 hours of operation on high setting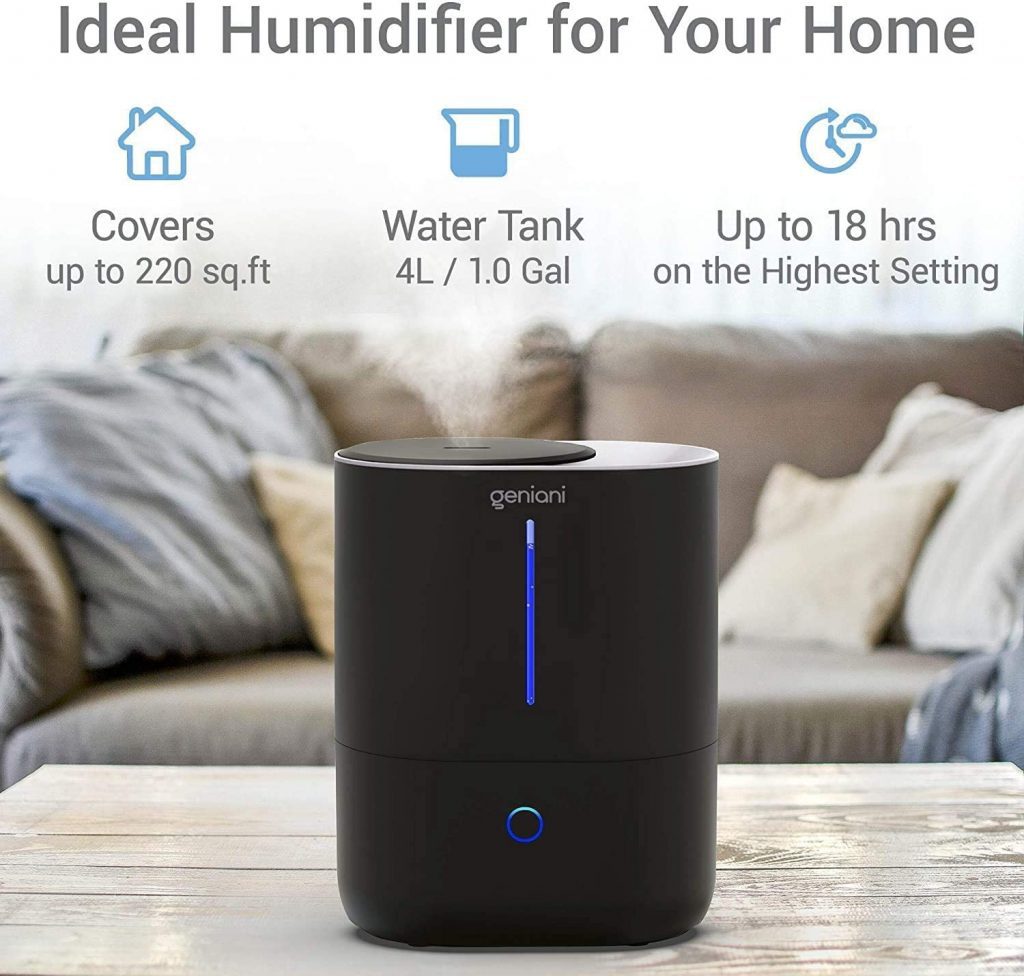 Cons:
Needs frequent cleaning
Gurgling sound sometimes
Bright LED in power button
Conclusion
The best humidifiers can make the air in your home healthier, give you more comfort in your home, and make it easier for you to breathe. You have your choice of going with cool mist humidifiers or warm mist humidifiers. There are also some that can function as both. You can choose models that allow you to set precision humidity levels or have different levels you select so the machine can keep your home at the desired level of humidity. Try to choose a model that is easy to clean as you will need to do some maintenance to keep your humidifier in a healthy working condition. Once you decide on the best humidifier, you'll be on your way to breathing better in your home in no time.
FAQs:
What is the best humidifier on the market?
This is the Honeywell HCM-350 Germ Free Cool Mist Humidifier. If you're more interested in warm mist humidifiers, go with the Vicks Warm Mist Humidifier V745A.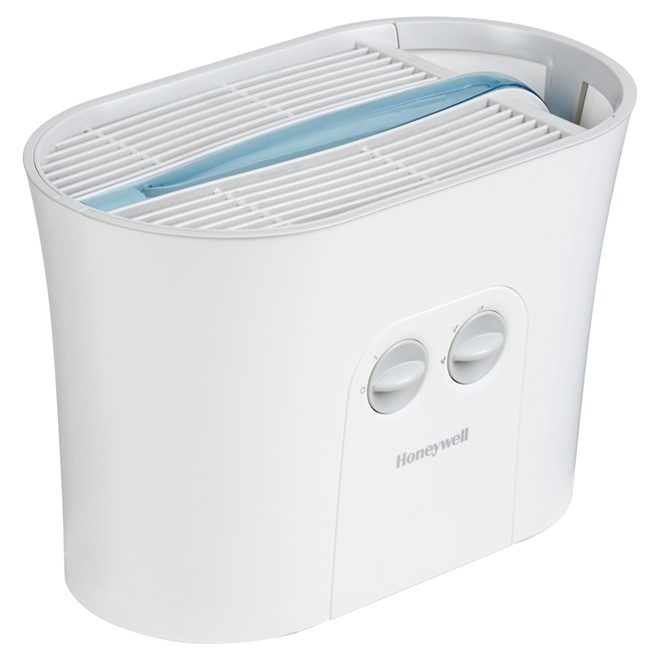 Do doctors recommend humidifiers?
There are times when doctors will recommend the use of humidifiers. They're typically suggested to those with allergies or asthma, or for anyone with a head cold.
Is sleeping with a humidifier good for you?
Many people report better sleep when using a humidifier at night, especially in times of congestion.
Do cool mist humidifiers kill germs?
They don't actually kill germs, but they do help to remove germs and bacteria from the air through moisture.
Do humidifiers kill flu virus?
It's not known if they really kill flu virus, but air that is dry is known to allow the flu virus to spread more easily. Thus, using a humidifier can help prevent the flu from spreading.
Should humidifier run all night?
It's ok for it to run all night to maintain the humidity level you would like.
What kind of humidifier is best for dry nose?
Ultimately, any humidifier can help with your dry nose. The best option would be to go with one that can produce both warm and cool mist so you can use it accordingly.
Which is better, diffuser or humidifier?
A humidifier is better for those looking for more moisture in the air. A diffuser will allow you to add a scent into the air in your home with the use of moisture.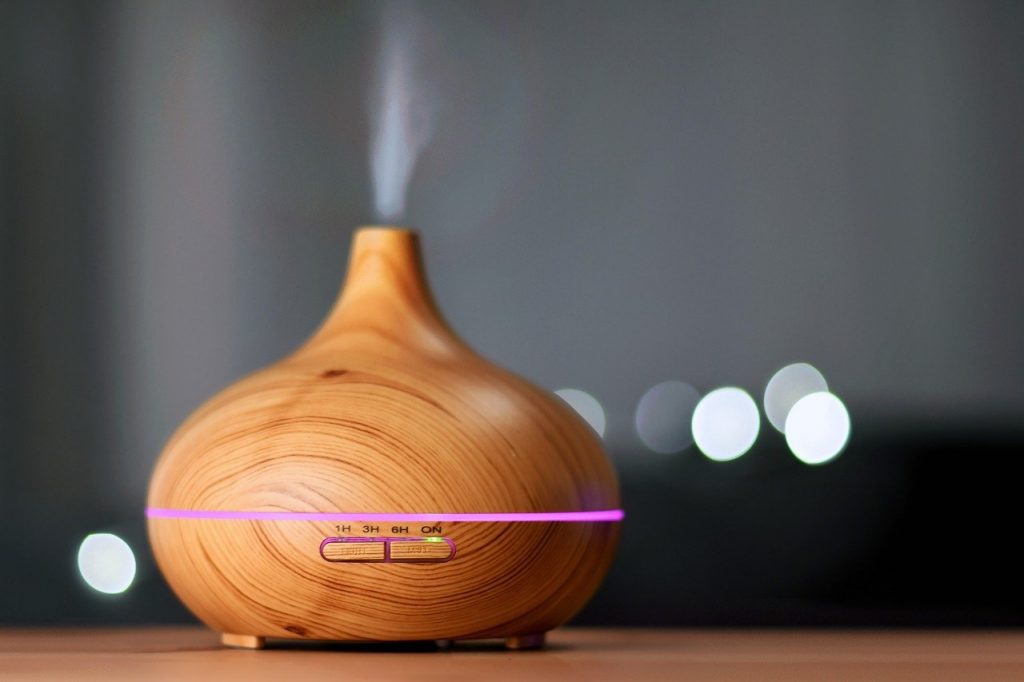 Do humidifiers clean the air?
They do keep bacteria, mold, and germs from growing in the air in your home. So, in a way, they do help clean the air.
Disclaimer: FamilyHype.com (Family Hype & FamilyHype) is a participant in the Amazon Services LLC Associates Program, an affiliate advertising program designed to provide a means for sites to earn advertising fees by advertising and linking to Amazon.com.
DISCLAIMER
(IMPORTANT)
: This information (including all text, images, audio, or other formats on FamilyHype.com) is not intended to be a substitute for informed professional advice, diagnosis, endorsement or treatment. You should not take any action or avoid taking action without consulting a qualified professional. Always seek the advice of your physician or other qualified health provider with any questions about medical conditions. Do not disregard professional medical advice or delay seeking advice or treatment because of something you have read here a FamilyHype.com.