The third trimester is undoubtedly a busy period for expectant moms and dads. They have to make last-minute preparations for childbirth. They need to make sure that that baby room has all the decorations and furniture they want before the newborn comes. If there are older kids, it's a must to decide on who will babysit them while the parents are at the hospital.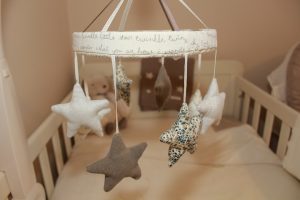 Nevertheless, what people rarely talk about is the fact that the third trimester is also extra hectic for the friends and family members of the couple. For the soon-to-be mommy and daddy to get a breather and have fun before the due date, after all, it's like an unspoken rule for them to host a pre-birth party. So, from the getting foods to sending out invitations to organizing the event, everyone chips in, for sure. Some even turn it into a themed gathering based on the unborn child's gender.
But you know what the most exciting part of it all is? It's contributing baby shower game ideas. Without much ado, here are the three ways to make baby shower games more exciting.
Make Them All-Inclusive
It is quite common to see women working hard to win a relay challenge of feeding, burping, and changing a baby doll on parties. The men, on the other hand, get to use diapers like a basketball and score as many hoops (in a trashcan) as possible or guess what kinds of ingredients got mashed together to make food for infants. Their silly antics often come out and make everyone in the audience laugh.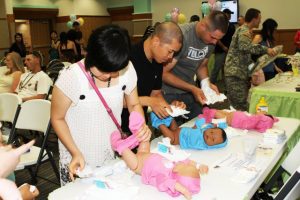 What seems rare up this moment is letting the guys and gals play or compete. This will make baby shower games more exciting. Say, instead of putting people of the same gender against one another, groups of men and women can prove who's faster at changing a poopy diaper. It may be better to transform baby shower activities to become a match between couples since that's when the competitive streak of everyone shines.
You won't run out of coed baby shower games to choose from, so take your time selecting the ones you can do for several hours.
Revolutionize Traditional Birthday Activities
Do you remember how your parents used to buy a poster of a tailless donkey so that they can stick it later on the wall and ask you and the other kids to pin its tail while blindfolded? What about when you had to try to hit a candy-filled piñata after turning in place a few times? Have you also tried doing the paper dance or trip to Jerusalem and lining out every object on your body to know which team has the most extensive chain of items?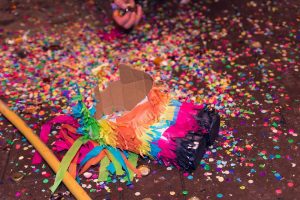 Well, the beauty of planning baby shower games is that you can relive those memories. You only need to revolutionize each of them to make it more fitting for a baby shower game.
For instance, instead of pinning a tail on a donkey, you can change it up by using sperm and an egg. Instead of seeing who can line stuff on the floor the best, you may challenge folks to know who'll be able to clip infant garments on a clothesline the fastest. This will make baby shower games more exciting.
Splash Out
Of course, the well-wishers and fun people in the crowd will join the festivities when you invite them. They love the expectant parents, as well as the child that's about to enter this world. However, it's typical that not all of them are ready to play games for a baby shower.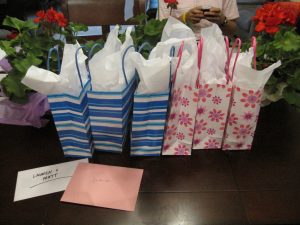 The thing is, there's no harm in trying to persuade them by splashing out on valuable prizes for the winners. Knowing that they can get a coffee maker, a tea infuser, a waffle iron, or even a Starbucks gift card can make everyone extra enthusiastic to follow unique baby shower games ideas – that's for sure. Perhaps the timid family members and colleagues may volunteer at some point as well, primarily if you are showcasing an item that they genuinely need at home.
Consider Other Fun Baby Shower Party Games 
You can get a printable baby shower party game set with different trivia games.  You can ask them about the labor and delivery trivia questions, maybe stuff about the solid food that the kid should have, or other fun questions, even potty training and pregnancy parenting may be good. This is a fun way to get everyone thinking, and it's great for both friends and family, and expecting parents.
Make Things Unique 
Sometimes, people have the gender reveal party before the bridal shower, and during then, you can ask not only fun pregnancy parenting questions, but also some fun things for both the future bride and groom. A gender reveal party with something different can make a boring baby shower baby shower made fun.  Expecting parents will enjoy a different kind of reveal party, and you can not only incorporate fun baby shower games in that case, but also fun stuff too. 
If the guest of honor, the baby, is coming soon, then the shower guests can also make it unique by counting down until the due date, and even whether it will be in the middle of the night when the baby is delivered. 
No matter what though, whether the guest of honor comes shortly after the baby showers baby shower, it's a fun experience for everyone. Baby showers baby party games are good too, since they can be a fun dad game to help get the dad ready for the delivery, but also, you can also get some fun baby registry gifts during this so you're ready for when the time comes. Baby showers are exciting, and making your next baby shower a splash is something worth doing! 
The best baby shower games are not the perfect ones that seem like a professional planner created them. They are supposed to be loud and chaotic and silly. Don't think too hard about it and enjoy organizing the party!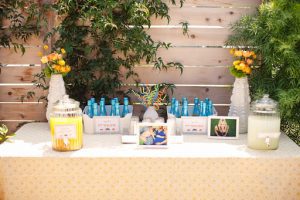 Baby Shower FAQs
How many games should be played at a baby shower?
A baby shower lasts for about 2 to 3 hours. Within the first 45 minutes, eating light food and mingling are expected to happen. After that, when guests are all comfortable and with stomachs filled, games are played. A baby shower can have at least 3 to 4 games; each could last for about 20 minutes.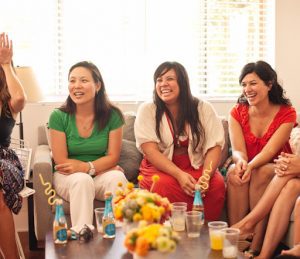 What can you do instead of baby shower games?
As mentioned, a baby shower can last for 3 hours, max. To keep your guests interested, you can do other activities instead of games. You can do crafts like headbands, design the baby's onesie, make flower crowns, or decorate an alphabet book.
What are good games for a baby shower?
There are many fun and exciting baby shower games. You can play Find the Guest, What Am I, and Don't Drop the (Egg) Baby.
How do you make a baby shower fun?
To make the baby shower fun, you must try new and unique ideas for the party. Invite the daddies too. They won't say it out loud, but they want to join in the fun, for sure. Or have a garden baby shower and make it a grill party. You can also do a couples buffet type of baby shower.
What are good prizes for baby shower games?
If there are games, then there should be prizes. For a baby shower game, you can give prizes like a beauty kit comprised of lip gloss, nail polish, and nail file. You can also prepare door prizes like scented soap partnered with aromatherapy lotion or oils.
Who pays for a baby shower?
The parents are not always expected to pay the baby shower. Whoever hosts the party will have to pay for the baby shower.
What are some good baby shower games?
You can play three to four baby shower games if time permits it. Try this game called Don't Say Baby. It's a fun ice breaker. You can also try games like Guess the Baby Game, Baby Things in the Baby Bag, and Mommy and Daddy's Secrets.
How do you make dirty diapers for baby shower games?
This is one fun way to make the dirty diaper! Get a Snickers bite-size bar. Put it on a diaper, and microwave for a few seconds. When done, squish the Snicker on the diaper, and you'll get it "dirty."
What is the best food to serve at a baby shower?
It is not necessary to serve heavy meals in a baby shower. You only have to serve light snacks. You can serve a charcuterie platter with cheese, cold cuts, grapes, pretzels, nuts, pate, and the likes. Meatballs are also a baby shower food favorite. Pizza bombs and veggies with dip are also good.
Do you give party favors at a baby shower?
As a guest, you should not expect for a baby shower party favor. But as a host, if you have the budget, do include it. It would be a nice addition to your party.
How do I make my baby shower not dull?
Well, it will all depend upon the ideas for the party like the ice breaker game, the baby shower games, and activities, and the food, of course.
What time should a baby shower start?
Some hosts hold parties anywhere from six to eight months when the mom is still mobile, and her belly is not that massive yet. Usually, baby showers are not held when the mom is in her 9th month.
What are the best baby shower favors?
There are many beautiful things you can give as baby shower favors. You can have a baby shower coaster customized, a baby shower lip balm, or a baby shower mini mason jar with candies in it.
Do you give prizes for baby shower games?
Yes, of course. People join games for the fun of it and because of the prizes. If you have baby shower games, there should be a prize for the winner.
Do fathers attend baby showers?
Dads weren't invited to baby showers in the past. But that is in the past. Today, baby showers are co-ed, and dads are part of the guest list.
Last Updated on January 11, 2023 by Rejie Salazar
DISCLAIMER
(IMPORTANT)
: This information (including all text, images, audio, or other formats on FamilyHype.com) is not intended to be a substitute for informed professional advice, diagnosis, endorsement or treatment. You should not take any action or avoid taking action without consulting a qualified professional. Always seek the advice of your physician or other qualified health provider with any questions about medical conditions. Do not disregard professional medical advice or delay seeking advice or treatment because of something you have read here a FamilyHype.com.