Music is something that everyone likes to listen to. Everyone has their own preferences and their own type of music that they enjoy listening to. With that being said, many people like to bring their music in their cars with them. Most vehicles have a basic audio system set up and for some, the bass produced by these factory systems is not enough. This is when amplifiers are sought out.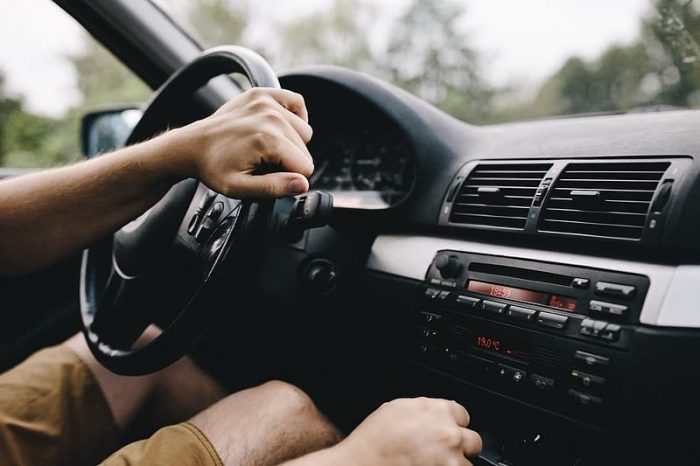 Subwoofers come in many different sizes so even if you have a smaller vehicle you are still able to find on that will work. The best way to go in this situation is to purchase an underseat subwoofer. These car subwoofers were made to fit into small vehicles. This article will tell you what the current best underseat powered subwoofer is, other options for car subwoofers, and anything else you need to know before purchasing your underseat subwoofer.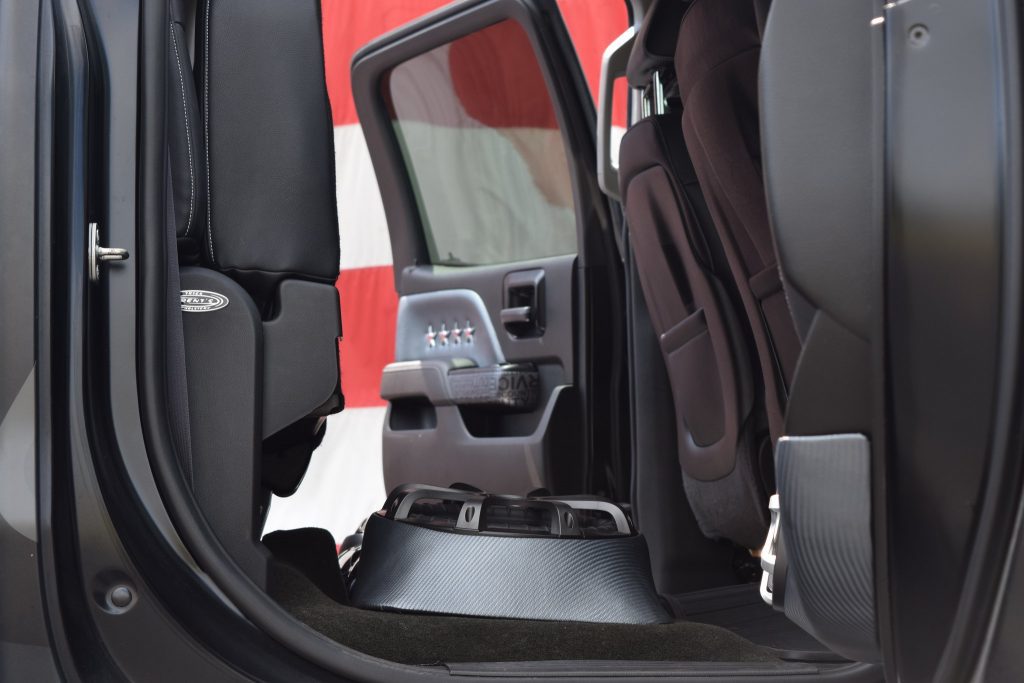 We also included a list of the highly rated underseat powered subwoofer from Amazon and highlighted their unique features. You can go through the list and read reviews from verified users before you make your purchase to be sure that you are getting your money's worth.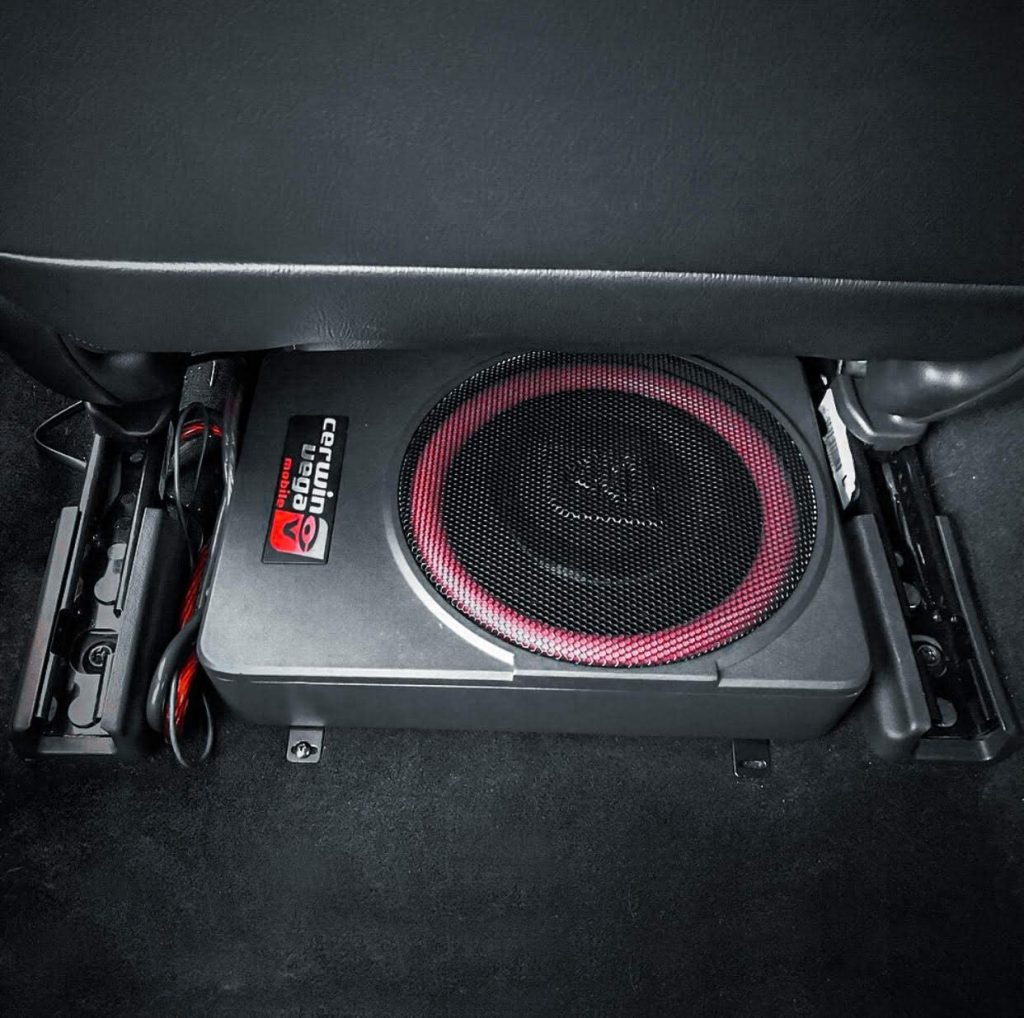 The VPAS10 is a small speaker yet with a powerful punch. It produces solid and cleaner sounds and it has an innovative design as bonus.
This Under-Seat Powered Active Subwoofer peaks up to 550 watts and it features a PWM Mosfet power supply/Thermal protection circuit remote subwoofers control which includes RCA and high-level inputs.
This subwoofer measures 13.6 x 9.6 x 2.6 in inches and weighs 13.05 pounds.
The Cerwin Vega VPAS10 slim 10″ series also offers adjustable input sensitivity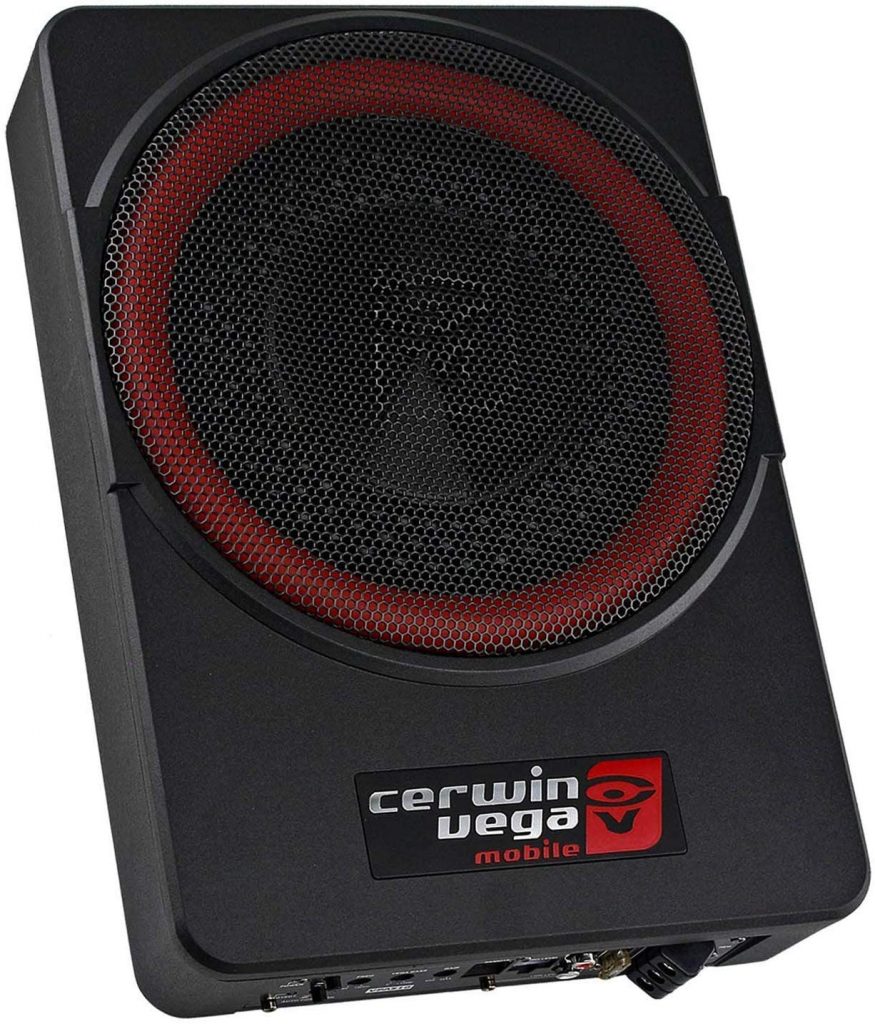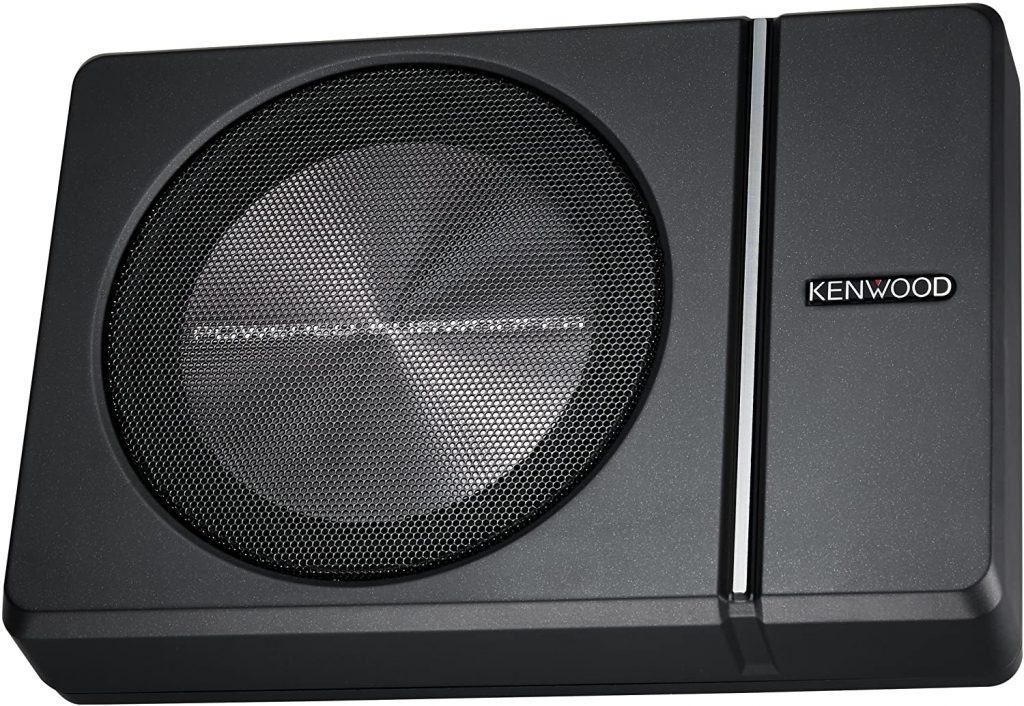 The KSC-PSW8 is designed specially to deliver impressive bass without being big and bulky. It is compact and it can fit under the seat in majority of vehicles.
This under-seat powered subwoofer can produce bass response the same way a large subwoofer can.
It is the perfect subwoofer option for those who are looking to get a space-saving solution to their low frequency subwoofer needs.
The 8 inches Kenwood KSC-PSW8 subwoofer has a single harness with power/ground/turn-on wiring and RCA input connections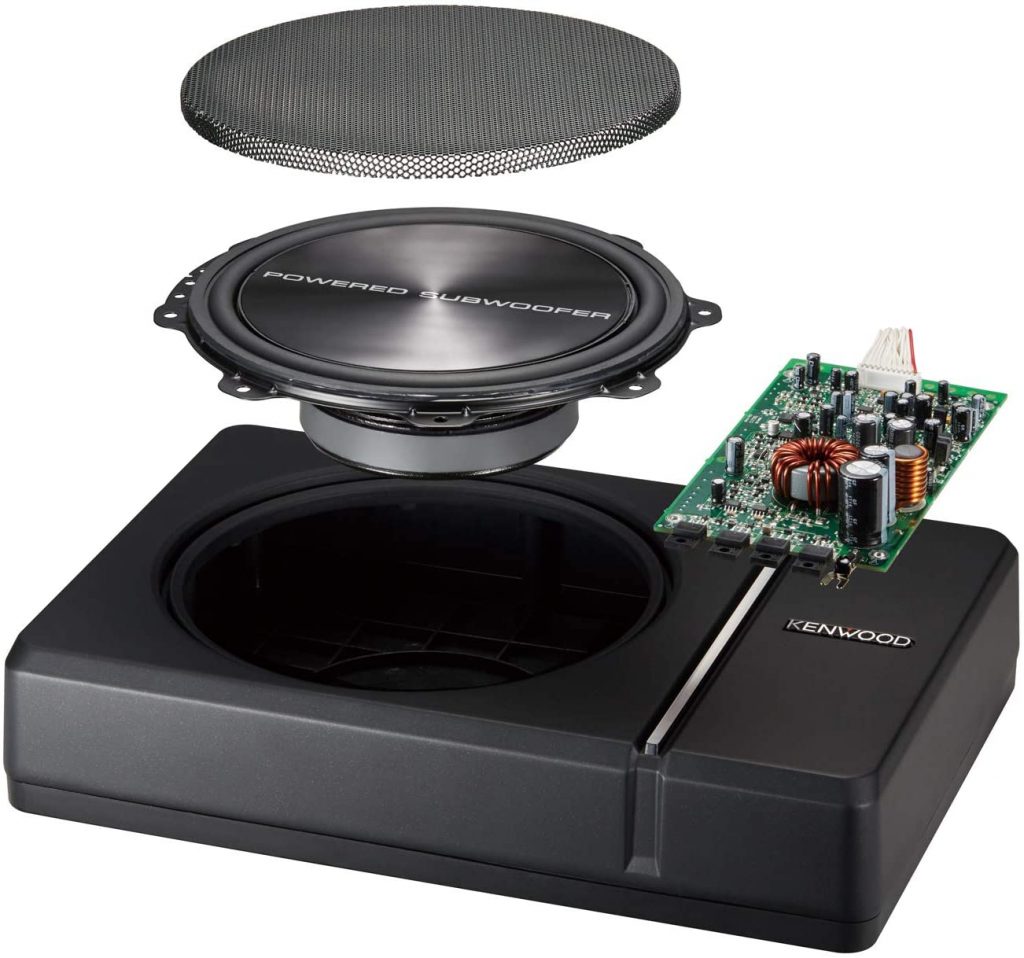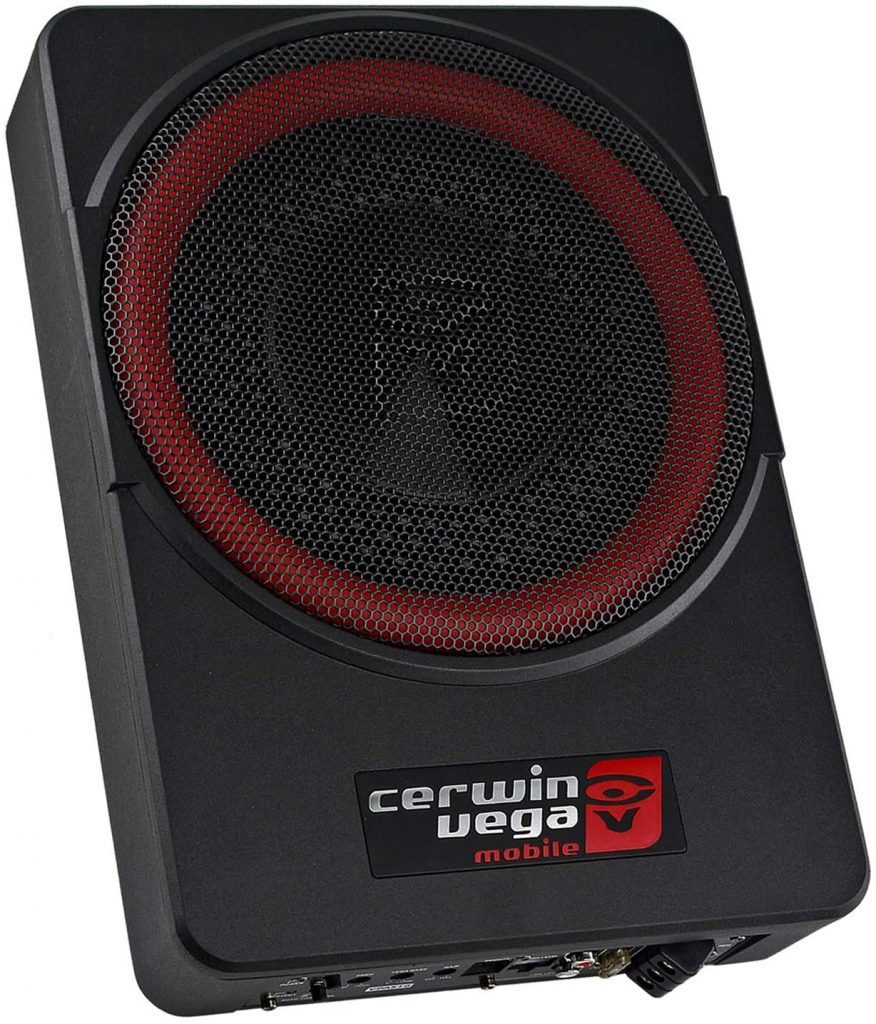 The Vega Mobile VPAS 10 provides the all-in-one bass solution package while saving you space in your trunk.
It produces rich sounds and it is very slim which make it a good choice for people that are looking to get better remote subwoofer without compromising their trunk space
This 10″ Powered Active Subwoofer by CERWIN also has an adjustable input sensitivity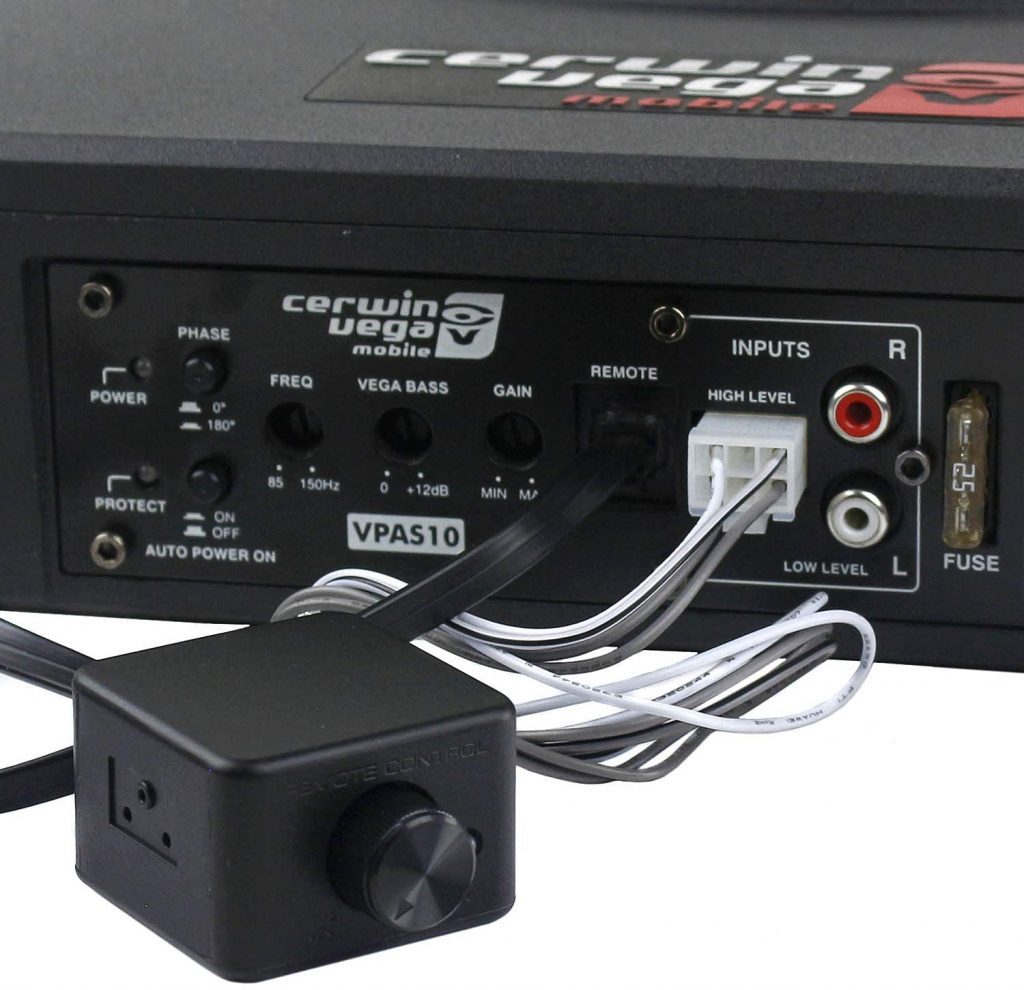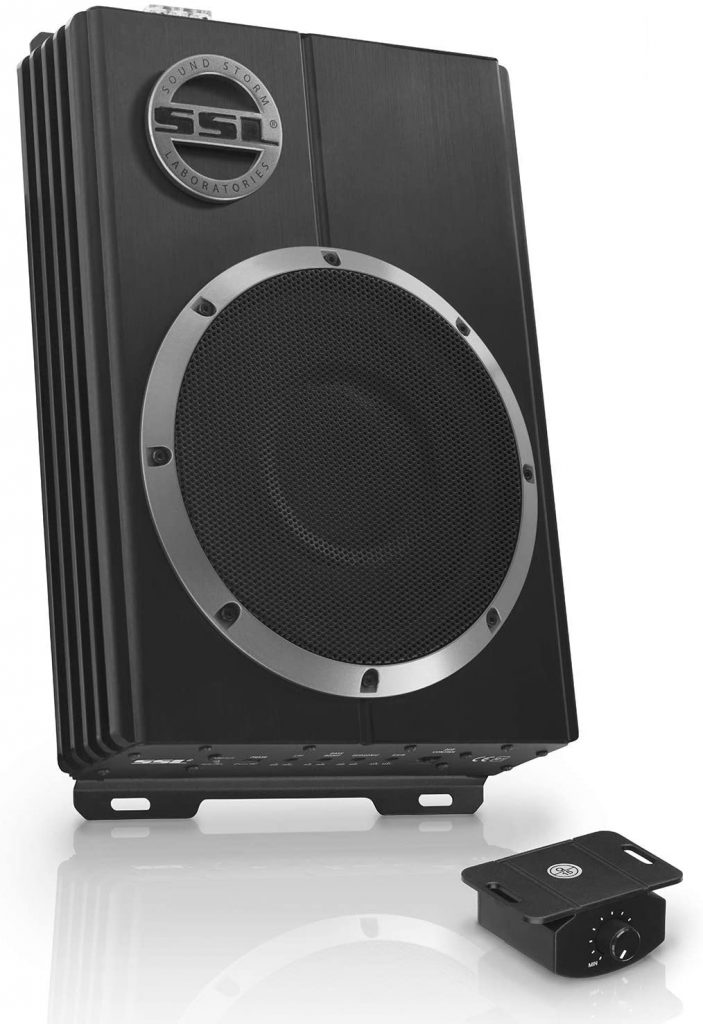 THE SSL LoPRO8 subwoofer is compact, high quality and convenient to use and install. It can under your seat and it features a Variable Low Pass Crossover, Subsonic Filter, Phase Control and Remote Subwoofer control for easy customization of sounds
This Sound Storm Laboratories subwoofer is a perfect choice if you have a small space. It only measures 15 x  9. 75  x 3 inches
The 10 inches car subwoofer is perfect for a car that needs Bass but smaller space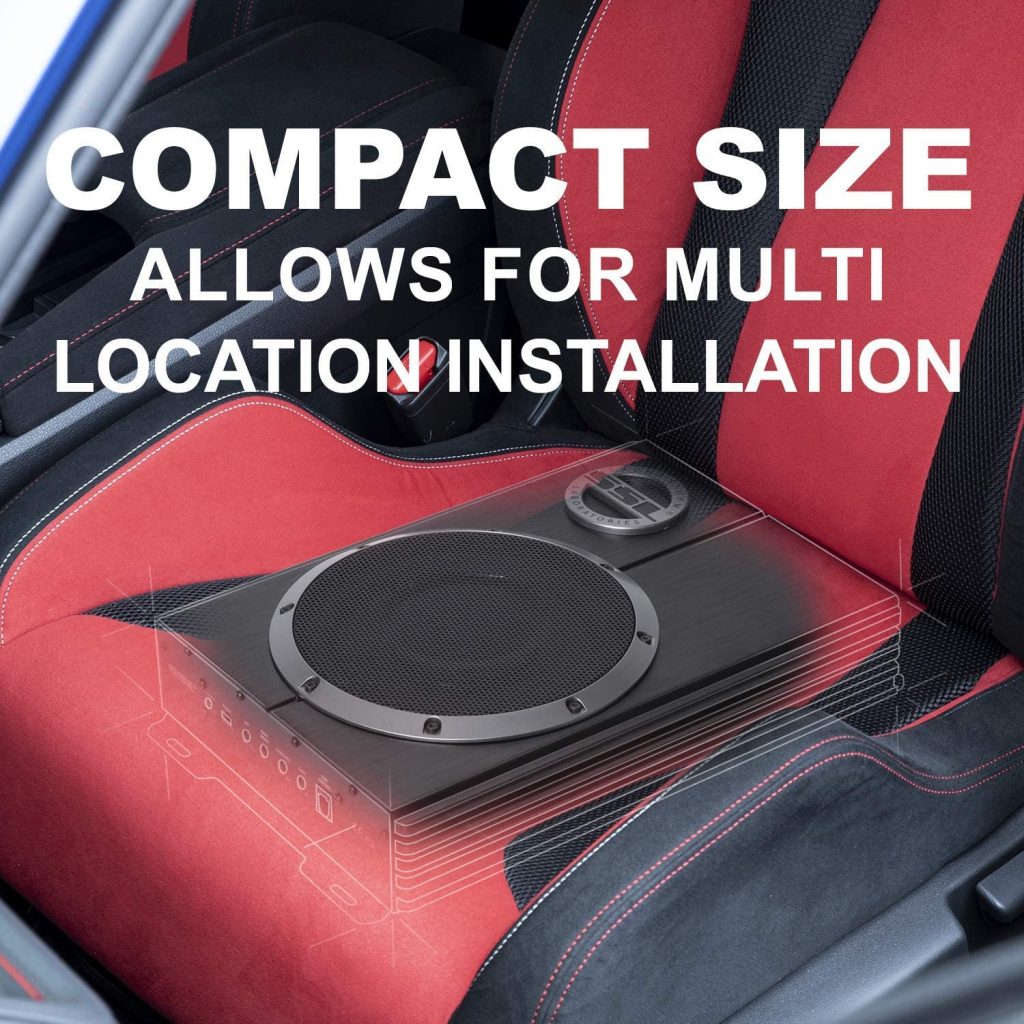 The Best Underseat Powered Subwoofer
The best underseat powered subwoofer on the market today is the Kenwood KSC-SW11. These underseat 150-watt peak power subwoofers are low profile so they are able to fit under almost any seat, yet can still pack a punch when it comes to the extra bass that you are seeking. These underseat subwoofers are made out of aluminum that is encased abound an 8-inch subwoofer, which is connected to a built-in amplifier. Due to the fact that these are small, the base created from it will not shake your bones, but it will provide depth to all the music you listen to. These underseat subwoofers are recommended for people who own small trucks, small SUVs, and hatchbacks. This compact powered subwoofer is made by a well-known company in the car audio industry and comes in at about $140.00.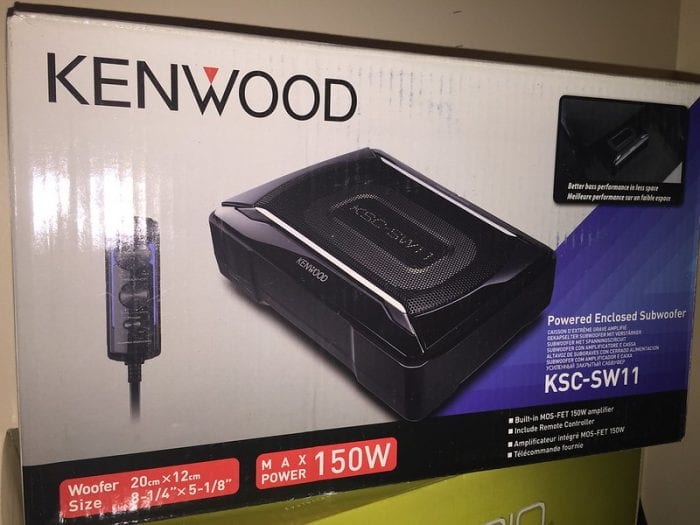 Are Underseat Subwoofers Any Good?
Yes, underseat subwoofers re good. They are perfect form people who do not have that much space in their vehicles. Not only are they small, but they were also designed to still deliver quality sound. Underseat subwoofers won't be as loud as full-sized amplifiers, but they will be loud enough for the compact space that is in. Companies in the car audio industry know that not everyone who likes loud and thumping music drives large cars so they have learned to also cater to those with smaller cars. 
What's The Best-powered Subwoofer?
The best powered subwoofer is Rockville RW10CA. At its peak power, this car subwoofer reaches 800 watts. This is a compact powered subwoofer that packs a punch when it comes to the base delivered. It is a small unit with impressive bass. It is also easy to install and has an automatic on and off feature. A wired remote controller is included with this subwoofer to allow for easy tuning. Another great feature of this compact powered subwoofer is that it can easily fit under the seat. So if you prefer a slim type of subwoofer yet powerful, Rockville 10-inch RW10CA is a great choice. Its average price is around $130.  bass is impressive for such a small unit.
What Are The Hardest Hitting Subs?
The hardest hitting car subwoofer is the JL Audio 10W3V3-D4 10-inch subwoofer. Featured with this subwoofer is a Dynamic Motor Analysis system that was designed to reduce any disturbances that could potentially occur in the frequency. Another feature that this car subwoofer has to offer is an elevated frame cooling basket design that the speaker itself sits in. This frame reduces heat by allowing the voice coil to be exposed to a great amount of airflow. JL Audio 10W3V3-D4 is ;pbest used with amplifier power in the 150W – 500W range This car subwoofer should only take about 30 minutes to install.  After that, you will have quality sound and thumping bass that will not shatter your eardrums. This car subwoofer is about $300.
How Do I Connect My Underseat Subwoofer?
Every subwoofer comes with an easy to read instruction guide. Installation of your underseat subwoofer should take less than 30 minutes. Remember that before you start, you want to ensure that your vehicle is turned off. This way there is no chance for electrocution as you are installing the subwoofer.
Can You Put Subs Under Seats?
Yes, you can put subs under seats. There is now an entire category of subwoofers that have been designed to easily fit under a majority of car seats. Underseat subwoofers are perfect for those who want quality sound without taking up space in the trunk. Underseat subwoofers work just as well as the full-sized subwoofers. The main differences between the two are the amount of space they take up and the price. 
Are Powered Subwoofers Any Good?
Yes, powered subwoofers are good and they offer the user a few different benefits. The first is that they are easy to use. They do not require as many plugs and cords as other car subwoofers so they offer a more organized look. In addition to this, powered subwoofers are easy to move around. It does not take that long to uninstall them so they can be moved from vehicle to vehicle with ease. One last benefit to powered subwoofers is that they are a great value for the money. These subwoofers are not the most expensive option out there, but the quality of sound they deliver keeps them in good competition with their competitors.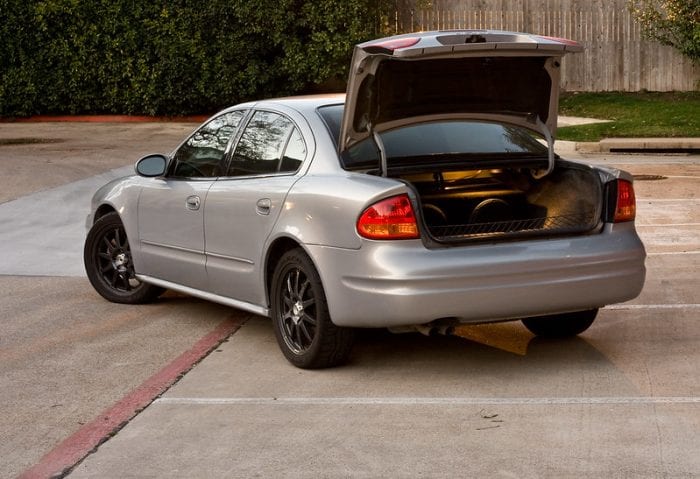 What Is The Best Subwoofer For Deep Bass?
The best subwoofer for deep bass is the JL Audio 12W7AE-3 12 inch subwoofer. These 25-pound subwoofers are slightly larger than the other JL Audio model that was discussed above. With these subwoofers, there is no chance for frequency interruption or distortion in the playback. Its peak power is 2000 watts.  It is also named "addictive" subwoofer with nearly limitless dynamics, They are made out of durable polypropylene that is covered by polyester foam. For the quality of sound they produce, these subwoofers come in at just over $1,000.
What Is The Best Brand Of 12-inch Subwoofer?
The best brand that makes 12-inch subwoofers is Rockford Fosgate. This brand has been around for close to 40 years so they have had the time to perfect the sound quality that comes out of each and every one of their subwoofers. Rockford Fosgate specializes in amplifiers, speakers, and all the accessories you could ever need and want for your sound system. You can choose from its Power T1, Punch P1, P2 and P3, Prime R2 and Punch P3S 12″ inch series.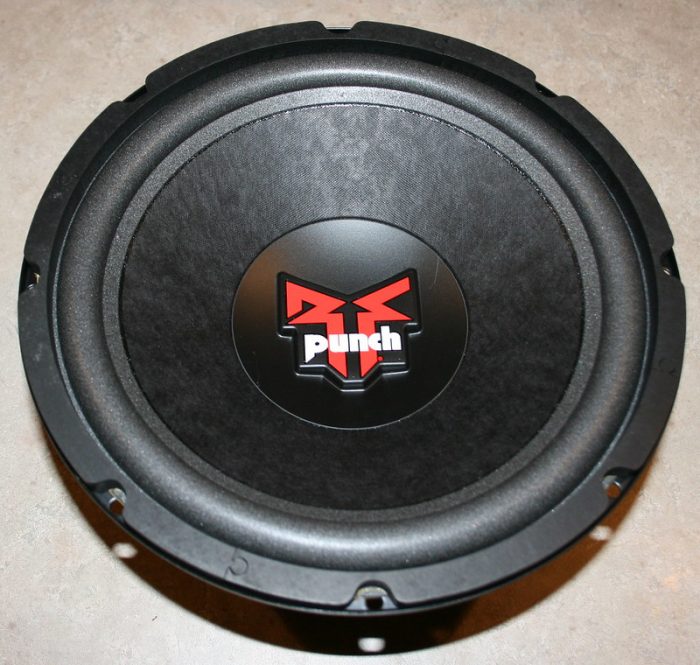 What Is The Best Sound Quality Subwoofer?
The best sound quality subwoofer is a subwoofer from the JL Audio W7AE series. The W7 series has been around since 2001, but every year JL Audio comes out with an upgraded version. JL Audio takes that time to ensure that their speakers are the best option available when it comes to quality. These subwoofers come in 4 different sized speakers so they will fit the needs of all users. Each subwoofer has the Dynamic Motor Analysis system that reduces sound distortion and runs system analysis. These subwoofers also feature a W-cone assembly and a floating cone attachment method. Both allow for the best sound quality and the least amount of wear and tear.
What Is The Loudest Subwoofer Brand?
The loudest subwoofer is The Hooligan with an RMS of 4,000 watts and peak power of 6,000 watts. By far, this is the loudest subwoofer available on the market.  This powerhouse subwoofer has quad magnet technology that gives amazing tones even in the highest volume.
QUAD MAGNET TECHNOLOGY
Disclaimer: FamilyHype.com (Family Hype & FamilyHype) is a participant in the Amazon Services LLC Associates Program, an affiliate advertising program designed to provide a means for sites to earn advertising fees by advertising and linking to Amazon.com.
Last Updated on June 4, 2021 by Marie Miguel
DISCLAIMER
(IMPORTANT)
: This information (including all text, images, audio, or other formats on FamilyHype.com) is not intended to be a substitute for informed professional advice, diagnosis, endorsement or treatment. You should not take any action or avoid taking action without consulting a qualified professional. Always seek the advice of your physician or other qualified health provider with any questions about medical conditions. Do not disregard professional medical advice or delay seeking advice or treatment because of something you have read here a FamilyHype.com.