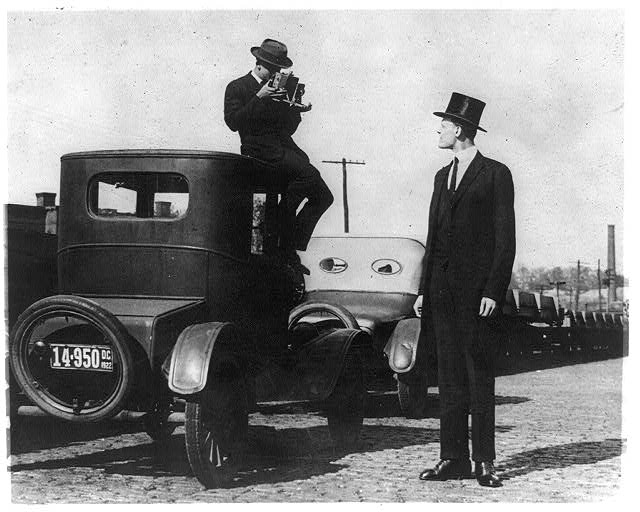 You're not alone. A tall person seems to have trouble finding the best canvas tents for tall people like them. What are the best tent manufacturers, brands and models suitable for a tall person? Is there a specific canvas tent that a tall person can actually fit into? Other times, it's a matter of length. Laying down, a taller person becomes a pretty long person. In either case, the length of your limbs can cause problems feeling comfortable in a tent. Learn more about the best tent choices here.
The Ideal Tents For Tall People
Fortunately, many tents are designed to accommodate tall people. In the article, you are going to find out the best tent for tall person.  It is also a good idea to read the entire article if you are undecided yet or feel like you need more information about tall and long tents. You can also check out the best screen tents for more options.
Best Tent For Tall Person
Bessport Tent For
1-4 Person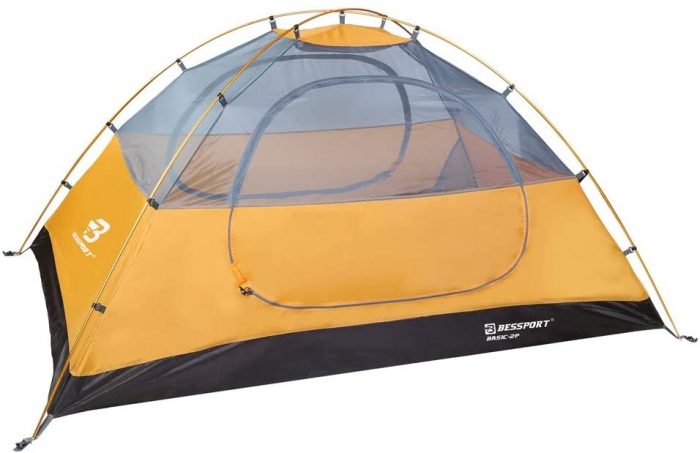 Bessport Tall Tent Best Features
Bessport is spacious and is a 2-person fit. It has super sized double door D shaped for easy accessibility.
Bessport best tall camping tents are made with water resistant barrier to help prevent leaks. The floor dimensions are designed to effectively protect the bottom of the tent from wet grounds.
It is a durable tent, very light weight and easy to carry and ideal for tall campers.
This is a heavy-duty dome shaped tent designed to provide a great camping experience
Coleman Sundome Tent For Camping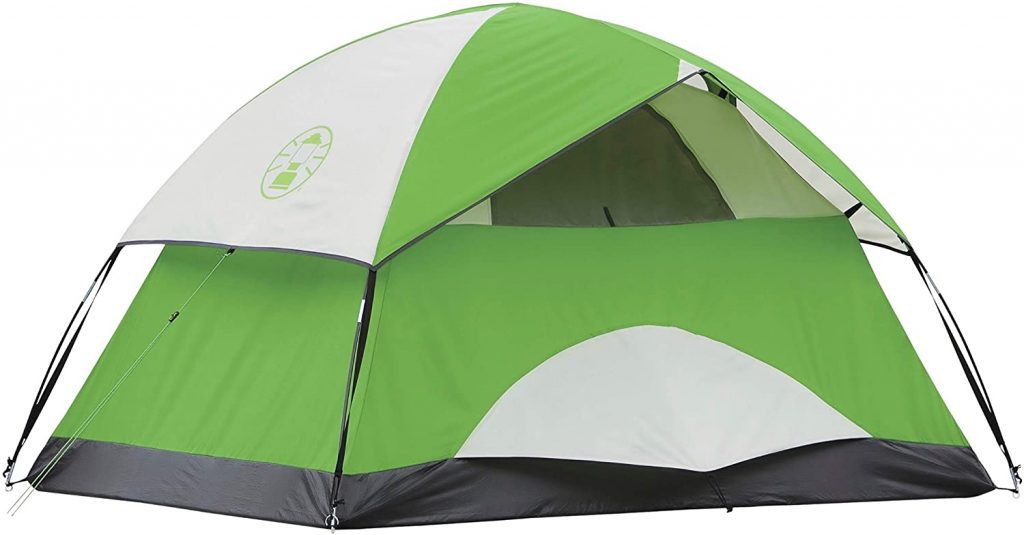 Sundome Tent For Tall Peron Best Features
The Sundome tall camping tents are made for bad weather. They are for keeping the inside of the tent dry when it rains. Its polyester taffeta 75 denier flysheet is made for added protection.
Tent has strong frames that can stand rains and 35+ mph winds.
The Coleman Sundome tall camping tent has large mesh windows to ensure excellent ventilation inside the tent.
It comes with an E-port for plugins and it is fairly easy to set up.
It is a dome tent type, but it is a great tent for tall people because of its height.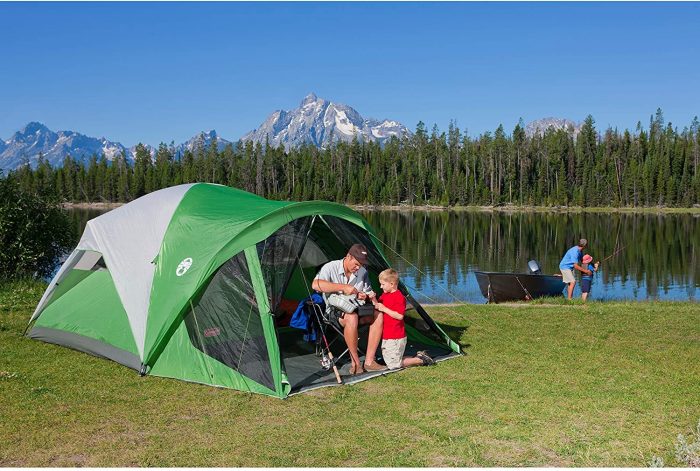 Coleman Dome Best 6-Person Tent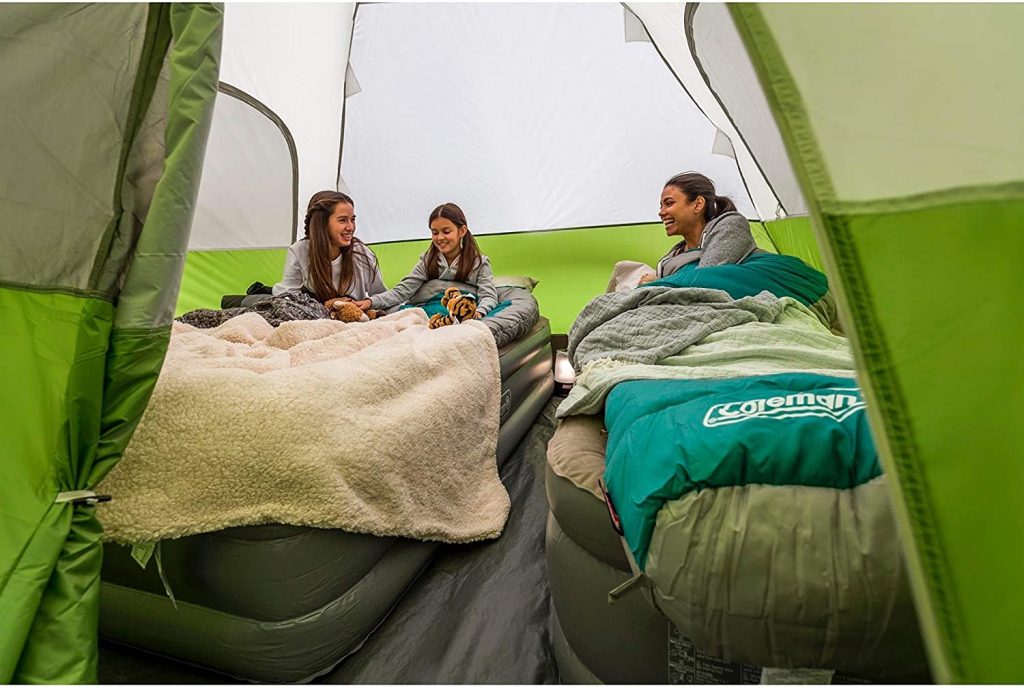 Coleman Tent Features
Best dome tent's for roominess. They are fit for tall air beds (max 2) best or up to 6 tall pax. It has a tall center of 5 feet 8 inches.
These are weatherproof, with welded corners, rainfly and inverted seems to protect the inside of the tent from rain and wet ground. These are ideal for fair weather camping, cold weather camping or even rainy weather camping.
It has a bonus full-floor large screen room and can be set up within 15 minutes.
It has storage pockets where you can put your camping gear loft necessities.
This is the ideal option if person wants something quick and filled with a lot of interior space.
This is also an instant cabin tent that doesn't involve a ton of effort, this is the way to go.
OT QOMOTOP, 4/6/8/10 Person Camping Tent


OT QOMOTOP Tent Features
It is easy to assemble and can be set up in 60 seconds.
The OT QOMOTOP Tent is a waterproof tent that comes with a PE Tube floor with welded corners to protect the tent from heavy rain, leaks and moist grounds.
They are complete with an electric cord port, rain fly, mesh roof and ground vent which you may not find on regular tents.
It can accommodate 4 to 10 people.
Its features make it a perfect addition, and that combined with being great for a tall person makes it simple.
Instant cabin style tents are great way to go camping, it is simple, yet effective.
This one does come with handy storage mesh pockets for items, and even a vent, along with a carry bag.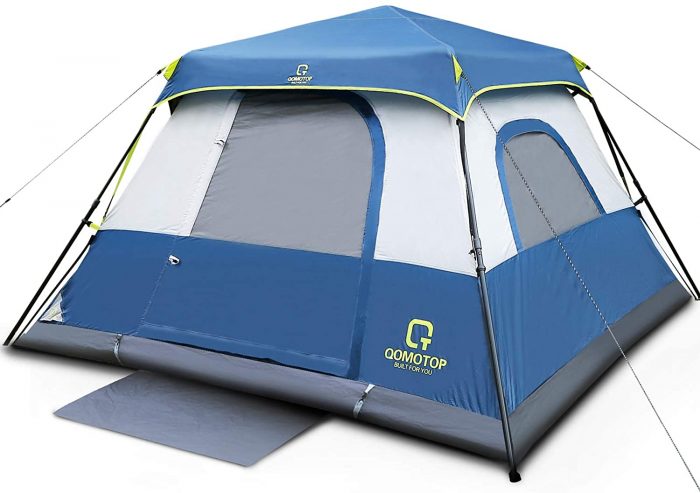 Hubba Hubba Person Tent
By MSR
This is a great camping tool if you're looking for the ideal roomy tent for tall people options but also long tents that do the job. It's considered tall tent because it has some pretty sizable walls. But it also is considered long tents because they are more horizontal than vertical.  These are great if you want someone to stay with you, and the MSR Hubba Hubba definitely is a simple type yet fantastic tent that works both as long and tall tents too.
This is the best tall tent if you want ergonomic design since the MSR Hubba Hubba is definitely simple and effective.
The MSR Hubba Hubba has a unique shape, but the MSR Hubba Hubba also has a very lightweight design, so if you want something that is simple to hold, it's great.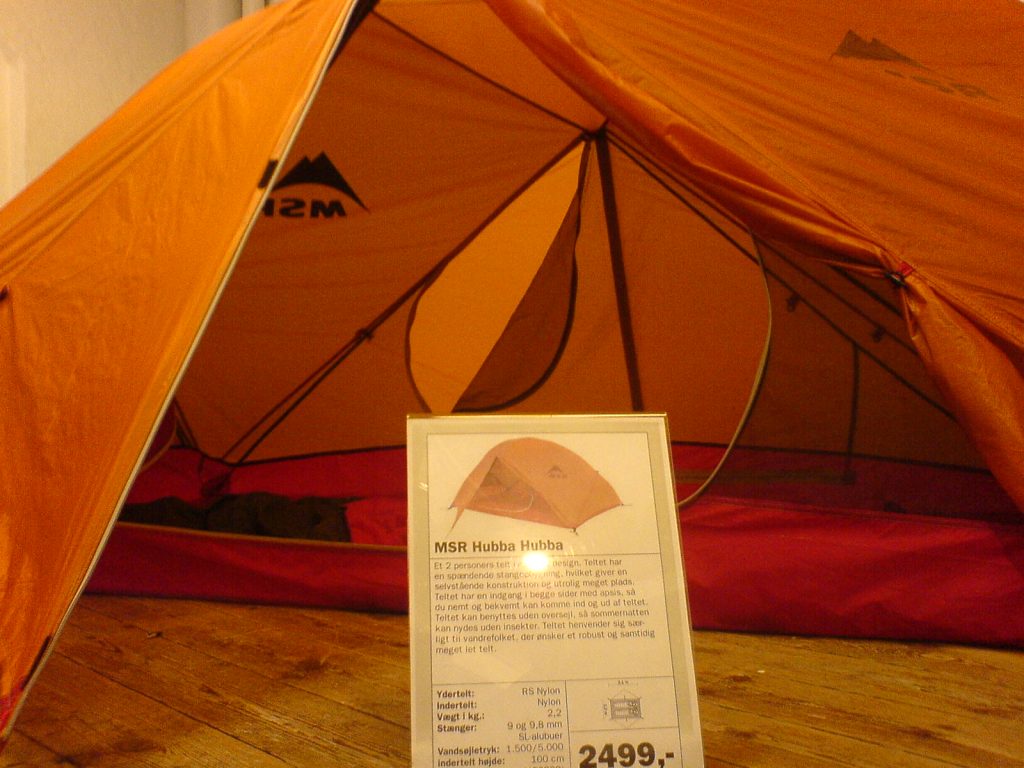 Alps Mountaineering Instant Cabin Tents
If you want an instant cabin setup, then look no further than Alps mountaineering. It offers an instant cabin setup, without being a huge instant cabin tent.  It is similar to the instant cabin type since it offers a very simplistic setup, and person can put it together and have it all in place.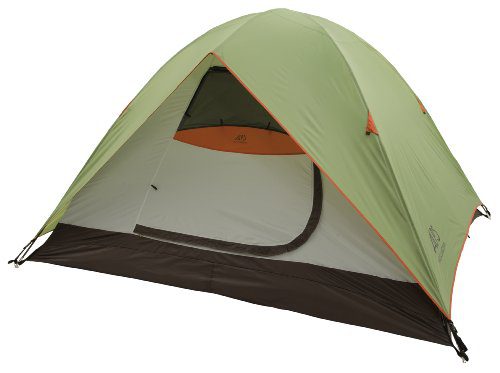 Humans didn't design the great outdoors and as such these problems are a little less prevalent than you might experience in a spacious tent for the average-sized human (about 5'9" for males). We might crash into a low-hanging branch, but beyond that, the sky is our limit.
That said, when we bring human-designed elements into it, we still can have some problems. This can happen with trekking poles, hiking pants, sleeping bag, and more, but perhaps one of the most frustrating products can be tents.
That's why we've decided to do a roundup of the top tents for tall people.
Long hikes and fun family camping trip need a good night's sleep, and we want to make sure you're comfortably laid out inside your tent, and in some cases, you might even find a tent you can fully stand up in, too.
We've chosen one good tent from each of the different kinds of tents we love: a long (but short) tent, a tall (but relatively small in width) tent, and a tent for taller guys that are both long and tall.
If you're looking to prioritize ultralight tents, then we suggest going for the long tent. If you're most worried about standing up and less so about sleeping stretched out, then we suggest the tall type. If you want both, or don't mind an overall large tent, then the long and tall tent is right for you.
Long Tent For Tall Persons
These backpacking tents are "so long" that even campers of 6'8" can fit inside, completely stretched out. No campers (except maybe toddlers) can stand up fully inside this tent, but most tall people should have no problem enjoying its length while stretched out.
This minimal design and priority on the length instead of height make for a lightweight tent that's also extremely easy to set up due to its minimal pieces. This tent for tall people weighs a total of 2 pounds when packed away.
This is a great backpacking tent compared to smaller backpacking tents especially if you're looking for long ones with simple vertical tent sloped walls that work for you. They are a better backpacking trips because unlike cabin tents, these long tents are not easy to stand in. This may be considered one of the best for camping if you're looking for one with floor space, but isn't considered but isn't considered one of the best family tents either, nor is it considered great camping tents if you're going to be in it a lot.  This does have a lot of floor space though, so for a tall person, these long tents may be a great option.
It also features an 8-inch bathtub style floor design with lining stretching 8 inches from the ground to the tent's netting to ensure that no unwanted water seeps into the tent from the outside.
It comes in a variety of colors, including Cranberry/Pewter, Pewter/Cranberry, Steel Blue/Pewter, Woodland Camo/Gray, but if you want orange zipper pulls, you'll need to purchase them separately.
A tent pole is also sold separately. Instead, hikers can use a trekking pole in order to keep the tent up, in order to reduce the extra weight bringing along the tent would add. If you don't use trekking poles or would prefer a separate tent pole, then you'll need to buy it separately. This is the best tent if you want something easy, and offers an ample space for sleeping.
We love this tent's easy-to-put-up design and surprising size. Oftentimes, "tee-pee"-style tents are extremely limited in terms of tent floor space, but this tent manages to increase the area to allow for up to 5 people to fit into the tent compared to other tents.
One person could easily set up the tent by themselves, by first staking it out, then arranging the tent fabric, the arranging the pole in the middle. It might be hard for someone with a little less reach than a tall person to set it up, but the pole design makes it possible for anyone.
At its peak height, it is a whopping 11 feet tall, one of the best tallest tent options compared to all the tents we listed, meaning that no camper or taller guy should have any trouble fully straightening up inside.
These are one of the best backpacking tents since unlike long tents, these are simple to hold, have decent floor space, and for a tall person, it fits it easily. It comes with a handy carry bag, and this can be one of the best tall tents for camping since when you're looking for tents for camping especially out in different areas, you want one with vertical walls which can stand a lot, and these tall tents are good for this.  It differs from camping tents because this one is the best tall person tent option, since it's very minimal, but comes with everything you need. These are good tents for camping if you're alone or looking for minimal backpacking tents. But if you're looking for camping tents with bigger interior space that can hold more people, this may not be one of the best tents for camping, especially if you're with a second person. But they do the job, and these camping tents can be set up everywhere, and the vertical walls are similar to a teepee, so it's pretty minimalistic, but it works.
Tall tents are great because they are more minimalistic, and it's the best tent if you want something simple, yet effective when it comes to a tent that offers what you need.
The best tent is also highly water-resistant due to the water-resistant coating on the exterior of the tent, although it is not fully waterproof. This is the ideal tent if you're looking for something simple, and easy.
Long, Tall Tents
CORE Tent For 9-People Best Instant Cabin Tent (Tall Tent)
Having an actual tent size of 78 inches tall (9 feet) and 14 feet wide with near vertical walls and standing room throughout, this is pretty giant but surprisingly easy to set up because of the 9 person Instant Cabin design. It pops open in less than 60 seconds, so you won't have to spend time crouched over to the ground, fighting to pull tent poles into the right place.
Although it can sleep up to 9 people, if you want to make full use of the length, then we'd recommend limiting it to 4 people instead. These Core tents also can fit two queen mattresses inside, so you'll probably be the most comfortable tent with 4 people in order to best take advantage of its full width. This tent also has a removable room divider to create two separate rooms.
Even if you get rained out of a day on the trails or are forced to eat raw marshmallows inside the tent because of high winds, you won't feel like you're missing out on any comforts in this best tent.
Best Tents For Tall Person: Final Thoughts
What Tent Is Most Suitable For A Tall Person?
Although there are many different kinds of tents out there, the ones that are ideal for tall people either put emphasis on height or length. You can also opt for an overall larger one, which is a car camping tent, but it maybe not be the best backpacking tent.
If you need to prioritize weight, then we definitely suggest choosing a long, but short tent. If you're planning a weekend getaway with buddies and don't need to carry the tent far, then most people will probably find themselves most comfortable in a tent that's larger overall, in all directions: length, width and height.
A "tee-pee"-style tent might seem impractical at first, but they actually can often fit far more people in it than most campers expect, so don't write it off if you're worried about being able to fully straighten up inside.
The decision depends on the person. Which best tall tent will you get?
Best Tents For Tall People
Frequently Asked Questions
What is the tallest camping tent?
What is a yurt tent?
What is the biggest pop up tent?
Is there a pop-up tent you can stand in?
How tall is a 2 person tent?
Who makes Ozark Trail tents?
How do you pick a tent size?
Is yurt better than tent?
Is there a tent that sets itself up?
Will a queen size air mattress fit in a 2 person tent?
Disclaimer: FamilyHype.com (Family Hype & FamilyHype) is a participant in the Amazon Services LLC Associates Program, an affiliate advertising program designed to provide a means for sites to earn advertising fees by advertising and linking to Amazon.com.
Last Updated on October 4, 2022 by Marie Miguel
DISCLAIMER
(IMPORTANT)
: This information (including all text, images, audio, or other formats on FamilyHype.com) is not intended to be a substitute for informed professional advice, diagnosis, endorsement or treatment. You should not take any action or avoid taking action without consulting a qualified professional. Always seek the advice of your physician or other qualified health provider with any questions about medical conditions. Do not disregard professional medical advice or delay seeking advice or treatment because of something you have read here a FamilyHype.com.