Having a newborn baby makes you want to be as close to him as possible at all times, especially when he is peacefully sleeping at night. According to experts, it is highly recommended to keep your babies asleep in your room for the first six months.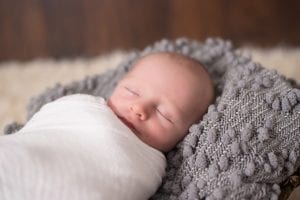 Although there is nothing better than sleeping beside your little one, sometimes you both need a more restful sleep – one that is undisturbed, especially for you, since you will be taking care of him. For this reason, a bassinet or crib is a beautiful addition to your space. It will allow your baby to sleep in your room without the hassle of thinking that you might awaken or roll over him.
There are a lot of baby bassinets in the market today, and you will find it confusing to choose which one to purchase. Let us try to help you decide which bassinet would be safe for your baby. Here are some useful tips and details about baby bassinets.
Baby Bassinet Safety Standards
For some parents who are on a budget and planning to purchase used bassinets, you need to check it thoroughly for any safety problems. After all, older kinds of bassinets were only subject to voluntary safety standards. It would be better to look for labels that say JPMA or ASTM, considering these groups joined in the voluntary safety standards before the up-to-date mandatory federal standards were applied.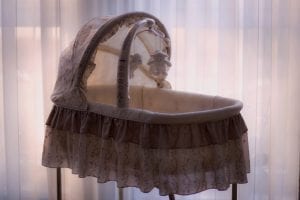 The Federal Bassinet Safety Standards took effect in April 2014. They ensure the stability and durability of the bassinets. The required mattresses and other soft parts of the bassinet help reduce the risk of suffocation or entrapment. Manufactured bassinets after this date must meet such standards before getting sold in the US.
Inspect a bassinet the same way you would do to a crib. Does the decorative stuff around it catch on a baby's clothes? If there are side slats, and you can fit a soda can between them, it means that it's too far apart to be safe. What about the cutouts in the headboard or footboard that serves as decorations–do they entrap the baby?
Weight and Age Limits
Bassinet manufacturers provide a standard weight and age limit. The average weight limit of most bassinets is 15 to 20 pounds, but some may be able to carry above the threshold. The age limit is usually four up to six months. But these are the standard limits that don't apply to all babies. So check the instructions or manuals for advice about when to discontinue using it.
To Rock or Not
Most babies prefer a slight movement to fall asleep; that's why rocking bassinets are made. But there are safety hazards that need to be considered before buying it. Babies' first movements would most likely be rolling on the sides. In a rocking bassinet, enough weight focused on one side would allow the baby to be trapped against that side, which could cause suffocation.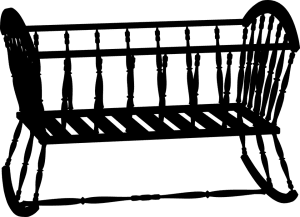 If you decide to choose a rocking bassinet, be aware of the risk, and take extra precautions. It may be better to select the one with a lock so that the bassinet will stay secure.
Portability
One of the benefits of having a bassinet is that you can quickly move it around the house and keep your eyes on your baby anywhere and anytime. Moving it will be more comfortable with the help of a sturdy set of wheels, preferably with locks to avoid unnecessary movements that may be caused by curious siblings.
Some bassinets can be folded or disassembled quickly for storage or travel purposes. It can be beneficial, but a lot of precautions should be made before trying it on your baby. Testing the latches is one way to know if it's durable and secure. You also need to know if the assembly is time-saving or requires extra effort to fit back together. If you are not sure, skip buying it, as it will be hazardous for your baby.
Mattress Support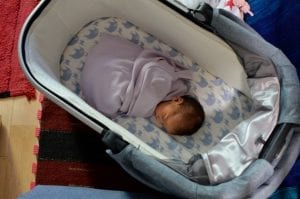 The mattress must be well supported. The supports should be strong enough to hold your baby's weight without causing any misshape or bend. The bed should fit the support perfectly without excess space. Babies may have difficulty with the hammock effect than adults would, so the support must be well-built.
Sleep Like a Rock
Manufacturers tend to make an adult think that they want your baby to sleep on a rock. However, for babies, it is a must to have a firm surface to sleep on. The mattress of the baby bassinet should not be heavily padded because the baby might sink in too much. It should seamlessly fit inside the bassinet like in a crib mattress to avoid gaps between the edges. Decorative items, especially with frills or fluff, would be excellent outside the bassinet. Just make sure that none of it extends into the baby's space.
Baby Bedding
What kind of bedding does your bassinet have? Keeping it simple is what your baby needs. It should fit the bassinet mattress perfectly. Cribs have standard sizes, but bassinets do not. Therefore you may have difficulty finding the right sheets for your bassinet. Having at least one extra fitted sheet might be essential for those inevitable midnight diaper blasts.
Speaking of extra sheets, it will be better if these sheets can be easily removed for washing. Make sure that the whole layer can be cleaned, as every inch of the fabric inside the baby's space is at risk of getting messy. Is there an available waterproof cover for the bassinet mattress? If it does not have one, can you toss the whole bed in your washer?
Same as the crib, extras are not necessary. Bumper pads, quilts, or pillows to the bassinet is a no-no. A simple and bare sleeping space is safe for the baby. Almost all deaths related to bassinets are caused by the soft bedding added into it.
Know When to Stop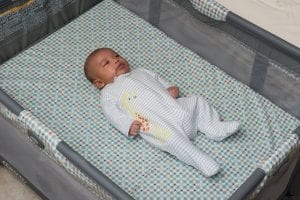 The manufacturers provide the weight and age limits for bassinets. Monitor your baby's growth so that you can quickly identify when to stop using the bassinet before the specified limits. If the limit is until four months and 20 pounds, but your baby is now rolling on the sides, you should probably stop using it. Babies are fast-learners. If your little one develops rolling or sitting, you may want to shift to a crib or play yard to avoid falls. More than half of injuries on a bassinet are due to falls.
Buying a Used Bassinet
A used bassinet is much cheaper than new ones. However, you should use extra caution to ensure that it is safe. Initially, check for recalls. Then, do the safety check the same as on a new bassinet. Be sure that it is sturdy and does not have significant gaps to trap your baby. Thoroughly inspect the mattress and supports, considering used ones can be stretched out and may slump in the middle. Also, check if the original parts are complete. Don't buy it if it has been modified and know how it was stored. The bedding and wood pieces must be stored in a cool, dry place to prevent molds.
Baby Bassinet Styles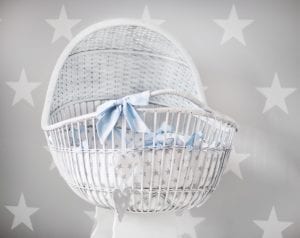 Now that safety is ensured, we can now move to fashion and style! Bassinets offer different styles depending on your taste, from silky modern to classic lacey. There are also themes for babies like bears or lambs, or maybe you would like a dark wood design with fabrics based on your home style. It depends on your preference, really – now that you've ensured the comfort and safety of your little one.
FAQs
No reports are proving that bassinet is unsafe for newborns. Many parents are now using bassinets for newborns. To
ensure your baby's safety
, do not leave them unattended. And as mentioned above, once they have learned to move independently, you have to stop putting them to the bassinet.
Both crib and bassinet are ideal for a newborn. The difference is that baby bassinet is smaller and takes up only a little space in your room. On the other hand, the crib has more room for your baby. If you have a spacious house, getting a crib would not be an issue.
To be able to choose the best bassinet for your newborn, make sure to consider these features: mattress, mesh walls, size, space, storage, and canopy. Now here are the some of the best bassinets out there:
Graco Pack 'N Play Playard
Chicco LullaGo Portable Bassinet
m's Reach Concepts Cambria Co-Sleeper Bassinet
Delta Children Sweet Beginnings Bassinet
MiClassic 2in1 Stationary & Rock Bassinet / One-Second Fold Travel Crib
Do you need a bassinet?
With AAP's goal of preventing SIDs in newborns, it is recommended to let your infant sleep in your room but not in the same bed (more details here at
whattoexpect
). That is the reason why bassinet has become a necessity.
Last Updated on May 8, 2023 by Nisa Jabajab
DISCLAIMER
(IMPORTANT)
: This information (including all text, images, audio, or other formats on FamilyHype.com) is not intended to be a substitute for informed professional advice, diagnosis, endorsement or treatment. You should not take any action or avoid taking action without consulting a qualified professional. Always seek the advice of your physician or other qualified health provider with any questions about medical conditions. Do not disregard professional medical advice or delay seeking advice or treatment because of something you have read here a FamilyHype.com.