Your son has made it to the last season of the toddler stage. There are a couple of significant changes in store for him, and reading is one of them. At three-y-o, your kid starts to recognize words, thus setting him on the path of reading.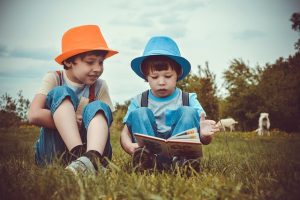 With so many stories to choose from today, where do we start looking? What novel will teach your son the essential lessons of today? Well, here are a couple of the best books for a three-year-old boy to get you started.
The Wonderful Things You Will Be
Starting the list strong is the New York Times Topseller by Emily Winfield Martin. This features beautiful illustrations of children and what they can be. It showcases diversity, with kids being of different ethnicities. It also avoids portraying stereotypes of girls and boys taking on traditional gender roles. For instance, the book includes an illustration of a kid with a sewing machine, which makes it an excellent contender to be one of the best books for three-y-o kids.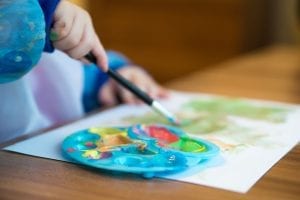 This has a lot to teach your kid: bravery, compassion, and creativity. It also is an excellent book for parents, teaching them to love their children no matter who they grow up to be.
Olivia
Ian Falconer's book, Olivia, may not be the first thing parents grab for their young kids. Its main character is a female piglet in a dress. However, there's a lot to learn by introducing your kids to female leads.
Olivia is the first in a series of Stories. It follows the shenanigans and adventures of the titular character. The book is a great way to show your son that girls can have just as much fun and be just as interesting.
All By Myself
Up until this point, our kids have relied on us for almost everything. However, they're now reaching the age when they want to try stuff out by themselves for a change. Mercer Mayer's All By Myself shows what that's like.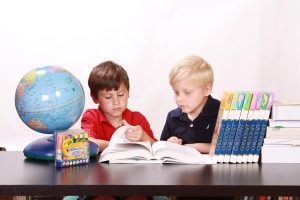 The book is about Little Critter, a young character who tries to do everyday tasks on his own. These include brushing his hair, tying his shoes, and pouring juice for his little sister. Your kids will love this relatable character as they learn the concept of independence.
The Monster At The End Of The Book
Love a good build-up when it comes to stories? Your son can learn to enjoy such as well. Jon Stone brings beloved Grover from Sesame Street to the printed pages.
Just like in the TV show, Grover directly speaks to your kids. It's a fun way to make them feel connected to the book. The Monster At The End Of The Book has Grover begging you not to continue to the next page. But the way he tells you to do so makes you want to read even more. Your kids will surely love the anticipation and the plot twist at the end of the book. Consider them braver with every page you turn.
The Family Book
In the 21st century, it's essential to teach your kids about inclusiveness, acceptance, and unconditional love in general. Before Modern Family came out, Todd Parr wrote about these in The Family Book.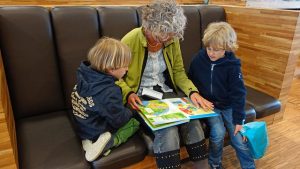 It celebrates diversity and acceptance by showcasing different types of families. Your child will learn that a family doesn't have to consist of a mom, a dad, and kids. It shows families with two moms or two dads, extended families, adopted kids, and also single parents. It also teaches that family is where love, compassion, and understanding can foster.
Although the book was the center of controversy from more conservative individuals, it remains to be on the list of top stories for three-y-o kids.
A Chair For My Mother
Here's something that moms will especially love to read for their kids. Vera B. Williams' book is about a young girl whose family suffered from a house fire. Alongside her siblings, she seeks to save up to buy their mother a new chair.
It's a heartwarming tale that helps kids appreciate their parents. It also teaches them perseverance and endurance through difficult times.
Alexander And The Terrible, Horrible, No Good, Very Bad Day
As kids, a bad day can seem like the end of the world. Instead of thinking that our children are overreacting, take a cue from Judith Viorst's book.
The titular Alexander goes through a particularly unpleasant day. He wakes up with gum on his hair, his foot gets caught in the elevator door, and his father scolds him for making a mess at his office. His mother tucks him in and assures him that on some days, things don't work out. Although things don't always work out well, we at least have tomorrow to look forward to.
Green Eggs And Ham
Our list isn't complete without Dr. Seuss. You can count this top-selling title as a great book for a three-y-o kid.
Source: flickr.com
Green Eggs And Ham follows Sam-I-Am and his friend, who defiantly try to avoid the titular meal. They go through different locations and meet various dining partners. In the end, Sam's friend gives in and learns to enjoy the dish of green eggs and ham.
While it may seem like nonsense, Dr. Seuss delivers with rhyme as well as a lesson. It teaches your kids to try out new things. They'll never know whether they like it or not if they never try it out. This one is excellent news for moms with picky toddlers.

Looking for more recommendations? Check out "Dragons Love Tacos" by Adam Rubin, a whimsical book with colorful illustrations that young readers will enjoy. Another classic story to consider is "The Little Blue Truck" by Alice Schertle, which is a hilarious and fun book with gorgeous illustrations. For a timeless and beautiful bedtime story, "Goodnight Moon" by Margaret Wise Brown is a must-read. If you're looking for an adorable and interactive book, "Pat the Bunny" by Dorothy Kunhardt is a golden book that will engage your little readers. Lastly, "Fire Engines" by Anne Rockwell is a rhyming read-aloud book that will encourage kids' fascination with fire trucks and the brave firefighters who drive them.
Final Words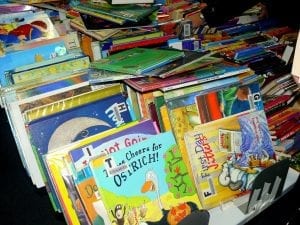 These are only a couple of novels to get your toddler started on reading. From here, it's a good idea to take a cue from your son on what he wants to read. If you search bookstores and libraries patiently, he's sure to find something he enjoys. The ideal story for three-y-o kids is those that your son chooses to read.
Frequently Asked Questions
What Are The Best Books For Three Years Old?
Other Resources
Last Updated on April 13, 2023 by Bry Roquero
DISCLAIMER
(IMPORTANT)
: This information (including all text, images, audio, or other formats on FamilyHype.com) is not intended to be a substitute for informed professional advice, diagnosis, endorsement or treatment. You should not take any action or avoid taking action without consulting a qualified professional. Always seek the advice of your physician or other qualified health provider with any questions about medical conditions. Do not disregard professional medical advice or delay seeking advice or treatment because of something you have read here a FamilyHype.com.